What is ecommerce
Shopping Cart software

?

Shopping Cart Software is a software that helps the customer to shop from the website, the customer can select the product and add everything to the virtual cart.

The customer will be able to see what has been added to his shopping cart and will be able to add or remove more. When the customer's preferred product is added to the cart and finished shopping, the purchase must be completed by making a secure payment through a virtual payment gateway.

Shopping cart software is usually made with different types of programming languages. Such as PHP, ASP, JAVA, etc. and with markup languages like JavaScript, HTML, etc.
What type of
Shopping Cart Isshue

is?

There are basically 3 types of shopping cart software in the market. Open-source shopping cart, Licensed shopping cart, Hosted eCommerce platforms.

Isshue is a licensed shopping cart software. Licensed shopping cart software is a software that makes a company and you will buy the source code from the company. Since we are providing a premium source code, you can understand that it has more security and features.

You can buy an extended version and mobile application source code separately and give enterprise service.
Isshue - Multi-store eCommerce
Shopping Cart Software
Isshue is a multi-store eCommerce shopping cart software. Also, it is the complete package of eCommerce solutions for any eCommerce business management. This software is a combined package of managing all activities. It has a dynamic backend admin panel to manage inventory, order, product, invoicing, HR management, accounts management & so on. You can manage not only a single store but also manage two or more stores efficiently. Accurate inventory, purchase, sales, and billing with reports will help you to make the right decisions for your business. Moreover, You don't have to rely on accountants or managers to create your daily, weekly, monthly, or yearly reports using this software. As well as, using the admin panel, you can see all these things. No need for a regular monthly subscription fee, get it through a one-time payment now with a 24/7 customer service and customization facility.
Why Choose
Isshue - eCommerce Shopping Cart

Software?
Fast & Secure
We tested the loading speed and security of the system after it was built. Many e-commerce owners around the world are now running their businesses relying on it.
Customization
If you need more customization after our system, then our developer team is ready to do it. We have experts to do as per your demand.
Built-in Marketing Tools
Isshue SEO friendly system. We also included email marketing and SMS marketing in our system. You can easily maintain customer relationships.
Awesome Design
Our designed templates will play a big role in making your eCommerce website attractive and user friendly. You can present the website beautifully on any device. Then choose and make your e-commerce website lucrative.
Admin Panel Demo
Check admin panel and customer demo in few seconds and will be published.
5 Main Modules of
Shopping Cart Software
Using these features, "Isshue", multi-store eCommerce shopping cart Software would bring the expeditious power to you to run your business properly and smoothly.
Top Features of
Isshue E-Commerce Software
Adequate Facilities available in Isshue Shopping Cart Software. Multiple functionality and management system make it a robust system that manages multiple stores and branches.
License & Pricing
We are offering Two types of license for our software such as Regular license and Extended license
Regular License
$49
Life time Update

6 Months support (Please check here what included in support)

Permitted for one domain for personal use only

For personal project only

Email Support (1 Business day)

Skype Support

Anydesk/Teamviewer Support

Whatsapp Support

Free Installation at cpanel
Extended License
$325
Life time Update

6 Months support (Please check here what included in support)

Permitted for one domain for commercial uses

For Commercial project

Email Support (1 Business day)

Skype Support (for 1 hour)

Anydesk/Teamviewer Support (for 1 hour)

Whatsapp Support (for 1 hour)

Free Installation at cpanel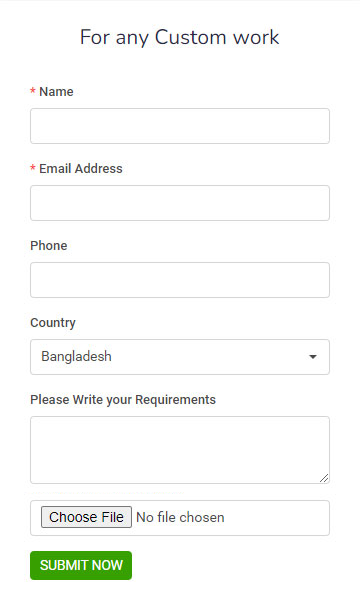 Bdtask is really a great organization. I'm really glad I found them. I had a lot of problems when I bought the script. However, this is not a script error. It was my own fault. But they took time and solved all my problems with patience. I am really happy working with them.
The multi-store script is well organized and easy to use. It is flexible. At the initial stage, I was unable to install it. But the support team of Bdtask took their time and installed it for me. Now the script is running successfully. I am happy to work with the Bdtask team.
The multi-store inventory system is a complete inventory system. Here you can add unlimited stores and control all account related activities. The Bdtask team has done a great job with this script.
Great customer support. Bdtask guys are doing great work.If you have zero knowledge about code, you can purchase the script, You don't need any extra work using this script. Following the documentation you can install and setup easily. I highly recommend this script to anyone who has a multi store.
Frequently Asked Question
Multi store eCommerce shopping cart software is the complete solution for eCommerce business management.Here have some basic question about isshue ecommerce Software