Best ERP Software: Build vs. Buy – Bdtask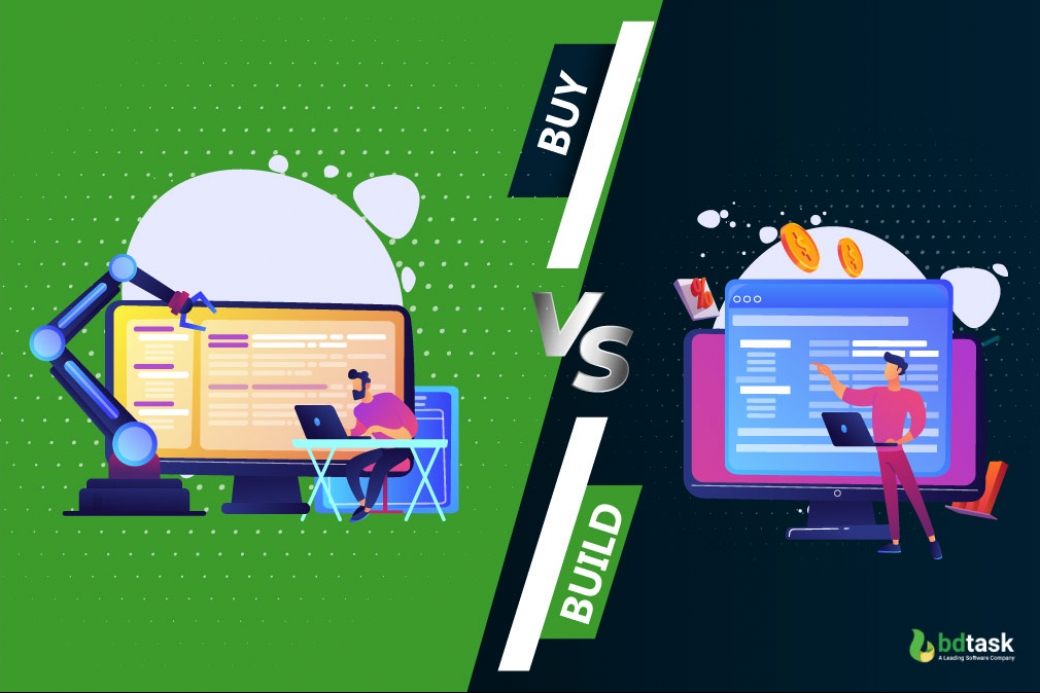 To choose the best ERP Software: Build vs. Buy? That is the question when it comes to choosing ERP software for your company. In your search to automate business processes, improve performance, and plan for development, are you probably considering that suits your company better-custom ERP technology or bundled solutions? As a custom software provider, we assure our clients that we can deliver better, more customized solutions than what they can find out there on the shelves. The question they have to figure out is, will this bring them additional value? In order to avoid disappointments in choosing one kind of software over the other, it's important to consider and analyze both options. While a custom-built solution may be a better fit for most companies, going the off-the-shelf route may make more sense for others. This article is designed to help you facilitate this decision-making process. Each choice is discussed along with its advantages and disadvantages.
When you choose custom ERP solutions, you are in complete control of the development process. You get to dictate all of your specifications and business peculiarities to your developers. Often you will find that off-the-shelf software will address most of your issues. But if most aren't good enough for you, and your business has many specialized needs that need to be addressed by software, then custom is the way to go. There is no arguing that when all else is done right, the company with the best technology is poised to come out on top. Custom software is your gateway to a competitive advantage. 
*While all of this is true, you might want to keep in mind that resource constraints mean that some things must be prioritized over others, and some of the requirements on your list may not be met. List your requirements in order of importance in order not to miss any crucial details.
One of the biggest and most important selling points of custom software is its flexibility. In other words, it is built with future modifications and enhancements in mind. It will be scaled to your wishes as your business grows and develops. Moreover, it can integrate with the software packages already in place at your company, which isn't the case with off-the-shelf software. Off-the-shelf software is typically rigid 
*Make certain you choose able and credible developers to trust with this crucial task. Do your homework: make sure your providers are qualified individuals using industry best practices. This will minimize any potential problems like time delays, bugs, etc.
The best software developing companies will offer to form partnerships with you once you commission them to do the job. In other words, they will maintain the software for as long as you require. You will be able to agree on a reliable support plan, through which you should have access to the technical support team at your convenience in order to effectively solve any problems you might encounter. 
*In order to achieve the desired results, you must hire an exceptional development team. Check the company's track record and credibility. You want to do business with professionals, who have been there, done that.
The cost of building custom software is one of the main reasons holding most businesses back when it comes to choosing ERP solutions. Off-the-shelf products tend to be cheaper than customized software. However, do keep in mind that the price that is advertised is not necessarily indicative of the actual cost you will incur, which may include ongoing maintenance fees, complex implementation projects, design services to integrate with your company website, data conversion, etc.
If for whatever reason, you need software and you need it now, then your only option is canned ERP, as building custom solutions is time-consuming. Off-the-shelf software is ready to be installed when you buy it. However, keep in mind that you are going to need time to train your employees to use the new software, which translates to additional costs.
If you feel that because of the nature of your business, tailor-made software would not result in a competitive advantage or that there is canned software that perfectly satisfies all your needs, then the additional investment will not make sense. Do be careful that you don't make this decision based on the "here and now" mentality without considering the implications of this decision. Make sure you understand the potential momentum and velocity of your company so that there will be no regrets and larger costs incurred in the future.
Check out: Best Sales ERP Software for Small Business
Understandably, the build or buy decision is not an easy one to make when it comes to forming a relationship with any software. As with all meaningful relationships, you need to weigh all the pros and cons before making a long-term commitment. If you are in it for the long haul, then custom is definitely the way to go. However, if you are simply looking for a quick fix and you think off-the-shelf software will suffice, then do not make the additional investment.
Would you like to read: The Best ERP Software for Small Businesses