The Best ERP Software for Small Businesses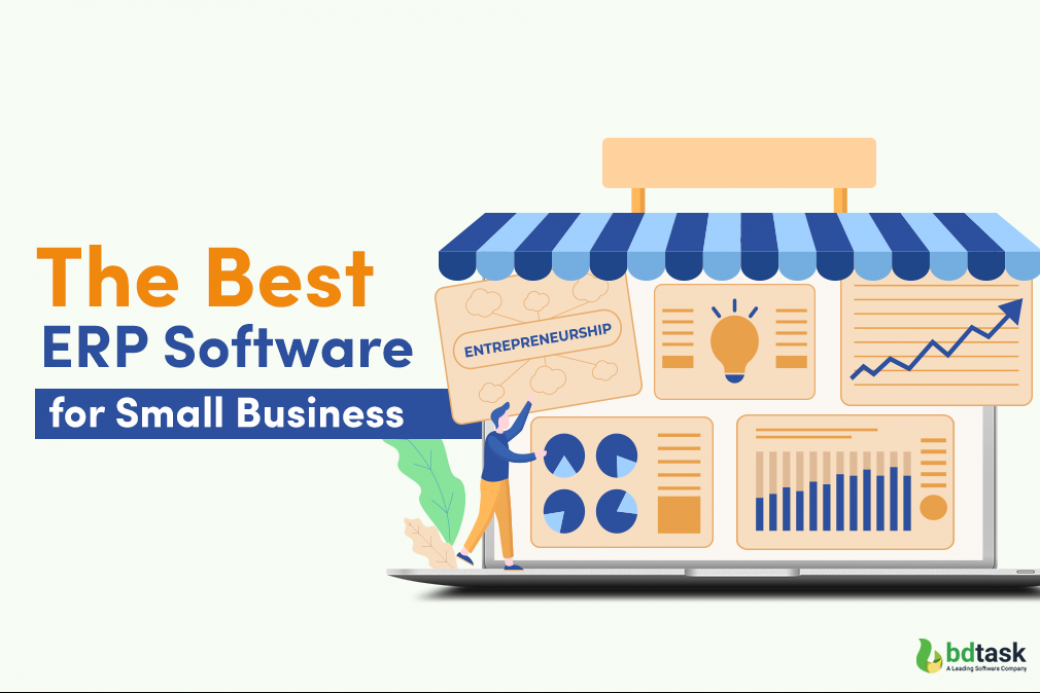 At present, every business organization is endeavoring to sustain itself in the marketplace by adopting an effective strategy and management systems. In this regard, you must have proper knowledge of ERP software that helps you to identify the best ERP Software for small businesses, or medium, or large businesses.
The Sales ERP software can be a trump card for your business. This automated software's unique features will provide you with great care to systematically and accurately manage the business activities.
What is ERP Software?
ERP refers to Enterprise Resource Planning, which is the process of integrating and managing all business activities. The ERP software helps a company run its entire process with a single system, which means that all processes can be accessed through one application with one interface.
"The early ERP systems mainly focused on the enterprises, but nowadays, small businesses considerably adopt ERP systems." Source.
The sales ERP system is automation software that helps keep track of human resources, accounts, manufacturing, supply chain, CRM, and inventory of different types of businesses, including small, medium, or enterprise. It is a smart enterprise resource planning solution to oversee your business operations.
List of Best ERP Software
Types of ERP Software for Small Businesses
ERP software is categorized into three common types including-
ERP software Developed Only for Small Businesses

On-premise or web-based
Lower upfront cost
Less complex
Limited functionality
Used by small businesses or entrepreneurs

Industry-specific ERP system

Project management capability
Quality control functionality
More costly
Used by different industries like process and discrete manufacturing, distribution, retail, etc.

Cloud-based ERP System

Low upfront costs
Lower monthly payment
Easy to set up
More customization facility
Used by entrepreneurs and small businesses
Top Features of an ERP System
ERP software can provide you with the best guideline and an efficient pathway to successfully manage your business organization as ERP software can handle and manage vital business operations, including accounts, sales, stock, customers, manufacturing process, employees, etc.
What your company needs must be recognized first before choosing the best ERP software. The essential features of ERP software are given below-
Business Intelligence: It enables your business to analyze relevant data that helps in the decision-making process.

Striking Dashboard: A dynamic dashboard is a mirror of your business where you will get an overall summary of your business.

Product Management System: You can add your product easily in ERP software with detailed information. Thus you will get a product list of your organization.

Supply Chain Management System: Supply chain management is a crucial task for a business organization. This feature includes supply chain planning, warehouse management, and supplier management.

Operational Management System: Different operations of your business organization can be monitored and recorded in ERP software.

Accounts Management System: Tracks all transactional information, income, and expenses, and creates profit and loss statements.

Human Resource Management System: This feature helps manage human resources more effectively and improve the organization's employees' performance.

Sales and Marketing Management System: The POS system helps you to manage your sales and marketing information.

CRM System: It is an essential feature of ERP software. The customer relationship management system helps you to increase customer retention and improve customer satisfaction levels.

Inventory Management System: The stock of your organization can be appropriately tracked by ERP software, and you can quickly get your inventory status through this feature.

Role-based permission System: The admin can set the access limitation as the role-based permission system is available. It helps to operate the ERP software more conveniently and securely.

Analytics and Reporting System: It collects all comprehensive data of different departments and facilitates proper data analysis and effective decision making.

Integration System: The integration system makes ERP software more user friendly and convenient. You can develop a robust platform by integrating your necessary tools.
However, ERP software is the topmost business management system that possesses unique and distinctive features that can uplift your business. For a small business, ERP software plays an inevitable role in development in the future.
The proper understanding of sales ERP software's salient features can help you out why you should choose the best ERP software.
Who are the users of ERP Software?
The automation system helps you to operate and manage your business activities automatically. Nowadays, the technologies ease the way of regulation of the business operation.
Without adopting ERP software, you will not be able to conduct your business more efficiently and conveniently.
In an organization, some departments require ERP software to manage the activities accurately and effectively.
The accounts department is an essential sector of an organization. This department has to regulate several activities related to the direct and indirect cost.
The activities which are maintained by the Accounts department like
Wages
Commissions
Utilities
Insurance etc.
Moreover, ERP software helps you to create the financial statement of your business automatically and accurately.
Sales of an organization are one of the parameters to recognize the profitability. It relates to other functions. The POS system helps to manage the sales of an organization.
Contains a lot of valuable historical sales data
Manage the information of the customer credit limits
Record the sales data for future purpose

Operations
The operational department of a company greatly depends on ERP software.
Production operation for manufacturing company
Project management to professional service providers
Warehouse and inventory management to distributors

Quality management
The quality management department has to perform several tasks. In this case, ERP software assures them to maintain the quality of the services properly.
Especially for the food industry, it is highly needed. Manufacturing ERP software can track the quality of the products.
Product development greatly depends on the sales department. ERP software helps determine the sales status, and the product development department introduces the product line based on the sales rate.
Purchasing and procurement
The ERP software maintains different activities in the purchasing and procurement department, including-
Tracking the raw materials providers
Logistics providers for distributors
Update the current status of the products
Helps in determining what needs to purchase
Provide information on sales orders
Industry category for ERP System
The ERP software users based on industry category, manufacturing (47%), distribution (18%), services (12%), construction (4%), retail (3%), utilities (3%), government (3%), healthcare (3%), and other (10%). Source
ERP systems are developed for specific organizations for conducting specific tasks.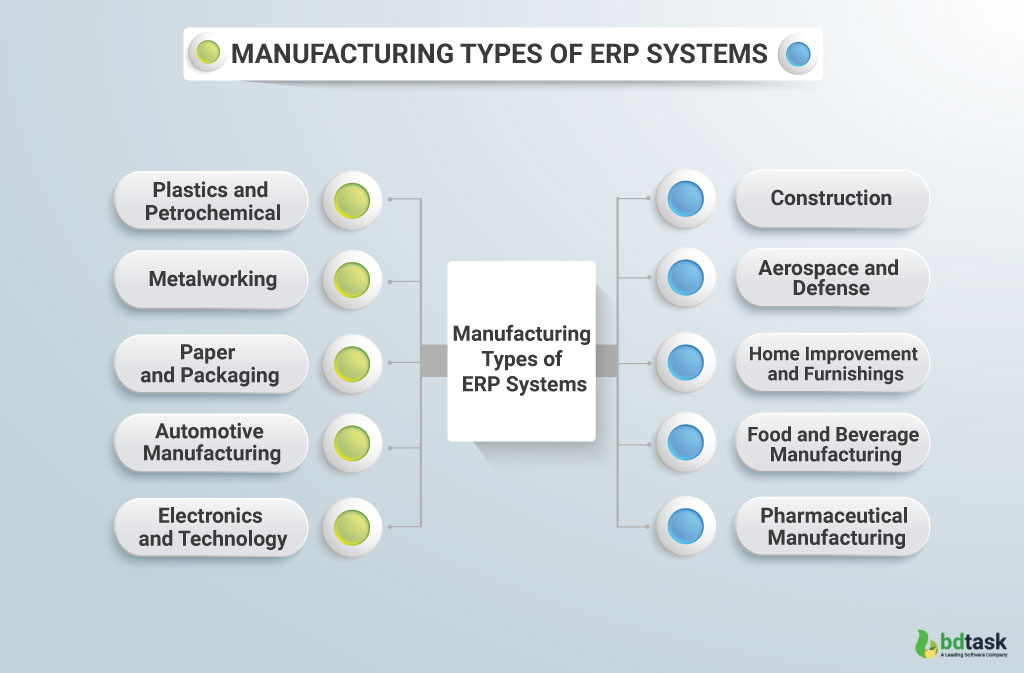 Manufacturing Types of ERP Systems

Construction
Aerospace and Defense
Home Improvement and Furnishings
Food and Beverage Manufacturing
Pharmaceutical Manufacturing
Plastics and Petrochemical
Metalworking
Paper and Packaging
Automotive Manufacturing
Electronics and Technology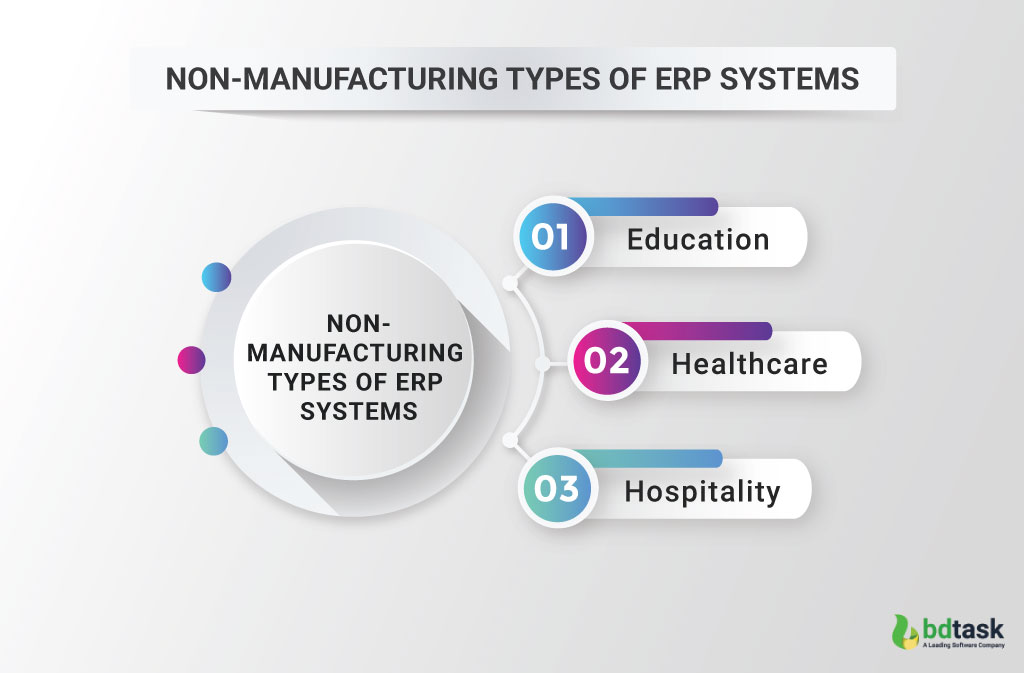 Non-Manufacturing Types of ERP Systems

Education
Healthcare
Hospitality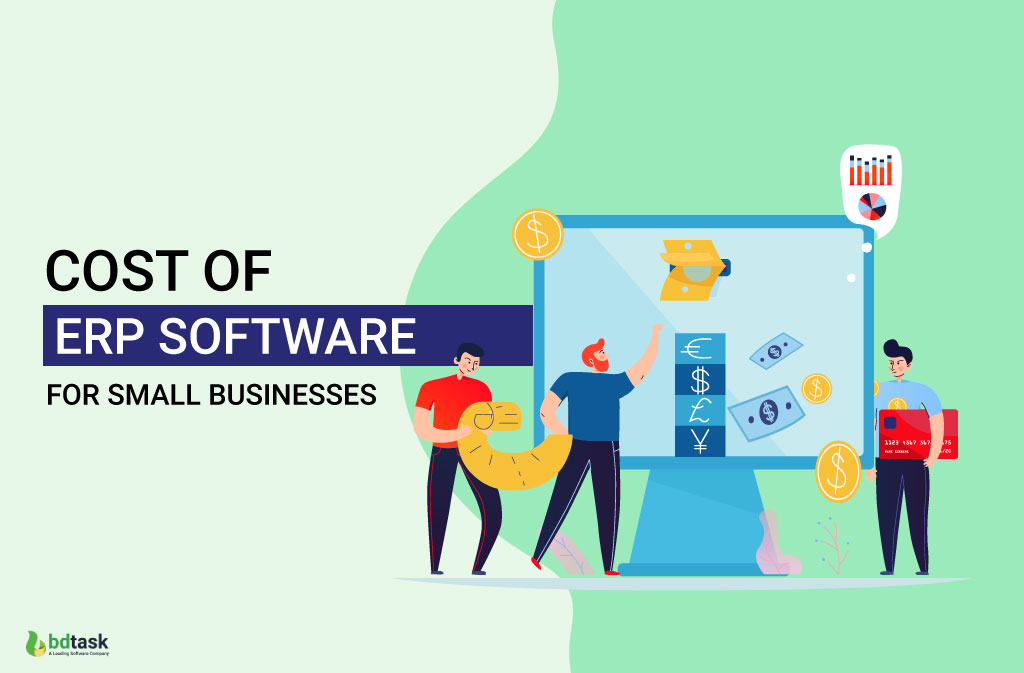 Cost of ERP Software for Small Businesses
The ERP system for your small business is not as expensive as the ERP software for the enterprise. Initially, you have to identify your exact requirements based on your business types.
You can invest between $1000 to $5000 for a complete package of ERP software. In this case, you have to decide which one you will choose, either open source or cloud-based.
Several factors affect your costing, including
The concurrent users
Additional modules
Implementation costs
Continuous maintaining
Training program
In addition to this, you have to be aware of hidden costs. It can extend your investment amount significantly.
Suppose you purchase an open-source type ERP software that offers you several essential functionalities and features. You will need additional support after purchasing the ERP software for your small business.
So it is a significant factor that must be considered while choosing the best ERP software from a company.
On the contrary, you can go for the cloud-based ERP software. This type of ERP software has a monthly or yearly subscription system. In this case, you will have to pay a fixed amount of payment.
Moreover, you have to pay additional costs as your requirements to maintain your small business or medium or enterprise by cloud-based ERP software.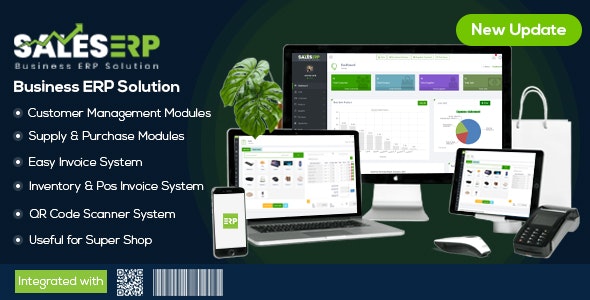 Sales ERP software is the top featured management system for all types of business organizations. It is an open-source ERP software that means you can purchase it fully through a one-time payment system.
This software beats the competition in nearly every category. Across the globe, more than 1000 business owners adopt this business solution.
It is easy to add functionality and fully customizable. Different types of business can be managed efficiently by Sales ERP software, including-
Professional Services
Marketing and Advertising
Ecommerce
Distribution
Restaurant and Hospitality
Pharmaceuticals etc.
Features
Order management system
Financial management system
Production management system
Supply chain management system
Human resource management system
Customer relationship management system
Inventory management system
Real-time notification system
Role-based permission system
Dynamic admin panel
Reporting and analytics system
Barcode and QR code scan system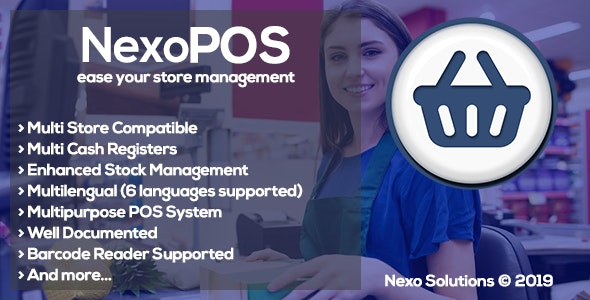 NexoPOS is a free ERP software and open-source ERP software. It is a web-based POS system for small, medium, and large businesses.
The intuitive user interface of NexoPOS software helps you to manage your store and staff. Besides, you can keep an eye on your inventory.
This ERP software provides you a real-time report by which you can easily identify your business's current status.
The accounts section of your business is a crucial part. The accurate cash in and cash out operations can be done by adopting the NexoPOS ERP software.
Features
Multistore compatible system
Enhanced stock management system
Multi cash registers system
Multipurpose POS system
Accurate stock follow up system
Multi-Language support system
Order management system
Barcode reader supported
Well documented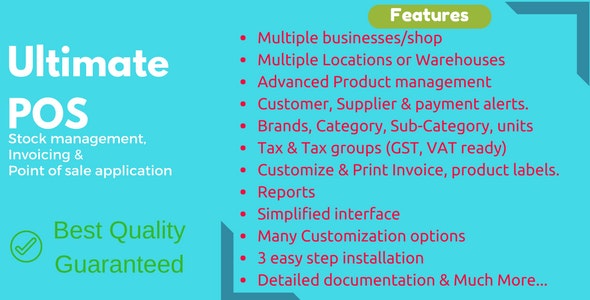 Ultimate POS system has a lot of features. It is suitable for small and medium-sized businesses. You can get many customization options as per your requirements in Ultimate POS software. It is user friendly.
This ERP software helps you to manage your business operation effectively. It covers almost all business scenarios required for any retailer. The latest update of Ultimate POS software is well developed and improved.
You can manage your multiple shops, products, sales, stock, and other activities by adopting the Ultimate POS system.
Features
Multiple businesses control system
Advanced product management system
Real-time alert system
Customer, supply chain, and payment maintenance system
Reporting the real-time data
The user interface is simplified.
Extremely customization facility
Easy installation process
Documentation and notification system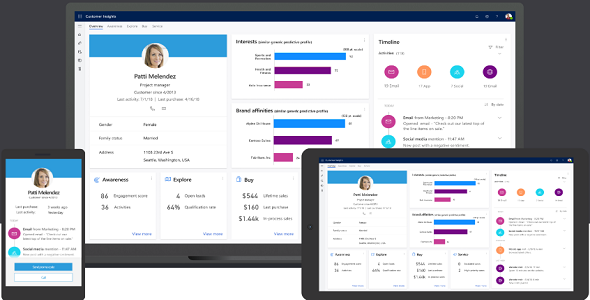 Microsoft Dynamics 365 is the most popular ERP systems. It is very powerful and flexible. The world's biggest companies use this ERP software, including Delta, BMW, Coca-Cola, Adobe, UPS, and many more.
The small business can adopt Microsoft Dynamics 365 that is an ideal ERP solution. It is not a single product as it offers multiple product bundles according to your requirements.
Microsoft is completely transparent about its price. You will get the price of each category individually. Besides, Microsoft offers you a six months free subscription facility.
Microsoft Dynamics 365 helps you handle your marketing, sales, customer service, operations, field service, human resources, commerce, accounts, and other activities easily.
Features
Web API enhancements
Customer insights
Activity sorting control
Programmatic management of products
Access permission system
Customizable grid
Cortana integration system
Power BI
Sitemap designer for apps
Server to the server authentication system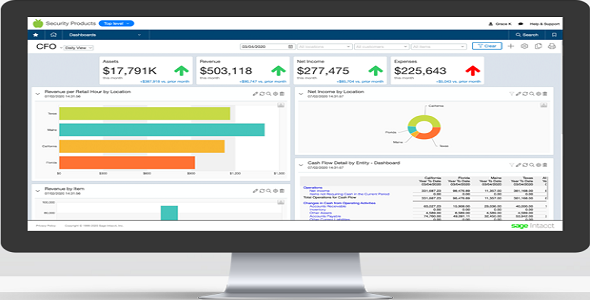 Sage Intacct is best for small to medium-sized businesses. You have to pay monthly, and based on your business needs and requirements, you can customize it.
It is a business solution that helps you manage your overall activities, including financial maintenance, stock management, and order management.
Features
Multidimensional data analysis
Intuitive dashboard
Revenue and billing processes
Robust financial maintenance system
Integration system with salesforce, ADP, and more
Flexible modules
Workforce management system
Sales and purchase management system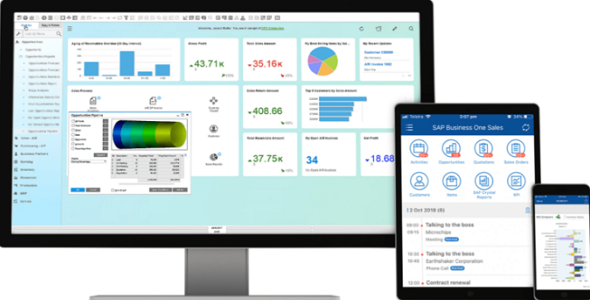 The SAP business one is often used for more significant operations, but it is a great solution for small businesses. SAP business one provides industry-specific solutions.
You can choose from more than 500 add-ons to make your software more user friendly and convenient according to your business types and requirements.
SAP business one provides you intuitive mobile access. So you can control your business through the software from anywhere, anytime.
You will face a little bit of hassle while setting up this ERP software. It is the biggest drawback of SAP business one.
Although you can confront some difficulties by adopting SAP business one ERP software while conducting a larger business, it is the best for small businesses.
Features
Sales management system
Inventory management system
Customer relationship management system
Financials maintenance
Analytic system
The real-time reporting system
Integration system bot Android and IOS
Alert system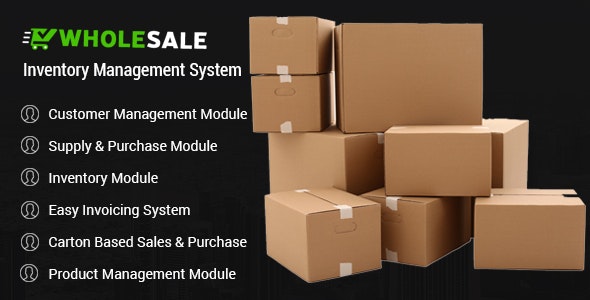 Wholesale ERP software is a full package of inventory management systems. It helps to conduct the normal process of workflow in a company.
You will get benefited from this application. In addition to this, through this ERP software, you can see the ledger of the customer and the debit information.
Moreover, it is easy to add customers, manage customers, credit customers, and paid customers using Wholesale ERP software.
Features
POS Invoice system
Product management system
Customer management system
Supplier management system
Account management system
Report management system
Bank management system
Multi-language support system
Software customization system
Human resource management system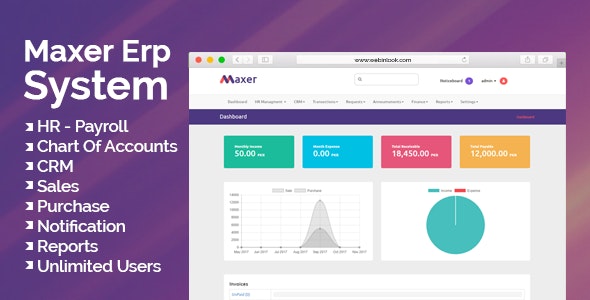 This ERP software is a 360-degree solution for your small business. Maxer can manage your business at your fingertips.
It offers you in fulfilling all the functions, including accounts, POS, HR, manufacturing, marketing, etc. The intuitive needs, upgrades needs, integration system, will help you run your business smoothly.
The main aim of this ERP software is to offer a software solution that is accessible to all and easy to handle.
Features
HR-payroll management system
CRM
Sales management
Manufacturing maintenance system
Purchase management system
Notification access
Reporting system
Allows unlimited users
Chart of accounts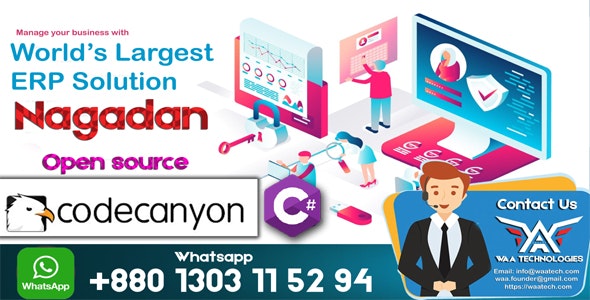 Nagadan ERP software is the most comprehensive ERP software. It is also the most prominent accounting management software. For the enterprise, Nagadan ERP is the only business solution.
The small business can also adopt this ERP and accounting management system. The retailer and wholesale business have to calculate their sales and inventories. In this case, the Nagadan ERP software helps you to handle these operations.
Nagadan is a simple ERP software, and it is easy to use. In addition to this, the software offers you a flat UI design, a modern dashboard, barcode, and QR code scanning.
Features
Full accounting management
Manufacturing process management system
POS system
Stock management system
GST, tax, and vat cess enabled invoices
Attendance system
Multi-users facilities
Profit and loss statement system
Multi database system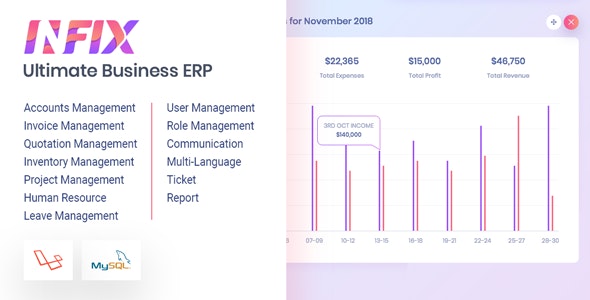 InfixBiz is a fully responsive layout for all types of devices. In this case, this ERP software has a responsive layout design.
Besides, it has enough options, balanced typography, and responsiveness functionality as it is touch-friendly. Moreover, any type of mobile device can run this software that helps to increase the UX.
InfixBiz supports multiple languages. This open-source business management ERP software helps the business organization to maintain the essential operations effectively.
Features
Accounts management system
Invoice management
Leave management system
Project management
Inventory management system
Quotation management
Ticket
Reporting system
Communication process
User management system
Role permission management system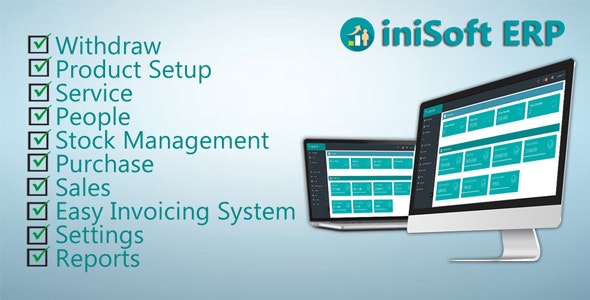 IniSoft ERP is an advanced POS and stock inventory system which is developed by PHP. Besides, it is a web application that helps you to manage your inventory and invoice system on site.
Moreover, you can easily update your stock information, service sales by any one-time service, make purchases view sales data, and information anywhere.
Features
Product setup system
Service category system
Stock management system
Stockout alert system
Purchase management system
POS invoice system
QR code and scanner system
Daily and monthly sales report
Profit and loss report
Customer report system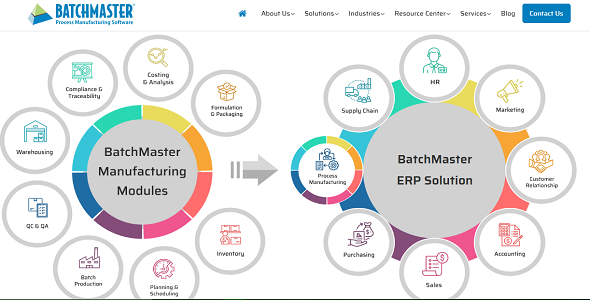 BatchMaster is the best ERP software for process manufacturing software. It is designed to fulfill the particular needs of process manufacturers.
In addition, it is a complete ERP software that makes your inventory system more convenient and can easily control your business.
Moreover, BatchMaster helps you maintain some essential operations, including transactional audit reports, labeling, reports, shipping documentation, etc.
Features
Batch production system
Lab and formulation
Quality control system
Tracking compliance system
Inventory management system
Product costing
Packaging BOM
Planning and scheduling
Mobile warehousing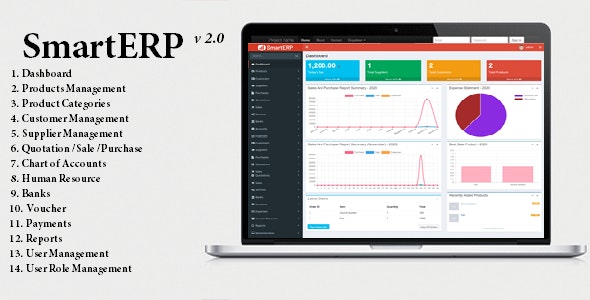 SmartERP is a well developed and amazing business management solution. You can easily handle your stock, products, customers, suppliers, sales, purchases, customer payments, accounts, and many more essential tasks.
The coding style is TypeScript, and it follows standard ASP .Net Core 3.1 MVC and C#. SmartERP uses MS SQL server database.
Features
Super dashboard
Product categories
Supplier management
Quotations, purchases, sales service invoicing.
Expenses management system
Payment control system
Human resource management system
Multi-language support system
Chart of accounts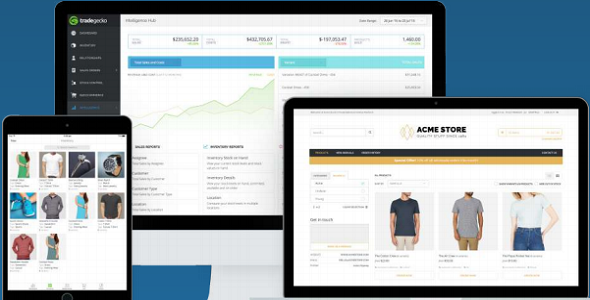 It is a cloud-based ERP software. Tradegecko is designed to make business operations more convenient.
Your essential business activities, like purchasing and sales, stock management, and critical business applications, can be controlled by only one platform.
It offers a B2B eCommerce portal. This ERP software is the best for the eCommerce business. It also contains demand forecasting, customer relationship management.
Features
Accounting
Manufacturing
Backordering
Batch and expiry tracking
Customer relationship management system
Inventory control and optimization
Order management
Multichannel sales
Sales reports
Inventory reports
Price listing
Warehouse management system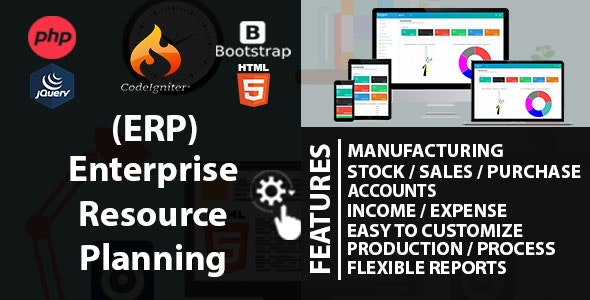 Facteezo is designed by CodeIgniter or PHP, which is an elegant and comprehensive ERP solution for company, factory, and shop management systems.
The experienced developer designs this ERP software by considering different aspects of business operations. Besides, it offers accounts, manufacturing, stock, purchase, sales, costs, production, and real-time reports to the business owners.
However, Facteezo is one of the most dynamic business solutions that helps the business organization handle and maintain business activities more conveniently.
Features
Product management system
Accounts management system
Warehouse management system
Purchase management system
Sales management system
Employees maintenance system
Supply chain control
Reporting sales graphs and charts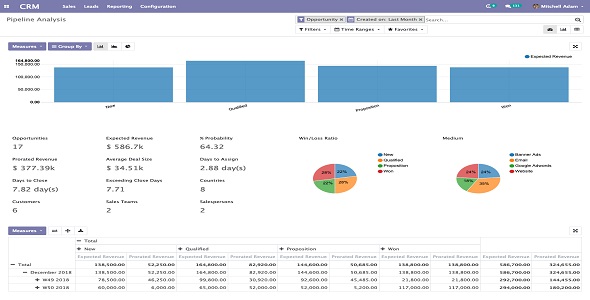 Odoo is an open-source ERP software. It is a popular and useful ERP tool that offers a complete business solution.
It is highly customizable and more convenient to use. The time management system of this ERP software is improved.
You can integrate various third-party apps with Odoo ERP software. On the other hand, the depth analytics system is not well developed in this system.
A dedicated IT team is required to handle its functions, which is a drawback of Odoo ERP software.
Features
CRM
Human resource management system
Accounting system
Document management system
Inventory management system
Invoicing system
Project management
POS system
Sales and marketing automation system
ERPNext is the best open source business platform. It is available in both on-premise and cloud-based options.
This software has high configurability, short time set-up time. Besides, it is active, vibrant, and fast. ERPNext software is easy to use, and the installation process is not complicated.
On the contrary, the cons of the ERPNext software is that it doesn't integrate with its banking software.
Features
HR and payroll management
Customer relationship management system
Project management
Stock management
Financial management
Highly customizable
Real-time reporting system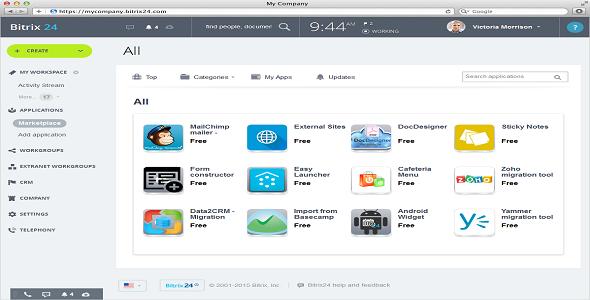 Bitrix24 is developed for all sizes of businesses. It helps you to maintain your business operation perfectly.
It has both a cloud version and an on-premise version. You can easily install this ERP software on your server.
The modules of Bitrix24 is organized in one place. So one can easily handle the software easily having minimal tech knowledge. But this ERP software is not as much responsive as expected. It takes a long time to respond.
Features
Customer relationship management
Project management
Document management
Task management
HR management system
Employee management
Real-time report system
Stock management system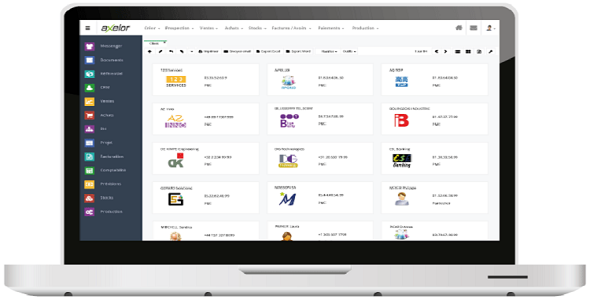 Axelor ERP is one of the best ERP software. It is a complete ERP system wrapped in a good interface.
It offers you a better experience compared to other software within the price range. Axelor ERP helps you to manage the business operation successfully without facing any severe difficulties.
You can complete any task, just a couple of clicks away.
Features
API
Active dashboard
Billing and invoicing system
Data export and import system
Inventory management
Document management
Automatic notifications
Real-time data and reporting
Workflow management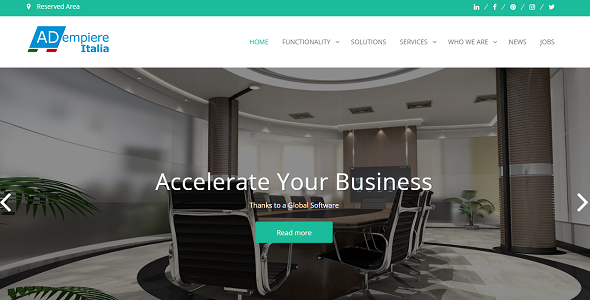 This ERP software is best for small and medium-sized businesses. In 2006, ADempiere was designed.
It has multidimensional ERP features that help the business to get satisfied by fulfilling several needs.
The user interface of this software is good, and the software is a cloud-based solution. It is accessible on Windows, mobiles, tablets, Linux, and Unix.
Features
Supply chain management system
Customer relationship management system
Sales management
Purchase management
Inventory management
Point of sale system
HR and payroll
Budgeting and costing information
Real-time data analytics
Recommendation
There is several ERP software in the marketplace. Choosing one of the best is not easy.
How can you identify the best ERP software? In this case, you must have a better knowledge of ERP software.
Firstly, consider your requirements according to your business size. Some ERP software is suitable for small businesses, and some are appropriate for medium and large enterprises.
For instance, Sales ERP software is designed for all types of businesses. On the other hand, Facteezo is best for large-sized business.
Secondly, you have to consider the industry. Some ERPs are developed for a specific industry. For example, BatchMaster ERP software is suitable for the process manufacturing industry.
Lastly, you should go for the desired one, which contains essential features to maintain your business operations. Your demands are the first and foremost priority in this regard.
Some ERP software is customizable that offers you a good interface. Besides, you must consider the types of ERP software, including open-source or cloud-based.
If you go for the cloud-based ERP system, you have to pay an amount every month as a subscription system.
On the contrary, you will get a complete package through one-time payment if you choose the open source ERP system.
However, here top 20 best ERP software for small businesses are provided. You can choose any of them which is suitable for your business. But the desired features must be available in the ERP software, which helps you to develop your business.
Wrapping Up
Business management is a complicated task, as several departments conduct particular operations. The owner of the business needs to maintain overall activities.
In this regard, ERP software is the only solution that helps to simplify business operations. Your business resource utilization can assure your long term success. ERP software for small businesses is a complete business solution.
The Sales ERP software is the best ERP software for small business, medium, and large enterprises.
Although you have already got complete information about other best ERP software, you should precisely choose what you need.
Would you like to read: 10 Inevitable Steps to Shape your eCommerce Business plan