A Complete Guide on How to Become a Pharmacist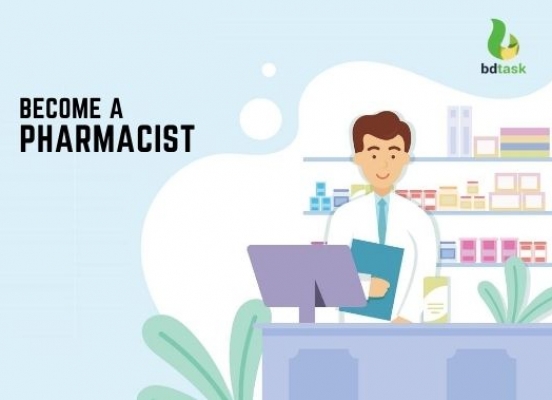 A pharmacist is a person who can operate the entire pharmaceutical activities. Also, the pharmacist can serve the patient's medicine according to their prescription. So, pharmacists must have to gain accurate knowledge about drugs and treatments. In the world, a pharmacy career is growing very fast. For example, An official U.S. government report shows that a pharmacist earns $128,090 per year and $61.58 per hour, but an Indian pharmacist can earn almost ₹293,527 per year. In different circumstances, the salary of a Nigerian pharmacist is, on average ₦1,542,148.
Moreover, to become a pharmacist, you must require a doctor of pharmacy (Pharm.D.) degree, a four years professional degree, and a working license. Thus, it is a very profitable profession for establishing your career. Moreover, it would help if you had a proper guideline to become a pharmacist. In this article, I will discuss a complete guide on how to become a pharmacist, which will be very helpful for your career.
Types of Pharmacy Degrees
Firstly, you need a pharmacy degree to become a pharmacist. Moreover, there are three types of options for choosing the pharmacy profession in your career. But if you decide to build your career as a pharmacist, then you must take a doctoral degree. So, the degree will depend on the role you want to play in your pharmacist career. Now, I will provide a brief explanation of the types of pharmacy degrees for your better job.
Pharmacy Assistants
To be a pharmacist assistant, you must have a diploma degree. Also, it would help if you had a G.E.D. degree. Since this profession needs to be a less educational qualification, so there is a need to provide some training opportunities. Moreover, the pharmacy assistant helps maintain the data of distribution information. Also, he/she can prepare stock reports and collect supplier and merchant information. As well as, he can manage the prescription orders. And he can maintain the P.O.S. system as well. The salary range of a pharmacist assistant is not so high in any country. 
Pharmacy Technician
To be a Pharmacy Technician, you need a high school diploma, certificate, or associate's degree. Also, there is a need to train pharmacy technicians through pharmacists. Moreover, they can perform various tasks in any pharmaceutical store. For instance, they can provide customer service. As well as, they can collect and maintain customer information for preparing medications. Also, they can perform packing and labeling activities. The pharmacy technicians can manage the inventories. First, they verify the prescription, then send it for approval. The salary of a technician is higher than a pharmacy assistant.
Pharmacists
To grow your future in the pharmacist profession, you must be required to have a PharmD degree. Also, you need a license. Moreover, in a pharmaceutical store, most of the work is done by a pharmacist. Thus, the pharmacist can play an essential role in any pharmaceutical store. They are responsible for ensuring patients' safety. Also, they can analyze any side effects of the medication and prescribe alternative medicines as per the prescription. As well as, they can help the customer to understand how they take medicine. Besides, they can complete the task of vaccination. Moreover, a pharmacist can perform various essential functions in any pharmacy store. The salary range of any pharmacist is higher than a pharmacy assistant and a pharmacy technician of all countries.     
Step-by-Step Guideline on How to Become a Pharmacist
I think you have understood the types of pharmacy careers. Do you want to become a pharmacist? If your answer is definite, then this section will be essential for you. In this section, I will describe a step-by-step direction for you to become a pharmacist.
Required Degree
After completing high school, then you must need a Pharmacy degree to become a pharmacist. If you have done your diploma, then you will need six or seven years to complete your Pharm.D. degree. Otherwise, after finishing your high school study, you can take this degree after completing two years of research in a pre-professional college. Moreover, to achieve a Pharmacy degree, you need four years. In other words, when you acquire a two years pre-professional college degree, then you can complete a four years Doctor of Pharmacy Degree. So, there are two options for obtaining a Pharmacy degree. Also, some schools may provide a direct opportunity to complete pharmacy courses after completing pre-professional college studies. So, they can ensure to go admission to the pharmacy school after completing the two years of undergraduate courses and other requirements.
Required Courses
If you do not complete the undergraduate pre-professional courses, you will be given a chance to be admitted to a Pharm.D. program. But first, you must have to complete all the prerequisite courses. Moreover, the Pharm.D. program is consists of some of the following courses:
Biochemistry
Pharmacology
Biostatistics
Pharmacological measurements
Pharmacology
Toxicology
Pathology
Chemotherapy
Medical Ethics
Pharmacy Law
Also, you need to complete a formal internship from any pharmaceutical store during this period. This can enhance your working capabilities. The Pharm.D. program also covers various courses. For instance, English, Mathematics, Biology, General & Organic Chemistry, Physics, Statistics, Economics, and History. If you want to earn advanced knowledge about the pharmacy courses, you will need to acquire a master's degree in business administration (M.B.A.). 
Complete Training
After completing your Pharm.D. program, you need to complete your training sessions to gain some professional knowledge. So, this part is crucial before starting a job as a pharmacist. Moreover, to start a career as a pharmacist, you need to require a two-year residency program. So, you have to complete a one or two years residency program before starting your career. The training opportunities can provide you with specialized knowledge about the field of the pharmacist. So, it is one of the essential steps to become a pharmacist and get a license. 
Getting License
This step is very significant for starting a job as a pharmacist. If you do not get a license, then you can not begin to work as a pharmacist. Moreover, to get a license as a pharmacist, you must pass the Doctor of Pharmacy (Pharm.D.) degree from any college accredited by the Accreditation Council for Pharmacy Education (ACPE). Also, you may take the North American Pharmacist Licensure Exam (NAPLEX) for gaining excellent experience. You may also give a Multistate Pharmacy Jurisprudence Examination (MPJE), or a state-specific test depending on the pharmacy law of your country. To get a license, you need to pass the Test of English as a Foreign Language (TOEFL iBT).
After that, you need to apply for the Foreign Pharmacy Graduate Examination Committee (FPGEC) Certificate to take the Foreign Pharmacy Graduate Equivalency Examination (FPGEE) because it is mandatory for getting a license. Finally, after completing all tests and examinations, then you can get a license as a pharmacist. 

 
Where Can Pharmacists Work?
A pharmacist may work in various sectors. Also, they can be able to adjust to different working environments. In this section, I will try to discuss some working fields where pharmacists can work.
Hospital Pharmacies
A pharmacist can work in any hospital pharmaceutical store. Also, they can prepare medicine for patients. Moreover, the hospital pharmacist can manage medication, and they can decide which antibiotic will be suitable for each patient. As well as, they can give the proper advice for taking medicine. The hospital pharmacist helps to monitor the drug chart for checking all information. Besides, they can perform the task of discharging patients. Finally, the hospital pharmacist can manage all medication-related activities and keep the system up to date.
Community Pharmacies
A community pharmacist can play a vital role in our society. Moreover, they can maintain the pharmaceutical activities. Also, the community pharmacist can serve medicines, and they help provide the direction for taking medication to the patients. As well as, they can keep a record of the stock for giving a quick service. Besides, the community pharmacist manages the financial sector in this pharmaceuticals store as well.
Primary Care Organizations
In primary care organizations, pharmacists can manage all types of medicines. Moreover, they try to increase profitability and reduce loss. Also, they can ensure to give the proper service. They can provide the best service in the local population and help create health awareness among local people.
Research Labs
In a research lab, pharmacists can collect medicine information and analyze which drug is best for a particular disease. Also, they can perform various research depending on their collected data. Besides, the research pharmacist can perform several duties and responsibilities that are related to medication research. 
Prisons
In prison, a pharmacist can provide first aid to a patient. They can maintain the medicine sector in prisons easily. Mainly, they can provide treatment to the prisoners. The prison pharmacists can ensure the health care facilities for each prisoner. So, the prison pharmacist can offer clinical service to all prisoners.
Veterinary Pharmacies
The veterinary pharmacist can serve the medicines for all types of animals. Also, they help local people understand the right way to take medicine. They can provide medication according to the instruction of veterinary specialists. So, veterinary pharmacists should have proper knowledge about all types of diseases of animals. 
Governmental & Military
A pharmacist can perform a useful role in governmental and military sectors. They can ensure the health condition of all government officers and army soldiers. The military and governmental pharmacists can get a very standard salary in all countries, For example, it is the most popular profession in the U.S.A., and the salary of a military pharmacist is almost  $115,741 per year. Indian military pharmacists get approximately ₹ 3 Lakhs per year.
Conclusion
This is the most significant profession in all countries. If you can establish yourself as a successful pharmacist, then you can lead a tranquil and luxurious life. Thus, you have to need proper guidelines because, without proper guidance, many people cannot be well-established in their life. This article will guide you to become a successful pharmacist. So, you can get an overall guideline in this article for becoming a pharmacist, and that will be very helpful for your career.