A Comprehensive Guide of Pharmacy Billing Software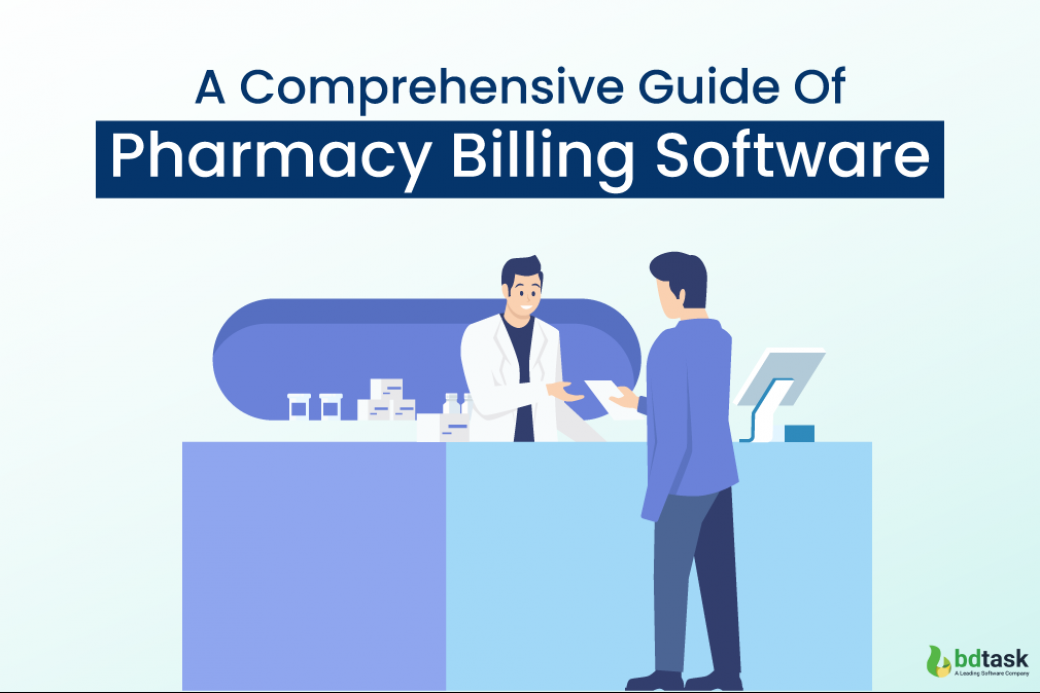 Are you planning to open a pharmacy store or looking for a system that may modernize your current pharmacy store? Well, I think you are also looking for an automated and smooth system for your pharmacy store. Let me inform you that pharmacy billing software for pharmacy has become a new and trendy technology with advanced management qualities.
A pharmacy management system assists you in managing your whole pharmacy business efficiently, maximizing profitability, and enhancing customer satisfaction. Automation software or system now becomes a crucial part of a pharmacy store since billing service is needed for day to day transactions.
In this article, I tried to portrait the whole concept of pharmacy billing, POS, and management software. It also illustrated some astonishing understanding of pharmacy billing software along with their benefits, how pharmacy management software can help you to boost up the efficiency as well as intensify better CRM.
Pharmacy billing software or pharmacy management software convey an entire mechanism for any pharmacy store or medical store. Pharmacy billing software assists the whole medical pharmacy shop in processing a smooth and fast translation along with recording all the exchanges made at daily sales.
Pharmacy management software also has some other criteria which will help you to manage your pharmacy business efficiently. Criteria such as stock management, medicine management, real-time report recording system, module to keep track of medicine expiration date and POS invoice management, etc.
Pharmacy billing software is also called medical shop billing software to covert all the troublesome work into automation form and bring proficiency to your pharmacy store. The invention of this pharmacy management system is made to bring tidiness in organizing and recording the sales reports, management workflow, and maintaining the quality of the medical records. Therefore be able to give the best and fast service to each and every customer.
Let's Get Introduce With The New Flow Of Digitalization
Pharmacy Billing Software
Across the past few decades, we have seen an immense evolution of technology. People are now even implementing and utilizing technology in every sector. The automation system in the medical and health sectors increases work efficiency and can save millions of lives. Besides, automation has brought a great degree of accuracy in regular routine and repetitive tasks.
Furthermore, we often see POS billing machines in every restaurant and super shop, which as usual, give us fast, smooth, and efficient billing service. Already, this new technology has won many people's hearts with its efficient function and fast service. So why not integrating this POS billing automation software for a pharmacy or medical shop?

Pharmacy billing software is an integrated part of the pharmacy management system. And before choosing any medical shop billing software, you should definitely need to know all the features of a pharmacy billing software because features are the only part that will add a distinguishing attribute to your business. Therefore help you run your business more smoothly. Features of your pharmacy management software also help you provide the best and fast service to your customers.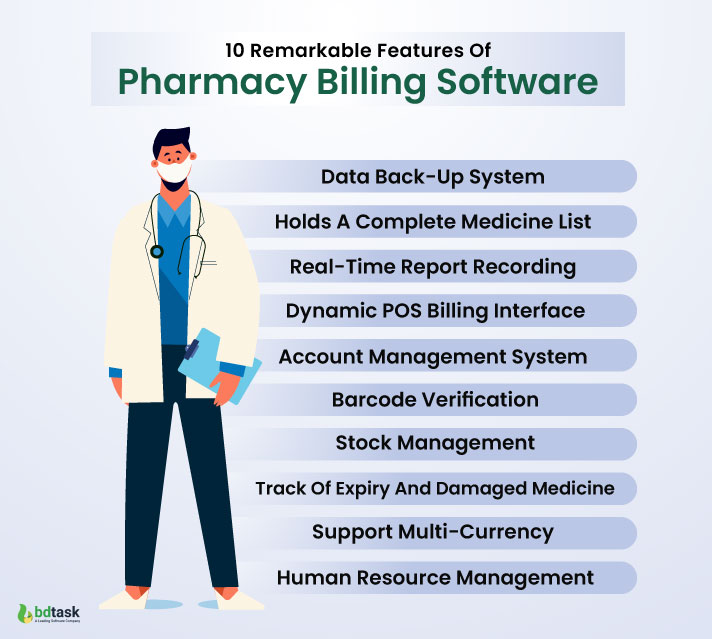 Every business needs to deal with a lot of data, some of them get lost, or some don't get records properly, and all that happens because of not having a proper management system. Hence an exceptional system is needed to overcome all those problems.
On the other hand, a proper data restoring system is needed for a pharmacy store because a pharmacy or a medical store is a place for getting fast and trustworthy service. All the data such as the medicine available in the stock, the expiration date of the medication, data of the human resource, and data of the purchase, sales, accounts, etc. all can be saved and accessed easily by the pharmacist.
A complete medicine list module or system in a retail pharmacy billing software is necessary because it holds the full list of all the medicine available in the pharmacy. This module is on the features list because this medicine list helps a pharmacist to keep updated about all the stocks available in the store.
Besides, this list also helps a pharmacist give quick service to his/her customer and build positive customer relationship management. The medicine list module; not only hold the information of the medicine but also hold the image, shelf no, price, name of the manufacture, and generic name, etc. While giving a service, a pharmacist can not only check; whether the medicine is available or not but also track the exact place of the medicine on the shelf.
In the past, people used to record all their transactions in huge long notebooks to keep track of all businesses' big or small data. But after the invention of some very responsive technology, people slowly have replaced the business notebook with automation technology, the POS billing system.
Thus, the medical sector slowly adopted automation technology for better and fast service to every customer. A business report always keeps the real-time records of all transactions, so that at the month/year-end, an entrepreneur can calculate all the expense, revenues, and the purchase happened. This calculation gave the owner the confidence to run the business more efficiently and have a clear review of the business.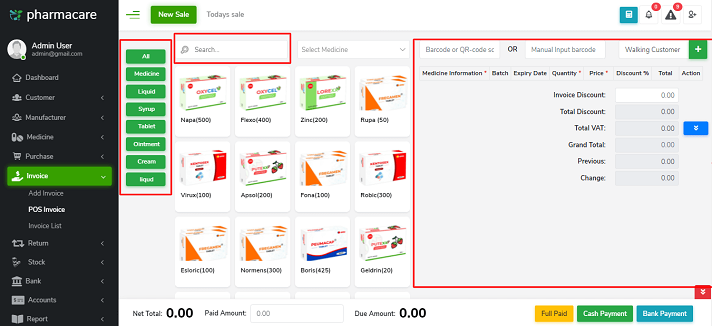 The actual visualization of the pharmacy pos software. As we can see that while billing, a pharmacist not only gets to select the medicine criteria from the type of medicine but also can search in the search box.
Furthermore, when a pharmacist selects the wanted medicine, the marked red box will automatically get fulfilled, such as medical information and price; the pharmacist just has to fill up the quantity and discount. And that's it; the pharmacist receives the final amount. If I share my opinion about this Pharmacare billing software, I find it a straightforward, fast, and smooth billing system. Just no complication; it's all direct and understandable.
Pharma accounting systems are one of the significant features of your pharmacy medical shop billing software. And before you purchase any pharmacy billing software, you need to make sure that the accounting module records contain some compelling features, such as all the manufacturer payments, debit vouchers, credit vouchers, auto cash adjustments, etc.
Moreover, this accounting module will automatically generate the trial balance, general ledger cash flow, profit & loss account, and balance sheet in every transaction. With the assistance of pharma accounting software, you no longer have to calculate each and every transaction hand in hand. This account's module will get all the recorded transactions of the pharmacy's day-to-day activities in a very organized and chronological form.
Barcode verification is one of the other important features of Pharmacy billing software. With barcode verification, you do several different aspects throughout the system, such as recovering or refilling the information, POS scanning, verification of dispensed product, etc.
With a barcode verification code, you can scan the barcode according to the established standards. A barcode scanner helps the billing procedure smooth and fast. Barcode verification is basically a scanning process that examines the barcode printed on the product's box. In short, it is a time-saving mechanism for every business.
Stock or inventory management for a pharmacy is quite essential. This feature has been given to reduce the complication of managing and organizing the inventory for the pharmacy business. The main task of a stock management system is to monitor the orders, supplies, and number of inventory available.
Besides, it has a robust automation system; hence it can record all the details such as medicine name, manufacture name, batch id, expiry date, stock box, and quantity. Moreover, stock management comes up with some great benefits for every business too.
A stock management system can give you an advance notification; if any inventory reaches a minimal stock, monitor the medicine expiration date and estimate the most demanding medicine.
We all know how medicine is essential to recover from any illness. Keeping exact track of the damaged and expired medication is very important. When a medicine damages or expires, it may lose its effectiveness and become risky to consume. Therefore, a pharmacist has to destroy those expired medicines.
With Pharmacare- Pharmacy management system, you not only help you manage your pharmacy efficiently but also help to track medicine's expiration date and notify the pharmacist about that. Pharmacare does have a separate module for that, so stop worrying and let Pharmacare manage all your work.
Indeed, Pharmacare is the best medical store billing software. Among so many efficacious features, multi-currency is another feature that helps every user of the pharmacy management system match their currency and language; etc. features are available in the dynamic dashboard. Users of this pharmacy management system can access this system with their own native language and local currency.
When it's about adopting a management system for your pharmacy store, recording and monitoring all your employees' data also come into the category of a management system. Data such as day to day activities, designation, attendance, expense, and payroll, etc. Therefore you can easily track and monitor every employee's workflow accuracy and evaluate them well at the year-end.
Since you have reached this point, I hope you have gained some insightful ideas about all the incredible features of pharmacy pos software. I know, what's been bothering your mind? Why do you need one? And how are you going to get benefited from using this pharmacy pos software in your pharmacy store?
Don't you worry!! I have all of your answers. Now I'm going to unfold some of the best benefits you are gonna get by adopting a pharmacy pos software in your pharmacy store.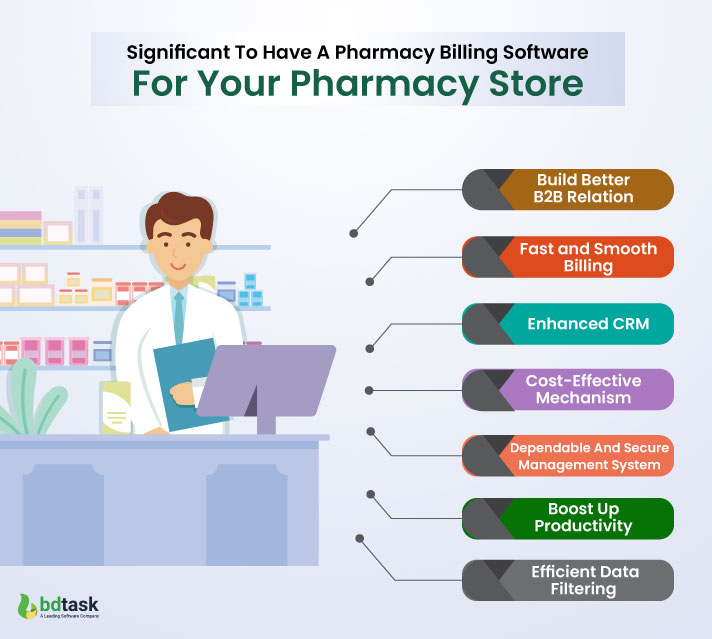 1. Build Better B2B Relation
Dealing with multiple manufacturing and maintaining a fruitful relationship at the same time is an essential and most challenging part. If you're a pharmacist and using a traditional management procedure, obviously, you're running to or calling your manufacturer multiple times to get your inventory on time. Hence it becomes a very time-consuming and lengthy process.
On the other hand, adopting a pharmacy management system like Pharmacare will not only manage, smooth and flexible your pharmacy store but also help you to deal with multiple manufacturers. Besides, it will efficiently record all the details about the manufacturers such as name, contact no, address, email, total balance, etc. No more maintaining a long notebook to record all data. The best pharmacy management software is here to help you.
2. Fast and Smooth Billing
If you think from the customer perspective, customers always want a fast and smooth service for every purchase. Similar to that, customers of pharmacy stores; do also want an accurate and secure transaction. Pharmacy POS software is only responsible for maintaining the accuracy and efficiency of the billing counter.
Everyday management of a pharmacy has to go through some very hectic challenges and to take many vital decisions too; to run the day-to-day operation properly. Hence a pharmacy store always needs to consider the best POS billing software for accurate implementation of every service.
3. Enhanced CRM
When you are a pharmacy POS billing user, I don't think you have anything to worry about maintaining a happy relationship with every customer because you are already overwhelmed by some of the attributes of this pharmacy POS software.
Pharmacy POS software helps a pharmacy store's billing counters' line keep moving and also eliminates the risk of any mistake in recording price. Furthermore, POS billing software increases the accuracy of the whole payment method, such as cash, credit card, debit card, or gift card.
4. Cost-Effective Mechanism
I know it's been knocking your mind that; what's the price of this Pharmacy billing software? Is it affordable? Will it increase the expense of my business?
Since this pharmacy POS software is coming with so many benefits and features to maintain your pharmacy efficiently, within one system.
I might shock you, but yes!! Pharmacy billing software is actually budget-friendly software. Besides, also it helps you to eliminate all costs related to operations and maintenance in a business. Pharmacy POS software is genuinely proven to be a cost-effective mechanic for every pharmacy. With this management system in your pharmacy, you won't have to worry about any functionalities or stress of recording everything in your notebook.
5. Dependable And Secure Management System
Medical shop billing software is the most dependable and secure management system. Medical shop billing software records all the aspects of your business, such as manufacturers' details, POS billing records, stocks available in the pharmacy records, account records, and many more.
You can depend on this management system because the pharmacy management system reduces the chance of losing any data and the risk of getting hacked. In fact, pharmacy POS software helps you to monitor your pharmacy well. Indeed, with guarantee, I can say that pharmacy billing software helps you to bring reliability and security to your business.
6. Boost Up Productivity
Keeping accuracy on the workflow or maintaining productivity in any business is very important. We all can understand that the accuracy of productivity by automation will be twice compared to the accuracy of productivity by a man.
Automation in your pharmacy will not only boost up your productivity but also help save your time, which you have to invest in recording and managing every operation that happens in a pharmacy. Besides, this pharmacy POS software helps you stay on an organized track and fulfill your goals.
7. Efficient Data Filtering
Efficient data filtration is another beneficial factor for a pharmacist. Since we all understand; how providing a fast and secure, can improve your relationship with your customer. Therefore, Pharmacare, the best pharmacy management software for every pharmacy, comes with a smooth and speedy, user-friendly billing invoice system.
The factor that makes it faster and user friendly is because; the billing system comes up with a search box or data filtration box. This data filtration box helps a pharmacist to search for the wanted medicine by the customer. A pharmacist will only select the medicine category or search for the wanted medication by the customer. This unique factor definitely will help you to win the heart of your customers.
Work Flow of Pharmacy Billing Software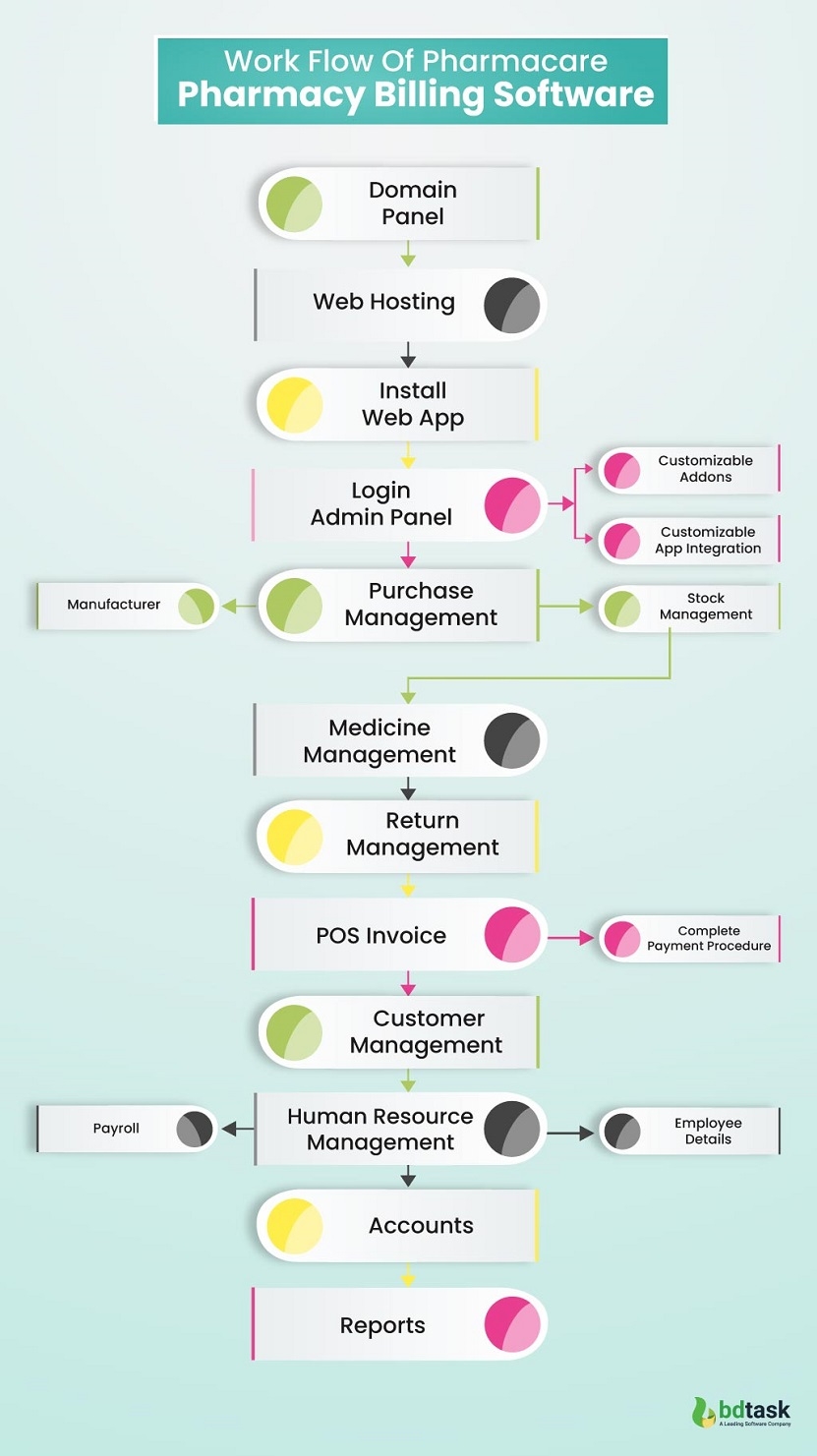 Win Your Customer Heart With Fastest Pharmacy POS Billing
Customers always want fast and secure service from every pharmacy. Customers like to stand in line for long hours. A pharmacy POS billing system transforms all the hassle of handling numerous customers at a time. A fast service definitely wins the heart of many customers.
A POS billing software helps maintain the accuracy and integrate all the retails operations such as back-office management, customer relationship, sales management, inventory updates, and human resource management, etc.
Remember# when you win the heart of your customers with your fast and trustworthy service, they will obviously come back again and again. Ultimately become your loyal customers.
Almost 77% Of The Pharmacist Gets Success After Shifting To Automation Technology.
Still, many pharmacists use traditional ways of billing and management systems; they believe that this new automation technology will be pretty fancy and expensive for them. They still follow the tradition of writing every transaction down in the notebook and manually calculating every transaction at the month/year-end.
This blog is dedicated to those who still follow the traditional ways of doing business or searching for automation technology to run and manage their pharmacy more efficiently. This blog helps to understand the effectiveness and efficiency of adopting pharmacy billing software. You might be thinking, really 77% !!! But let me tell you, it's just an assumption and a slight knock on your mind that people are genuinely adopting the pharmacy management system and getting benefited by it. YOU SHOULD ADOPT TOO. In the above part of my blog, I have described all the essential features and benefits of having a pharmacy management system. GO HAVE A LOOK, NOT GONNA BORE YOU AGAIN.
Correct Time To Deploy A Pharmacy Management System
There is no correct or incorrect time to start something new; in fact, starting something "RIGHT NOW" always brings the best results. Are you fed-up with your flawed management system, error-prone, or your stupid leaky system? Did you notice the sign of irritation in your customer's face, who had waited in a long query line for a long time? Getting complaints from customers; because of insufficient medicine available in the stock? Are you facing trouble organizing your records, reports, bills, inventory, etc.?
Then I think this very moment is your right time to purchase pharmacy management software.
As a pharmacist, you should always be aware that how important it is to take medicine timely. Hence a fast and flexible pharmacy management software call solve all your problem:
Proper pricing, billing, and payment
Organized ordering management system
Pharmacy POS billing software
Automatic records of patients records,
Stock management
Since you're at this stage, I expect you to have an inclusive understanding of the features, benefits, needs, and moral inspiration to adopt the best pharmacy management system for your pharmacy store. Therefore I'm going to discuss the price and cost of this new form of digital solution. Let's have a look and analyze yourself whether the price is justified or not in the exchange of paying such price:
Domain

Hosting

Flexibility fit with third party API

Integration with mobile App integration (customizable)

Maintenance and support

Have ERP and CRM module

Web application development

Data migration charges
The software price is usually decided, depending on the cost of having a comprehensive team of technical human-resource hours invested in developing software. A team of engineers, such as project managers, mobile app developers, cloud engineers, UI/UX engineers, testing engineers, and data migration engineers, etc.
Build Or Buy
Which One Do You Choose?
Let's give you a sight idea about how much it will cost if you ever plan to build software like this.
If you from:
North America: it will cost you like $ 3000 to $5000
Europe: it will cost you like $2000 to $ 5000
South Asia: it will cost you like $1000 to $3000
Advantage Of Building A Software:
Can fulfill your unique business requirements

If you have plans to scale up your business, ready-made software isn't that effective.

You can add or change your desiring functions.

No more paying for those modules, which are never gonna use.
Hence Pharmacare- the best pharmacy management system is also best for custom-made software too.
Now let's give you some idea about how much you have to spend if you want to get ready-made software. Which will take approximately $1000, with all features included, and also have the customization facilities. You will just have to download it from the website after paying a one-time license fee or monthly subscription. For ready-made software, you can definitely depend on Pharmacare- the best pharmacy management system too. Its remarkable features and significant benefits make it the best among all pharmacy management software.

With steady growth in the pharmacy industry, we all can predict how the pharmacy business soon become a profitable business!! Therefore to better compete in the market for the long run, you definitely need to adopt a smart pharmacy management technology to transform your business into a smooth, fast, and secure pharmacy store.
Pharmacare will be the best in providing a cost-effective pharmacy management solution, along with essential features and benefits. Pharmacare assists you in reaching your business goals efficiently and raises the accuracy of the workflow. For more information or to visit the demo, feel free to contact Bdtask.
Read More: