30+ Best Free SEO Tools to Rank Higher on Search Engine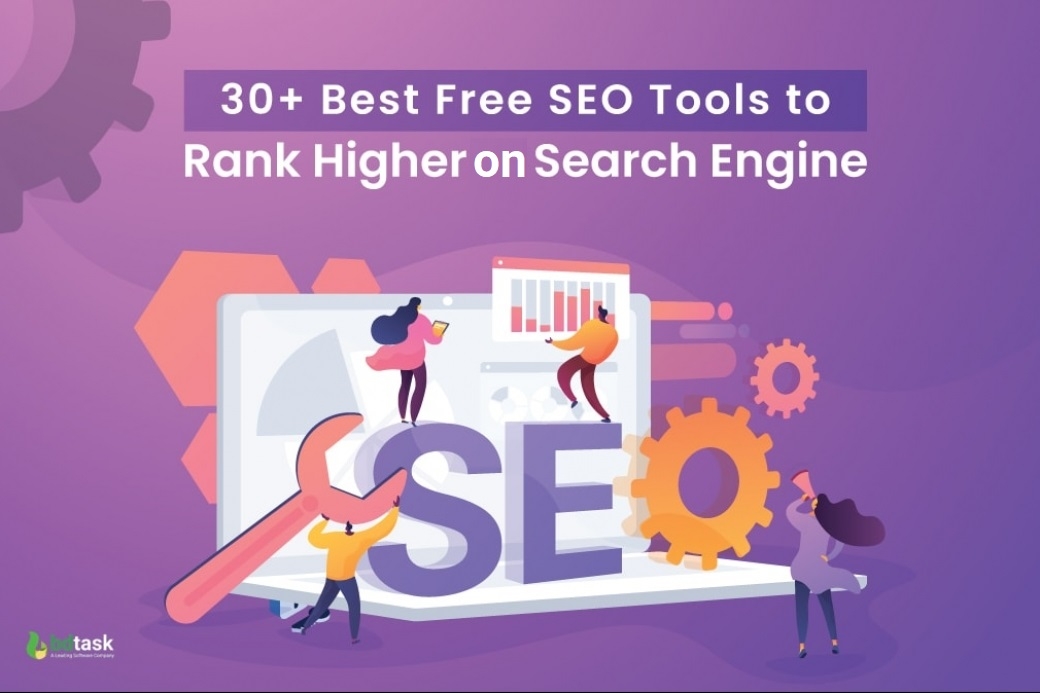 Are you looking for the best free SEO tools before launching your website? By the time you must know that using the right SEO tools is the key to having more visitors. But as a beginner, you might be looking for something free rather than paid ones.
So, to keep that in mind, this article will focus on only free SEO audit tools that you can use for free and create your SEO strategy for higher ranking.
At first, let's see what SEO tools are. Basically, SEO tools are the tools that are capable of examining Web pages. They will inform you about potential keywords, related questions, competitors, insight into your website, and many more. This information will help you to understand your goal and to get a higher place on the SERP.
Generally, to optimize your website, you need to check the following things with SEO tools. They are-
Keyword
A keyword is a bridge between your content and the visitors. Before writing content, it's important to know how many people search for a specific topic. And it's better to write about a popular topic. An SEO tool shows a keyword's search volume, CPC, related keywords, etc., that help you determine your article's keyword or blog.
Backlinks
Some SEO tools provide information like how many backlinks a web page has. Typically, the more backlink a web page has, the more traffic it gets. Therefore, increase the chances to get a higher position in the ranking.
The number of backlinks helps you decide how many backlinks you need to have for your web page.
Ranking
The fact is you need to check the ranking website to understand their strategy. In this case, you can use SEO tools to examine the top websites. Check their content structure, page insight, and other things to know your weakness or improve your site.
Traffic
Some SEO tools visually represent the visitor flow. It shows the visitor's statistics like how often they come to the website and what countries they are from, etc. The traffic visualization will help you to sort out your potential visitors and their requirements.
Depending on cost, there are three types of SEO tools available on the internet. The list is given below-
Free tools: These SEO tools are free to use. But you might have to pay for some features for these tools. This article is mainly based on this type of tool.
Paid Tools: This type of tool you get from a one-time payment or even monthly or annual payment. Professional tools are involved in this category.
Payment per use: Some SEO tools charge based on the search volume. In this category, you have to pay the amount according to your benefit.
News365 - SEO & Auto Schema Built-in Newspaper, Magazine & Blogging Platform! Pay One-Time, Enjoy Life Time - Just $39

The fact is, there are two reasons why you can use online free SEO tools. And the reasons are-
First, you need to build SEO strategies for your website. But at the beginning of your work, you might not have enough budget to bear the cost of premium tools. At that time, you can utilize the free tools and do what you need to do.
The second reason is the free SEO tools online provide all the fundamental features. So if you don't want to spend on these tools, you can definitely do that. But at that time, you need to do so many tasks manually. Also, sometimes you need to do many jobs in a restricted environment.
Now, it's time to come to the core part of our article: the list of best free SEO tools. In the following segment, we have listed thirty-two tools. The list is quite long for you to give the possible best recommendation. So, go through the list and be updated in the SEO world.
1. Google Keyword Planner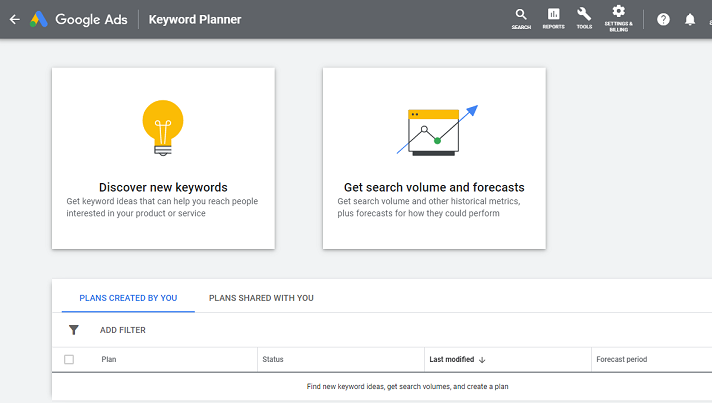 Google keyword planner is the best way to understand people's language. You can get the exact idea about what people search for in the search engine.
But unfortunately, the Google Keyword Planner doesn't show the exact number for the search volume. It will offer only a range. But this information is also functional enough.
Another thing is, the keyword planner is connected with the Google Ads campaign, which costs a few buckets. So you may think that the tools are not entirely free ones. But the good news is, you don't need any other things except a Google account to use this free tool. After a thorough search in the create account page, you will find an option for skipping the Ads campaign and using only the keyword planner.
2. Google Search Console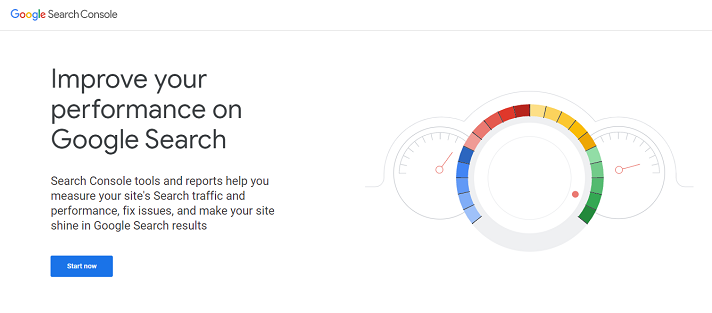 Do you want to know how your website performs in Google's eyes? These free SEO audit tools will help you to do that. Google Search Console allows you to track your website's visitors. It will also distinguish the mobile and desktop users.
On the other hand, you can identify which pages on your website are more popular and your site's errors.
3. Google Tag Manager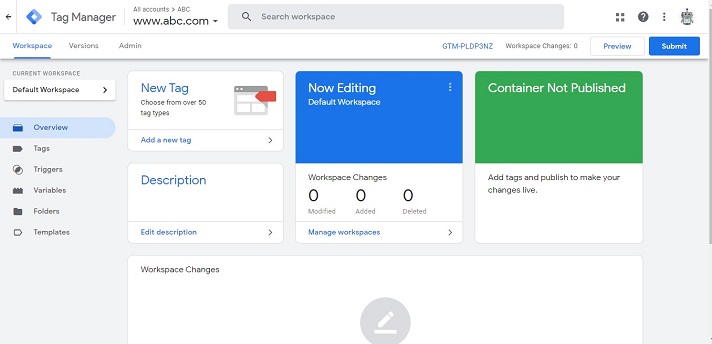 Google Tag Manager is an easy and reliable tag management tool for free. You don't need to touch the coding segment for tagging if you have this. Basically, the tool helps you to add and update your tags whenever you want.
4. Google Trends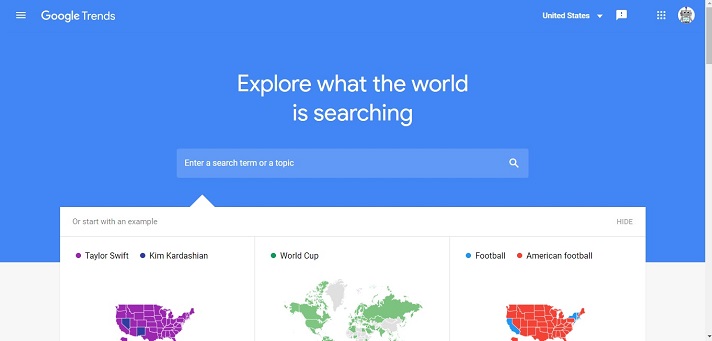 As the name suggests, Google Trends helps to identify trending topics across the world. This tool allows you to catch a popular topic and avoid a dull one. With this tool, you can find whether a keyword is trendy or not.
On the other hand, you can also browse the trending topics based on the year. And find a topic under a specific niche.
5. Google Analytics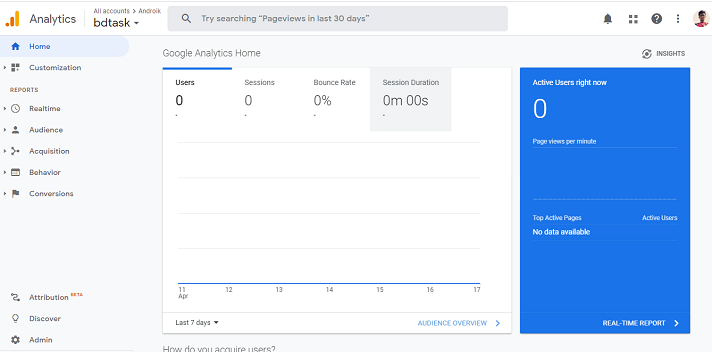 One of the best tools Google provides for SEO is Google Analytics. The free tool will tell the overall insights of your website. It will show the number of visitors, bounce rate, and other important variables.
6. Google PageSpeed Insights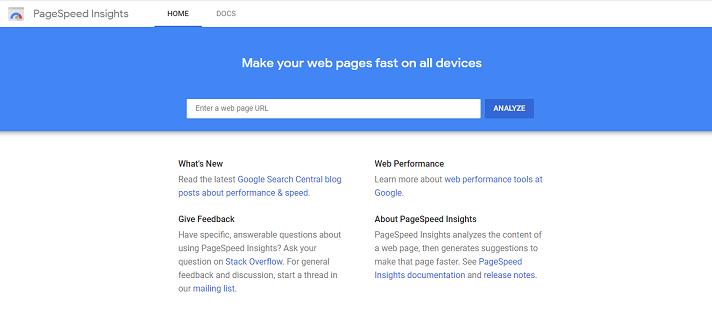 A website loading speed is an important ranking factor. Want to check your site's speed? Google Pagespeed Insight is here for you.
The tools not only show your mobile or desktop performance but also give you a detailed diagnosis. You can check them and improve those criteria.
7. Structured Data Markup Helper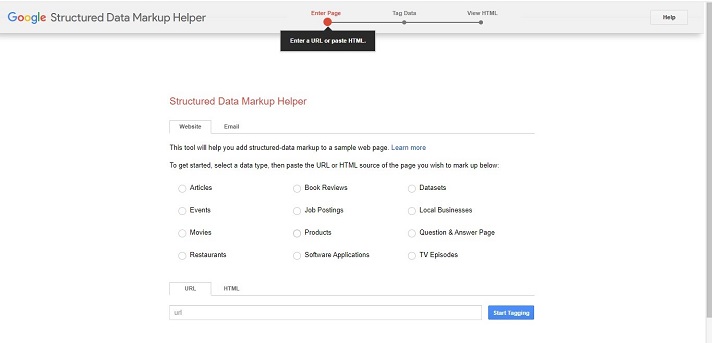 The Google Structured Data Markup Helper is used for adding Schema to your website. Schema is a relatively new term in the SEO world but at the same time one of the most important factors.
With this tool, you can tell more about your content to Google. Like, whether it's an article or blog, or an eCommerce site, or whatever your website featured.
8. Google Data Studio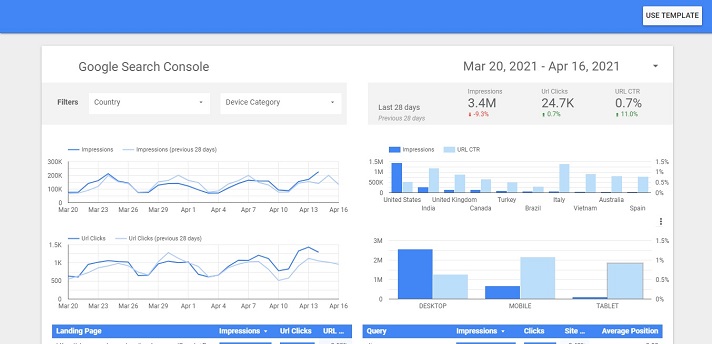 Google Data Studio creates an interactive dashboard and visualizes your website's performance. The tool is integrated with other Google tools like Google Search Console, Google Analytics, etc. so that you can merge data from those tools too.
9. Bing Webmaster Tools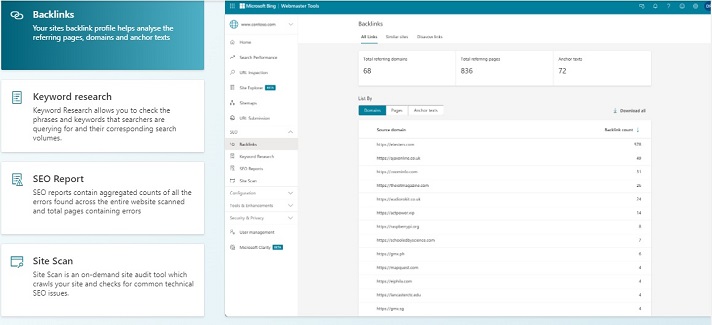 Bing Webmaster Tools is the SEO tool provided by Microsoft. With this tool, you can explore your site, analyze backlinks. You can also do keyword analysis.
On the other hand, the tool provides an SEO report that will tell you about the errors on your site and the number of pages that have those errors. Moreover, the Site Scan feature crawls your website and identifies the common SEO issues.
10. Ubersuggest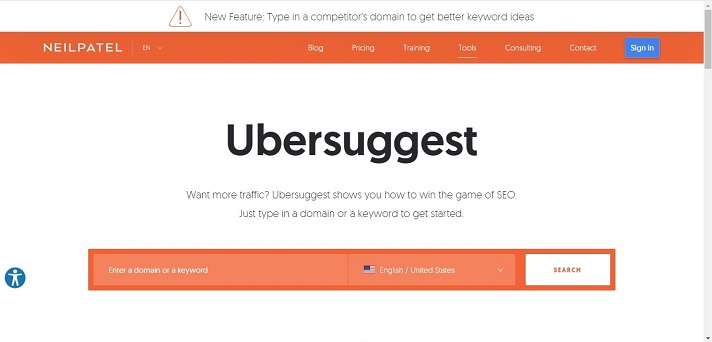 For finding effective keywords and related queries, Ubersuggest is one of the best free SEO tools. The tools also provide search volume, CPC, competition level, and other essential data for a keyword.
Basically, Ubersuggest is a freemium tool. You can only search for three keywords in the free version. If you want more than that, you need to purchase the tool.
11. Moz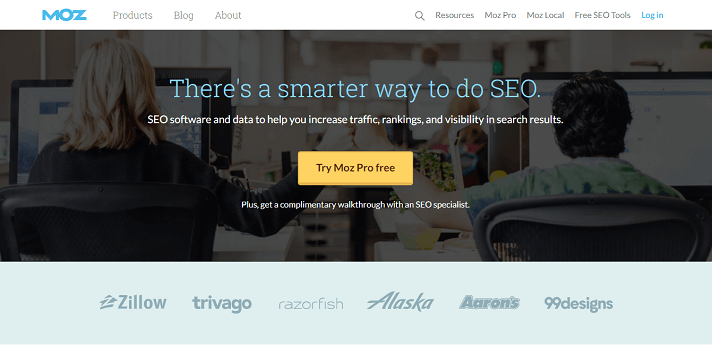 MOZ is another best freemium tool that includes the Keyword Research tool and Link explorer, and many more. Like the names indicate, the first one provides advanced keyword suggestions. And the second one helps you in on-page analysis.
With the MOZ extension, you can see page authority, domain authority, inbound links, and many other things. However, you can use these features after signing up for a Moz account and manage extensions with your browser.
12. Ahrefs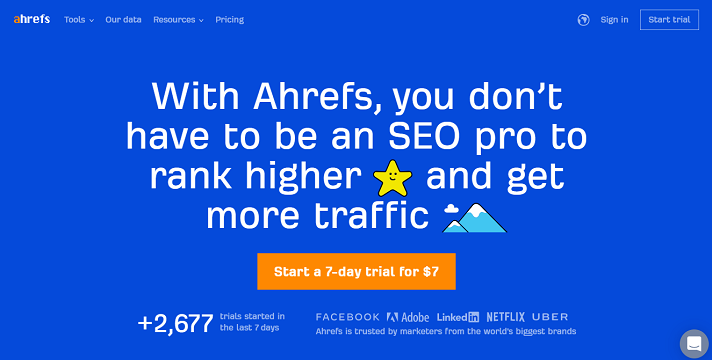 Ahrefs is a freemium SEO tool that can meet all your SEO needs. It has options for site, content, and keyword exploration. Moreover, it has a well-structured dashboard that shows the overall performance of your website.
On the other hand, the Ahrefs backlink checker shows the top hundred backlinks of a website and the Domain Rating too. This tool will assist you to compare with your competitors.
But unfortunately, it has very limited free options. You need to pay a little even to use the trial version.
13. SEMrush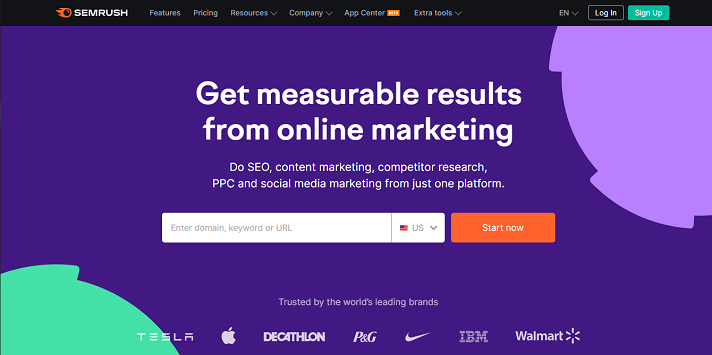 SEMrush conducts an extensive SEO audit and shows the number of backlinks that a website has. You can do a detailed competitive analysis with this tool. After login into the SEMrush account, you need to enter the URL of your preferred website. Then the tool will show you how much traffic the website gets and for which keyword. It also shows the backlinks and referral domains.
You can perform so many tasks with the free version of the tool but, of course, within a limit.
14. Keyword.io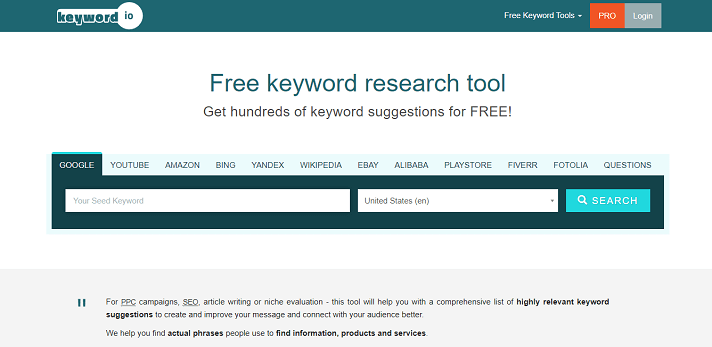 Keyword.io is a free and easy-to-use SEO tool. The tool gives not only suggestions for Google but also other sites like Youtube, Amazon, Bing, Yandex, and many more.
Moreover, the tool will let you find the actual phrases that people use to search for in a search engine.
15. Keyword Surfer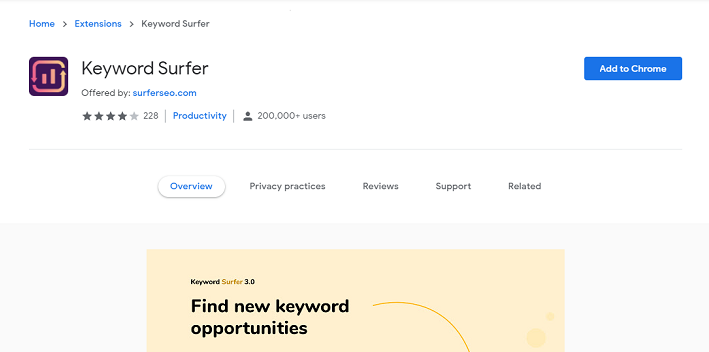 Basically, Keyword Surfer is a free Chrome Extension. It's a simple tool that only shows the estimated monthly search volume with CPC for any query you typed into the search bar. Moreover, the tool also shows the search volume of all the websites in the SERP as well as how many words the particular content has and how many times they use the main keyword.
Besides, it will also show related keywords and terms in the right sidebar. And the best fact is, all these things you can do to be in the SERP. You don't have to leave the search page for this type of research.
16. Answer The Public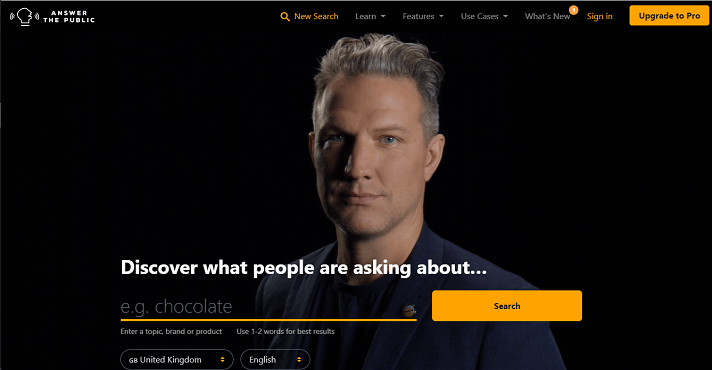 Answer The Public is another best freemium tool. With the unpaid version of the tool, you can get what people mostly ask in Google for a specific topic. You can get a large number of questions, prepositions, comparisons, etc.
In a word, this tool is said to be one of the great tools for generating content ideas as well as to form the content structure.
17. Screaming Frog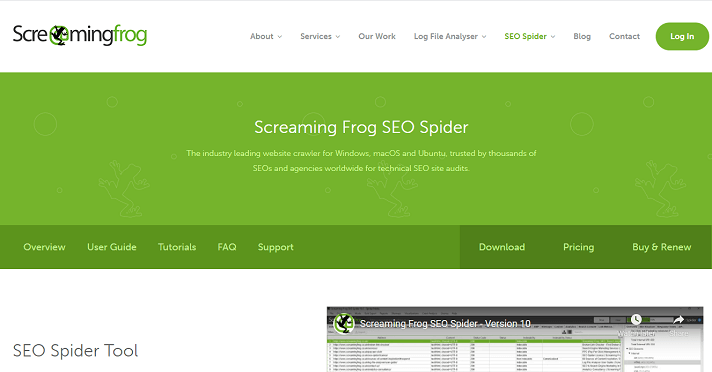 Unlike the other SEO tool, Screaming Frog SEO Spider is a desktop-based tool. The tool allows you to crawl 500 URLs in a free account. And if you want to use it further, you have to buy a license.
The tool is exceptionally good to audit your overall website and search for errors. It is able to find broken links, discover duplicate contents, visualize the site's architecture, and many more.
18. SEO PowerSuite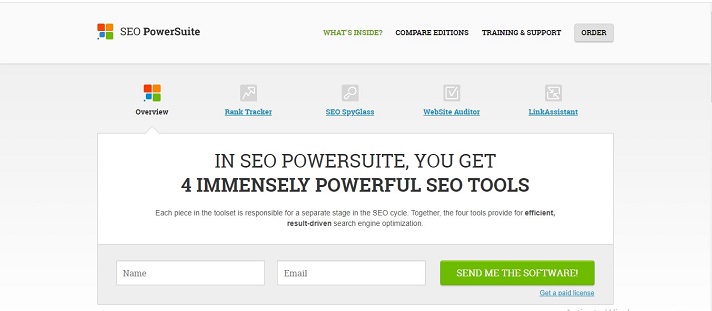 SEO PowerSuite is basically a combination of 4 tools: Rank Tracker, WebSite Auditor, SEO SpyGlass, and LinkAssistant. The tool is capable of completing every aspect of SEO needs. From on-page SEO to backlinks and even SEO campaigns are possible with the tool.
The fact is SEO PowerSuit is a premium tool and mainly used by professional SEO Experts. But you can operate the trial version for free.
19. GTMetrix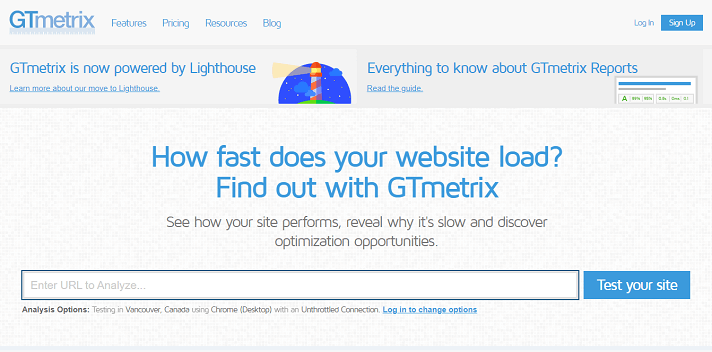 Every day millions of people use GTMetrix to check their website performance. It's a simple SEO tool that is used for only a single purpose which is testing a website's performance. The tool will tell you how fast your website is and mention the reasons behind the slow speed. Moreover, it will also give optimization suggestions to improve your website.
The tool checks your website from a distance server, and based on the speed; it will rate your site. However, if you need to compare your site with others, you can also do that with this tool.
20. Pingdom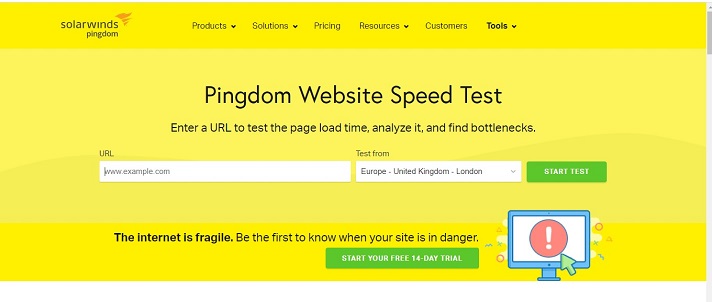 Pingdom is a similar tool to Gmatrix. The WordPress website owner mainly uses the tool to analyze their performance.
You can keep an eye on your uptime, page speed, transaction, serve, and visitor statistics with this tool. Because of its easy and faster interface, the tool is top-rated in the WordPress community.
21. Spyfu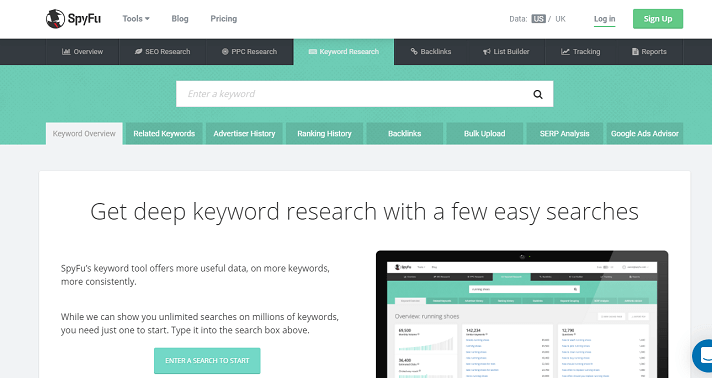 Spyfu is another popular SEO tool that has some features which are free to use. With this tool, you can see every keyword from Google Ads, every organic rank, and every ad variation.
Besides, like other SEO tools, this tool also provides the opportunity for domain overview, SERP checker, rank tracker, and many more. You can indeed say it's one of the best tools for the competitor and keyword analysis.
22. WooRank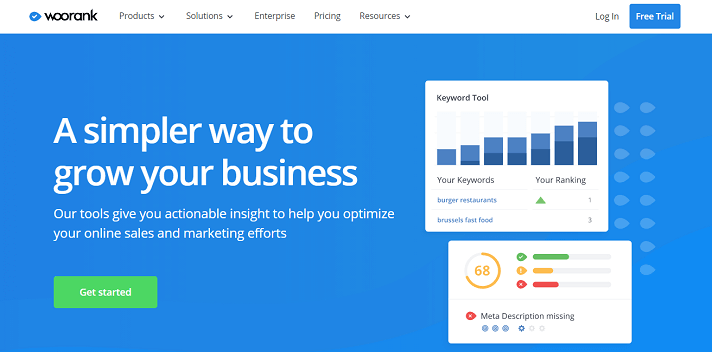 WooRank is a popular premium tool for SEO strategists. But it has a 14 days free trial option. In this period, you can enjoy all the premium features of the app.
The tool not only gives you the SEO solution but also meets all your marketing demands. Like others, the tool has options for SEO analyzing, keyword identifying, and discovering technical issues.
23. Small SEO Tools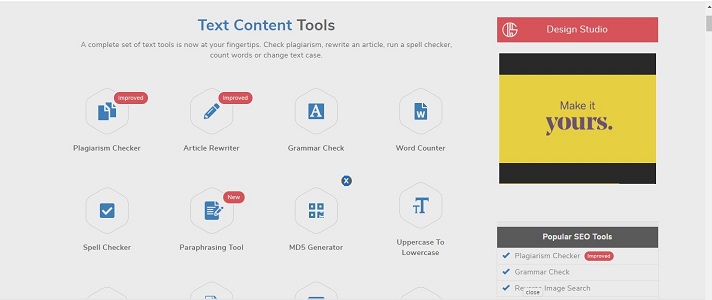 Small SEO Tools is a complete package of writing tools that are helpful for SEO-friendly writing. It includes Plagiarism and Grammar Checker, article rewriter, Word Counter, Paraphrasing tool, and many more.
24. Mangools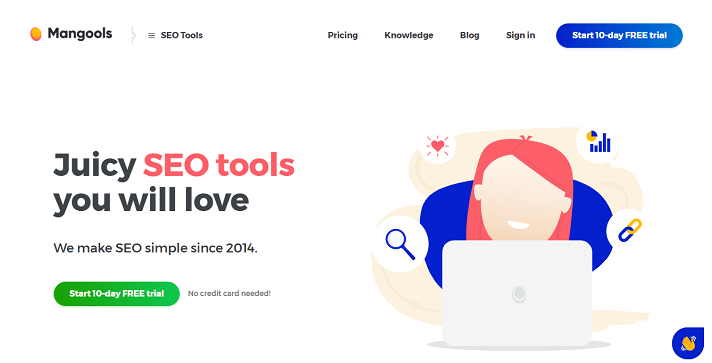 Mangools is a group of 5 individual SEO tools that complete the whole SEO needs. Additionally, it includes KWFinder, SERPChecker, SERPWatcher, LinkMiner, SiteProfiler. It's a trusted premium tool for many professionals. However, you can operate the free trial version for 10 days.
25. WordTracker
WordTracker is an easy-to-use tool for keyword planning. Just search for a keyword and get hundreds of suggestions. In the free version, you will get 10 times the search opportunity.
26. Keyword Sheeter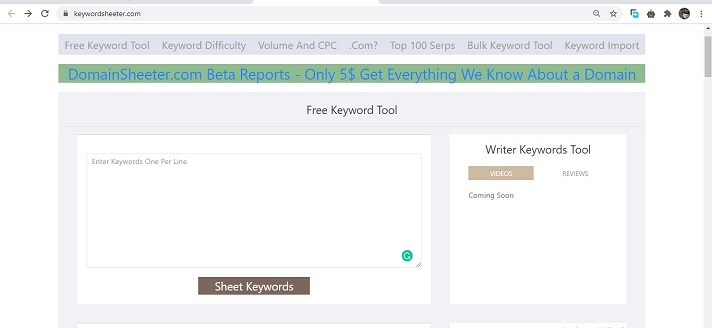 Keyword Sheeter is a Google suggested free tool that helps you find keywords, keyword difficulty, Volume and CPC, and many more. It's a handy site to generate content ideas as well as determine an article's subtopics.
27. vidIQ - YouTube Keyword Finder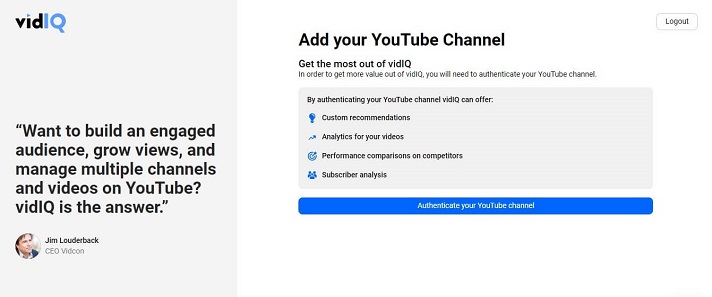 If you want to become a famous Youtuber, you also need to know what people search on YouTube. Naturally, you will get more views if you create your content based on the popular search result.
Like any other Google SEO tool, the vidIQ will help you find the best keyword for your content, check on the other competitors, audit channels, video analysis, and many other types of work.
28. WebSite Auditor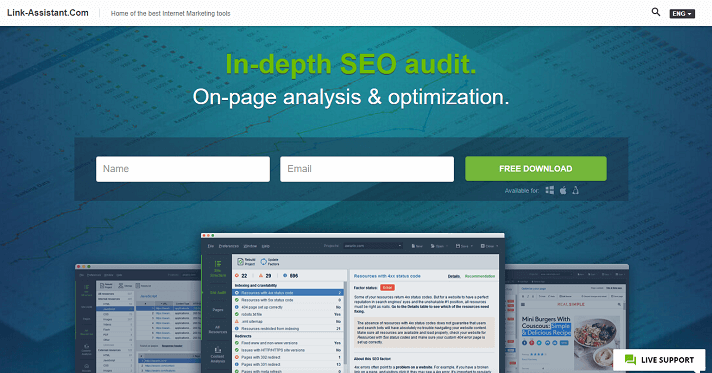 As mentioned before, Website Auditor is a part of SEO PowerSuite. But let's talk about this specific tool separately.
If you want to grasp more about SEO and find a keyword that gives you the top rank on SERP, this tool will be a blessing. In this simple application, you will get on-page auditing, technical SEO guides, and a reporting tool. All you need to do is download this free tool and fix the issues after analyzing your website. It will surely increase the traffic and get viewers satisfaction as well.
29. Yoast - For WordPress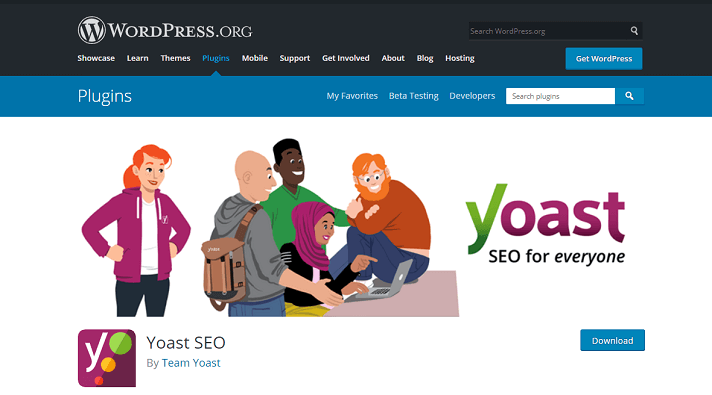 From now on, let's talk about free SEO audit tools that are used as WordPress plugins. And the first one on our list is Yoast SEO, the number 1 WordPress SEO plugin.
Fortunately, this premium tool also has a free version. You can use it for some basic features like getting access to their free courses, finding related keywords and keyphrases. And the most important thing is you can check if any of your content is SEO optimized or not by their real-time content analysis feature. This segment will analyze your entire content and mark the things you need to change.
You can also check the SEO score of your content with this tool. Also, improve the score after editing the content as it suggests.
30. RankMath - For WordPress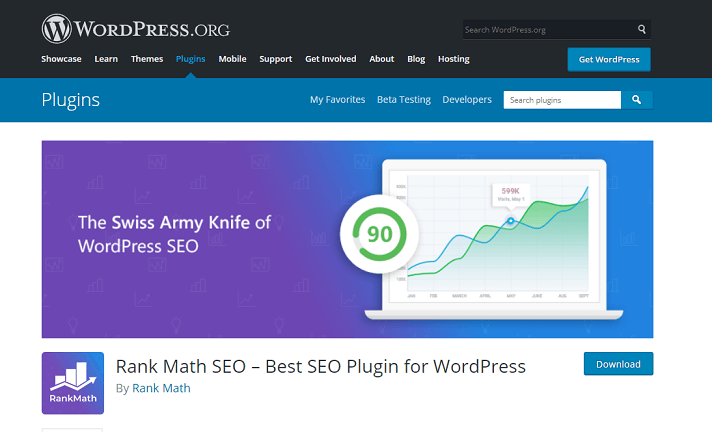 RankMath is one of the most popular WordPress SEO Plugins. It helps you get a higher ranking, makes your website SEO-friendly, and creates content worthy of the featured position.
This easy-to-use and simple tool have a built-in advanced SEO Analytics Module with the interrogation of Google Analytics. So, you can find everything on the same interface. Moreover, it has the most advanced schema generator feature and has an option for rank tracking and many more.
On their official website, they have mentioned more than 80 features. You can check them before you start to use this tool. Fortunately, the tool is helpful for all kinds of websites. From blogging to eCommerce websites, this tool will be beneficial for all of them.
31. SEOPress - For WordPress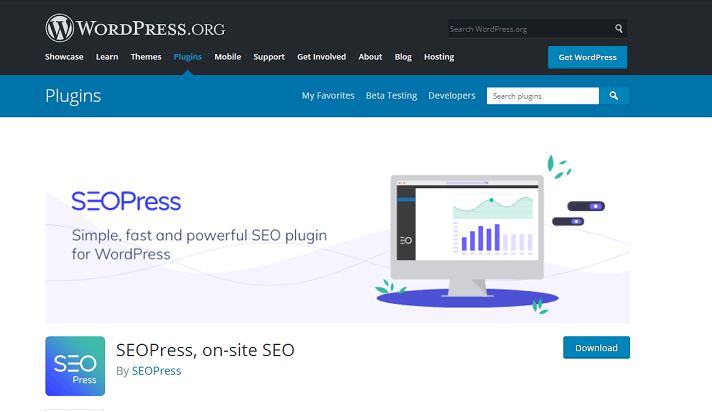 SEOPress is an uncomplicated and powerful WordPress SEO plugin. With 4.9 ratings in WordPress.org, the popularity of this tool is very sky-scraping. This tool will meet all your SEO needs under one platform. It has features for content optimization, analyzing, and monitoring websites. You can easily add structured markup language with the help of this tool.
Check out the following image to know what you can get from the accessible version of this tool.
However, you can buy the pro version for only 39$ with an additional 1 year of updates and support.
32. Serprobot - Google Rank Tracker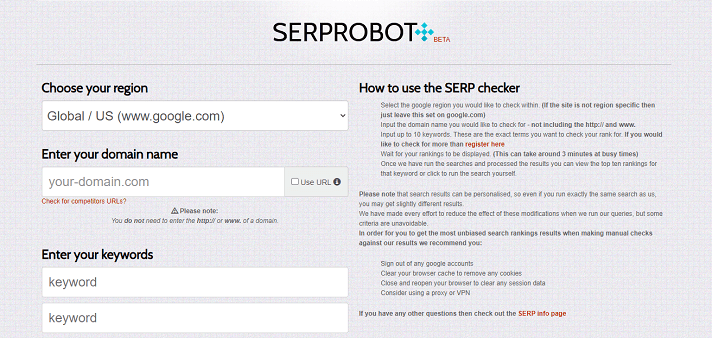 The last tool of this article is Serprobot. It's a tool for checking search engine ranking position in the fastest and accurate way.
In this tool, you need to enter the domain name and then the keywords of your content. You can check the ranking of those keywords from different regions.
After finishing the long list, you might be thinking now why this tool provides free services. So to answer your question, all of these tools contain a premium version. As you have already seen, with the free version, you can access only a few features or use the trial version for a few days.
However, you can use these free services only for the essential maintenance of your website. As soon as you are used to these SEO tools, there is a high possibility you want to use their premium version too. You can say that this service provider allows free service to get you familiar with their resources.
But you can surely try these free tools for a more extended period and still get your job done.
Solve The SEO Issues and Get 40% More Visitors
In this article, the mentioned tools will help you find your website's errors, determine the best content ideas, etc. If you properly utilize these features, your website will be more Google-friendly. As a result, your ranking will rise, and you will get more visitors.
It can be said that these tools show you the path of success, and with the perfect strategy planning, you can achieve it.
Last but not least, solving SEO issues is not the only factor for a top-notch website. The following segment will tell you more about it.
Check Out Your CMS Platform and Ensure Your Ranking
You may be surprised to know that sometimes implementing the perfect SEO strategy does not provide you a good ranking score. And one of the most significant factors for that is a wrong CMS. The SEO tools only suggest you the errors or the way to create content. But you need a standard CMS platform where you can easily maintain your content and fix mistakes.
So, alongside the SEO tools, check your CMS too. Making an outstanding website is not a hard job, but it's not an easy one either. You need to keep so many things in your mind. However, the best CMS platform will make the most of the task easier for you.
Check out the simple and faster blogging platform here.
News365 - SEO & Auto Schema Built-in Newspaper, Magazine & Blogging Platform! Grab It! Pay One-Time, Enjoy Life Time - Just $39

We are reaching the end of our article. In this article, I tried to mention the best free SEO tools along with some basic information. I hope it will assist you in choosing the perfect SEO tool for your website.
However, the tools mentioned above are free to use, so you can check all of them if you want. But remember, free tools often show incorrect results. So, in that case, you need to follow your instinct. Combine the help of these tools and your experience; hopefully, you can ace in the content market within a short period.
Would you like to read: 15 Best Business Management Software