10 Best HR Software for Small Business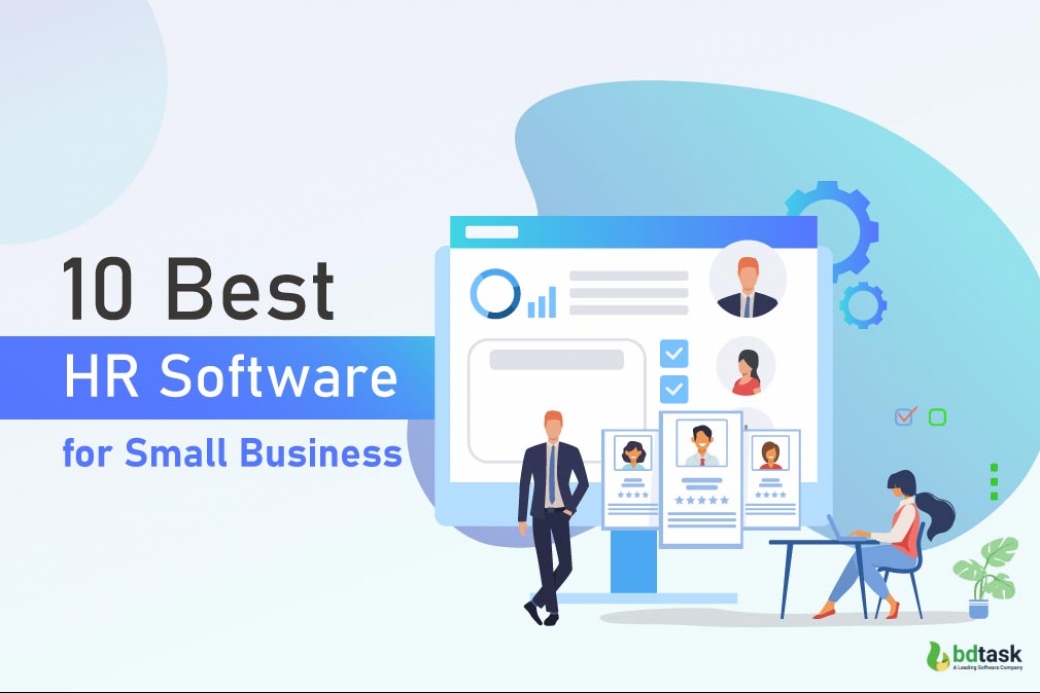 Do you want to launch a small business? Are you seeking the best HR software for small business? In this circumstance, this article will act as the dazzling guidance of darkness. 
To manage your business, you need to have proper business management software. With the HR management software, you can maintain all the activities of your business. But it's not easy to detect an effective HR software solution. To choose the best HR system for small businesses, you need to evaluate the HR software features. According to your business criterion, you need to select the best HR software. 
With this article, I would like to provide a comparative analysis of the top 10 human resource management software system. This article helps you to identify the best one for your business. Also, you can quickly evaluate which one will be effective for your business. But before comparing the main substance, you need to know some essential factors of HR management software. So, let's start.
What is HR Software?
HR software refers to a computerized system that can help to manage the entire human resource-related activities and optimize the tasks of HR goals. This software can be able to maintain the recruiting process, payroll system, account management, employee management, attendance, performance, loan history, tax, comprehensive reports, and so on.  
The HR software is also known as the human resource information management system (HRIMS). Moreover, this system can create a secured data process and backup facilities, which will increase productivity, profitability, interactivity, and employee satisfaction.
Types of HRM Software
There are various types of HR software available in the techie world. In the overall business need cycle, HRM software plays an essential role in your business. It can consider three vital stages in any industry - Start, Grow and Optimize. An effective HR system will be part and parcel of your business from the starting period to the optimizing stage.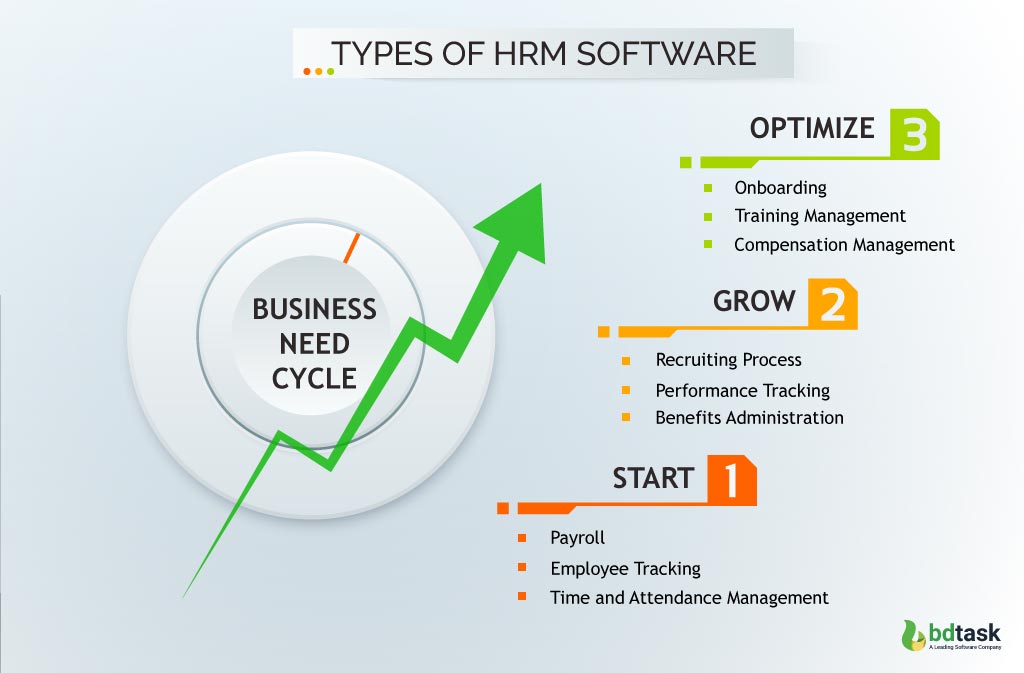 1. Payroll
The payroll management system helps to keep track of employee salary rates and reward systems. It can also calculate the total expense, debit, credit, and manage any accounts related activities smoothly.  
2. Employee Tracking
To enhance your business productivity, you need to track every single point of your employees. An effective tracking system can ensure your business productivity. Moreover, you can do this task quickly and efficiently by using employee tracking software. 
3. Time & Attendance Management
Time and attendance management software can be able to store timing information, generates reports. This system can also allow the view and manage scheduling system that will help perform all activities properly.   
4. Recruiting Process
With the recruiting management system, you can manage all recruiting and hiring activities. Moreover, this software helps to manage job posts, store job applications, and resumes. So, you can quickly evaluate the applicant and engage them.   
5. Performance Tracking
Performance tracking software helps you to track your employee's performance and provide accurate reports. This system allows you to collect feedback, store documents, get reward points, and so on. 
6. Benefits Administration
Benefits administration can ensure the other benefits of your employees. For instance, health insurance, paid time off, retirement accounts, and so on.  
7. Onboarding
With this system, you can easily handle the onboarding of new personnel and train new employees. Moreover, this software enhances the recruits' opportunity to introduce them to the company's culture and brand. 
8. Training Management
After recruiting the employees, it's an essential task to train your personnel. Thus, you need an effective training management system. It helps to build an effective, engaged, and knowledgeable workforce.  
9. Compensation Management
Compensation management ensures the employee's legal rights and additional facilities. Moreover, it includes festival bonuses, pay, commission, incentive programs, salary planning, and more. 
Why Do You Need HR Software for Your Small Business?
According to the previous discussion, you already realized how deep the branches of HR management software. Moreover, it plays a significant role in enhancing your business revenue and fulfills employee's requirements as well. Also, this software has some remarkable amenities that can help to ensure your business success. 
Enhanced payroll management
Improved talent management 
Effective recruiting process
Enhanced working environment and productivity  
Adequate security and risk management 
Increased connectivity and interaction 
Provides real-time feedback
Allows data recovery system
Allows an effective monitoring system
Helps to develop your workforce 
Provides self-service benefits
Ensures legislation compliance
Reduced cost and save time 
Helps to take effective decision making 
Provides effective strategy management systems, and more!   
How Can You Identify The Best HR Software?
Before choosing the best HR software for small business, you need to ensure some criteria. The following features can help to maintain all aspects and boost up your business growth. So, you can identify the best HR management system by making sure of the following elements.
Account Management System
This feature can help you to manage the entire financial flow of your business. With this attribute, you can create a debit voucher, credit voucher, contra voucher, and so on. The account management system can also provide an accurate report that will help to quickly understand the total profit and loss, general ledger, trial balance, and more. 
Asset Management
It is one of the essential features of your business that will help to allocate your resources properly. This feature can assist you in managing all equipment of your business. Moreover, you can efficiently add and manage your necessary equipment through this feature.   
Time & Attendance Management
Keeping the record of time and attendance of your employees, you can enhance your business productivity. This feature helps to understand how efficiently your employees can utilize their working hours. Also, you can check the monthly attendance history and get a report of missing employees.  
Award Management System
The HR software can provide another excellent feature that will help you to handle the award management system properly. After evaluating the employee's performance, you can maintain all additional activities through this feature.  
Employee Management System
It is an essential feature of human resource management system software. With this feature, you can add new employees and manage your employee position. Also, this feature can assist you in keeping a record of the employee's personal information. Moreover, you can evaluate your employee's performance through the employee management system.   
Income & Expense Management
The best HR management software provides an accurate income and expense management system. With this feature, you can easily understand the income statement through the income sheet. This feature also helps you provide an expense sheet so that you can observe the total expense and expense statement. 
Payroll Management
Payroll management is one of the crucial features of any business. The best business management software can provide this feature that will help you to manage employee salary and payment related activities efficiently.  
Recruitment system
Effective employees are a critical asset of any business organization. Thus, the HR department can perform to hire eligible employees, and the overall process is handled automatically by the HR system. So, an effective HR management solution can allow this feature to execute these significant tasks.
Communication System
The best human resource management system can provide an internal communication system. So, you can communicate with your employees and provide any urgent notice through this feature.    
Talent Management
HR software provides another useful feature that will help to evaluate the talent of your workforce. With this feature, you can easily detect the employee's productivity and customer satisfaction. So, this feature can allow you to observe the employee's performance by using key performance indicators, behavioral and competency tests.   
Here, you can get a comprehensive list of the top 10 HR management software solutions that will help you to pick up the best one for your business. So, let's take a look.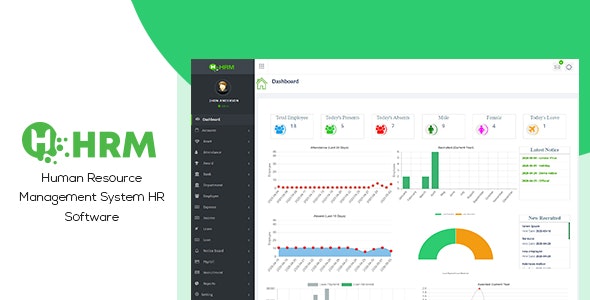 Do you know why HR Manager software makes your business more productive? If you are exploring the best HR management system, you can undoubtedly trust the HR Manager software. This software is designed with the help of an expert developer team by Bdtask. It can be compatible with IE11, Firefox, Safari, Opera, Chrome, and Edge browsers. In fact, it has been developed by the PHP and CodeIgniter framework.
With this software, you can improve your business's interactivity, and that will help to enhance productivity. Also, this software can allow you to manage the entire working environment efficiently. Moreover, you can easily customize this system according to your business information. It has some exclusive features that can perform various aspects quickly and smoothly. So, this system can help to manage your office and your workforce effectively. 
Top Features
Provides payroll management system
Employee management system 
Allows employee attendance and time management 
Provides account management system
Integrated with mobile application 
Involved in recruiting process 
QR code scanning system
Allows notification system
Leave management system
Provides loan and benefits management 
Allows the role permission system
Generates real-time reports    
Allows tax management system
Provides communication system 
Asset management system 
Allows adding multiple departments and more!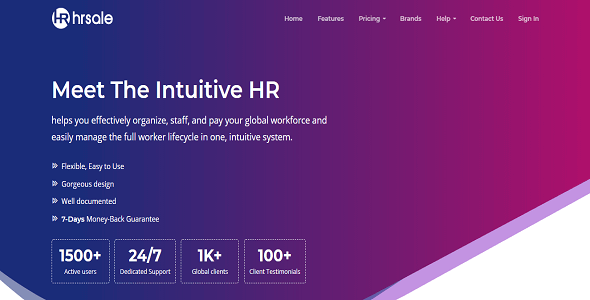 HRSALE is one of the powerful and cost-effective HR management systems that will ensure the best service for your employees and manager. This system is developed by the CodeIgniter framework, and JavaScript JS, JavaScript JSON, HTML, CSS, PHP, SQL files are included. It can be easily consistent with the IE8, IE9, IE10, IE11, Firefox, Safari, Opera, Chrome, and Edge browsers.
Moreover, this software can be able to create a modern and upgraded system that will make sure an efficient and consolidated information management system. You can also get a white label license with this software and are allowed to sell by rebranding this license to your customer. Thus it can provide an intuitive HR management system for your business. 
Top Features
Intelligent and robust payroll management 
Comprehensive asset management 
Allows to manage multiple companies 
Provides file manager system 
Finance management 
Centralized data management system
Allows custom permission system
Employee onboarding system
Allows to create a custom profile 
Announcement system
Leave management system
Attendance system 
Provides invoice based on tax, payment, and reports
All devices supported 
Provides HR calendar and so on.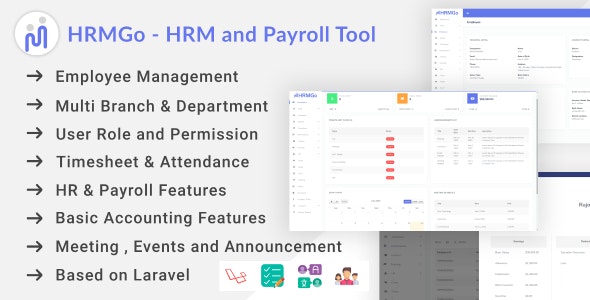 Are you worried about managing your employees? Don't worry and relax. You can try HRMGo software because it will help conduct the HR and payroll-related activities properly. Here, JavaScript JS, HTML, CSS, PHP files are included, and It has been developed by the Laravel framework. Thus, it can be compatible with the IE11, Firefox, Safari, Opera, Chrome browsers and can not provide high resolution.
In this software, you can get a proficient employee management tool, which will help manage your employees effectively. This software also has another SaaS version, and if you prefer the SaaS-based system, you can try that one. It can actually improve your employee efficiency and provide some HR and payroll-related excellent features that will be suitable for any organizations of all sizes.
Top Features
Employee management system
Accounting management 
Allows the role permission system 
Provides meeting, event, and announcement system
Multiple branches and department supported 
Provides timesheet and attendance management 
Multiple language support system
Staff management system
Provides employee databank 
Payroll management system
Ticket generation system 
Performance tracking system
Asset management 
Allows conversation system
Leave management system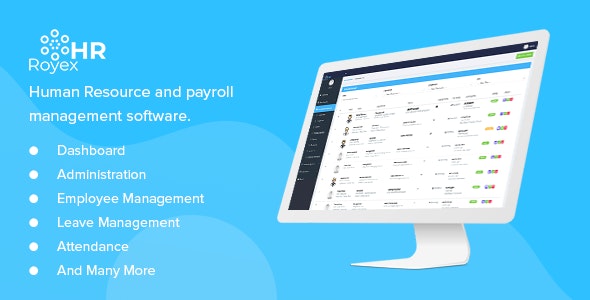 Are you interested to know about Royex software? Here, you can get a brief explanation about Royex HR and payroll management system. This software has been designed by the Laravel framework. Also, JavaScript JS, JavaScript JSON, HTML, CSS, and PHP files are included. This system is fully responsive with IE9, IE10, IE11, Firefox, Safari, Opera, and Chrome browsers. 
Moreover, you can get fast data loading facilities in this software. It has a nice and simple design and provides the same panel for both employees and admin. It can also allow Ajax pagination and provide a live data filtering system that will be very convenient for both admin and employees.    
Top Features
Provides employee management system
Generates leave reports 
Daily and monthly attendance reports
Allows manual attendance system 
Payroll management system 
Working hour management system
Bonus management 
Generates a salary sheet
Leave management 
Allows to create report and PDF
Termination and promotion management 
Provides accurate payment history
Tax management system
Allows multiple branches and departments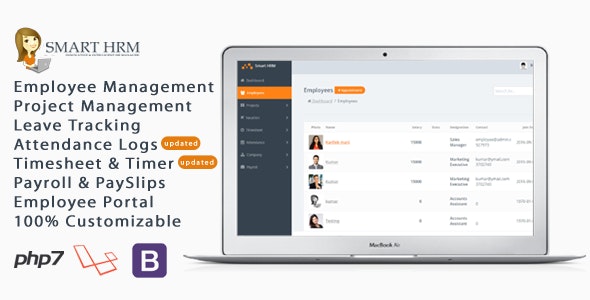 Do you want to manage your payroll, attendance, and timesheet? If yes, you can see Smart HRM software that will help manage projects, payroll, attendance, etc. Here, JavaScript JS, JavaScript JSON, HTML, CSS, PHP, and SQL files are included. As well, this system is developed by the Laravel framework, so you can easily customize the entire script.
Moreover, this software can provide an accurate HR management system that will help to track and operate attendance, timesheet, and payroll system. It could be consistent with the IE7, IE8, IE9, IE10, IE11, Firefox, Safari, Opera, Chrome, and Edge browsers. Also, it has some exclusive tools and features for enhancing employee efficiency and increasing business productivity. So, you will get a dynamic and high resolutions HR management solution. 
Top Features
Employee management system
Project management system
Attendance management 
Vacation or leave management system
Timesheet management 
Payroll management system
Provides salary statement and payslips
Appointment letter management 
Employee details management 
Time tracking system
Provides responsive web design
24*7 customer support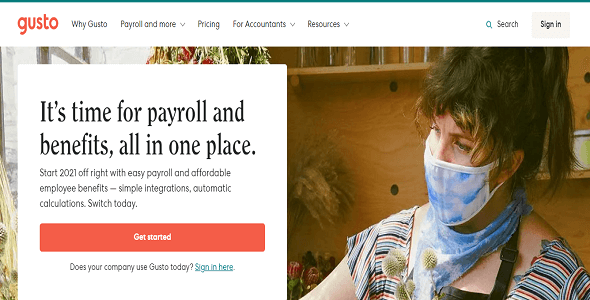 Are you looking for the best online payroll service? Gusto can be able to provide the best benefits and online payroll system for your small businesses. Almost 100000 small business entrepreneurs are connected with Gusto software. It has simple integration, automatic calculations system so that you can easily integrate with several tools like Quickbooks, Xero, Clover, TSheets, and more.
Moreover, it can allow you to manage the health insurance system. For this reason, more than 3,500 medical and dental organizations are already used in this system. Also, you can get an easy and comfortable design that will be very convenient to use. It has some additional features that can perfectly handle HR management and are more suitable for small businesses. 
Top Features
Full-service payroll system
Used for medical, dental, and vision
Certified HR experts
Time tracking system
Hiring and onboarding system 
Provides employee benefits
Financial benefits
Time tracking tools
Health insurance system
Compliance management 
Compensation system
Provides Gusto wallet
Subscription-based system
Allows salary comparison tools
People management system and more!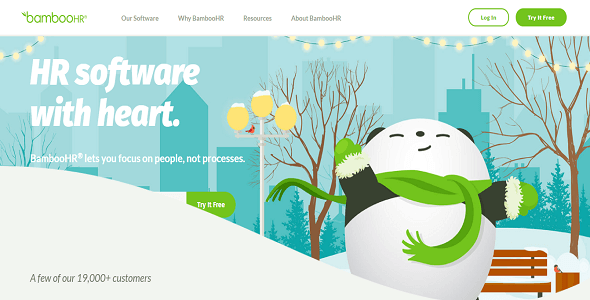 When you are looking for a complete HRMS solution, you can try BambooHR software. It is mainly a cloud-based software solution, and you will get a seven days free trial option. Moreover, you need not have to buy and install this software, and instead, you can get a SaaS-based service in this system. Almost 17000 companies are connected with this software, and it has more than 1.56 million active employees. 
With this software, you can maintain, collect, and analyze employee data. Also, this system can provide an excellent user-interface that will be very convenient for new users. The BambooHR software helps to conduct the hiring, onboarding, company culture, and compensation-related activities properly. But this software can not provide the payroll management system, so you need to look for another option for getting the payroll system.   
Top Features
Benefit tracking system
Employees data management 
Provides company calendar
Allows new candidate tracking 
Generates HR reports
Allows employee training
Onboarding and offboarding system
The mobile app integration system
Provides time off management system
Allows competency management 
Integrated with the recruitment system 
Performance management system and more!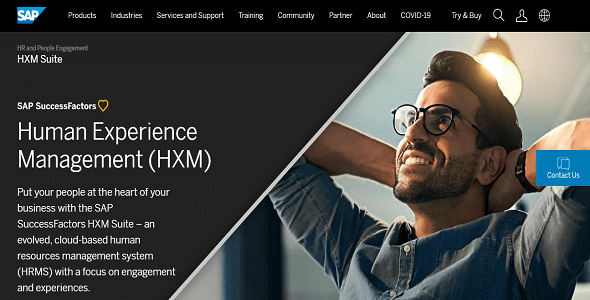 If you scrutinize the best human capital management system, you can try the SAP SuccessFactors. This software is mainly a cloud-based HR management solution, and no need to face any installation and purchase-related hassle. It can be able to provide enough scalability and unlimited extensibility. Moreover, this system is categorized into four categories to enhance your workforce's performance and increase productivity. Those are:
Employee Experience Management 
Talent Management 
HR and Payroll Management 
Analytics and Workforce
This software helps to efficiently manage the above categories and complete the overall recruiting procedure. Also, it can help to evaluate employee's performance and effectively manage the compensation. This software will be more suitable for small and midsize enterprises. Besides, it has some robust and outstanding features that will help to operate your business activities successfully.          
Top Features
Learning management system
Recruitment management 
Succession and development analysis
Performance and goal management  
Onboarding management
Integrated with HANA cloud
Provides payroll timesheet 
Integrated with compliance auditing
Allows comprehensive HCM
Provides global expertise 
Database and data management 
HR analytics 
Provides digital supply chain
CRM and customer experience 
Network and spend management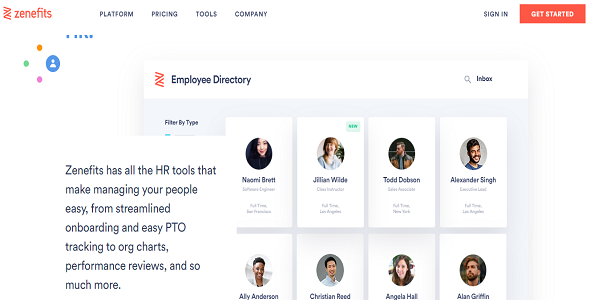 Zenefits is mainly a SaaS-based HR management solution that will be convenient to manage the workforce and payroll related activities. This software helps to create a central hub for storing all employee's data. Moreover, it can be able to improve efficiency and automate the entire process of your business. This platform can provide an intuitive HR solution that will be able to manage various aspects of your business.
With the Zenefits software, you can efficiently operate several tasks like open enrollment, online renewal, insurance cards, plans and costs, and so on. It helps to reduce the paperwork and enhances productivity. Therefore, this system can offer three pricing strategies: Essentials, Growth, and Zen. So, you can choose any package according to your need and preferences.  
Top Features
Allows for a free trial
Benefits management 
Provides employee database
Deduction management 
FMLA administration system
HSA or FSA administration system
Retirement plan management system 
Performance tracking system
Allows tax compliance 
Provides employee onboarding system
Reports and analytics 
Allows self-service portal 
Time and scheduling management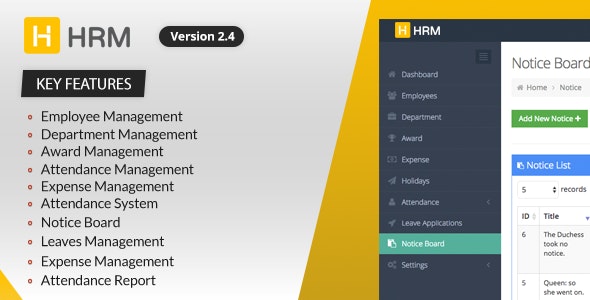 HRM is another human resource management software that will help to operate all HR related activities and functionalities. This system is built by the Laravel framework, and JavaScript JS, HTML, CSS, PHP files are included. Also, it can be easily coherent with the IE6, IE7, IE8, IE9, IE10, IE11, Firefox, Safari, Opera, and Chrome browsers. 
With this software, you can maintain your human resource information system efficiently and effectively. This system has some useful features which will help to operate the overall activities smoothly. Moreover, it has a dynamic dashboard that can help to understand daily attendance and monthly expense reports but can not provide a high-resolution system.   
Top Features
Provides employee management system
Allows multiple departments 
Award management system
Expense management system 
Attendance management system 
Holiday management 
Leave application system 
Provides notice board system
Allows profile setting 
Email configuration system
Findings of The 10 Best HR software  
HR Manager - Human Resource Management System - Best for operating and no subscription fee.  
HRSALE - The Ultimate HRM - Best for all sizes of enterprises; powerful and cost-effective platform. 
HRMGo - HRM and Payroll Tool - Best for some proficient tools and management  
Royex - HR and Payroll Management Software - Best for code quality and customer support 
Smart HRM - Best for Project Management, Payroll, Attendance & Timesheet 
Gusto - Best for startups and small entrepreneurs
BambooHR - Best for small and medium businesses
SAP SuccessFactors - Best for cloud HCM solution and small and medium businesses  
Zenefits - Best for all in one HR solution
HRM - Human Resource Management - Best for code and design quality  
Closing Thought
Now I come to the ending part of this article. Here, I tried to explore the top 10 HR management software features, and you already realized the importance of the HRM system. Moreover, it will be a very critical task to choose the best HR software for small businesses, and before purchasing this software, you need to maintain the above criterion. However, my opinion will be to select the HR Manager software for your startup business because it can provide an accumulated solution for your small business. So, it's time to modernize your business activities and improve your workforce with an appropriate HRM solution.  
Would you like to read: What Does The HR Manager Do?