What is an HRIS System? A Comprehensive Guide!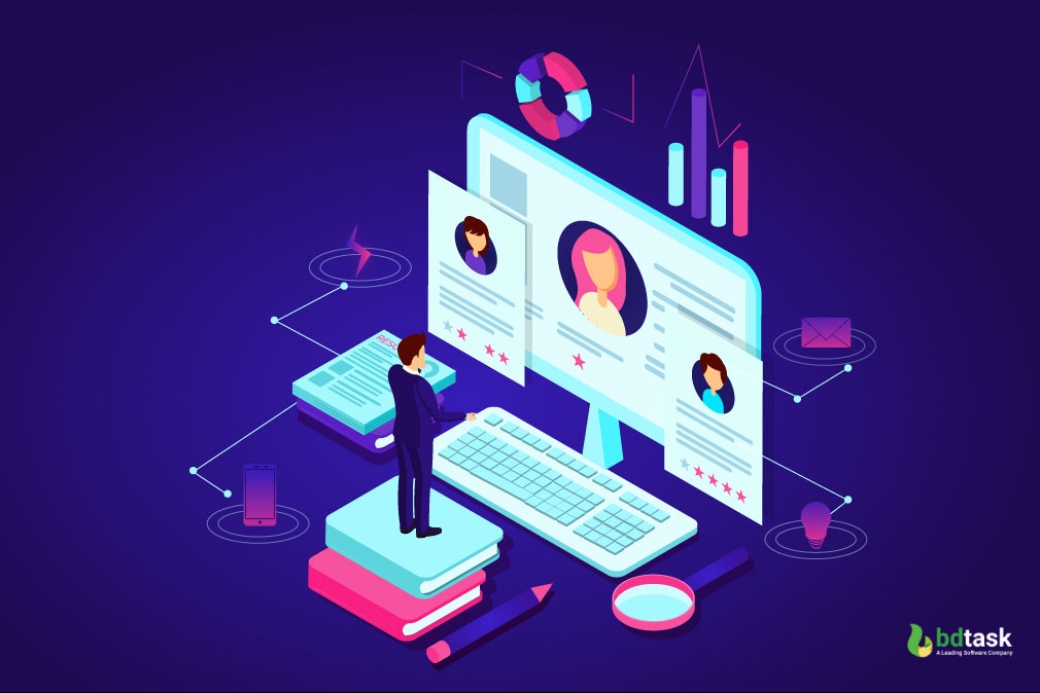 Are you curious to know about the HRIS system? Do you want to integrate HR software into your business? If so, here you will get all of your answers, and you will be relieved from all your confusion. The HRIS systems are basically an ultimate package of human resource management systems. It is the most useful software for the HR department. In this article, you will get a comprehensive explanation of the HRM system, its type and working components, the main features, and functionalities of the HR management system. Also, you can gather a brief awareness of the costing and budget from this content. Here, you can get more details about the HR technology that will help to understand the basics of HRIS. So, let's take a peek at the main crucial thing in this context. 
A human resource information system refers to an online solution that can help to manage and optimize the daily activities of all employees. Moreover, HR management software can be used for various purposes like data entry, data tracking, monitoring, data management of all human resource organizations. 
HR software has an accessible and centralized database that can help in the smooth running of any humanitarian work and resource management. When an HR software can be able to accumulate and manage all information and databases of your organization, it turns the term of HRIS. 
Human Resource Management 
The HRIS software acts as an umbrella that can be included with several aspects and can be connected within a single database to the entire system. For instance, this system allows you to manage the employee's database directory, benefits administration, candidate tracking or monitoring.
Also, this software helps to manage working schedule, payroll process, attendance, timing, leave management. It can also allow electronic signature, real-time reports, performance management, employee self-service, compliance protocols, and more.
Are you confused about which HRIS software will be applicable for your business? If so, this section can help to understand which human resource management software will be suitable for your small business. Three main abbreviations are used to explicit the activities of the HR management system. Those are:
HCM (Human Capital Management)
HRIS (Human Resources Information System)
HRMS (Human Resources Management System)
HCM (Human Capital Management)
This type of HR management software is designed to maximize employees' performance and enhance services for achieving the organization's goals. Moreover, the HCM system helps to manage and operate various activities such as: 
Performance and goal management
System integration
Succession and salary planning
Global analytics 
Recruitment 
Employee training 
Performance evaluation 
Compensation analysis 
Benefits management 
HRIS (Human Resources Information System)
The human resource information system can aid in managing the policies and procedures of all employees and provide a complete guideline for maintaining your workforce. This system can help to organize and manage the entire information of your organization correctly. Thus, it can cover the following aspects: 
Applicant tracking system 
Performance management 
Core human resources 
Workflow management 
Absence management 
Training and development 
Compensation management 
Employee self-service 
Real-time reports       
HRMS (Human Resources Management System)
Human resource management system refers to the overall processes and strategies that can help to create an interface between the HRM and HRM technology. Moreover, it can help to enhance employee's productivity and performance. The proper human resource management system can ensure the maximum revenue of any business. So, this process can deal with several aspects, for example: 
Payroll management
Time and attendance management 
Labor management 
Workforce management 
Training and development 
Expense management 
Leave management
Recruitment management 
Employee information management      
The human resource information system is integrated with several functions and components that can ensure the smooth operation of this system. Moreover, the HR system can be able to organize and store all employee's data. It can act as a data warehouse of all organizations and can be able to capture all useful information. In addition, the HRM systems not only collect and stores the employee's data but also organize it in an effective way that will help to make a better decision in your business.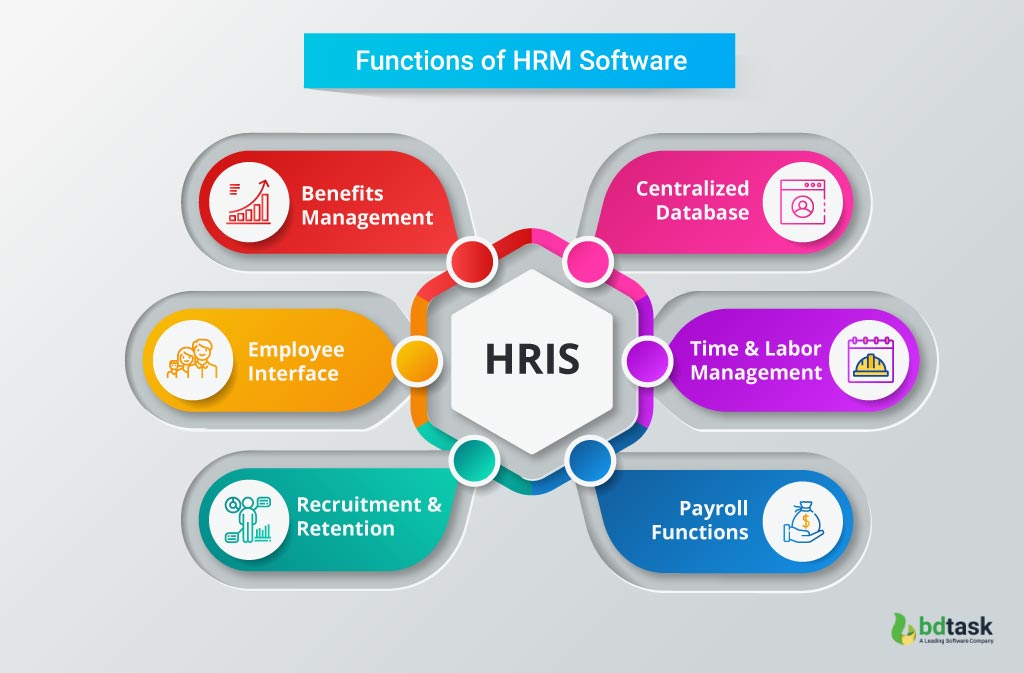 1. Centralized Database
The HRIS systems provide a centralized database for storing employee's information that can enhance the accessibility and availability of any data or information. This function can reduce the chance of hacking or spoiling any data and ensure a secured and protected system.   
2. Time and Labor Management
Proper time and labor management can help to increase your business productivity. But the process of time tracking and managing the personnel activities is a very time-consuming process. Thus, the HRM software can maintain the entire activities and track how effectively the employees utilize their time. 
3. Payroll Functions
Payroll is the most significant function of the human resource system. With this function, you can maintain the salary activities of your employees. This function can allow you to download or upload employee's hour and attendance data, issue cheques, and payroll deposit to employees.  
4. Benefits Management
The benefits management function can deal with medical benefits and retirement investments. Also, this function can manage all queries, feedback, data, and communication-related services. So, the HRIS systems can provide a one-stop platform for all employers and employees that will ensure to enhance transparency and smooth operations.    
5. Employee Interface
The HR management software allows all employees to update their personal information, change retirement plans, payscale reviews, and that will save automatically in the central database of your system. Also, the employees can be able to update the deposit information and allow them to download benefit election documents that will increase the user's experience and save time. 
6. Recruitment and Retention
The growth of any organization depends on proper talent verification. This software has an essential function that can help to recruit the right talent for your organization. Also, it helps to keep them engaged and provides them with various training facilities that will be very effective in developing their career.  
In the above section, you can understand the functions and working components of an HR management system. Now, you can realize how these components are organized in the entire system. Moreover, you can recognize the overall model of HRM software in this segment.
Input and Output Model
The input and output model can be able to illustrate the basic functionalities of HR software. This system can collect data from environmental and internal sources. Moreover, the input subsystem consists of data processing, human resources research, and human resources intelligence. On the other hand, the output subsystem consists of workforce planning, recruiting, workforce management, compensation management, benefits, environmental reporting.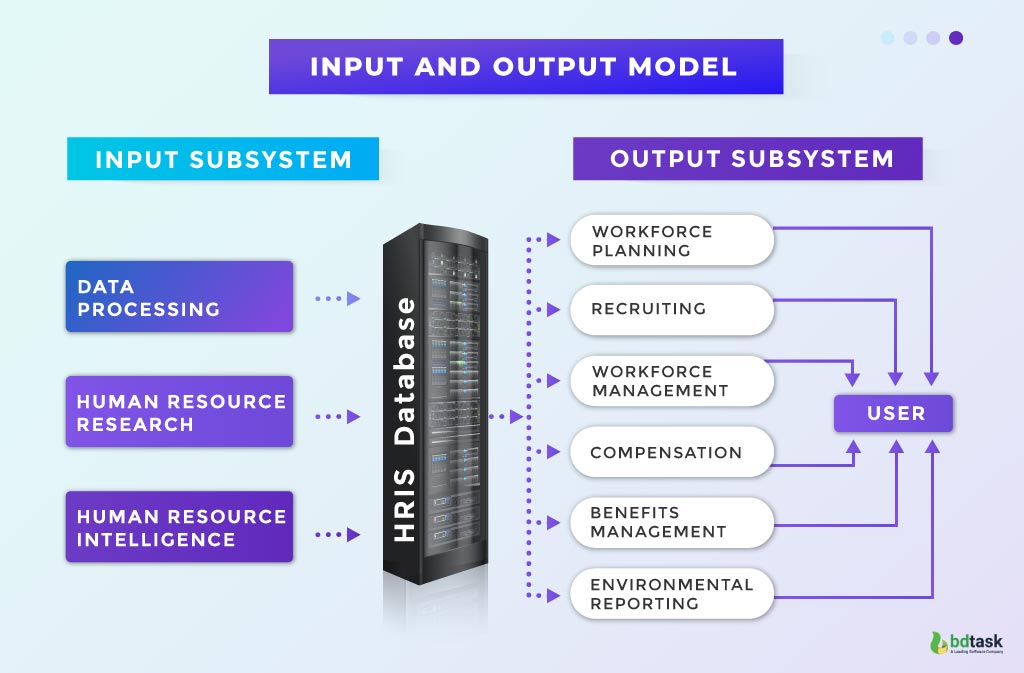 HRIS Adoption Model
There are numerous HRIS systems available. However, adopting the right HRIS is a big challenge for your business. To purchase a new HR management software, you need to maintain some requirements that can help to adopt the right HRM system for your business. Moreover, you must need to ensure the following infrastructure for acquiring a new system.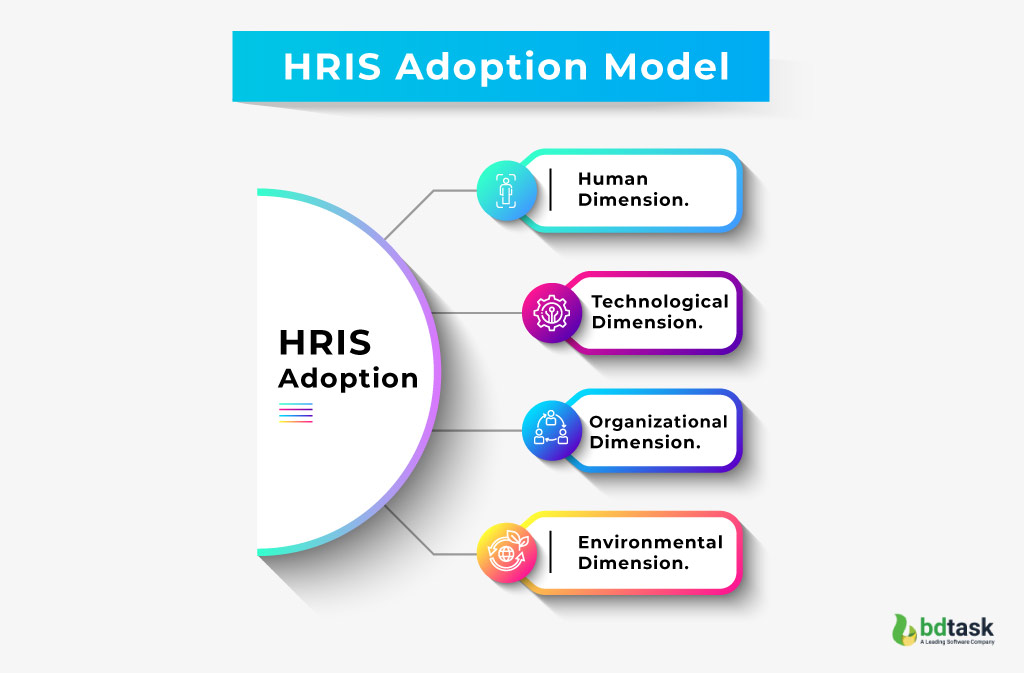 Human Dimension
IT capabilities 
Innovative senior executive 
Technological Dimension
IT infrastructure 
Complexity 
Compatibility  
Organizational Dimension
Perceived cost 
Centralization  
Formalization  
Relative advantage 
Management support 
Environmental Dimension 
Technology support 
Competitive pressure
Government rules and regulations    
HRIS Success Model
The user's satisfaction depends on some factors that can help to ensure HRIS success. The user is always looking for the best quality of the system processes, information quality like access and application, user-friendliness, and effectiveness. Thus, these factors collectively provide user satisfaction and ultimately lead to the success of the HRIS system.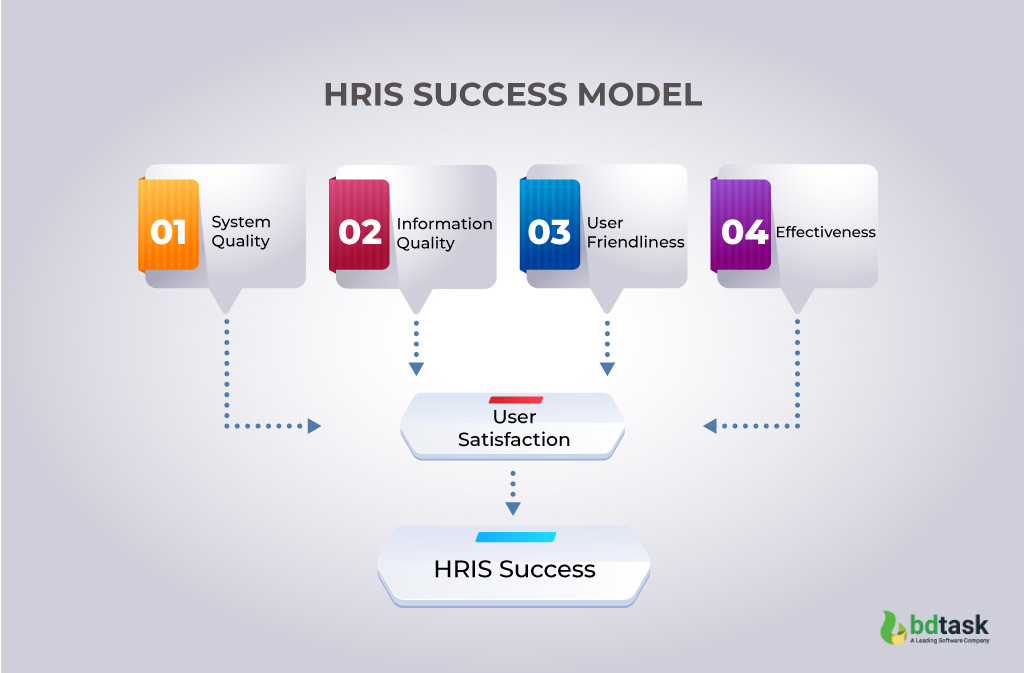 Some Influencing Factors to Set the HRM Budget 
If you purchase HR management software before knowing a clear concept about HR technology's cost and budget, you need to face various difficulties. For starting any business or upgrading an existing system, it is basically a good practice to acquire a clear perception about costing. According to statistical analysis, 
"Automating onboarding process saves almost 50% of investment time"
I think it's clear to you why spending and budgeting are essential in choosing a system. There are various factors responsible for deploying the cost of an HRM system. Also, you need to consider these factors to create your budget. So, I would like to provide a brief discussion about the factors that affect the cost and budget of the HRM system for your convenience.
 
Cost Justifications
Cost justification is the process of evaluating the net cost according to the apparent cost and hidden cost. Generally, the value and benefits of an HRM system are overweight than the cost of HRMS software. So, you need to know exactly how much cost is included within a project and must figure out every cost point of HRMS.   
Pricing Models
According to the service structure, the HRM software provides two types of pricing models.
License Model: In this pricing model, you need to pay a one-time payment rather than a rental. Also, this model has some additional costs for maintenance and technical support. After completing the one-time payment, the overall control is yours, and you can control over hardware and upgrade or maintenance. 
Cloud Model: This pricing model can provide a subscription-based payment system, and there is no need to require any hardware costs. Also, this process can provide an automatic upgrading and maintaining system according to a fixed schedule.       
Features Selection
The cost will vary according to the features you need. Moreover, the cost will vary according to the features you need. The more features a system has, the more you have to spend. Also, you need to gather the users' and stakeholder's requirements. Then you can analyze your business needs and check the price tag. 
Installation Cost
The installation cost of any system refers to the overall cost of setting the system up and running. The following fees are included in the installation process. 
System testing
Data migration and cleansing 
User training 
Consultancy fees
Communication costs 
Management costs
Hardware costs 
Staff time    
TCO ( Total Cost of Ownership)
When you purchase any software system, you need to provide a certain amount of payment that is considered as the first installment. However, TCO means the overall system cost during the entire period when you use it. The following factors are integrated with the TCO. 
Labor costs 
Supplier costs
License fees or subscription fees
Data cleansing and migration 
Upgrading and maintenance cost
Training costs    
HRMS Budget
It is one of the most significant steps to compile your HRMS software budget. According to the research and requirements, you need to consider the deployment cost and budget. So, please consider the following criteria before establishing an HRMS budget. 
Ballpark figure
Features and functions
Deployment costs
Customization fees
Training costs
Consultancy fees
Updates and maintenance   
ROI (Return on Investment)
ROI is the term that can express the difference between the initial value of the investment and the final value of the investment. Several matrices can be used to measure the ROI of your business. Those are: 
Total operating costs
Effective recruiting process
Employee engagement 
Reduction in the calls and queries to the HR
HRM software is one of the effective systems for your business. It plays an essential role and performs valuable tasks quickly and automatically. Moreover, the HR software is necessary for several reasons, which are mentioned in the following.
Helps to reduce administrative tasks
Provides secured system
Helps to save time and resources 
Enhanced employee efficiency 
Allows effective monitoring and tracking system 
Helps to store and organize employee data
Provides accurate payroll management system 
Integrated with an effective recruitment system
Allows employee benefits administration
Time and attendance management
Helps to evaluate performance management
Improves the effectiveness of all organization 
Enhanced self-service of employees
Provides employee training and development 
Enhanced ROI and maximize profit
Provides streamlined processes
In the meantime, you can realize the key benefits of HRM software. Now, I will discuss in detail the importance and benefits of having HRIS within an organization. So, let's, deep dive. 
 
Reduce Administrative Tasks
There are various tasks like maintaining an employee's record, updating databases, preparing HR documents, reviewing policies, and managing your employees. The HR software helps to handle all administrative tasks, and it can reduce the workload of administrators. So, you can complete these administrative tasks automatically with the HRIS platform.   
Secure System
In this software, you can store sensitive data like payroll information, employee's personal information, social security numbers (SSN), medical information, and so on. The HRM system keeps this information as secure as possible. Also, it protects all data and information from any kind of hacking or threats.    
Time-Saving
The most significant advantage of using an HRM system is time-saving. It helps to save your time to perform repetitive manual tasks with agility and precision. Moreover, this system can be able to perform time-consuming tasks quickly and efficiently. So, it can save an employee's valuable time to promote documents and perform routine work.      
Increase Productivity
One of the main goals of an organization is to increase productivity. This system can allow all employees to streamline workflow. Also, it can be able to perform several automated tasks that will help to reduce the employee's workload. So, the employees can focus on their work that will ensure your business productivity.  
Effective Monitoring & Tracking
The most important advantage of a human resource management system is effective monitoring and tracking. This software provides an effective monitoring system so that you can track all activities of your employees. So, it will be very beneficial for your business success.  
Centralized Database
Using the HR management software, you can get a highly secure, centralized database system. In this process, you can conduct a single database file that will help to store and retrieve any information. So, the centralized database can ensure to maximize the data integrity and minimize the data redundancy.      
Accurate Payroll Management
Most of the HRM systems have a payroll management system that can be able to manage payroll-related activities without being delayed. Moreover, you can maintain the salary process, allowances, compensation, and more. So, the payroll management system can ensure financial stability and increase the morale of employees.     
Effective Recruiting System
The HR management software can provide an effective recruiting system that will identify the right talent. Also, you can handle the overall recruiting process to save your time and effort. This software can be able to make the recruiting process more easy and comfortable for the employees.    
Benefits Administration
It is one of the main substances for purchasing any HRIS software. With this system, you can create, manage, and update employee benefits programs. The benefits administration can manage health insurance, vacations, parental leave, retirement accounts, paid time off, etc.      
Time & Attendance Management
Time and attendance management is the most crucial factor for ensuring your business success. If you utilize your time properly, you will definitely achieve your goal. The HR application helps to track productivity and identify ways to increase efficiency. Also, this software can be able to track your employee's working hours by using spreadsheets, punch machines, and an online attendance system.    
Performance Management
The HR management system can help to automate the entire process and monitor the employee's performance. It helps to boost employee engagement and employee productivity. With this software, you can evaluate employee performance and provide regular feedback. So, this system can assist in enhancing employee performance to grow your business.    
Enhance Self-services
One of the major benefits of using HRM software is to increase employee self-services. It allows the employee to check and update any information. They have access to edit their data and see all salary-related information that will help to build a good relation among the authority and the employees.   
Employee Training & Development
The HRM system helps to manage the training and development activities of your employees. With this software, you can easily evaluate the performance and provide the necessary training facilities for career development. This software can play a vital role in improving your employee's skills and make them efficient.    
Enhance ROI
The ultimate target of all businesses is to make a profit and ensure stable financial flow. With this software, you can automate the onboarding processes that will assist in increasing engagement, retention, performance, and productivity. It can also help to reduce the paperwork of your organization and allow e-signatures that will ensure efficiency, employer brand.        
Streamlined Process
Human resource management systems are mainly a complete solution for operating all activities of your personnel. Moreover, this system can create a paperless working environment, strong employee management, automated communication, and a training system. So, it can ensure a streamlined process to enhance your business revenue and attainment. 
The features of any system reveal its worthiness and effectiveness. Before buying any HR software, you need to ensure some criteria that will help make your HRM system the best. So, please take a look at the most significant features that will ensure your business's growth in its magical trick of the light. 
Employee database management system
Performance management system 
Time management system
Attendance management system
Recruiting and hiring system
Benefits management system 
Talent management system
Financial management 
Training and development system
Payroll management system
Technical support system
Analytics and document management
Leave management system
Compensation management 
Project management system 
Application management
Safety and security management
The above features help you to identify the right HRM system for your small, large, or medium businesses. Here you can get a complete list of the top 10 HR management software that helps to pick the preferred one according to your business requirements. 
There are lots of HRM systems available, but all of them do not fulfill your requirements. Budget is an essential factor for choosing any software. 
Are you looking for budget-friendly HR management software?  Here, you will get a combined package of managing your business and employee's activities. 
This software has many remarkable benefits with some exclusive features that can help to perform all operations quickly and effectively. 
Small Business Owners Can Increase Productivity 300% With HR Manager
From the previous discussion, you can understand the significance of the human resource management system for your business. Knowing the purpose of HRM software, you can cost-effectively save your money. 
Moreover, if you consider HR Manager software, you need not pay monthly subscription fees. You need to pay a one-time payment for getting this software. But when you think of other HRM systems like BambooHR, Gusto, and so on. Then, you must be paid a monthly subscription fee. 
So, you can select the HR Manager software to get a hassle-free and automate business management system. 
Now, you have come to the closing part of this article. You already realized the primary concept of an HRIS system. The best HR management software can be able to represent the overall view of your business. Also, it can help to identify the strengths, weaknesses, and opportunities for taking action. Managing business and personnel is one of the most challenging tasks for all organizations. 
Thus, we should not be taken lightly to choose workable HRM software. However, you need to know some essential criteria for operating and selecting the right human resource management software. Moreover, an ideal HRM software helps to make a massive and strategic impact on your business.
If you are excited to make your business automated with HR technology, you can definitely try HR Manager software.  
Would you like to know: What Does The HR Manager Do?