Sales Management Software - Best Sales Tools for Startups!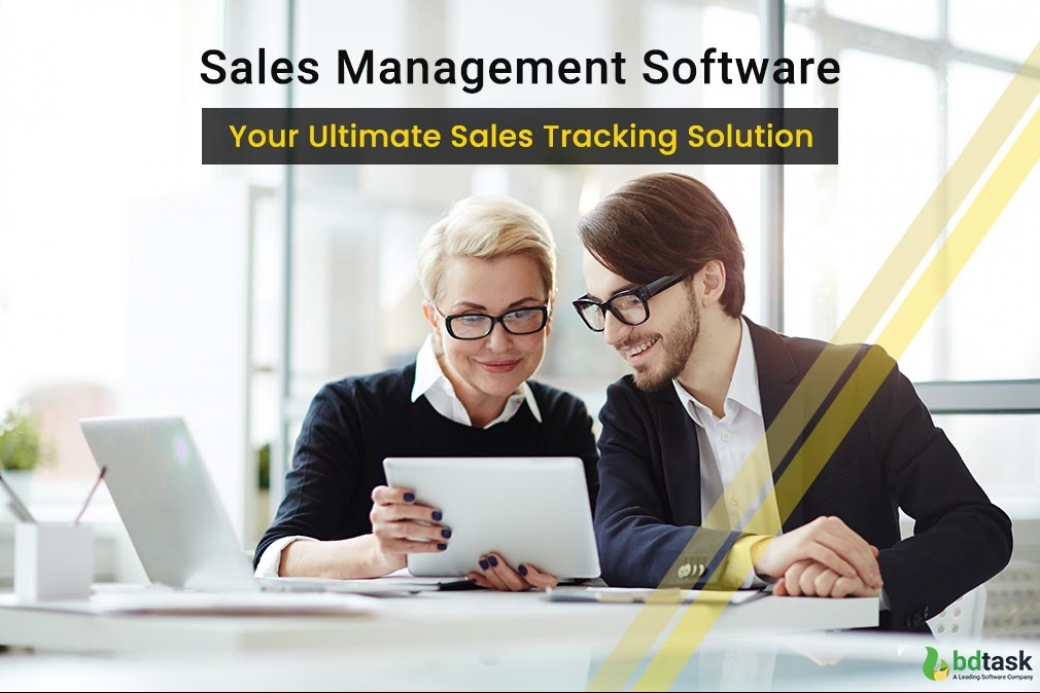 Are you a business owner and looking for an assist to improve your sales goal? Then using sales management software is the best option for you. This article will describe everything you need to know about sales management software and how it will assist you in your business.
Managing sales is one of the crucial parts of a business. You need to focus on different variables to meet your target. However, it's so difficult to make accurate decisions without an automated system. So, go through the article and see how the software will help you manage your sales process.
"62% of business fails without a proper sales management system."
At first, let's see what sales management is. Sales management is a process of planning and conducting an organization's sales. As for the definition of software, Sales management software is an automated system that keeps track of the overall process of exchanging goods or services.
The fact is, it's the essential part of a business organization because almost all of the business revenue comes from this site. So, basically, an ERP system is the core part of your organization that controls everything of your organization under a central system.

A sales management system controls the sales process of a business from the very beginning to the end. To put it differently, it traces the journey of a product from the supplier to the targeted customer.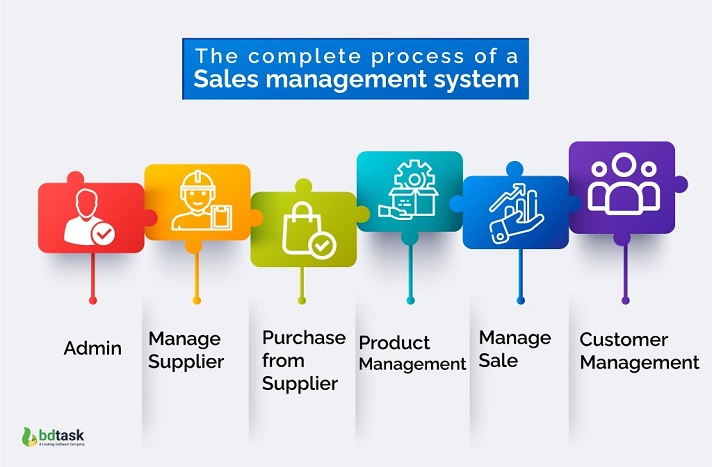 Basically, a sales management system controls all the steps of your business. Do you want to know how? If so, then it's time to explore the features you can get with the software.
Product Management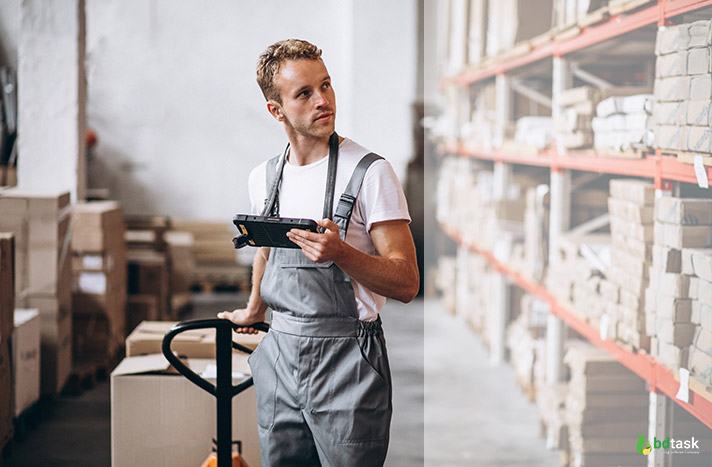 A sales management software gives you a dynamic system to manage all your product-related issues. You can categorize them and add units as much as you want. It gives you detail about a product name, model, price, and other information. For this functionality, the software can inform you of all the items you want to sell.
CRM System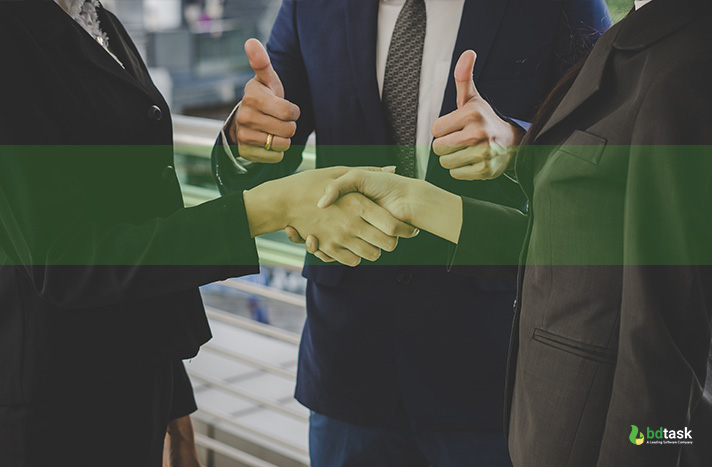 The CRM system helps to build up a good relationship with your customer and at the same time allows you to keep track of their transaction. Therefore, you can make decisions about your service. The CRM feature saves customer's contact and purchase history. Moreover, it also has a built-in feature for SMS and email marketing. You can use them to reach your customer.
On the other hand, the feature helps you recognize your customers and provide exceptional benefits to the regular ones. And then when the customers get the extra service, they become loyal to your business.
Accounts Management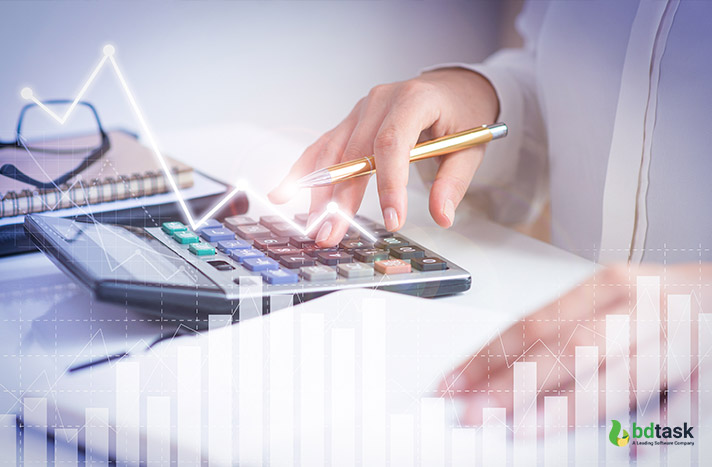 An ERP system manages all your transactional things. It keeps track of supplier payment, customer payment, different types of vouchers, profit and loss, and many more. You can even generate reports of these areas.
However, no matter if your business is big or small and how many locations you have, the sales management system helps you keep track of all the accounts.
Pipeline Management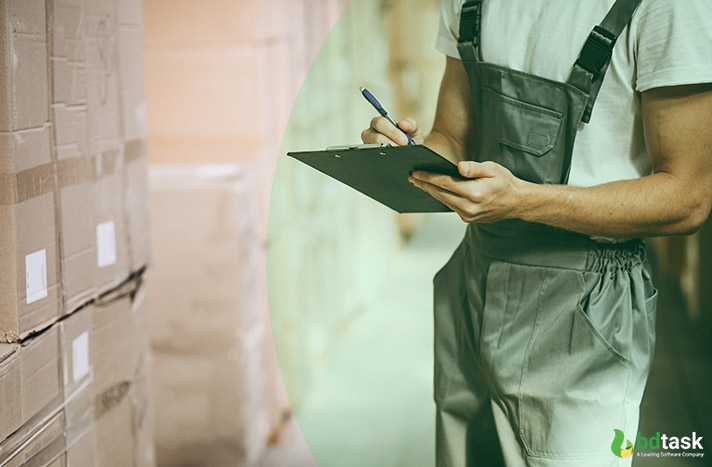 Pipeline or the stock management system manages the flow of all items. With this feature, you can check the availability of an item, stock price, and many more. It sounds easy to keep records of products in small businesses. But it's an impossible job if you have several outlets.
However, it will be time-consuming in a medium-sized company and full of mistakes if anyone wants to keep track manually.
Mobile Integration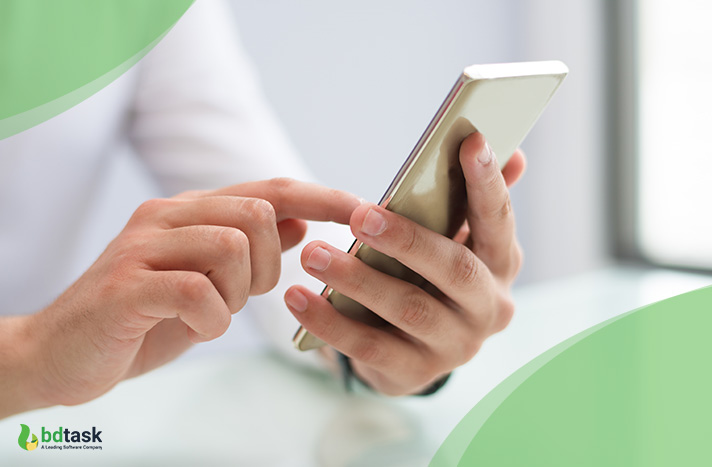 A sound sales management system comes with a mobile application that gives your business mobility. The mobile app works the same as the software, and all the data go to the same database.
POS System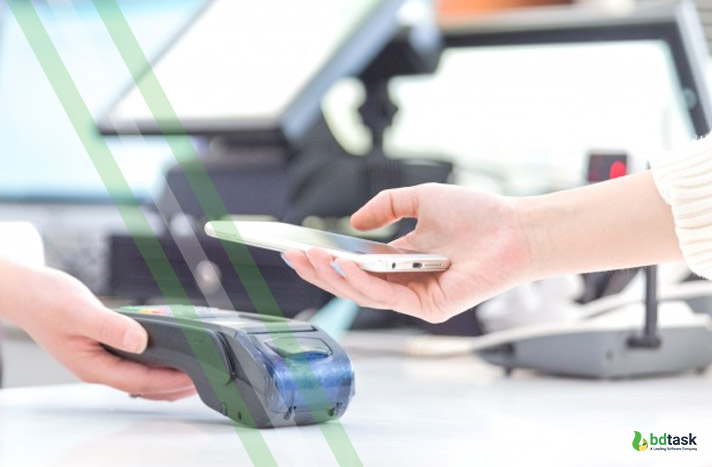 A sales management software controls your offline service also. It has invoice printing options, QR code scanning features, and other options that you need to maintain a point of sale system. In fact, it will keep records of all the branch's POS.
Sales Analysis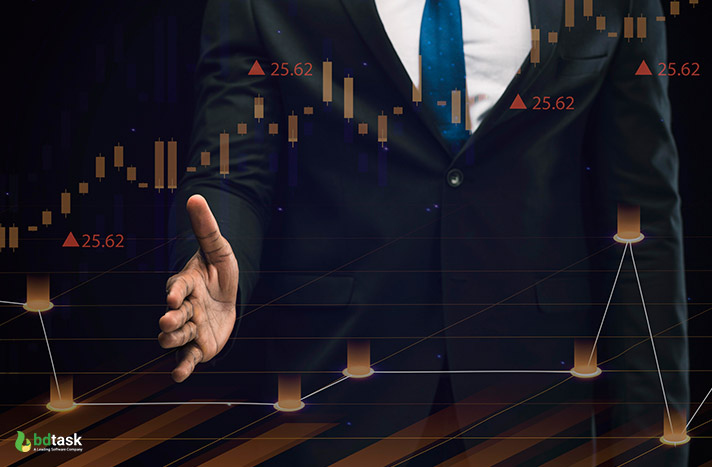 An ERP software assists you in analyzing your overall sales. The dashboard that means the main page shows the concise summary of your deal. Thus, you will be able to understand your current situation within a moment.
On the other hand, the whole system keeps all the records of your business systematically so that you can view the precise condition of your daily, monthly, yearly sales.
Real-time Reports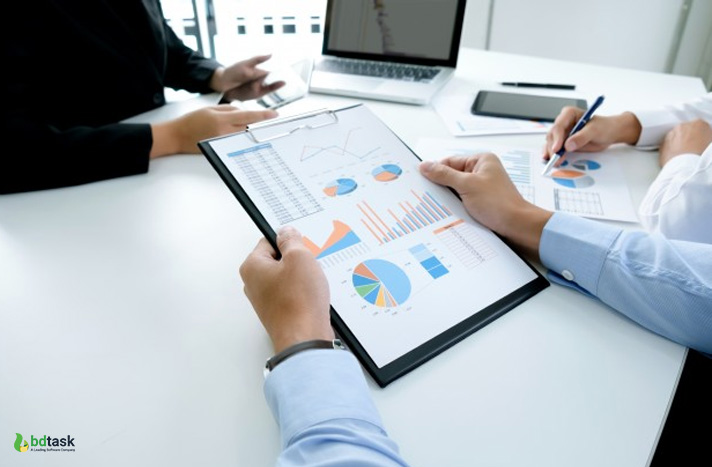 Real-time reports are vital to take small decisions as well as help to take significant steps. With the ERP system, you will get all kinds of sales and purchase reports. It generates Tax and supply reports also. Moreover, you can get those reports for any day, month, or even a year you want.
HRM System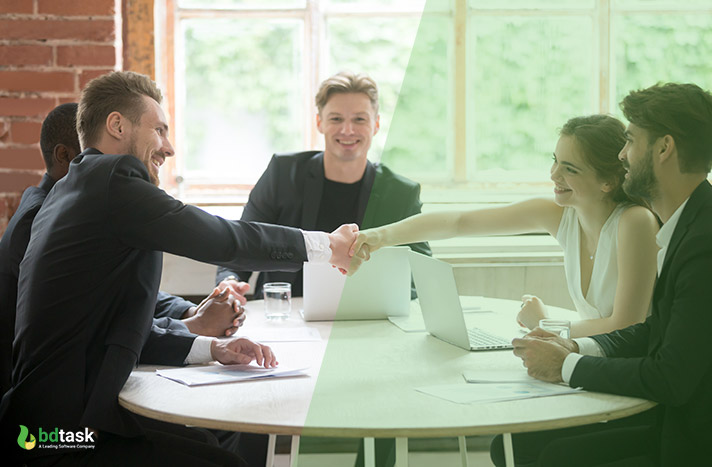 From small to large businesses, an HRM system is a very needed function of a company. With this feature, you can keep records of your employee's salaries, taxes, attendance, and many more.
A good HRM system improves the efficiency of a company. Moreover, if your ERP software provides this feature, then you don't need to build a different one for this segment. It will save your budget and time.
Quotation Management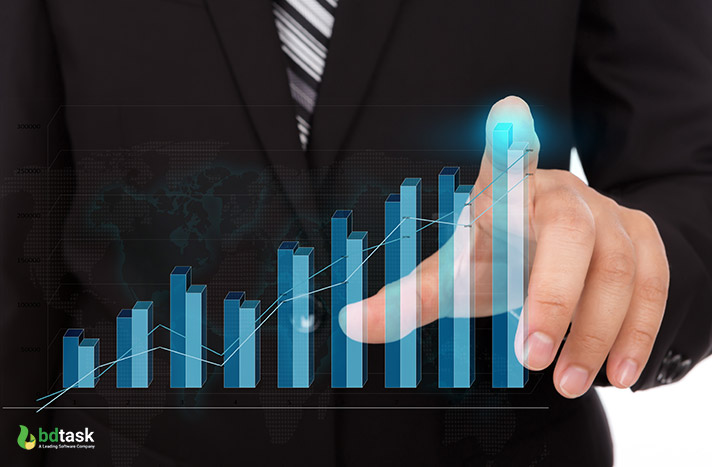 One of the essential features of a good sales management system is a quotation management set-up. The functionality will help you keep track of your advance sale. In a word, a quotation system gives your business a nominal value to the customers. So, you must include this feature in your line of work.
Generally, a sales management system can aid manufacturing, B2B, or any kind of service-providing business. The fact is, you can reach or go beyond your long-term goal with the help of an ideal sales management system. So, if you just start your business and don't have many employees, you may skip this part for now. But you definitely need one when you have a medium-sized to large-sized business.
As the sales management software is necessary to save time and human resources, you can implement these reserves on your startup's other aspects. So it's better to invest in the software as early as possible.
On the other hand, if you're currently using ERP software that does not provide a satisfying performance, change it soon. As the software is an essential asset of your business growth, it will help you go to a better version rather than wasting time on the wrong one.
95% of businesses achieve significant improvement after implementing a sales management system because of the following benefits.
By the time you get from the features, how many areas you can control with an ERP system. So let's see how they can assist you in your business.
Improve Your Productivity
86% of workers believe an automation system makes them more efficient and productive. With this system, you don't need to do repetitive work like keeping all the business data manually. It saves time, and also, your employees can focus on other jobs.
However, a software solution also gives you an error-free system. So that no human error will occur and that will improve your productivity.
Make A Better Decision
Information is knowledge. The more information you get, the better and more accurate decisions you can make. An ERP software gives you numerical and graphical views of your current sales, purchases, customers, and many more. Therefore, you will be able to decide your plan using these variables.
You Can Do Your Job No Matter Where You Are
Basically, an ERP controls your whole business under a central cloud system. That's why with only an internet connection, you can check your system from anywhere. However, for the mobile app, you don't have to depend on your computer also. You will be informed about the sales situation from any places in the world.
Good ROI
Implementing a sales management system needs a large amount of budget. So you may think of it as an unnecessary process. But it's not true as the sales management system can cope with your expanded service, so you can quickly get your ROI within a few months.
Both Online and Offline Access
The best sales management software allows you to conduct the business even when you're offline. You can save all the information in your localhost. For this reason, even without an internet connection.
From a regular restaurant to a big organization, every business needs a sales management system. And in this era, no company can survive without digitizing its design because the competition is too high.
That's why everyone now installs an ERP system, and about 53% of businesses believe that ERP software is one of the prior investment sectors.
On the other hand, 88% of organizations consider that their ERP implementation is the cause of their success. They believe that the improvement of employees' efficiency, the time-saving aspect, and the accurate strategic plan are the main reasons for their success.
By the time, I hope you definitely don't have any objection about why you need a perfect sales management system. So now come to the point of how you can get the best ERP software for your business. First, choose the best software vendors and look into the functionalities.
Follow the mentioned points below and compare them with your selected options.
Is the software

fit into your budge

t?

Is the software

capable of controlling

all your business features?

Does it provide an easy

interface

?

Can you enter into the system from both

online and offline

?

Does the software provider give

additional support

?
After matching all the questions with your business, you can select an ideal software for you. And after buying one, customize it and accelerate your sale.
Check out this blog for the suggestion to buy ERP Software. However, if you're looking for ERP software for less than 100$, you can check out this best sales management software.
A sales management software does not take that much budget, but the benefits you get from it are enormous. It's a complete package to manage your sales to manage your human resource and also the customers. So, don't hesitate to install one for your business. It will assist you from the very beginning to the end.
I hope this article is beneficial for you to understand the best sales strategy. So set up a Sales ERP Software and use technology as much as possible to sustain in this digital era.
Check Out: Best ERP Software for Small Businesses