Top 18 Features of Learning Management Software (LMS)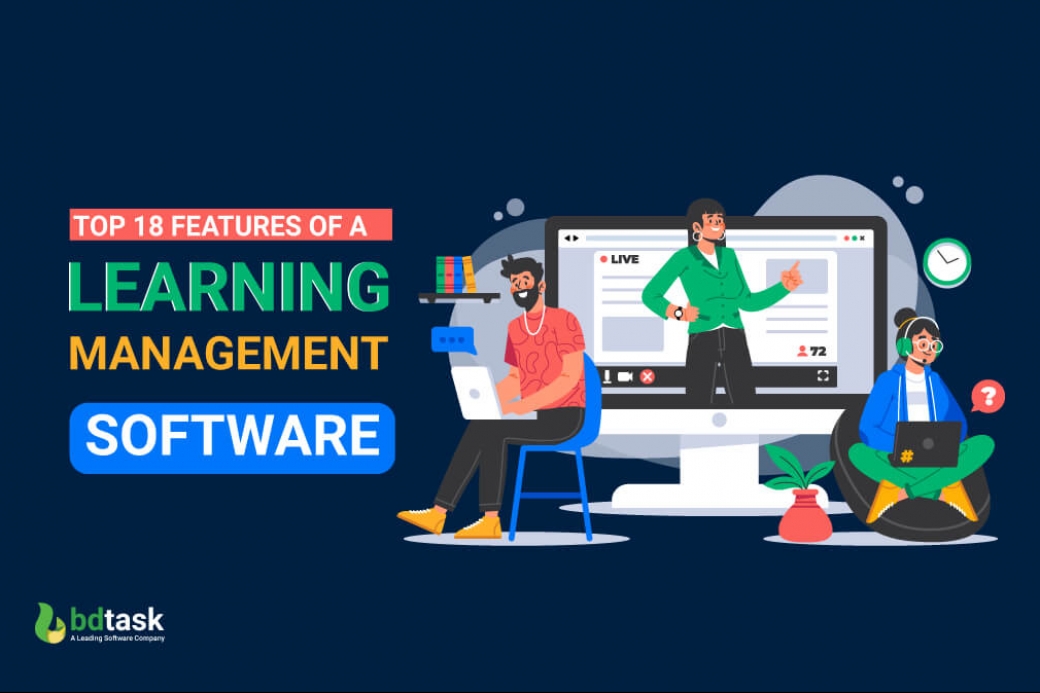 It is an open reality of how slowly society is shifting into the digital platform in every sector. Gradually people are now adopting that new innovative way of education and training. This online learning management software has proven much more useful for people of all age groups and social backgrounds. An effective Learning Management Software comes with some unique amazing features, which enhance online education learning platforms. The rise of this new trend of this learning management platform has shown an extraordinary result within the past few years; in 2019, the e-learning market surpassed $200 billion.
Over the years, the education system has slowly merged with the technology and built up a strong position over all the users' minds. Most organizations are now choosing this virtual platform, as they understand the value of investing in the online platform, which is more than having a traditional class. 
You must be wondering; what should be the key features of an online learning platform?  In this article, you will get the precise common features of an online learning platform. 
Learning Management System (LMS) is an educational management software that helps to manage students, teachers, courses, meetings, all about teaching and learning purposes things. LMS system has a videos course upload option privately or publicly. Advanced LMS has a live video class or webinar system with a communication system. A responsive front-end view, easy admin panel, automatic payment system, individual profile, e-commerce functionality, etc. are common features of learning management software.
Open-source CMS - WordPress, Wix, Square, Magento, etc.
Free or Commercial
Cloud-based on Installed Ready-made CMS with admin panel ( Like - Edutask)
The main purpose of learning management software is to manage the whole learning system over the virtual platform. This software not only manages the whole platform but also enhances the flexibility and engages more with the knowledge. There are some important criteria that need to follow while building a learning management system:
1. Easy impulsive and student-friendly interface 
An easy and intuitive learner-friendly interface is necessary since Online learning platforms will be used through different age groups or social backgrounds. If the users face any issue with the front interface, therefore might get confused and bounce out from the website. 
Hence it's wise to construct the front interface with clear and precise details with friendly accessibility. The interface should be built in a way so that users get all the information before they open or purchase any course. Furthermore, both back and front layouts need to be translatable with several different languages, and the content should have the option of a subtitle. 
Furthermore, before constructing an LMS, you should keep in mind that the interface must be learner-centric and navigable. Besides, online learning sites must have a chatbot option; so that learners can get any solution within no time. In this chart bot, whenever learners face any problem, they click and ask their vital questions. The computerized robot will answer, or if it can't, later, any assigned instructor will answer your concern. 
2. Device- friendly accessibility 
Often seen that most websites or software don't go well with all kinds of smart devices. As a result, most software gets bad reviews or complaints from the users. Nowadays, most people prefer and spend more on their mobile phones than any other device. 
Make sure you make your Learning Management Softwaremobile-friendly. A mobile-friendly interface can eliminate the hassle of the "only for PC" phase and favor those who can't afford to buy a PC. Moreover, this mobile-friendly ness helps the learners access online learning courses at no time and anywhere from the world. 
Moreover, a multi-device-friendly online course platform; assure the learners can operate their accessed course from wherever they left off. Every virtual training platform should build to go well with all kinds of operating systems, browsers, or screen sizes. 
3. An advanced data tracking system 
You must be wondering; what is the work of a data tracking system in a learning management system? Well, "this is the game, my man." A data tracking system will help trace the learner's persona and journey via different tack tricks such as collecting emails or "asking to sign up through Facebook account." By gathering all the data from an additional source; the system will better understand: 
What course are the learners searching for?
After the learner completes the introductory course, which course learner should watch next?
Also, can you refer to the close related course?
Also, suggest the most liked and viewed the course.
The learning platform will understand the learner's performance and will indicate that criteria, of course. 
This data tracing will help the platform owner better understand how much effect the course's put on learner skills and improve in a learning platform. This advanced tracking mechanism will help to keep a record of individual-specific achievements.  
4. Offline learning facilities 
Educational learning websites can only be complete when there is a whole package of constant availability, freedom, and learning flexibility. Over the past few years, virtual training platforms have proven an excellent mechanism for all kinds of corporate professions and educational institutions, eliminating all sorts of costs over traditional education.
Now, let's illustrate how this offline learning system works. The offline learning system is not a traditional education system; this is also part of the virtual learning platform. With the assistance of offline learning facilities, learners or users can download the course or load the complete content and click "play." Therefore learners don't have to waste time buffering the video and can "play or pause" anytime they want. 
5. Real-time notification system
A notification system is a much-needed option for every kind of platform. Since people like to get a "confirmation notice" for every step, this notification system helps the learners stay in a constant update. Whenever a new course is added or any update from instructors.
The real-time notification system also helps the trainers and learners stay aware of engaging and completing the course material. A smart notification system is a need for the following reason:
Trainers get a notification whenever a course gets "views" or sold. 
Learners receive a notification whenever their favorite or desiring instructor uploads any course. 
Learners' will receive a notification if their following instructor wants to start a video conference and discuss any important topic.
The instructor also gets a notification, completing the year-end learners' course completion rate. 
The platform owner will also get a notification whenever any learner gives any feedback about the platform or about any course.
6. Course outline management
Another critical feature of an education learning management software is "content management." A virtual learning management system's main motive should be easy, simple, and flexible in delivering the courses among all the learners'. 
Here, I suggest what a perfect virtual learning system works:
It will allow you to drag-drop and arrange every content into its ideal place.
Make an easy interface so that anyone can create a course.
Hold multiple types of content templates, such as PowerPoint slides, PDF version, podcast types content, or live training sessions. 
An LMS should also contain a separate part for "practice assessment" by providing them some practice material for those who viewed the course and are ready to know and practice the knowledge.
Also, have a feedback and problem solution option to get all the solutions at no time. 
7. Pre/post assessment
Another success factor of the online education platform is having a separate option for quizzes and other practice assessments. Even though they are standard features of a virtual learning platform, still, most online education platforms lack this function. Pre-assessment tools are for practice, and post-assessment is for after the learners complete the course and ready to test their knowledge. Those assessments may contain; 
Assessment is a great tool to enhance the learners' engagement with topics. An effective way to maintain the spark of a learner's desire to learn. Along with that, an online education platform should have all the solutions for all those assessment tests. Students can only unlock those answers sheets after they complete the pre or post-assessment. 
On the other hand, this virtual learning management software has been proven a vigorous effect on professionals and on-the-job training. Virtual training platforms facilitated job holders to brush up on their skills. Hence helping the organization to get better output. 
8. Course score and certification system 
Yes, the above-mentioned "pre or post-assessment" might help a learner to improve the learner's engagement towards the desiring topic. Tracking the score is like following the performance of the learner. When a learner attempts an online exam over any virtual platform. Consequently expects to know the score at the end of the exam. So that learners can understand and identify their mistakes and lackings.
One of the educational website's exciting characteristics is that it provides an honoring certificate to all the learners who complete the whole course and attempt the post-test. And on the basis of that, the instructor will score and provide you with a certificate. 
9. Audio and video call/conference with instructor facilities
Another key function that should be in every online learning management site is audio and video call or conference facilities. These audio and video online learning facilities help slow learners or those who need one-on-one attention for their complicated problems. 
Apart from the chatbot and email service to maintain effective communication between the learners and the instructor. Audio and video calls help learners solve a difficult or complicated problem. The problems are difficult to solve through messaging. 
Solving the learners' problem through audio and video call or conference is considered a unique feature of an education learning platform. Besides, after finishing attending the video or audio call, learners can also play the recorded version. If learners want to revise for a better understanding of any topic that has been left unclear, they can again play the recorded version.
10. Customized users experience
One of the unique features of educational learning management is that learners can customize their content to learn or watch. For example, if the learner wants to know more about SEO growth hacking, content marketing, or social media marketing, he/she can click the checkmark on the setting option. After that, automatically, as a suggestion, the training platform will show the users all the related courses on SEO and other marketing training content types. 
Besides, the users will also get a suggestion for some effective practice assessment, which will help them improve their engagement with the topics. And most importantly, every time the users get the suggestion, learn will get a real-time notification. This proves that the training management system understands the learners' priority and understands the learners' improvement point. 
11. Cost-effective courses 
Yes, indeed, you can't buy knowledge with money; but in reality, everyone uses the money to buy education. The students or unemployed people choose this online educational platform the most because they want to learn some new skills and want to be self-reliant. Therefore, each course's cost or price is an essential factor, and not everyone can buy every course, especially the advanced course. Thus, before the instructor or platform owner might make some smart system, setting the price of their courses such as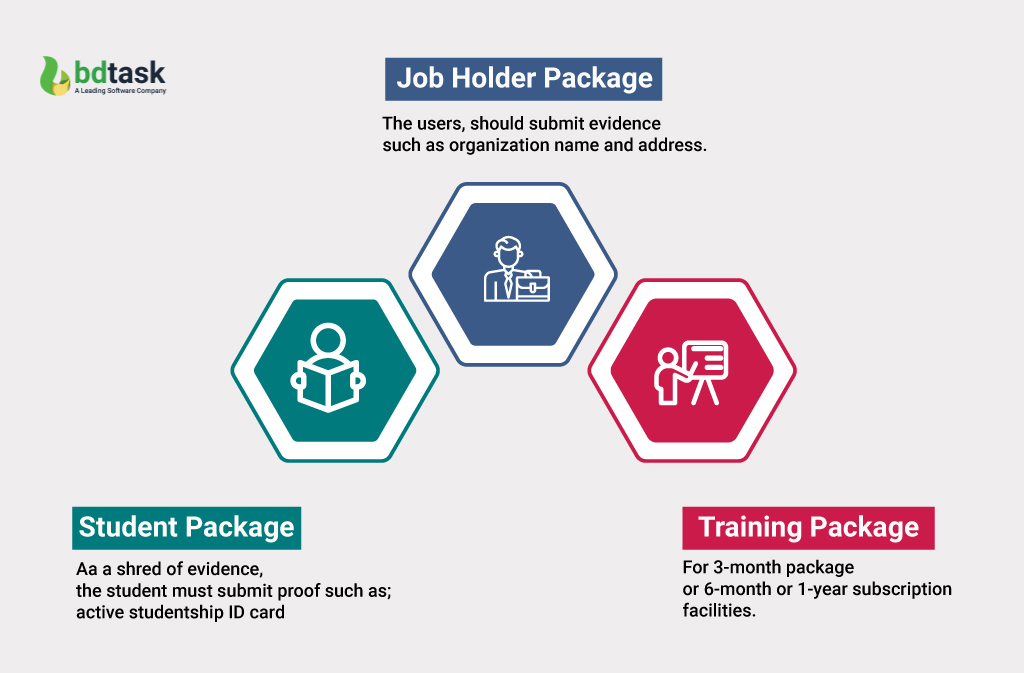 Another crucial feature of an excellent online education platform is to be a very cost-efficient website. The price of all the online education platform courses should have to be within everyone's affordability range. The course instructor or the platform owner has to keep in mind that whoever is coming as a learner in this virtual educational platform is all students; therefore, they have "no or low-income behavior users". 
12. Feedback facilities for learners  
Complementary is always an important factor, whether it is food in a restaurant or education in a virtual learning platform. Review policy in an education platform helps all the users and learners to choose their course more wisely. Whenever a learner completes or buys the full course, he/she can post their users' experience of that specific course. The learner can also express their view of:
How effective was the course for them?
Do the learners face any problem understanding the voice or approach of talking to instructors?
Does the instructor "explain nature" was too complicated or not? 
After playing the course, does the instructor fully explain the topic adequately or talks about other unnecessary matters?
Was the course boring, or also does it show some practical examples? 
13. Instructor management system
Instructor or faculty is a vital part of an online education platform. The features of Instructor management will help the platform management team record all the details of every instructor. The number of courses they upload, which instructor gets the highest view and positive review, and which instructor sells his/her course the most. 
If you are both the owner of a virtual education platform and an instructor, you must first buy this virtual educational platform and upload it as much as you want. You can design the whole platform with your design and your course. 
On the contrary, if you're only an instructor and searching for a platform to share and trade their valuable knowledge. When any teacher or faculty wants to add their course to someone else's platform, the platform owner will offer a fixed amount of price and commission to exchange those courses. Before the platform owner allows you to upload any course, he/she should have the following document:
Basic information
Valid educational qualification 
Social media information 
Work experience
Achievement information 
14. Learner management system
Same as the "instructor management system," the learner management system also helps to manage all the learners under one admin panel. In this learner management system, the platform owner can add and record all the details of learners. This management system will also hold details like:
Basic information 
Social media information 
Education information 
Work experience(if any)
Payment information 
15. Integrate with other management systems
In this online educational system, you can't just deal with courses, but also you have to mix matches with other management systems. Such as a talent management system, content management system, webinar tool, and human resource management system. All this management system complements this whole virtual learning system by eliminating the admin hassle full; time-consuming activities of putting every information manually. 
In addition, it also helps to micromanage all the tasks of adding or removing the learners or instructors. With the help of other management systems, the platform owner can easily and automatically create users or learner lists, access, data synchronization, etc., that will assist the learners in choosing the right course. 
16. Year/month-end sales report
Year/ month-end sales report is always an important part of any business. Ultimately, if you don't get a complete report on; "how much all the course content is creating an effect on the learners' life?" or "how are the feedback from the learners about the course instructors or about the course?". 
A complete LMS report should hold the data of the learner progression, survey response, examination performance, training schedule, etc. This reporting system will help the platform manager to evaluate; the most viewed or clicked course or which course the learners buy the most? Or which course learners liked/unlike or gave a positive/negative video?
A perfect opportunity to understand the learners' experience and simultaneously it will give the platform owners some first-hand insightful understanding of which topic the learners prefer the most" or and check the request box for new topics. Some of the key reporting topics are:
Learning item report: which course and how many learners had completed and which course did not.
Learners path report: tracing the learner's flow of gain the knowledge  
Learners exam report: analysis and record the performance of the learners.
17. Strong security system 
A strong security system is another important feature of this virtual learning management system. Since this system holds all the personal data, both the learners and students, therefore high security is necessary. This kind of virtual learning management system always requires or asks both the learners and instructors for credentials and social information. 
So that the platform management team can understand and trace all the qualifications of learners and instructors. When the users access any website, and after inputting all his/her personal details, there is a huge risk of invasion of privacy. a strong security system helps to maintain the sanity of online learning management; there are many steps of security:
Sign up/sign-in option
Input the basic qualification of the education 
Social media information, such as Linkedin, Facebook, Gmail, etc
Insert the user's image 
Contact no
18. Easy payment facilities 
When you are building any management system, you definitely need a payment gateway. A flexible payment gateway is one of the most key features that good learning management needs. The payment gateway needs to be easy, flexible, and limitation free. Most of the time, users suffer or drop out from a website they face the currency or payment gateway barriers. Construction of virtual training systems should be so that it will support both high or low-income people. Since this education and learning platform mainly focuses on the students, it can also give a student-friendly payment gateway.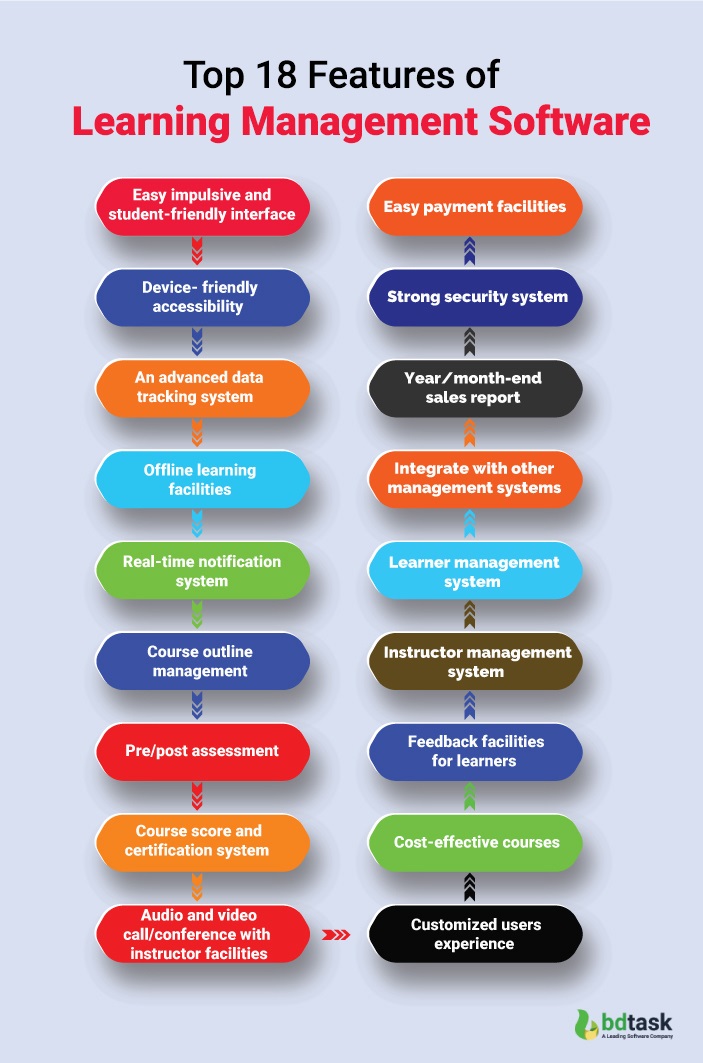 Utilize the golden opportunity of closed school in this Covid era, Online Learning Management System will be the best to start a virtual school. 
With the fastest internet, people are also moving towards the online platform. For everything, people now prefer to choose the online way rather than the traditional way.  Therefore this is the perfect time to start a virtual education platform. There are tons of benefits of a virtual education platform and if you do proper, effective, and eye-catchy promotion of your platform, you can soon be the king of a virtual learning platform. Some interesting benefits of virtual learning platform: 
Cost and time effective 
Environment friendly 
Student can learn at their own pace 
Have a bright future 
Full leverage of technology 
Anytime and anywhere learning 
Rationalize learning process
Evaluation facilities 
I hope, above part of this blog has produced a little perception and interest in an education platform for you. Wondering!! Why do you want it?
Online education platforms come up with many core unique facilities, such as a teacher can save thousands of dollars on rent, electricity, and other miscellaneous expenses. On the other hand, anyone can now attend class anywhere, with no hassle of the journey. Almost everyone nowadays can afford a smart mobile; by utilizing that, people are now easily connected with their friends and family; within just a second.
Online platforms have shown a mesmerizing result over the past few years; people are now choosing platforms for shopping, grocery shopping, ticket booking, and now the new trend of e-learning. 
Online learning is now proving to be the easiest and more effective way of education. In terms of exam and practice assessment, people are now becoming more serious about their self-studying. Online learning opens up a million possibilities of gaining knowledge for every different age group.  
Without having any coding knowledge, you can now build a virtual learning platform within a few steps
You might be wondering; that you need advanced coding knowledge to build a learning platform, but no, you don't need anything. If you are an established teacher or educational influencer or bookworm; want to share your knowledge with everyone. Therefore, I would suggest you give this online learning management a try. 
Everything you need now is available over the internet, just one click away.  Go and check out the Edutask, all in one solution for education.
Above all, are very effective features to build a perfect online Online Learning Platform. All over the world knows that because of this Covid war, all the educational institutions are closed, and hence people are choosing this virtual learning platform as the only solution for continuing the education process. 
A small tip for learners, while choosing an educational learning platform, first analysis, whether all the characteristics are all there and student-friendly. This article contains all the features which will grow awareness, produce interest, and push you to know more about learning management software.
Would to like to know more: Ins and Outs Reality of The Online Learning Platform