How Advanced Chatbot Improving Customer Experience In Online Business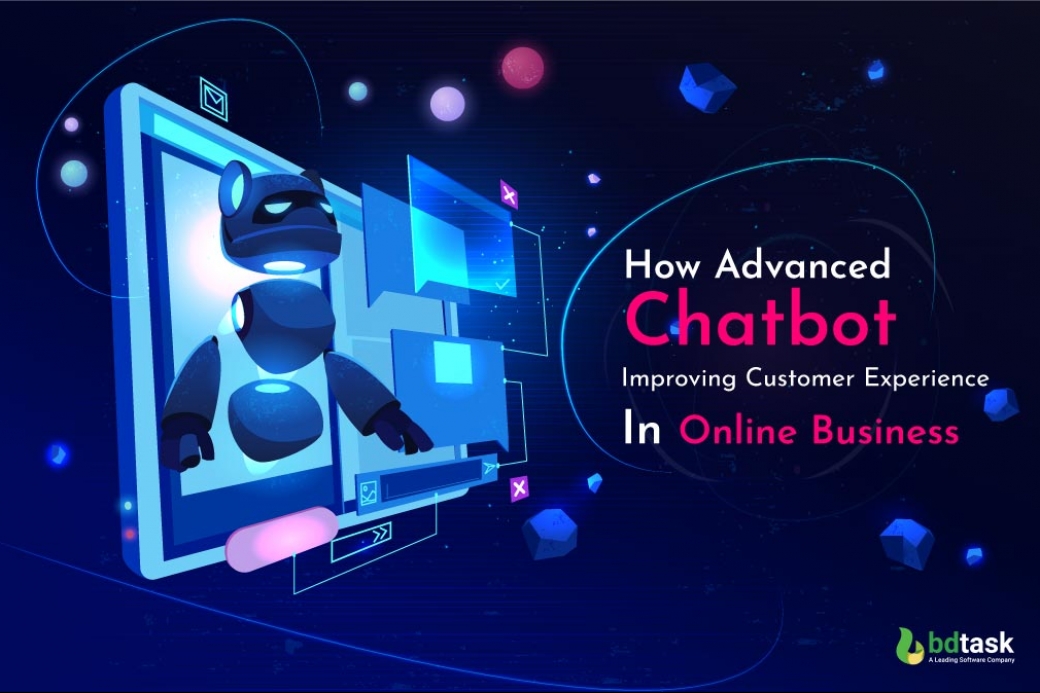 You have ordered trousers online, but now you want to cancel the order, you have raised a ticket, but you don't get any quick response from the customer service department. What will you do? You might get frustrated and won't make your next purchase from that site.
Well, to prevent this loss and deliver exceptional customer support, AI and its applications are making their way in the business world. Days are not far when you don't need to refresh your inbox more often in the waiting for a response from the customer department. Integrate chatbots and assist numerous customers online without getting annoyed.
Photo Courtesy: Juniper
Chatbots are able to "talk" with anyone, anywhere, and anytime and integration of it makes a huge difference for your business. According to Juniper's research, the integration of chatbots can save a cost of nearly $11 billion by 2025. 
Undoubtedly, the modern marketplace is extremely customer-driven. Delivering a seamless customer experience is no longer a luxury, but it's necessary for survival and long-term business growth. Moreover, customers' expectations are also increasing with time, but thanks to modern technological innovations that save time and fulfill their needs quickly for a less. 
AI and ML are no longer buzzwords in the online world, and their applications such as Siri, Chatbots are now everywhere, and we can see the ubiquity of them everywhere. Be it in the form of windows chat, pop-up messages, voice-chatbots, or Facebook Messenger.
Chat + Robot= Chatbot
Almost every business today embraces advanced tech solutions to accelerate their business growth and gain broad exposure. Offering excellent customer service is one of the core business areas to focus on, and chatbots help to do this. Moreover, this approach is preferred by all. 
In simple terms, chatbots can be referred to as AI-powered programs that interact with humans and stimulate human conversations. Chatbots are also known as digital assistants as it understands human emotions and resolves their queries in seconds. Chatbots are integrated across websites and apps in the form of Facebook Messenger and WhatsApp. 
Before discussing what benefits chatbots offer to brands, don't you think we should focus on certain facts and figures about chatbots? We should, right? Let's proceed further. 
Diane Ackerman, an American Poet, has stated that Artificial Intelligence is growing up fast, and chatbots have the capabilities to detect facial expressions and make your mirror confused more often. 
Chatbot technology is overgrowing. Several enterprisers believe that chatbots are popular because of their trendiness. 
No, it is wrong. Looking at the current situation, customers' demands and preferences keep evolving; right now, they are looking for online and instant solutions. First, the global eCommerce business is experiencing immense growth and reached $4.2 trillion in 2020 and forecasted to reach more than $6.5 trillion by 2023. 
Secondly, the on-demand business model has gained huge momentum recently because it enables people to access everything promptly. Uber has indeed changed the way we used to commute, and this is why the demand for uber clone script is increasing as it offers a maximum return for less. 
Thus, eCommerce and On-demand business models are the reasons why chatbots are getting popular. So, let's look at some interesting facts and figures that every business owner should know for better implementation. 
Google Trends reveals that the search query using chatbots increased by 19 times in the last three years. 
HubSpot stated that monthly active users on online messaging apps are more than 5 billion. 
Real estate, travel, education, healthcare, and banking are the top industries benefiting from chatbots.                                                                                                                                                                      
According to Business Insider, the market size of Chatbot will surpass $9.4 billion by 2024. 
It is quite surprising to know that Baby boomers are more positive towards using chatbots than millennials. 
More than 21% of Uk customers are finding it interesting to deal with chatbots rather than interacting with customer representatives. 
30% of customer support cost can be saved by leveraging chatbots in operations. 
HDFC bank's chatbot "EVA" has handled more than 2.7 million questions in the year 2018. 
As per Huxley's study, around 43% of digital baking users are comfortable talking with chatbots for their queries. 
The above facts and figures clearly define that you should harness the power of chatbots today as they will improve customer experience, generate leads and collect customer data. 
In short, chatbots are smart and offer a plethora of benefits to the business. So, let's dig into detail about how chatbots supercharge your customer satisfaction and deliver a seamless experience. 
Undoubtedly, the integration of chatbots is a cost-saving affair; it enhances the customer experience and positively impacts their minds. Chatbots resolve queries instantly, credit goes to Artificial Intelligence and Machine Learning technology that has made it easy for brands to assist customers round the clock.  
After discussing the definition, scope, and statistics, we have represented five significant benefits Chatbot offers to any organization and taking customer satisfaction ratio to another level. 
Chatbot Never Sleeps and Get Tired
Let's carry forward the above example again. Whenever you order anything online and later facing issues regarding dispatch timings, delivery date, payment issues, and everything. You direct head to its customer care support and send a mail. In this regard, you need to wait a certain period even sometimes you may not get responses. Don't you think this is a troublesome and tiring process? Indeed, it is.
Photo Courtesy: Drift
Here you can see more than 32% of customers using chatbots in order to get instant responses from brands. Now imagine, at midnight, you are facing several issues, but there is a chatbot that helps you out quickly and resolves your doubts in no time. Isn't it amazing? Yes, it. Hence, it can be said that chatbots never sleep and assist customers round the clock. 
Today, the modern marketplace is all about delivering on-time customer support, and chatbots assist customers 24/7. This is a cost-effective yet powerful way to provide support. It fosters brand loyalty and improves customer service. 
Customers receive the same level of response they receive from the customer care department. Chatbots can understand, interpret human emotions and resolve their queries in the least possible time. Furthermore, customer representatives often get tired of answering the same questions, and they get fatigued sometimes. Still, chatbots never get tired and always ready to answer even silly questions over and over again. 
Check Out: Top 20 PHP Chatbot for Website
Be a frontline defense character for your customer service team. Chatbots are designed with machine learning, natural language processing(NLP), and smart algorithms. It means for repetitive and frequently asked questions; chatbots are best as it saves time and expedites the experience. 
According to New Voice Media's research, more than 51% of customers will stop buying products from brands that are not offering better customer service. The majority of them even don't inform you about their issues and pain points. Well, it is really harmful to your online business. 
To overcome such kinds of issues, leveraging Chatbot helps you collect customer demographics and solve their grievances in a minute. The main goal of integrating Chatbot across websites and apps is to know what your customers feel about your brand. However, sometimes you also have to deal with negative reviews but don't be afraid of it, because this will reflect that there is room for improvement. 
Whether customers are complaining about your products or asking for help, chatbots collect all that information and help you focus more on prime objectives that you should address before it gets late. Chatbots are committed to resolving customer's queries in real-time, it also collects a handsome amount of data from customers about their habits, likes, preferences, and much more. Later, based on that, marketers can craft marketing strategies and deliver personalized offers to customers. 
Learn More: 10 Finest Techniques to Build Customer Relationships
The word "personalization" has become more popular these days; marketers are creating personalized offerings so that customers stay connected with them. Chatbots are actually using machine learning algorithms to know customer's preferences better. So that they will be able to send them personalized offers based on their interest and preferences. 
First, chatbots gather data, analyze them, and take actions to ensure that they fulfill customer's needs. The user's browsing history and preferences also send personalized recommendations to help them out. However, this will generate sales and encourage customers to add more items to their cart. 
As mentioned earlier, chatbots gather valuable information about customers from their replies and interactions. Later, this data can be used by a customer representative to craft personalized offerings. It would also help you create content that really resonates with your customers. 
For instance, KLM Royal Dutch Airlines have integrated a chatbot to provide personalized customer support. KLM is the most renowned airline in the world. In order to manage bulk inquiries quickly, it has implemented a chatbot called "BB'' (BlueBot) to deliver accurate, faster, and personalized customer support. It has deployed Facebook Messenger in operations; however, it comes in 13 languages so that people can get information in their native language.  
Imagine you are already dealing with some severe issues and waiting for a customer representative, even making you annoyed. Here you can imagine the level of frustration. But chatbots overcome this issue and reduce waiting time. Instead of customers waiting an hour to get their points solved, chatbots offer quick assistance and quickly redirect you to customer care executives. 
As we have discussed earlier, customers these days appreciate the quick response from brands, and if they find something with ease, they feel happy. This behavior leads to an increase in customer satisfaction. This is the reason why more and more brands are now integrating chatbots across their apps and websites, as it facilitates customers to buy products and services quickly. 
According to McKinsey's research, the majority of government institutions failed to deliver a seamless customer experience to their clients. The significance of customer experience is increasing in the public sector; this is why the government urged them to focus on customer experience rather than anything else. 
And Chatbot is one of the smartest and cost-effective ways to provide a better customer experience as it saves time, effort and reduces waiting time. Moreover, it would be very difficult to go through the vast public record and assist customers quickly, but thanks to chatbots that resolve this issue and offer fantastic customer support.  
Eventually, the goal of any business is to deliver better customer support with maximum profitability. And this is probably the most powerful benefit of the Chatbot. Usually, phone calls and mail produce heaps of data, and filtering them in an appropriate manner takes a considerably huge time. Still, chatbots make it easy for you and come up with relatable data that improve customer experience. Let's go through some real-life examples.
Well-known food and beverage company Starbucks using chatbots that help customers place an order while they are on-the-go. Customers can place an order either voice command or text messaging; Chatbot automatically informs the delivery time, total costing and generates an invoice. 
Another amazing example you can consider is the Whole Foods Bot that helps customers search for diet recipes on their Facebook Messenger. Based on the emojis and customer's preferences, it will come up with the recipes based on the customer's requirements. 
Last but not least, digital payment service company Mastercard has also integrated Facebook Messenger on its website. It tracks customer's accounts and informs them about various expenses and incomes based on the category. 
Chatbot for Website, Facebook Chatbot, AI Chatbot (Google Dialogflow) multichannel platform even no more monthly subcription fee. Check Now: Innue- Live Chat Software

Constant innovations in the technology and fast-paced business environment have transformed the way customers interact with brands. Today, conversational chatbots have become a critical part of your online business as they increase customer engagement ratio, satisfaction level and reduce cart abandonment ratio. Days are not far when Chatbot's capabilities will be higher than human agents. 
Apart from the benefits mentioned above, conversational chatbots offer many advantages and change the landscape of the modern business environment. Customer's preferences keep evolving, and brands are investing in more advanced chatbots to handle several complex tasks. 
Overall, the field of customer care is going to experience a tectonic shift in the years to come.
Check Out: Top 15 PHP Blogging Platforms and Content Management System