Top 15 PHP Blogging Platforms and Content Management System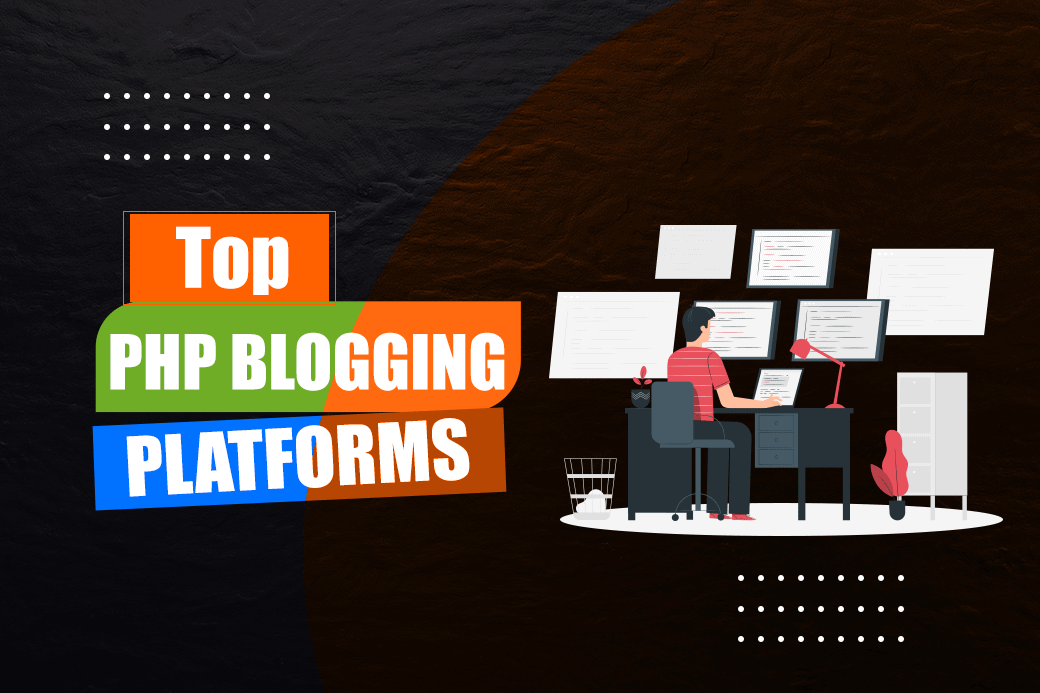 Are you concerned about expeditious blogging platforms? Do you want to purchase a blogging script for your content business? Then you are in the right place, and this article can provide all your question's answers. This article can be able to illuminate all of your confusion. Also, you can get an overall comparison between the top 15 blogging platforms with PHP source code from this article.
Actually, before purchasing any PHP blog script, you must have to understand which PHP script will be perfect for your business. In this article, I will evaluate the top 15 PHP blog scripts that will be very conducive to you for comparing the features and easy to identify the best one. Now, I will discuss the main concerning factor of this article in the following section.
Before beginning the primary substance, let's take a while to introduce the definition of blogging script and its purposes.
Php blogging script refers to a software solution that can help to maintain a content management business properly. Thus, a blogging platform is also known as a content management system. It can provide a combined solution for managing any content such as uploading or deleting posts, editing posts, comments, posting categories, etc.
These web applications can increase working efficiency with its automation features and modules. Also, it assists you in reducing the working error. So, a PHP blog script can be able to boost your business revenue.
Self-hosted blogging platforms refer to a kind of platform that can allow the installation of blogging software on your web server. In a self-hosted content management system, you can manage every single thing in your blog. So, it is free from any third party access, and you can get a secured and comfortable hosting system rather than a third-party hosting service. There are such multifarious amenities in the self-hosted blogging platforms, which are discussed below.
Pros of a Self-Hosted Blogging Platform
You have all over control in your system. There is no difficulty in maintaining your blog post, blog design, and layout, etc.
It can help to enhance your branding promotion.
It can provide enough space and bandwidth for performing smooth applications.
You can get any customization capability for ranking your content.
This process will help to increase your business revenue.
You can get continuous support by using self-hosted blogging platforms.
Now, I will provide a comparison between the top 15 PHP blog scripts that can help to choose the right blog script for your business.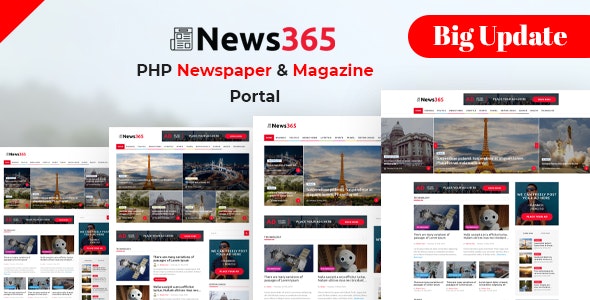 News365 is mainly a PHP script designed for newspaper portals, magazine blogs, and video newspapers. Bdtask builds this software, and the Codeigniter framework develops it. Moreover, you can use this script, such as a news portal or blogging site. You can quickly and accurately manage this system without any coding knowledge. This system has multiple themes so that you can use anyone as your choice. Also, you can get complete documentation and some video tutorials for setting up this system. So, it can help to enhance your working capabilities and create a dynamic content management system.
Features of News365
Fully responsive system
Dynamic news portal, magazine, and blog system
Customization system
Three different layouts in category page
Multi-language support system
All browser support system
Have a comment system
Easy to blog posting
Neat and clean code
Four separate user interfaces and many more!

PHP Multi-Author Blog Script is a simple and powerful blogging platform. You can complete your blogging activities in a few minutes using this system. As a developer or web designer, this software will be the perfect fit for your requirements. You can easily customize this system based on your needs. So, you can add and manage your posts, posting categories smoothly.
Features of PHP Multi-Author Blog Script
Easy to flexible & smart caching
Built-in MVC architecture and OOP programming
Easy to install & use
Multi-author support system
WYSIWYG editor system
Have useful comments, resources, polls modules
Integrated google translator
Embedded CSS templates system
RSS feed reader system
Includes in mass mail features, and much more!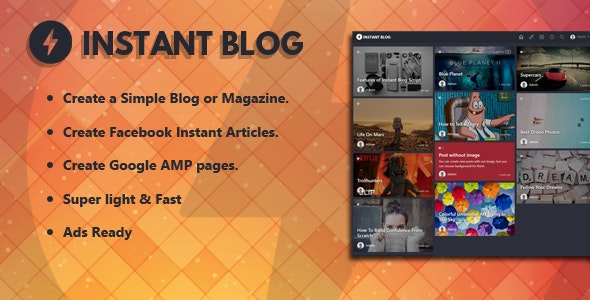 Instant Blog is designed for multi-purpose blog posts and magazines. Moreover, this system can help to create instant Facebook articles, Google AMP pages. It has a dynamic admin panel, and you can manage all internal activities from this. Instant Blog software is developed by Laravel 5 and bootstrap four frameworks. Using this software, you can handle your posts, categories, users, and settings efficiently. After all, you do not need to worry about the ad management system because you can get an ad management system in this software.
Features of Instant Blog
Fast and secure system
100% responsive & mobile-optimized system
Ads management system
Social sharing option
Easy to registration and login
SEO friendly system
Provides RSS feed reader system
Auto embedded system with Youtube, Twitter, Facebook, Instagram & Pinterest
Provides dynamic form for creating a post
Simple and easy to use, and many more!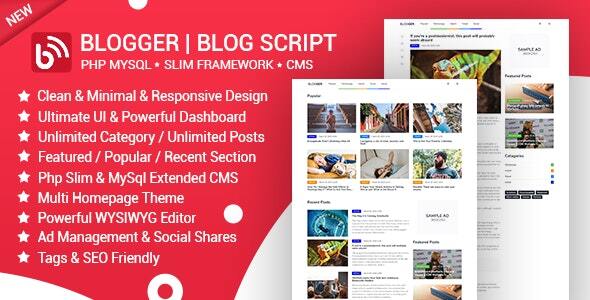 Blogger is another PHP script that is designed for news and blog posts. Moreover, this PHP blogging script can provide a better user experience with the help of its clean and minimal design. The PHP slim framework and Mysql develop it. As an author, you can maintain all posts, categories, sections, pages, etc. It can also provide a spirituous CMS that helps to control every section on the front-end blog design and logic. Most importantly, there is not a requirement for any prerequisites to use this system.
Features of Blogger
Color setup system in categories
Tags support system
SEO friendly system
Easy to update logo & information
Provides filtering system on section, categories, and tags
Fully responsive design
Social sharing system
Fully manageable system
Ads integration system
Easy to manage contact queries and more!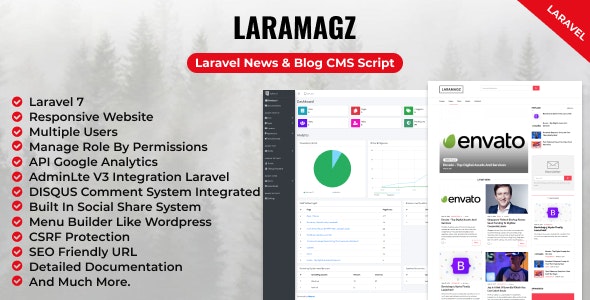 Laramagz is typically a Laravel news and blogging script. You can use this content management system as a news, magazine, and blog portal. Moreover, this can be able to provide a complete solution for your blogging purpose. The Laramagz is developed by the Laravel 7 framework that is integrated with the AdminLTE template. If you are a developer, this system is more suitable because it is built in the Laravel framework, and you can easily modify it and create a front end website based on bootstrap.
Features of Laramagz
Powerful admin panel
Have a responsive website
Role permission system
CSRF protection system
Well defined documentation
Integrated with the DISQUS comment system
Google API analytics
Easy to customize and maintenance
Allows CRUD operation
Combined with AJAX and much more!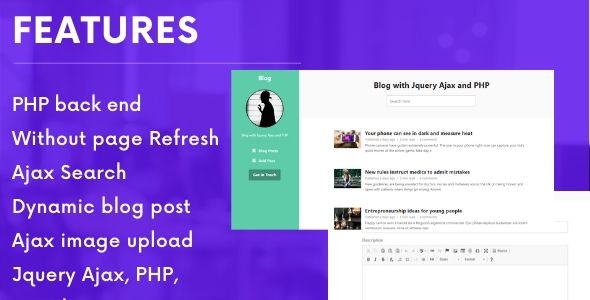 If you're looking for a single page application that can provide angular applications and dynamic interactions with databases, then Dynamic Blog with Jquery Ajax and PHP will be the right choice for you. Jquery Ajax and PHP develop this script. Most importantly, you can maintain everything through a single page. So, it will be effortless and comfortable to use.
Features of Dynamic Blog with Jquery Ajax and PHP
Ajax based system
Accessible to admin & user login
The new user's registration system
Admin & user comment system
Allows JSON parsing
Integrated with ajax search for posts, and many other features!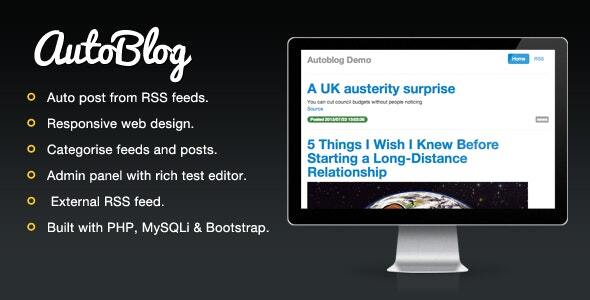 If you prefer an automation system, then you can look out for this Autoblog script. This system is able to allow auto-posting from RSS feeds. Only you need to enter the RSS link, and you can add a category into it if you want. Then the script can perform the rest of the tasks. Also, you can upload your posts, and you can edit it. After all, you can get a diversified system for posting new content by using this PHP script. This software is developed by PHP, MySQLi, Simplepie, and Bootstrap.
Features of Autoblog
Responsive web design
Built-in object-oriented programming
SEO friendly system
External RSS feeds system
Facebook comments and DISQUS support system
Have a rich text editor in the admin panel
Easy to manage posts from the admin panel
Used Bootstrap 3 for the main public site
Used in auto-discovery script
Built-in a lightweight PHP framework, and more!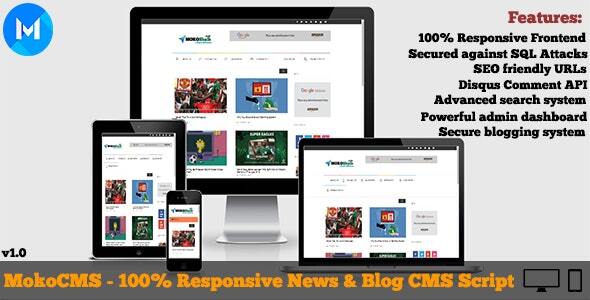 MokoCMS is another news and blog portal script system. This system is built-in procedural PHP and without any framework. So, the developers can customize it easily. There is no necessity to be so expert in programming knowledge to operate this system. Moreover, you can manage all functionalities from the admin panel. Also, you can get lots of features that can help to manage your content management system easily.
Features of MokoCMS
Attractive user interface
Free from any kind of SQL injection and XSS attack
Multi-level user management system
Dynamic admin panel
SEO friendly & organized system
Cross-browser support system
Easy to install and use
Provides customization system
Adding unlimited categories, posts, pages, etc.
Allows DISQUS comment installation plugin and many more!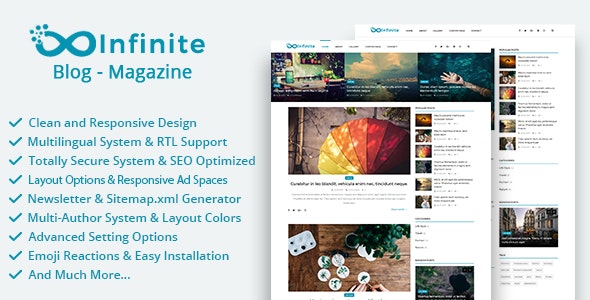 If you want a blog and magazine script, then you can try this one. The CodeIgniter framework develops Infinite software. This script is mainly a multi-purpose content management system because you can use it for blog and magazine portal. It can also provide a smooth ad management system that helps to promote your business successfully.
Features of Infinite
Fast and secured system
Easy to operate & SEO optimized
Diverse layout options
Variant theme with dark mode
Allows multiple authors
RTL support system
Allows only three membership roles - admin, author & user
Easy to manage contact messages
Allows authentication system
It provides advanced settings options, and much more!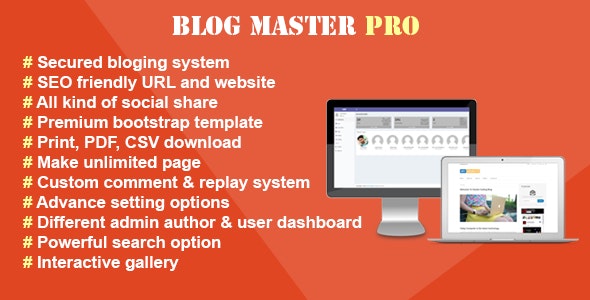 Blog Master Pro is developed by the latest Laravel 5.5 framework to add and manage posts efficiently. So, the website owner can maintain all activities easily. It helps to provide a secure blogging system. Also, you can use this system for high availability websites. Most importantly, this system can allow you to create unlimited pages, and you can get various useful features that will help manipulate your business.
Features of Blog Master Pro
SEO friendly system
Allows print, CSV, PDF, and download
Separate dashboard for admin, author & user
Multi-author support system
Auto pagination support system
Allows a two-factor authentication system
Provides complete documentation
Password reset option
Allows all kinds of social sharing option
Newsletter system and more!

Newspaper is mainly a PHP script that can allow us to create a content management system. Using this script, you can create news, magazines, and blog portals. So, you can use this script for various purposes. This system is more suitable for a developer because no framework is used to develop this script. Thus, developers can easily customize it. This script is built by JavaScript JS, HTML, CSS, PHP, and SQL. Moreover, this system may provide strong SQL protection to protect your system from any hacking or injection.
Features of Newspaper
Fully secured system
Time scheduling setup system
Allows the role permission system
100% responsive design
Dynamic admin panel
Easy to manage & maintenance
Integrated with the Facebook comment system
Provides multiple themes
The attractive front end design
Cross-browser support system and more!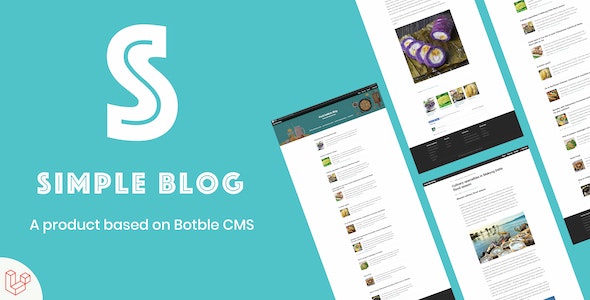 Are you looking for a simple UI design blogging platform? Then Simple Blog script can meet your needs. This system can provide a simple UI design that increases the author's attention to the writing. It is developed by the Laravel framework so that developers can easily modify this. Also, users can discover and read any content quickly. In this system, you can get a free installation service for hosting using Cpanel or direct admin. So, you need not face any difficulties in hosting the system.
Features of Simple Blog
Simple and clean UI design
SEO & sitemap support system
Fully responsive system
Accurate management system
Google analytics support system
Provides color schema in admin template
Follows coding standards PSR-2
Support media system and Amazon S3, DigitalOcean Spaces

Viavi is another blog script that can be used for news, magazine, and blogging platforms. The Laravel framework designs it. Using this script, you can get an amazing layout, functions, and many advanced tools to properly manage the entire system. Also, it can allow only the admin and editor to operate the system. So, this system can create a secured platform with the help of rich features and flat design.
Features of Viavi
Fully responsive design
Variant layout color
Statistical dashboard
Widgets management system
Page layout management system
Includes with social sharing option
Provides custom code for header & footer
Creates unlimited categories & news
Easy to install & use
Includes SEO, friendly URLs, and more!

If you want a better script for portfolio and Blog, you can try Fibonacci Laravel portfolio & blog CMS script. This system can assist in boosting up your business with the help of its numerous features. Moreover, you can get an interactive system for any product presentation. It has a well-defined and straightforward design so that users can understand the functionalities easily. This script is developed by the Laravel framework so that you can modify it as per your requirements. Using this script, you can most significantly explore yourself in the business world that will be very impressive for getting any job.
Features of Fibonacci
Built with Laravel 6 & Bootstrap 4.3.1
Seven homepage layout design
Google fonts support system
Smooth scrolling system
Comment sharing system
Workshop management system
Blog management system
Section enable or disable options.
Multiple language support system
Dynamic management system and more!

phpBlog is a multi-purpose content management system that can be used for blogs, company and agency websites, magazines, news portals, etc. This system is developed by procedural PHP and without any framework. So, you can customize it with the help of developers. You can also get lots of exclusive features in this system that help manage your business efficiently.
Features of phpBlog
Lightweight, responsive, and user-friendly system
Fast and secured system
Integrated with HTML editor
Provides comment system
Custom pagination system
Dynamic layout system
Custom Widgets system
Statistical dashboard system
Accessible to user login and registration
Newsletter system, and many more!
Our Recommendation

Conclusion
Have you got your desired blogging script? I hope you already find your preferred one. In this article, you attain a comparison analysis between the top 15 PHP blogging scripts. If you still have any confusion about which one is best for your business, my suggestion is to try the News365 blogging script, which will be the best choice for your business. So, it's high time to buy the News365 script for promoting your business dynamically.