How To Start A Hotel Business - A Complete Business Plan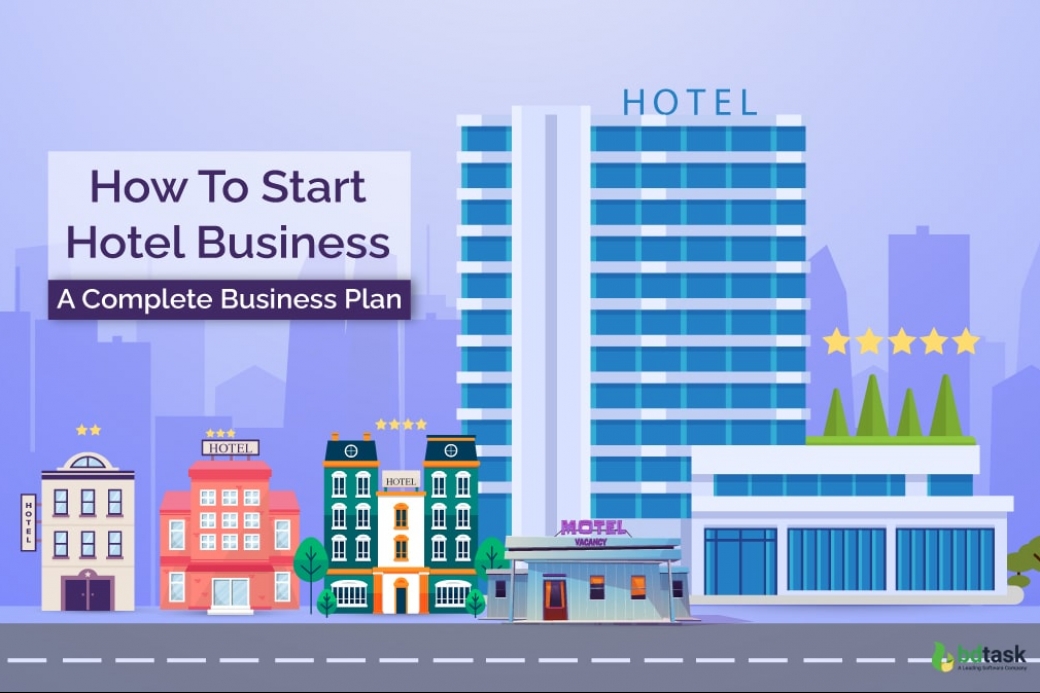 Are you planning to build or invest in another business venture? Thinking about which business recently was the most hyped-up and profitable one of all?? As reported by Ibisworld, the US generated almost $166.5 billion of revenue last year alone from the hotel industry alone. Hence has an annual growth rate of 4.7% over 5 years.
Without any doubt, you can go for the hotel business idea. And before you make up your mind to start a hotel business, let me tell you; obviously, you are going to need a full-proof business plan. So, in this very blog, I'm going to share a broad and demonstrative guidebook on "how to start a hotel business."
A hotel is considered a sanctuary place, where anyone can pay, stay, and release all their tiredness. A hotel is structured as a building with more than 100+ rooms, charging people for check-ins. Besides offers, many external accommodations such as AC, WIFI, breakfast, lunch or dinner, room service, pool, fitness facilities, and many more. It's a place where whoever checks in to release all their tension, tiredness and relax for some certain period of time.
On the other hand, all the hoteliers try to fixate their focus on satisfying and providing the best hospitality to every guest. Especially in the modern and digital era, where people have the freedom to share their own perspectives, anyone can go online and share their view, positive or negative.
Starting or opening a hotel business isn't that accessible business at all. But, even if you start it, it definitely needs to maintain constant effort on bringing 100% satisfaction from every guest.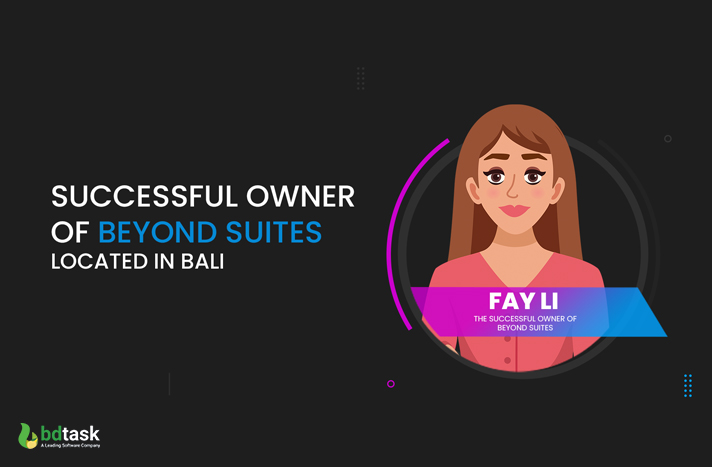 Fay Li, the successful owner of Beyond Suites, located in Bali, started this hotel business from scratch.
At the very beginning, she decided to do something unique and refurbish an old property and maintain a calculative chat, whatever premises needed to change; she tried to finish everything within budget.
Secondly, recruit the perfect general manager, concierge, guest service agent, waiters, etc.; an explicitly brilliant background in local operations.
Thirdly, after starting their operation, they slowly understand the inadequacy, necessary facilities demanded by the guests, improve the interior design, proper furniture placements, etc.
Fourthly, she adopted an efficient and organized hotel management system to make all the operational processes automated. After adopting the best hotel management system, she got the following facilities: easily enhance customer satisfaction, get automated real-time accurate account reports, better ROI numbers than before, hassle-free multiple payment systems, and multiple languages facilities.
Fifthly, last but not the least, one thing they keep constant that is "never stops improving and understanding the customer's needs, wants and demands." Always remember that a customer comes to a hotel to stay temporarily but simultaneously expects all kinds of facilities that may help them to get rid of pain, stress, and troubles from the shoulder. And as a hotelier fulfilling all those expectations is your duty.
Today, Fay Li is one the famous and best entrepreneur in the hotel industry. You can be too. Purchase the best hotel management system and establish your hotel into an automated one.

The main ingredient of running a hotel business successfully is understanding customer expectations and fulfilling them as per their need. As a hotelier, you have to keep a clear mindset of serving their desire with well-mannered behavior, make that comfort zone that may help them erase all their stress and tiredness. The list below is the different plus extra commodities that may help guests relax their minds and comfort their staying.
Finding and choosing the right location as essential as interioring the hotel will bring an aesthetic, positive, and relaxing vibe. Most of the time, people choose a particular hotel; because of the hotel's location. Location is everything.
Providing extra facilities to your guest such as complimentary pool facilities, breakfast, lunch or dinner, child-friendly, WIFI, pet friendly, etc. These additional facilities give an excellent opportunity to promote the hotel and create a chance of incoming ancillary revenue.
Maintaining hygiene is another vital factor to maintain; while doing hotel business. Cleanliness is a common factor that every customer expects and deserves from the hotel.
Hire the right set of staff, which can create a strong foundation in your business. Then, train them to improve their behavior and simultaneously maintain customer satisfaction in a well-behavioral manner. Remember: no matter how rude the guest is, never lose your cool.
It's another essential factor in running the hotel business. A Hotel is a place where people come to stay and relax, erase off all the tensions. But if they failed to provide peace of mind during your stay, hence you always have to remain in constant fear or any kind of creepiness. Therefore anyone won't feel interested in staying in your hotel.
A yoga & gym room is also vital in a hotel. As a hotelier, you have to take care of each and everyone's needs in every different way.

Budget strategy based for North America:
The hotel comes in different sizes, ranges, or types. From a simple motel to a 5-star hotel to a mega hotel. Different size requires a different kind of budget.
National average investment: $22000,000 (for 3 star hotel)

Minimum average investment: $7500000 (for a 5-star hotel with 100 rooms)

Maximum investment: $60000000 (for a 5 star to all kind of mega hotel with the best ancillary facilities ever)
From the Asian region:
Hongkong
Singapore
Malaysia
Thailand
Since all of the countries mentioned above are developed country; therefore need a huge investment or startup capital to establish a hotel business.
From the South Asian region:
India:

Nagpur, Shimla, Goa, Lucknow, Sikkim Gangtok, Kashmir, Darjeeling, Manali

Bangladesh:

Cox's Bazar, Sundarban, Bhandarban, SaintMartin, Srimangol, Rangamati

Nepal:

Kathmandu, Pokhara, Trekking in the Annapurna Region,

Swayambhunath

Bhutan:

Dochula Pass,The Royal Manas National Park, Paro Taktsang

Maldives:

Addu Atoll, Vaadhoo Island, The Muraka - Conrad, Maldives Glowing Beach

Sri Lanka:

Colombo,Udawalawe National Park, Yala National Park
If you want to lease a location or building for your hotel business:
#Then you have to invest at least 25K USD to (20 lakh RS to 1 crore RS)
And if you want to establish your hotel business in your own property:
#Then you have to invest at least 50K USD to (50 lakh RS to 1 crore RS)

If you're planning to start a new hotel, these are the 10 easy steps that may help you to set up your hotel business efficiently.
Step 1:Construct A Hotel Business Plan
As we all know, proper planning is a must, whenever you are planning something big and special. And it comes about creating a business plan; obviously, you need to prepare a very organized detailed information business plan.
A business plan is a kind of blueprint of the whole business; if I may say firmly, it's the main base of your business. A business plan also helps to stick in the right direction of your plan and helps to determine your success.
Moreover, a good business plan also helps you impress the investors and get a whopping amount of loan for your business. Or, to prepare a business plan, you can also take help from an HR consultancy service; they can help you plan your business better. To know more information, you can check out the blog.
A business plan is structured by brainstorming and considering many different criteria discussed below:
1. Market Research
Before you engage or build any business plan, precious market research is a must. Researching the market helps to identify "how executable can be your product to your customers."
Also can identify the potential target customers and creates an excellent opportunity to know the feedback; "how they are appealing to the product" is also very important to know.
2. Search For A Perfect Location
Since we are discussing "how to start a hotel business,"; we definitely need to discuss the location. "Location" is one of the prime factors for a hotel business. Most likely one of the reasons, people will choose your hotel for their stay.
The main question arises, how will you decide which should be your right location??? You will find the answer to this question while doing market research or taking an online survey.
Survey on some following question:
Which location are they most likely to stay in; "far from airport" or "closer to airport"?

Do you like beach view side hotel?

The maximum purpose for your stay; "business trip" or "travel purpose"?

What is the maximum to a minimum duration of stay in the hotel?

As a guest, what extra facilities do you expect from a hotel?

Do you want to stay in a hotel, where you get a pool-side view and enjoy a relaxing view?
3. Set Your Target Customer Criteria
With the perfect location, you need to find the targeted customer. Analyzing these hotel industries and finding the target customer should be on the top of your list.
Before you jump to starting a new hotel business,
Firstly,

identify the gap in the market

Secondly

, you need to settle what type of hotel you want to come up with in the market.

Thirdly,

understand; what your market wants.

Fourthly,

set the type of customers you want to grab attention

Fifthly

, analysis the current customer base
4. Analyze The Competitors
Before you analyze your competitors, the primary thing you need to keep in mind that exploring a competitor's doesn't mean you will copy them. "Analyzing your competitors" conveys, you will "observe," "note down their journey of achievement," and "their mistakes."
In addition, also observe "the type of customer they usually serve," "the extra accommodation facilities they serve."
The best way to learn from them is to understand the value they serve and try not to deal with them competitively. Understand their purpose; only then you can understand the importance of authenticity of their hospitality.
5. Type Of Hotel You Want To Open
In this section of your research, you need to brainstorm and determine the type of hotel you want to start and come to a final decision. Mention all the visualized anticipation you have already exercise in the earlier section of this article.
For more help; list down all the scratch plan; which might help you to transform it to reality:
What type of hotel do you want to open?

Approximately; how many rooms do you want to have in your hotel?

What location do you prefer? "Close to airport" or "beachside," etc

What are extra accommodation will you provide to your guests?

What will be the price range per room?
6. Pricing Category
The right pricing strategy helps you to achieve the right market share and target market.
Before you set up the pricing strategies, you can go and check your competitors, or you can also check out booking.com or trip advisor.com. COMPARE THEN SET THE PRICE.

Photo courtesy: booking.com

Photo courtesy: Tripadvisor.com
Step 2: Design Your Own Unique Value Proposition
The hotel business is all about providing the best hospitality, prepare an ambient that may take away all the stress and tiredness, and brings soothing satisfaction to all guests.
A value proposition is a value that you promise to deliver to your customer. The value you provide to your customers is the first thing that may create an impression in your customer's minds.
Like any other product or service, you also need to keep in mind that the value you serve in the hotel business = hospitality + customer satisfaction that you create in your customer's mind.
"The first impression is always the last impression"-if you fail to make a strong position in the customer's brain in the first place, then it would be hard to catch the attraction anymore in the future.
And your determined target market will set your promised unique value proposition.
Step 3: Sketch Life-Changing Marketing Plan
Marketing creates a unique identity and also differentiates your brand value from others. Sketching down a brilliant marketing plan is one of the essential parts of your business plan. A marketing plan helps to create an existence for the industry; otherwise, "how does anyone even know about your hotel?"
"Marketing your brand helps to stand out among the crowd. Marketing is the only path through which people will know you and your brand."
Besides, your marketing plan should have the following sections:
Clear mission and vision statement

Goals

Competitors

Target customers

SWOT

Types of online advertising

Types of offline advertising

Guest retention strategies

Sales forecast

Marketing budget
For your better understanding, here is some marketing idea you can try:
Video marketing

Social media marketing

Traditional marketing

SEO and PPC marketing

Promot to different hotel reviewing or hotel booking sites
Step 4: Settle Down The Permit And Zoning Issue
It doesn't matter whether you're a new or an old hotel owner; if you want to start a hotel business, you definitely need to get permission from the local government. Also, you have to clear out all the legal permit and zoning issues before you start your business.
It would be better if you do some research; before you choose your desiring location. Gather and mention the in-depth research details about the local rules and regularisation in your hotel business plan.
Step 5: Arrange The Start-up Capital
Arranging the start-up capital is one of the most challenging steps to complete. There are many different ways of raising capital.
At first, let me tell you, a business plan is of utmost importance for arranging the starting capital. Because wherever you go and ask for money; whether it is a bank or to any angel investors, they definitely will want to revise the numbers you set for your hotel business in your business plan.
The financial part of your business plan is the only part that a lender is concern with. Hence it is more than essential to show your confidence that you have given the best thought to your whole plan.
Various ways to arrange the start-up capital:
Seek for enthusiastically brilliant entrepreneur + investors like you, who is also interested in investing or thinking about starting a hotel business

Apply for a small business loan in banks or different financial institutions

Ready to deal with a venture capitalist in exchange for an equal share of equity stake.

Ask helps financial help from friends and family

Can do some pitch funding with big MNC
Step 6: Decorate With Hotel Premises
The decoration or interior of your hotel always depends, what location you have chosen for your hotel business. It doesn't matter whether you have leased the place or a building or it's your own property. If you failed to impress and grab their attention at the first look, then it would hard to impress them anymore further.
Decoration, the quality of the room and the ambient you will serve is the first thing guest will experience. It's obvious; the guest doesn't know you, so they are gonna judge you by the cover. First, impress your guest with the cover (decoration, ambient, and interior), second serve the value you promise to serve.
An article published by www.pcw.com's on consumer intelligence series mentioned that according to a survey on "customers loyalty with the hotel brand," where one of the results they found out that customers' select hotel only based on the room quality, location, and extra other facilities.
Step 7: Recruit Necessary Staff
Recruiting the right set of staff is a must step for any hotel business because the staff team will be the first one; who will interact with your guest. Staffs' behavior, approach towards guests, personality, hospitality, and helpful nature are all essential while serving any guest.
Hotel staff is solely responsible; they will represent your unique value proposition to your guests, hold your organization's culture, and helps to achieve your vision. Set a strict minimum barrier of qualification for every staff, such as:
Minimum education qualification in any discipline

Having any kind of experience in the hotel industry is appreciated

Must not have any involvement in any kind of criminal records

Ethical person

Helpful nature is very appreciated
Step 8: Train Recruited Staff
Training your staff is also a must-do step on "how to start a hotel business." I know it's sometimes difficult to recruit your desiring staff, but you can shape them transform them into your desiring one.
You can hire a trainer; who is a specialist in hotel staff training. Hotel staff training can be both off the job training and on the job training. Set a requiring outline for training depending on the type of hotel you want to establish. Or can follow some guidelines available online on how to train hotel staff.
Step 9: Adopt Best Hotel Management System
In a hotel, you have to manage and control a lot of things, but not all thing is possible to execute or monitor by a human. Automation technology is very much required in your hotel. Hence another essential step of "how to start a hotel business" is adopting a good hotel management system.
A question may come to your mind "what does a hotel management system do?"
A hotel management system assists a hotelier in erasing off all the time-consuming management activity included in a hotel. A hotel management system can cover up any kind of operation-related work, day to day activities, record every kind of detail, and controls the system of room booking. In addition provides a pre-advance reservation system, accounting system, payment system, inventory management, external facilities provided to the rooms and guest management, etc.

Xian- Hotel Management System
Introducing the best hotel management system of all the Xian-Hotel Management Systems.
Xian promises to transform your hotel into a digital one. Automation technology can help to provide fast, smooth, and satisfactory hospitality to every guest.
Xian- Hotel Management System is best because of its most dynamic dashboard, customer management system, automated room reservation, setting and facilities, account management, customer and purchase management, and many more. Can consider Xian, a complete package for hotel business owners.
Step 10: Ready To Serve Guest
Last but not the least, this may be the final step for your hotel business plan but also the critical stage. As in, revise the whole business plan again and see whether you miss any point in any steps. If there is not!! Get ready to serve your guest with the

Xian-Hotel Management System.
Before I talk about efficiency, let me tell you, efficiency is about cutting costs or expenses. It about how properly you are using your resource; it doesn't matter at all; what resources you have; the only thing that matters is how efficiently you are using them.
You can make a list of all the strategies; efficient use of all the resources. Such as using energy-saving bulbs, different kitchen appliances such as vacuum cleaners, washing machines, dryers are utilizing properly (not being operated unnecessarily).
In a hotel, there are many different things to tackle, and to tackle them; you will require a large number of human helping hands. Not only that, hiring a large number of human helping hands might increase your cost.
Therefore as a solution, if you want to walk through the path of efficiency, you can adopt an efficient hotel management system. A hotel management system helps you boost your revenue, automatically record all the account information, smoothen your whole booking system, and enhance customer satisfaction.
60% Of Hotel Owner Started To Get More Client After
They Started Their Website
It's all about marketing online, presenting your brand online. Because online marketing is the most effective and fastest way to reach your customers. In this tech-freak generation, creating a website has also become mandatory for every kind of business.
Creating a website increase a vast online presence, therefore becoming easy to attract more customers within a short period of time. You can also utilize this website as a marketing tool for your brand and a final destination for your customer because this is the place where your customer will come for a hotel booking. You can also use your website as a showcasing platform for different photos and videos of your hotel. Using your website, you can virtually promote and establish your brand.

Hotel & restaurant business is now one of the most hyped-up businesses around the world. And why won't it; who doesn't like to travel or go to a restaurant and chill with friends and family.
And adopting a management system may make your business easy and thriving within a short period of time. This blog is all about guiding you on "how to start a hotel business in 10 steps", I know to build a hotel business within these 10-steps is never possible, but I know you can do it; if you put your full dedication and determination to start something of your own.
Read More: