Top 15 Restaurant Software with PHP Source Code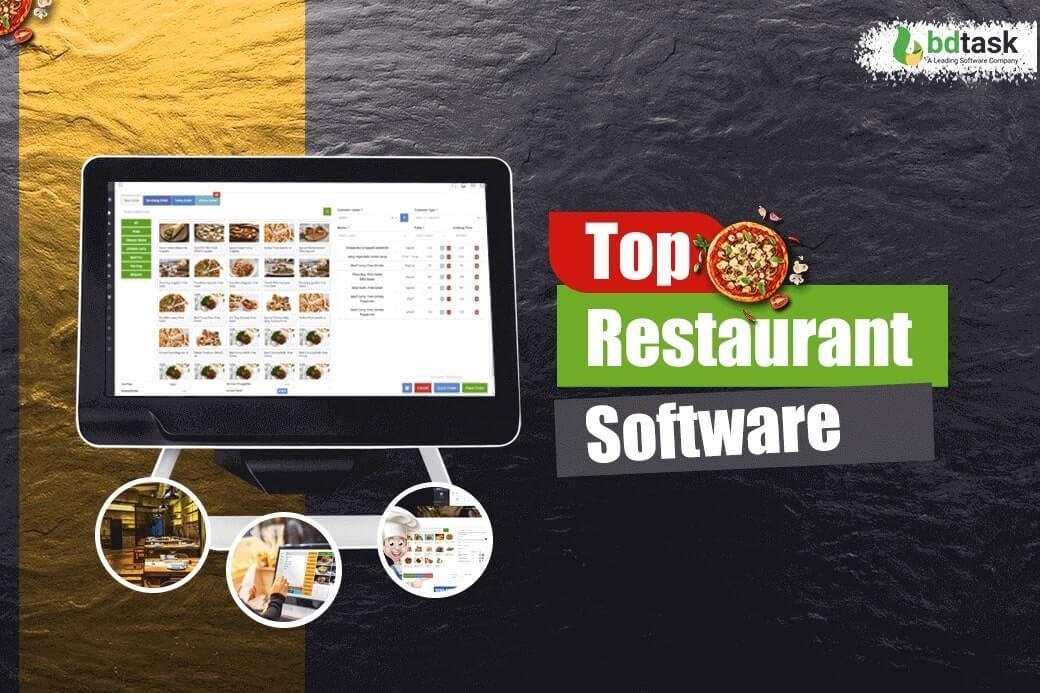 When it comes to the top profession globally, the restaurant business is undoubtedly one of them. Many are now choosing the restaurant business as their profession. Managing your restaurant is more important than how big or small your business is.
In the beginning, you need to think about everything from how to run a restaurant to account handling. That causes headaches for all restaurant owners. That's why a restaurant owner needs a restaurant management system software where they can manage all their work through one system.
They can do everything from employee management to food managing, table ordering, food ordering, and waiter handling. Also, everyone can see their daily worklist from their panel.
So if you want to see your restaurant business successful and advanced, the role of restaurant management software is undeniable.

Restaurant management is a type of point-of-sale (POS) software explicitly designed for multi-cuisine restaurant, bar, bakery, cafe, cloud kitchen, or delivery business. Using restaurant software, a restaurant owner can handle all of their activities like food ordering, serving, table management, employee management, and others.
There are many restaurant management software in the online market these days. Everyone has their characteristics and management strategies. So it is not easy to choose which one is the best. For that, you first need to understand which features you need and which will make your work more comfortable and more flexible. Then you can easily choose which one is best for you.
Order management system
Pos operation
Speedy interface and quick check out
Employee management system
Accessible to the setup menu
Inventory tracking
CRM integration
Today we will discuss the top 10 restaurant management software that you can use for your restaurant business.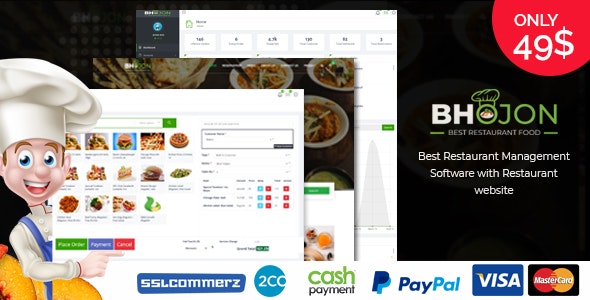 Photo Courtesy: Codecanyon
Bhojon is an online and offline restaurant management system that automatically manages the daily activities developed by Bdtask limited. It has both web and mobile apps. That is an application that you can use as a computer application or server-based web application or mobile application. This system is developed by PHP and Codeigniter framework. In addition, it has JavaScript JS, HTML, CSS, PHP, SQL files.This software is also compatible with IE10, IE11, Firefox, Safari, Opera, Chrome, Edge browsers. It will make your restaurant management system easy and automated. Also, no coding knowledge is required to use this software.
Top features of Bhojon:
Able to track orders and sales - Account management
Provide real-time financial statements
Manage employee according to schedule - Human resource management
Able to manage inventory - Food management
Complete process management system
Easy payment system
Easy marketing solution - SMS & coupon.
Online ordering platform
Responsive website and mobile application system
This is all in one software - Admin, kitchen, waiter, user all panel in a system, reservation system, purchase system.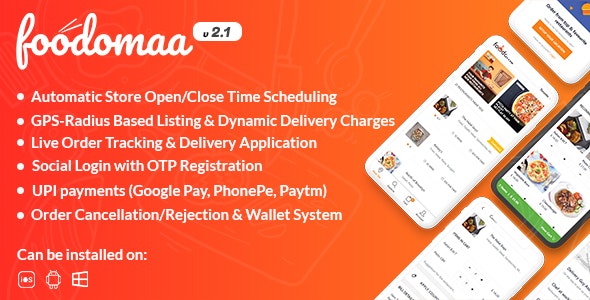 Photo Courtesy: Codecanyon
Foodomaa is a multi-restaurant food ordering system that is built with a mobile-first approach. This application keeps the user experience, conversion optimization, and high performance intact. React and Redux develop this software. The incredible feature of Foodomaa is that it can be installed on any device.
Top features of Foodomaa:
Provide unlimited add-ons.
Create product customization.
Able to track live order.
Able to social login and OTP registration.
Able to place multiple orders.
Provide delivery and self-pickup options.
Easy payout system.
Able to get store commission.
Order cancellation and wallet system.
Various payment gateway options like UPI, (Google Pay, PhonePe, Paytm via RazorPay), Stripe, Paypal, PayStack.

Photo Courtesy: Codecanyon
King Burger - Restaurant Meal Ordering with Laravel Ingredients Website for a single restaurant that provides food to their clients. This website can also be used for a cafe, pizza, burgers, fast food, or other restaurant products. It allows users to check the contents (or toppings) of all menu items. There are two types of free and paid ingredients, and you can order from the application and get home delivery. In this system, the delivery boy can log in and check the assigned order and order details. Laravel and compatible with all browsers develop this software.
Top features of King Burger:
Provide restaurant menu items with ingredients.
Users can choose both free and paid ingredients.
Provide extra login for delivery boy, and they can check to assign order and order details.
Provide a complete checkout process.
Use Google Maps to share your location when ordering. You don't need to type an address.
Provide a favorite list to menu items.
Provide multiple items on the cart.
Able to see user order history.
Easy payment gateway system.
RTL supported.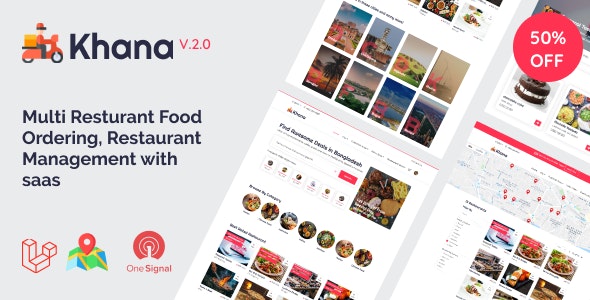 Photo Courtesy: Codecanyon
Khana is a multi-restaurant food ordering and restaurant membership system with food saas. It provides a great admin dashboard, restaurant management system, delivery system based on user location. This software framework is Laravel. In addition, it has JavaScript JS, JavaScript JSON, HTML, XML, CSS, PHP.This software is also compatible with IE6, IE7, IE8, IE9, IE10, IE11, Firefox, Safari, Opera, Chrome, Edge. This software has high-end features like Lazy Loading, Progressive Image Loading, Social Login, Unsigned Integration, Content Placeholder Loading, Advanced Settings Management, Coupon System.
Top features of Khana:
Able to make live orders.
Provide real-time order notifications.
Quickly can check shop closing and opening time.
Customers can share reviews and ratings.
Provide the seller registration page.
Provide an email verification system.
The rider can pick up delivery using a live google map.
Provide a commission-based food delivery system.
Provide a rider registration page.
Customers can see rider activity using google map.
Customers can select a delivery location from the map.
All types of users can make orders.

Photo Courtesy: Codecanyon
Restora is an online-based restaurant management system suitable for restaurants, food stores, catering, e-commerce, and any restaurant-related kind of business. Restora is made with a materialized design that works perfectly on any device. It has three different panels for admin, manager, and customers, along with the website. Customers can easily order anything from the website as per their choice. Customers can check their order history, and the manager can process the order to be completed. The administrator can verify all business updates and control everything. This software is compatible with all browsers. Restora provides a free installation with 24-hour customer support.
Top features of Restora:
It has a fully responsive e-commerce website.
Provide an advanced cart system.
Provide a user login account, and users can log in from the website after registration.
Website information can change from the website.
Customers can order food from the website as per their choice.
Customers can see the food list and item list.
Provide sales and expense records.
Able to print the bill.
Order and delivery management system.
Provide an interactive billing system.
Able to analyze the business report.

Photo Courtesy: Codecanyon
Menorah Restaurants is a complete home food ordering system for restaurants. This restaurant software comes with a responsive design and a user-friendly interface compatible with desktops, laptops, mobile phones, and tablets. The CodeIgniter framework develops menorah restaurant. Here also HTML, CSS, and PHP files are included. Menorah Restaurant has many features like Custom CMS, Order Management, Menu Management, Customer Management, SMS Alerts, SEO Optimization, Referral System, and more. You can manage an order from the admin panel, create menu categories and items, and set parameters like currency, restaurant opening time, site language, site logo. Admin can add language to the script in an effortless manner. This software has four different panels like admin, kitchen manager, delivery manager, and user. Admin can control everything and assign roles to others.
Top features of menorah:
The design is 100% responsive.
Provide referral systems.
Able to see pusher notifications.
Several payment systems like payment online/card or cash on delivery.
Provide sales summary reports in the form of monthly charts.
Single page checkout.
Provide SMS and email alerts.
Create unlimited menu categories.
Create unlimited add-ons.
Support all kinds of languages.

Photo Courtesy: HungerRush Software
HunderRush is a digital food ordering system. The Hunger Rush platform allows restaurants to manage online orders, accept payments via credit card, and gain visibility into a centralized dashboard's sales orders. It will enable customers to place orders as guests through an online portal or Facebook account and add multiple delivery addresses for quick selection in the future. Administrators can also monitor employees' work hours to calculate labor costs and manage documents in a centralized repository.
Top features of HunderRush:
The ordering system is efficient and straightforward.
Create custom order types and track deliveries in real-time.
Customers can quickly and easily enroll.
Engage in mobile, online, and in-store.
Simplified orders look up and do real-time mapping of orders and drivers.
Manage multiple distribution zones seamlessly.
Reducing costs, including driver tracking, caller ID, and on-demand logistics.
Increase business with guest satisfaction.
Strategic employee management.
Simple to set up- fully customizable.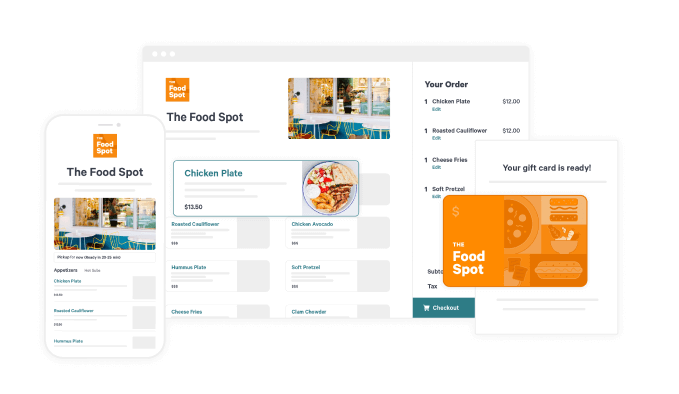 Photo Courtesy: Toasttab
Toast is a POS software for restaurants designed to make your business better. It combines robust cloud-based software with sustainable hardware and high-rate payment processing.
Toast is one of the best restaurants in the POS system because it has set up on-demand digital channels for delivery, takeout, online ordering, and e-gift cards. They offer 24/7/365 support via toast central and receive awards for "customer service of the year" in 2018. So, this software is all in one restaurant software solution.
Top features of Toast:
Provide payroll and best team management system.
Create online ordering.
Easy to set up and install.
Take orders and payment at the table.
Pocket-friendly and drop resistant.
Online ordering system with no third-party fees.
Flat rate payment processing.
Reporting in real-time.
Sms and in-apps alert directly go to guests.
Customers can share their experience here.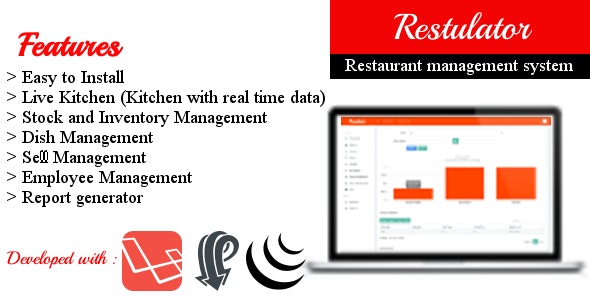 Photo Courtesy: Codecanyon
Restulator is a restaurant management system that is developed by Laravel with pusher and jquery. There are also JavaScript JS, HTML, CSS, PHP files. This software resolution is high, and it's compatible with every browser. It has four different panels, such as admin, manager, waiter, and kitchen. Everyone has different roles, but the admin can control everything. At the same time, the admin will select their role. When someone orders online, it will go straight to the kitchen, and they can prepare the food according to the customer's requirements. This system provides live kitchen data.
Top features of Restulator:
Provide stock and inventory management systems.
Dish management system.
Able to check real-time kitchen data.
Easy to install.
Easy employee management system.
Provide income and expense reports.
Order management system.
Able to see dish reports.
Able to see kitchen reports.
Provide sell management system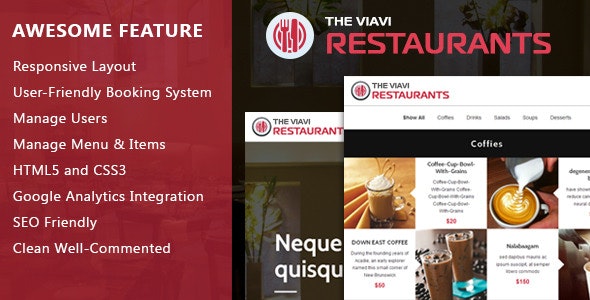 Photo Courtesy: Codecanyon
The Viavi Restaurant System is a system of ordering and table booking of restaurants. This software comes with a CodeIgniter framework. In addition to this, there are JavaScript JS, HTML, CSS, PHP, SQL files. This software resolution is not high, and it's compatible with every browser. In this system, everything on a restaurant's website can be changed from admin. Also, their code is clean and well-commented.
Top features of The Viavi Restaurant:
User- friendly booking system.
Contact pages with the Google Maps build-in can be edited from the admin panel.
Contact page with Contact form mail setting can be modified using the back end.
SEO-friendly.
Google Analytics integration option.
Able to add icons for social sharing.
Fully responsive framework.
Fully responsive layout.
Manage food using the admin panel.
Homepage slider with dozens of transition effects.
Able to custom footer text.
Able to change restaurant information from the admin section.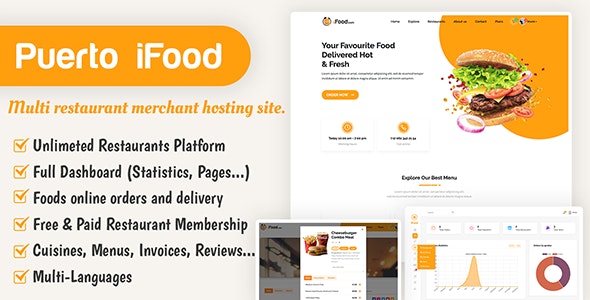 Photo Courtesy: Codecanyon
Puerto iFood Script is a great software that lets you run your restaurant or multi-restaurant merchant hosting site. It was built from scratch using the latest web technologies, such as PHP 7, HTML 5, and CSS3. In this software, you can create unlimited restaurant platforms. Also, this software resolution is high, and it supports all types of language. This software is also compatible with IE6, IE7, IE8, IE9, IE10, IE11, Firefox, Safari, Opera, Chrome, Edge. Its installation is effortless and fully responsive design.
Top features of iFood:
Online food ordering and delivery.
Free and paid restaurant membership.
Multi-language system.
Users can also register using social media accounts.
Provide an SMTP email settings option.
Fully responsive website.
Unlimited restaurant platform.
Customers can share their feedback.
Provide a subscription system.
Quick and easy installer.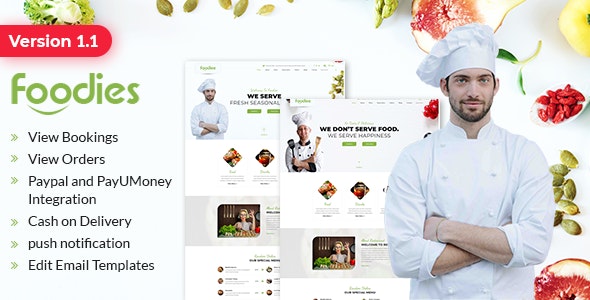 Photo Courtesy: Codecanyon
Foodiee is an online restaurant management system that is developed by the CodeIgniter framework. This software can be used for fine dining, cafes, bars, bistros, pizzas, sushi, and anyone else who needs to improve their administration and provide their successes. Foodiee has a blog page that lets you keep your regular customers engaged with your website by blogging about your services, new food items, and more. It will increase your restaurant customers. A significant section for your restaurant is also testified; you can keep your client feedback in this section. It will attract visitors to your website, which will automatically increase the growth of your restaurant.
Top features of Foodiee:
Provide push notification.
You can view the booking and order list.
Various types of payment methods.
It is fully responsive.
Able to view product reviews and ratings.
View blog comments.
Able to edit templates.
Compatible for cross-browser.
Provide cash on delivery options.
Able to view blog comments.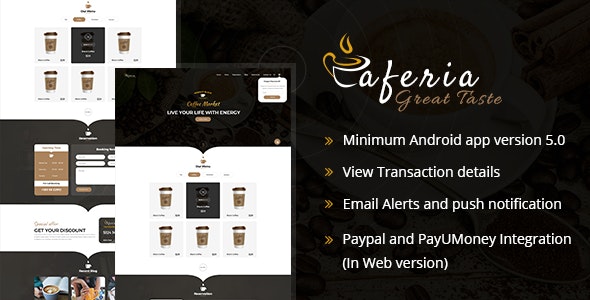 Photo Courtesy: Codecanyon
Cafeteria - Restaurant Food Order and Delivery Web and Mobile Application is a restaurant based script that has been brilliantly created on the CodeIgniter. It is a single-page website. This software is compatible with all browsers. From the admin section, admin can control everything. This application has its blog site from where they can share some blogs about their service. When some customers visit the site, they can learn about their restaurant service from the blog. It speeds up customer engagement.
Top features of Cafeteria:
Provide email alert and push notification.
Google absence integration.
Provide social media sharing options.
Provide testimonials.
Able to view transaction details.
Add to cart system.
Paypal and payUMONEY integration.
Able to view bookings.
Customers can provide their feedback.
Able to edit the email template from admin.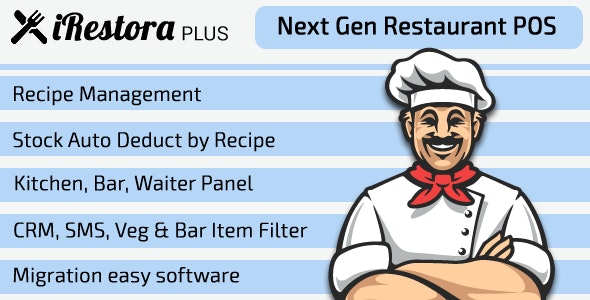 Photo Courtesy: Codecanyon
iRestora PLUS is a POS restaurant management system that is developed by CodeIgniter. It is one of the best restaurant management software, where all restaurant types of work can be done quickly. Besides, JavaScript JS, JavaScript JSON, HTML, CSS, PHP, SQL files are also included, and it's compatible with firefox and chrome browser. In this system, all features are given so nicely. So anyone can understand it easily. This software has features like waste tracking, which is very impressive because it can know how much food is being wasted. There is a separate panel for admin, kitchen, bar, and waiter.
Top features of iRestora Plus:
Post-payment and prepayment support.
Calculate the real-time running order list.
Ingredient-wise waste tracking.
Foodwise waste tracking.
Loss calculation and the impact on profit/loss.
Provide expenses tracking.
Unlimited user with an access control feature
Able to track employee attendance.
You can send SMS to the customer on different occasions like birthdays, anniversaries, etc.
Provide a powerful table management system.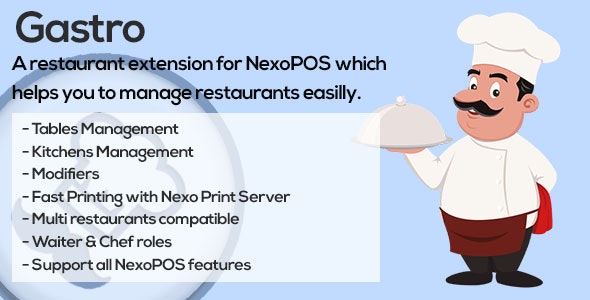 Photo Courtesy: Codecanyon
Gastro- A restaurant extension for NexoPos, which helps you to manage your restaurant business easily. Gastro is designed for small and large restaurants with immense workloads. The available setting makes it easy for Gastro to adapt to the needs of your restaurant. For example, you can disable the kitchen screen if you only want to use kitchen printing. You can create multiple kitchens or just use one kitchen that handles all orders. You can limit what the waiter can do and have complete control over how your restaurant works. Sometimes, a waiter will confuse the table and place an order on the wrong table, or your customer may change their table after placing an order. Gastro lets you transfer orders from one table to another in a flexible way.
Top features of Gastro:
Table management system.
Customers can flexibly change their tables.
The multi restaurant is compatible.
Provide item modifiers.
Create multiple tables and seats.
Provide separate waiter and chef roles.
Fast printing with the Nexo print server.
Provide different order types like dining in, take away, and delivery.
Kitchen screen with verbal notification.
Able to track the waiter screen.
Our Recommendation

The restaurant is one of the top businesses in the world today. However, this does not mean that you can easily find success in any restaurant business. For this, you have to do your work with a proper plan. Good restaurant management software will help you to make this plan successful. Many people choose the wrong restaurant management system that exceeds the profits of its business. So the importance of restaurant software in the restaurant business is undeniable. Here, I have discussed the top 15 restaurant management systems from where you can find the differences. In my personal opinion, I recommend you Bhojon restaurant software, which is the best of all. After reading this article, hopefully, you will find your best restaurant management system.