Top 15 Hospital Management System Software (HMS)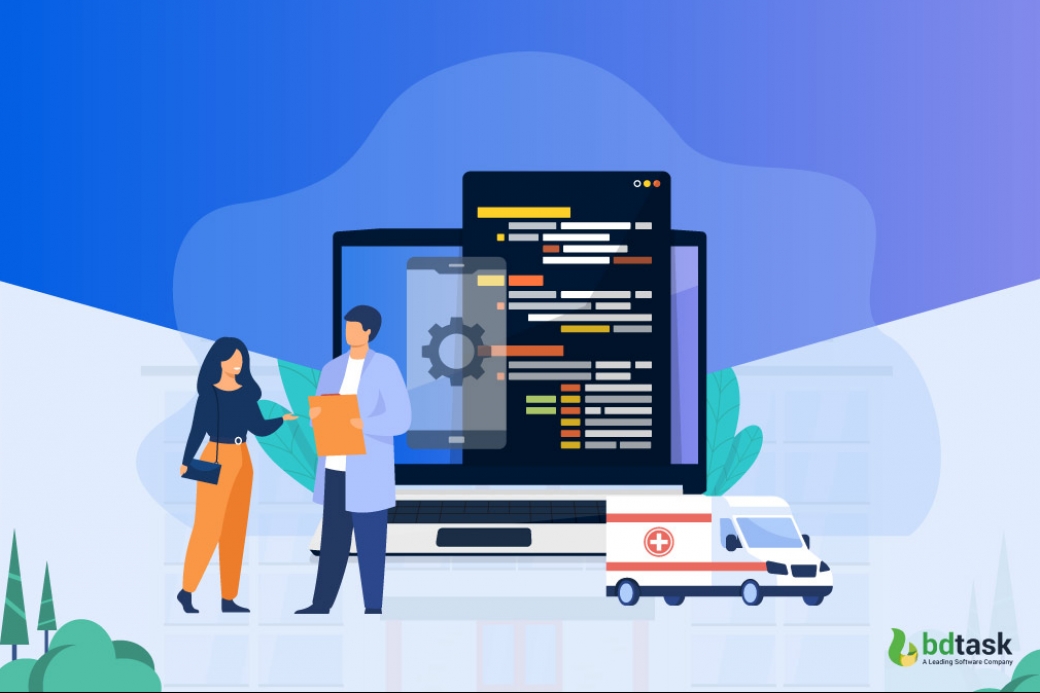 In this COVID-19 pandemic situation, online hospital management software plays a crucial role in providing medical services safely. To provide such kind of services, you must need online hospital management software. But it is a little bit difficult to select the best hospital management system software because there are lots of hospital management software available. Are you concerned about this matter? Are you worried about what might be the best way to find the right one for your business? If so, then you can continue scanning.  
In this article, I tried to illustrate a top 15 hospital management system and its exclusive features. It will be very efficacious for you to evaluate the best one. Moreover, you can quickly pick up the perfect and appropriate hospital software according to your business requirements through this article.  
The hospital management system refers to a computerized accumulated solution capable of operating all functional activities systemically. Moreover, it can allow the administrator to perform patient management, appointment management, billing system, bed management, medications, account management, pharmacy management, and other hospital activities smoothly.
So, the online hospital management system can provide a complete management solution within a single package. It is also known as the hospital information management system.
The hospital management system can perform all activities to manage your hospital efficiently. The traditional way of organizing any hospital is challenging and time-consuming rather than an automated way. In the present pandemic situation, online hospital management is the best solution for the patients and the owner as well. Also, there are enormous reasons to choose the best healthcare management system, which have been exhibited in the following.  
Helps to reduce maintenance and operational cost.
Allows an effective patient management system
Provides an accurate account management system
Generates real-time reports
Helps to enhance your business revenue
Provides data security and safety
Allows a rating and review system that will be very convenient to take a better decision
It can minimize the chance of errors because all aspects are managed automatically. 
Provides an effective bed management system to alleviate any kind of conflict
Integrated with the pharmacy management system to provide a better medication service and many more! 
Are you excited to know more details about an advanced healthcare management system? Here, you can get a comprehensive guideline of a hospital management system (HMS). Thus, you already realized the significance of any hospital software. In this regard, my personal suggestion is you can choose Hospital Automanager software to get a complete hospital management solution. Otherwise, you can pick a Hospital system for an easy solution at a low cost.
Learn more: Advantage of Hospital Management System Software
Every hospital information management system contains specific features. Some features make the hospital POS system more efficient. Before choosing any hospital ERP system, you must make sure that your chosen software has all the necessary features. 
Appointment Management System 
Doctor and Patient Panel 
Prescription Generating System
OPD & IPD Management System 
Insurance Handling
Billing Management System 
Medication & Visit Management
Pharmacy Management System 
Pathology Department 
HR Management System 
Reports Generating System
OT Management System 
Schedule Handling System
Radiology Department 
App Integration System   
Now, I will discuss the most crucial segment in this article. Here, I try to list down the top 15 hospital management software. So, let's start.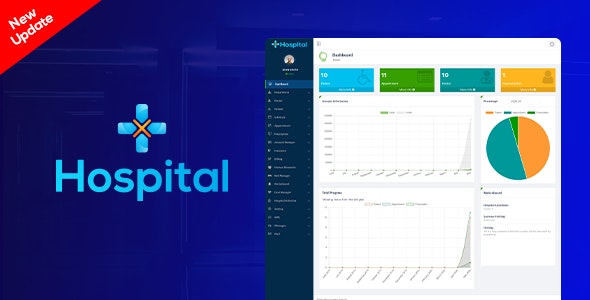 Are you looking for affordable and accessible hospital billing software? Hospital - Hospital Management System will be the best decision for you. Moreover, this system is designed by Bdtask and developed by the CodeIgniter framework. Using this system, you can manage all activities of your hospital. For instance, you can handle the doctor and patient management system efficiently. 
Moreover, this system is not only convenient for the owner but also the users. It can handle other hospital activities such as birth and death reports, operation and investigation reports, medicine lists, etc. This system is compatible with multiple browsers like IE10, IE11, Firefox, Safari, Opera, Chrome, and Edge. There is not required any coding knowledge to use this system.  
Top Features
Provides online appointment system
Integrated with a billing system
Allows doctor's scheduling management
Provides insurance system
Fully responsive system
Ensures accurate invoice system
Combined with a bed management system 
Handles HR management system efficiently
Provides multiple languages support system
Allows the prescription management system and more!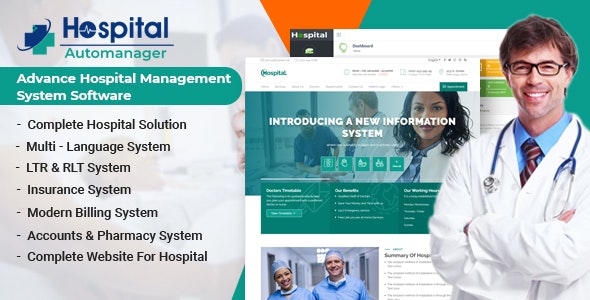 Hospital Automanager is an advanced hospital management software. This software is one of the remarkable services of Bdtask, and that is developed with the CodeIgniter framework. It is compatible with multiple browsers such as IE11, Firefox, Safari, Opera, Chrome, and Edge. This software is integrated with JavaScript JS, HTML, CSS, PHP, and SQL. In this software, you can get some additional features that will help to operate your hospital easily and safely. 
Moreover, you can get both web applications and android app with this software. Using this software, you can operate your hospital business at any time and anywhere. Also, it can provide more than 40 features with a dynamic website. So, Hospital Automanager software is a complete solution for managing any hospital efficiently.      
Top Features
Integrated with the pharmacy management system 
Allows patient medication and visit 
Integrated with a dynamic and fully responsive website 
Provides an accurate account management system
Easy to make an appointment
Effective scheduling system
Allows a role permission system 
Incorporated with case manager management
Allows customization system 
Provides multiple communication channels 
Multi-language support system 
Multi-currency support system
Allows any kind of inquiry to patient 
Handles billing, insurance, and prescription system
Generates all reports automatically
Allows mobile app integration system and many more!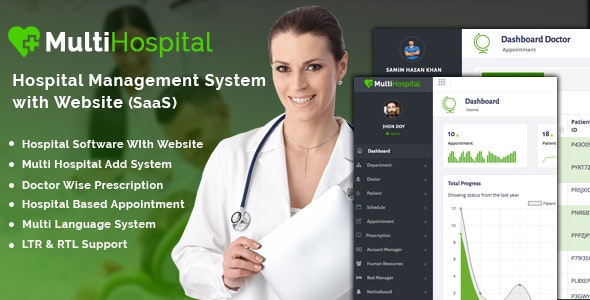 Are you worried about managing your multiple hospitals? If so, then you can try Multi Hospital software that will allow you to manage your multiple hospitals, clinic, diagnostic center, and nursing home within a single platform. Also, you can provide hospital management services by creating multiple branches in a single domain. So, you can enhance your business revenue in two ways by using this software.
This software is designed by the Codeigniter framework, and JavaScript JS, HTML, CSS, PHP, SQL files are included. Moreover, the Multi Hospital is compatible with several browsers like IE10, IE11, Firefox, Safari, Opera, Chrome, and Edge. Therefore, you need not worry about compatible issues at all.  
 Top Features
Allows to manage multiple healthcare organizations
Incorporated with a dynamic website
Provides wise doctor prescription
Allows LTR and RTL support system 
Provides hospital wise appointment system 
Allows the doctor and patient management system 
Integrated with the account management system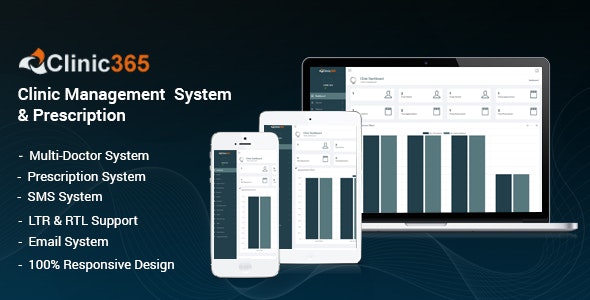 Clinic365 is one of the best clinic management systems for any small or medium clinic, diagnostic center, and hospital. It can be able to manage any clinical activities quickly and efficiently. This system is designed by Bdtask and evolved with the Codeigniter framework. Also, it is included with the JavaScript JS, HTML, CSS, PHP, and SQL files. This software can be adaptable with IE11, Firefox, Safari, Opera, Chrome, and Edge browsers. Moreover, it can provide numerous features that will help to operate your system effortlessly.     
Top Features
Integrated with a payment management system 
Allows emergency shop system 
Effective doctor and patient management system 
Provides prescription management system 
Allows to add herbs medicine
Provides a multi-language support system
Allows online appointment system
Accurate invoice creating system
Automatic scheduling system
Provides SMS and Email set up systems
100% responsive design
Allows customization for web settings and many more!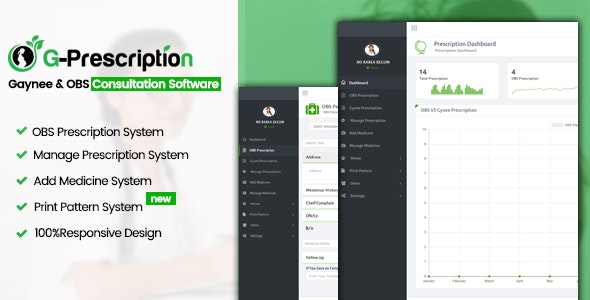 Are you concerned about female health services? Do you want to initiate something different than others? If so, then G - Prescription Gynaecology & OBS Consultation-Software will be the best choice for you. This software is mainly built to ensure female healthcare. Bdtask offers this software, and they have developed it by Codeigniter and PHP. 
Here, JavaScript JS, HTML, CSS, PHP, SQL files are also included. This software is consistent for IE11, Firefox, Safari, Chrome, and Edge browsers. Moreover, you can provide an effective management system that will help the patient to interact with the doctors. This software will be very beneficial for female patient care.   
Top Features
Allows OBS prescription system 
Manages the gynae prescription system 
Provides adding medicine system 
Allows doctor consultation service
Allows to create a venue
Provides print pattern system
Allows to add a new user to operate the System 
100% user-friendly and responsive system 
Provides a multiple language support system and more!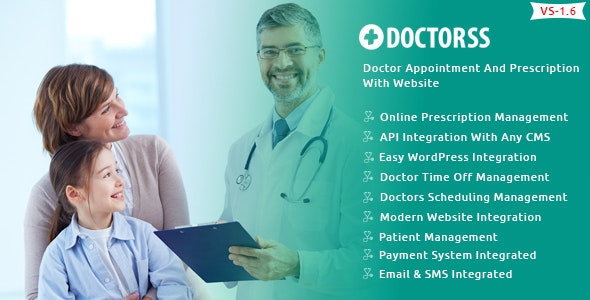 Doctorss is one of the efficient appointment and prescription management system. With this software, you can provide the easiest way for the patients to make an online appointment. Also, doctors can provide services through the internet at any moment. Bdtask provides this software for the convenience of both doctors and patients. The developer team has built this system with the Codeigniter framework. Moreover, it can be adaptable with IE10, IE11, Firefox, Safari, Opera, Chrome, and Edge browsers. So, you can get a reliable system at a reasonable price with fresh and clean code.  
Top Features
Provides blogging system
Allows customer support 
Allows API integration with CMS 
Integrated with modern website outlook
Allows patient management system 
Provides online prescription and appointment system
Integrated with the payment system 
Allows SMS and Email configuration
Accurate scheduling management 
Fully responsive and support all browsers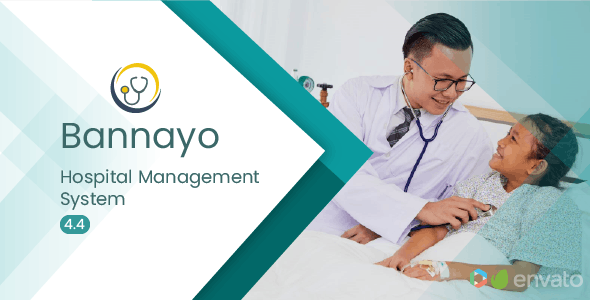 Do you prefer a smart hospital management system? Bayanno is an automated hospital management system that can perform multi-functional activities for managing any medical center. This software is developed by the CodeIgniter framework and integrated with JavaScript JS, HTML, CSS, PHP, and SQL files. Also, you can easily use this system because it can be consistent with IE7, IE8, IE9, IE10, Firefox, Safari, Opera, and Chrome browsers. 
Moreover, it can provide almost a hundred features that will help to operate your hospital business automatically. In fact, this system is incorporated with admin, doctors, patients, nurses, pharmacists, laboratorist, accountants, and receptionists. Using this software, you can create a complete paperless hospital management system and save your time and resources as well.   
Top Features
Provides eight types of user accounts
Allows to keep a record of blood donors
Integrated with the payroll management system 
Keeps a record of patient prescription and medication system 
Effective communication between doctors and patients
Generates operational reports 
Provides all diagnostics reports
Beds and cabins allotment system 
Generates payslip for staff
Provides accurate reports
Allows medicine tracking system
It helps to keep track of patient payment and more!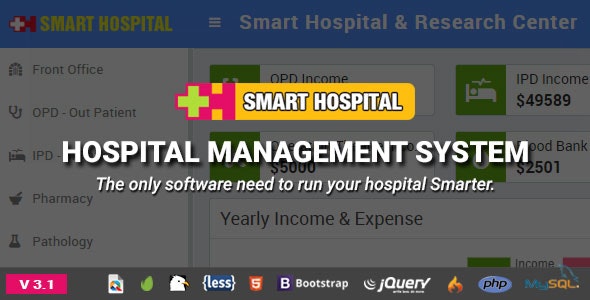 If you are searching for a modern and smart hospital automation system, then the Smart Hospital will be more convenient for you. It will be perfect for any type of hospitals, medical institutions. This software is built with the CodeIgniter framework. Also, it is integrated with JavaScript JS, JavaScript JSON, HTML, XML, CSS, PHP, and SQL files. Moreover, you can provide a complete medical service through this software, from patient OPD visits to operation to Pathology Test and billing process. Also, it has more than 25 features and eight inbuilt users that can help to manage the entire system smoothly. 
Top Features
Allows live patient consultation in Zoom app
Manages staff meeting in Zoom app
Provides pathology and radiology test reports
Integrated with android mobile app
Generates accurate balance reports
Multi-language support system
Multiple payment gateways
One-click updating system
Provides discharge summary for IPD patients
Allows asynchronous data table loading and more!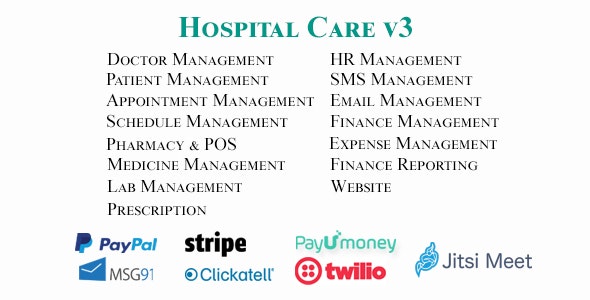 Hospital Care is one kind of diagnostic and doctor chamber management system. You can manage your diagnostic center, doctor chamber, general hospital, dental clinic through this system. It has been developed by the CodeIgniter framework. Also, JavaScript JS, JavaScript JSON, HTML, CSS, PHP, and SQL files are included with this system. Moreover, you can get lots of features which will help to maintain your activities.    
Top Features
Allows multiple payment gateways 
Provides multiple SMS gateways system
Integrated with doctors and patients database
Easy appointment system
Provides eight types of user access
Multiple language support system 
Handles financial activities 
RTL support system
Big data handling system
Provides users activity reports
Live video consulting system in Jitsi meet app
Calculates doctor's commission automatically
Allows video conferencing 
Provides Email and SMS template automatically 
Integrated with a frontend website and many more!

Are you concerned about scalability? If you want to scalable the hospital management software according to your requirements, then you can try SoftClinic. With this software, you can get administrative, financial, and clinical support systems in a single package. This software is available in more than 45 countries, and 25,000+ healthcare workers are involved. Also, this system can manage pharmacy, laboratory, appointment, HR, inventory, financial, and so on.  
Top Features
Provides several categories and department wise doctors
Allows mobile app access system for physicians
Provides barcoded reporting system 
Integrated with auto-notification and SMS alerts system 
Integrated with advanced data analytics tools
Allows fingerprint scanning 
Provides HIPAA compliant cloud backup system
Equipment interfacing system 
A patient portal support system, and more!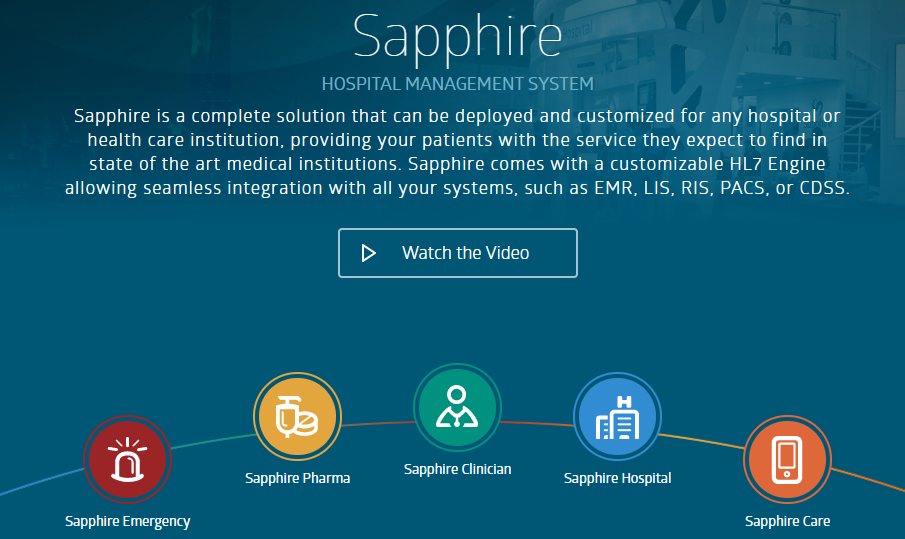 Sapphire Hospital Management System provides a smooth and intuitive healthcare management software. This system is developed by the HL7 interface that helps to communicate with patients and collect patient information. So, this system acts as a bus between the patients and the healthcare organization for successful communication. It is a completely web-based application that can be able to manage your medical organization automatically. 
Top Features
Provides an emergency support system 
Integrated with a pharmacy management system 
Detects the patients duplicate data
Incorporated with clinic, hospital, and healthcare services
Allows customization system 
Provides legacy databases support system
Easy to adaptable with any system and more!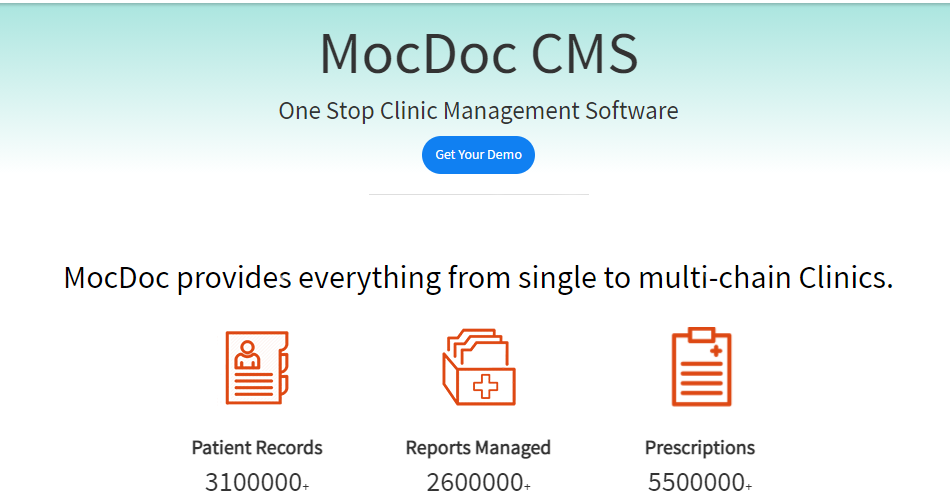 Are you looking for cloud-based hospital management software? Then, definitely, you can try the MocDoc hospital ERP system. MocDoc is mainly a comprehensive clinic management system that can be able to manage your healthcare organization automatically. Moreover, it is suitable for small, medium, or large types of organizations. It can provide several modules, which will be very convenient for the patients. With this software, you can get real-time, authentic, and required information.   
Top Features
Integrated with an appointment management system 
OPD and IPD management system
OT management system 
Allows medical billing system
Provides bed management system 
Multiple branches support system 
SMS and Email notification system 
Integrated with a web application, android, and IOS app
Monthly payment system
It provides technical support via phone, email, and online ticket.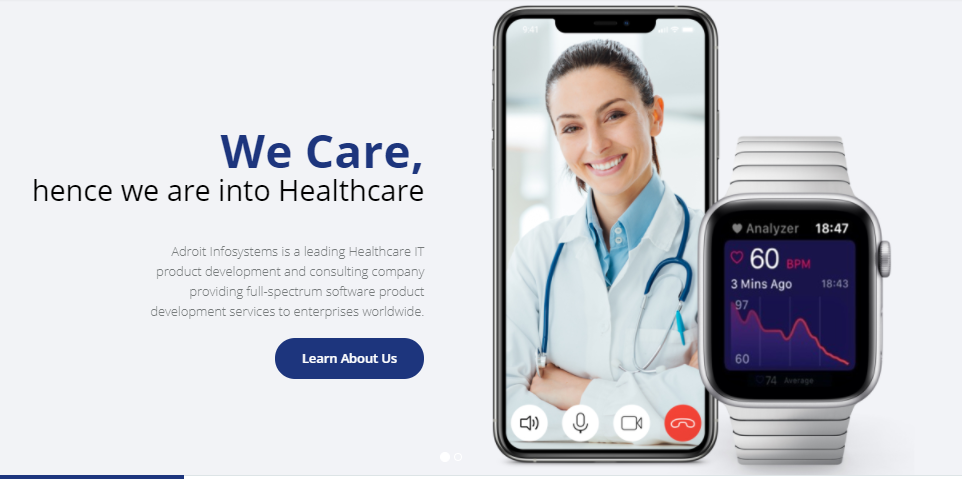 eHospital system is a diversified hospital information management software because you can get a web-based, cloud-based, or SaaS-based installation system. Moreover, you can choose any installation package according to your business requirements. Here, you can get a free trial facility in this system. This software is built with the HL7 interface and business intelligence system. Also, it has inventory, HR, payroll, blood bank, alert system, accounting, and so on.  
Top Features
Allows claims management system 
E-prescription system
Patient scheduling and registration system
Multi physician support system 
Provides EHR/EMR system
Allows multiple branches 
Online scheduling system
Integrated with mobile app and tablet versions
Provides secure messaging system
Allows medical billing system 
Provides HIPAA compliant system
Separates patients portal and more!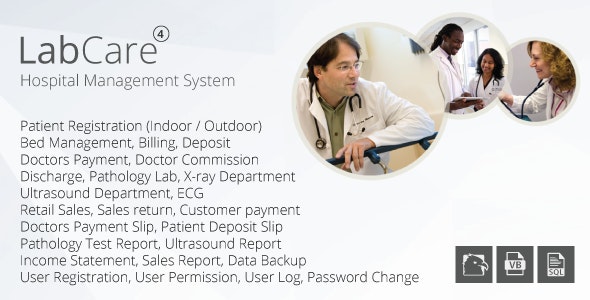 Are you concerned about your small or medium organization? LabCare is basically a hospital management software that is more compatible in small or mediums healthcare organizations. It can be able to manage billing, pathology, ultrasound, ECG, and more. Here, Visual Basic VB and SQL files are included with this system. Moreover, with this system, you can handle your hospital, clinic, ECG department, patient portal, diagnostic center, and so on. So, it helps to increase your business productivity and minimize costs.  
Top Features
Allows the doctor's commission system
Online bed booking and bed management system
Database backup system
User permission system
Provides pathology test reports
Provides real-time sales report
Stores patient information
Generates customer payment report
Billing and deposit system
The indoor or outdoor patients registration system 
Allows user permission system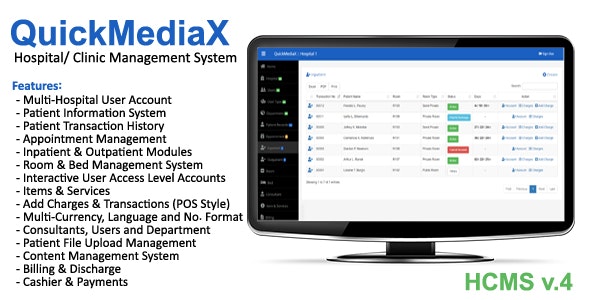 QuickMediaX is a flexible, user-friendly, and powerful hospital and clinic management system. Here, you can get multiple user access systems to reduce the workload. But this software can not provide high resolution. JavaScript JS, JavaScript JSON, HTML, CSS, PHP, and SQL files are included with this software. Moreover, it is compatible with IE6, IE7, IE8, IE9, IE10, IE11, Firefox, Safari, Opera, and Chrome browsers. So, you can get a complete HMS that can be able to organize your business dynamically and effectively manage your workforce. 
Top Features
Provides content management system
Appointment management system 
Allows cashier and payment system
Multi-currency and multi-language support system 
Provides room and bed management system 
Inpatient and outpatient management system 
Document uploading system for patients
Provides patient transaction history 
Allows the consultation system 
Generates billing and discharge receipt 
First of all, thanks for reading this article. Now, it seems more convenient to you for selecting appropriate hospital management software. With this article, you can evaluate the comparison between the top 15 hospital management system software. Also,  you can scrutinize the features of the top 15 hospital software that helps you to choose the perfect hospital management system for your business requirements. Finally, I think you understand the reason behind suggesting the Hospital Automanager software.
If you are interested to read more about the HMS system, please visit: A Definitive Guide of Hospital Management System (HMS)