How to Maintain Your Retail Business with The Help of Retail ERP Software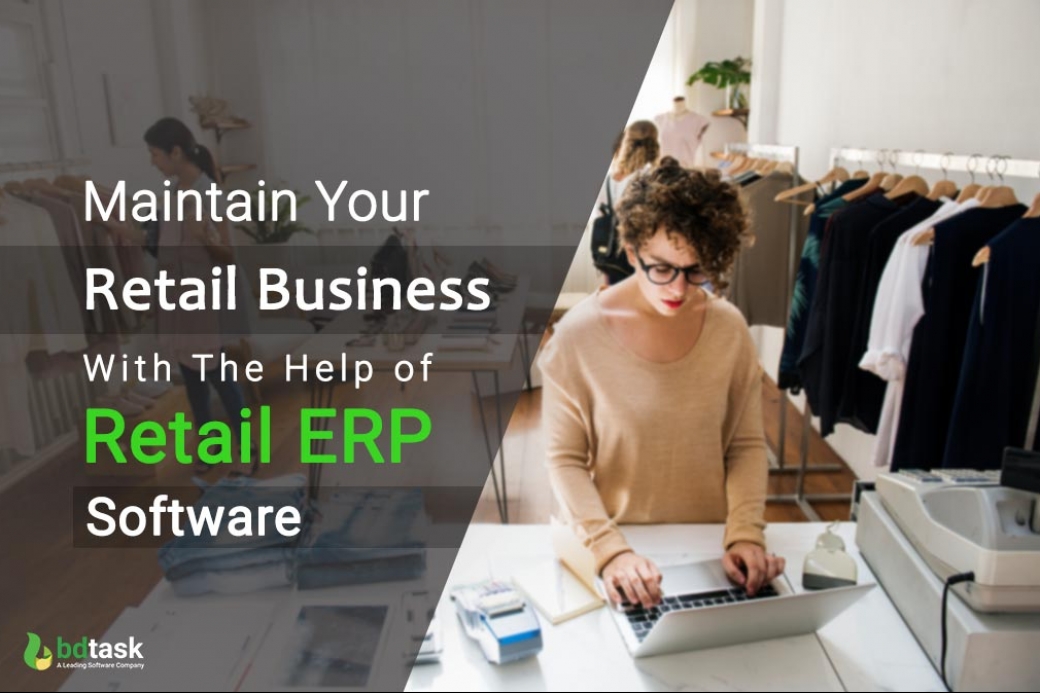 If you run a retail business, then managing the overall process must be troublesome work for you. You have to conduct different types of operations for various departments of your business. In this instance, Retail ERP Software might be the best solution for making your job easier. But choosing the right software is also a problematic matter. So, if you search for an article that will tell you about the primary idea of ERP Software for Retail Business while providing suggestions for buying the best ERP software, then you're in the right place.
This article is for you to learn about the overall ERP software for Retail Industry.
So, let's start with the basics.
ERP or Enterprise Resource Planning software basically comprises more than one software under one centralized system. Each software is for controlling each segment of a business. Therefore, the combination of software helps the business owner to manage his overall system within one platform. Retail ERP Software helps to maintain a small scale to large scale retail business. With the increasing growth of the online shopping system, the best ERP Software for Retail Business needs to support online and offline strategies. Besides, it needs to have the following features-
Point of Sale system

Stock information

Multi-store control system

Control promotional activity

Billing and pricing system

Multilingual support

Mobile interface
The current research shows that about 2.14 billion people buy goods or services online in 2021. In 2016 the number was 166 billion. The e-Commerce platform has become popular day by day. At this rate, maybe the offline retail business will lose its crown very soon. So, as a retail business owner, it's better to conduct your business both physically and virtually. But maintaining a company is already a hard thing to do, but if you need to keep the omnichannel method, it will be an impossible task without the help of a retail ERP system.
ERP software will help you to manage and analyze your whole system with a cloud-based solution. You can track your overall management from anywhere you want. The real-time data processing system remains consistent so that no confusion will occur, no matter how big your business is. Therefore, the centralized system helps your business to grow more and more in the long run.
Now, it's time to see in which field a retail ERP system can help you. The list contains the must-have features that good software must include. It would be beneficial for you to keep these in mind while looking for an ERP solution.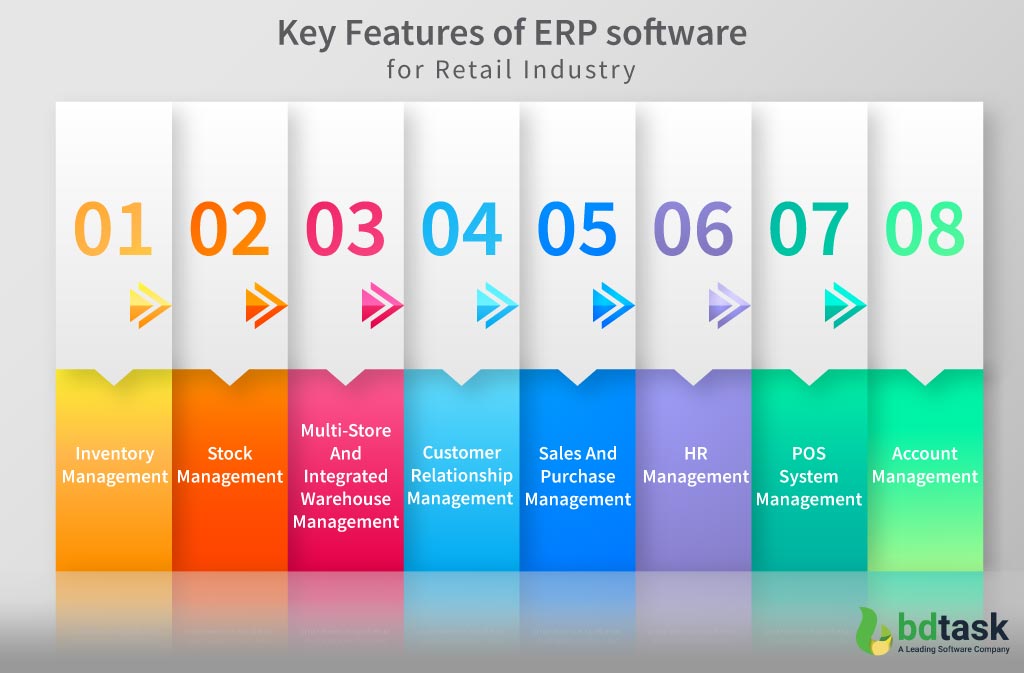 Inventory Management
This module handles your entire supply chain system. It allows you to see the stock details, export-import history, and other product specifications. Multi-location and real-time inventory management system gives you accurate results through an automatically updated process.
Stock Management
The stock management module keeps you updated about the stock. No matter how many outlines you have. The module will tell you the current situation of your stores.
Multi-Store And Integrated Warehouse Management
As a retailer, it's common to have more than one outlet. So your system needs to have an option for adding new stores and warehouse information.
Customer Relationship Management
Better customer service helps in your business growth. Therefore, identifying regular customers is one of the most critical factors in marketing. In this instance, ERP software can help you enormously. It can remember all customer's names and their purchase history.
Therefore, the software can identify the constant customers and give a special discount or other advantages in your all outlet. It can automatically update a customer's type. Usually, the membership levels are called Gold, Silver, Platinum. Or, you can use other customized names also.
Sales And Purchase Management
An ERP software shows your sales, orders, and traffic to understand the current situation. The software not only displays the sales data but also shows how much you make a profit out of the sales. That will help you for further planning of your business.
HR Management
Retail ERP software also handles your human resource. You can have an automated payroll system, track time and attendance, individual performance records, etc.
POS System Management
An essential job of your ERP system is maintaining the POS system. Tasks like look-up for an item, price calculation, bar code scanning, and receipt printing are the POS system's work. If a system works on both the computer and the mobile phone, that will be much better. At that time, customers or retailers can make the transaction from anywhere.
Account Management
ERP software has an integrated account management system. Thus, you can see the real-time result of your current transaction amount. It's like the digital version of bookkeeping.
Check Out: 15 Best Business Management Software
This segment will cover the typical type of retail business. Basically, ERP software provides you with advantages based on what kinds of retailers you are.
General Retail Business
This type of business includes the regular and common types of business. The things you can do with an ERP software if you have this type of retail business are-
You can handle all your products from the warehouse to the customer.

Your customer can get extra benefits from the loyalty features. Therefore, building up a good relationship with customers.

Store administration will be more comfortable with the help of ERP software.

The integrated BI features will help you to look at the inventories, current sales situation. Thus, allow you to determine an effective business process.
E-Business
This type of retail business mainly, conducted through the e-Commerce platform, also has a physical existence. This type of business includes foods, home appliances, tools, services, etc.
ERP software will track both online and offline transactions.

The seasonal promotion will be easier and better.

You can follow the overall process from getting an order to supply the product to the customer.
B2B Retail Business
If you have a retail business that deals with a large number of products, then ERP software will help you to-
Deals with stock

Monitor your transportation system

You can handle large volumes of inventory like brick, concrete, wood, etc.
As you can see, you can do so many things with ERP software for Retail Industry. Let's think, you own a food store, and at present, it has only one outlet. You have less than five employees, and your monthly transaction is not that much. But you have a solid plan to grow your business soon. In this example, early implementation of ERP software can help you to calculate your real-time situation. That will be beneficial for making proper decisions.
Now let's think you owned a retail business with more than five hundred employees, and you have ten or more outlets and warehouses; also, your transaction is vast. Furthermore, your supply chain process is based both online and offline. This time you need proper ERP software.
Manually you can't handle all these things. So think about your business scale and what types of features you need. Then go for an ERP software that will be efficient for you.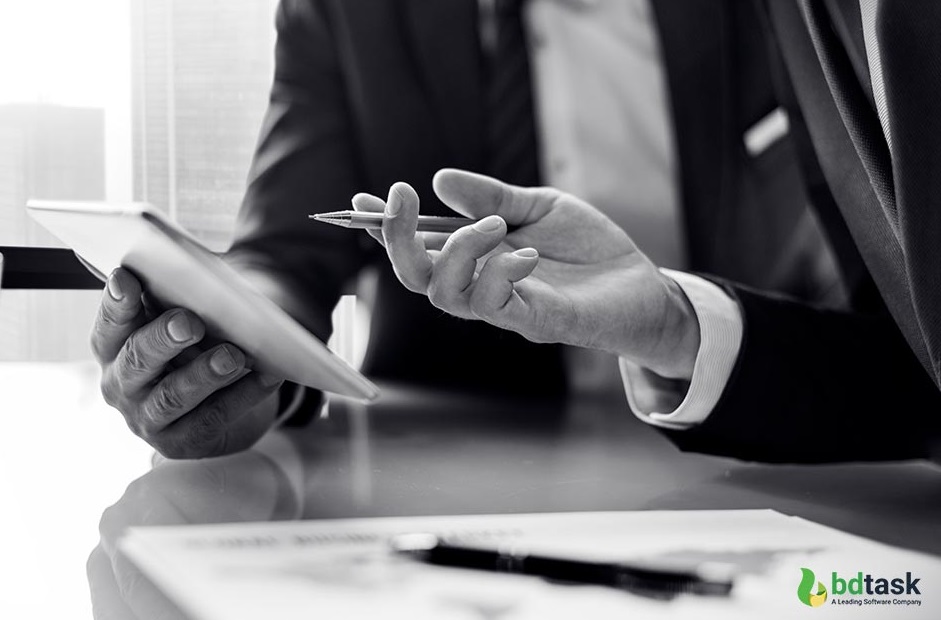 You can find many types of ERP software in the software industry. Among them, retail ERP software is specifically made for maintaining the retail business. It can help you in many ways.
Clear-Sightedness
The dynamic and integrated features of ERP can help you to see your current situation accurately. So you can make decisions within a moment. Basically, business success depends on how quickly you can take action. In short, ERP solution provides you this kind of facility.
Flexibility
A centralized database allows data and information to move from one place to another instantly so that you can control the database at any time, anywhere from the world. Also, a mobile integrity system gives the freedom to control and check the system from any device.
Secured Future
Generally, a good ERP software can give you service for seven to ten years. If you choose an efficient one, you don't have to worry about the same things again for many years.
Find out Retail ERP Software Comparison from The Best ERP Software for Small Businesses.
The Complexity You May Face
Like the vast benefits you can get from retail software, you may also face problems if you can't understand the software properly. As you can see, the ERP software covers overall everything you need for a business. That also means the system is complex and challenging to use for a non-professional person. Sometimes, a company fails to implement its software due to complications, which leads to a lost ROI.
Now, come to the point of how you can win the complexity. First, you need to train your employee and also additional support from the developer's site. Another thing is to make sure your software provides only the functionality your business needs. Extra functionality will only bring extra trouble.
One of the most critical questions about ERP software is what anyone should do if a new module comes or decides not to use a module. As mentioned earlier, to avoid complexity, one should buy a system that only meets their needs. But the fact is, the software is going to be with you for several years. Therefore, for the time lap, many changes in your business module can occur. So, do you need to change your whole system every time a change happens?
The answer is, you have to find an ERP system that will move with your business scale. The system should have features for adding more functionality. So, don't draw a conclusion solely based on your current situation. Think about what may happen with you within the next few years.
Many ERP systems have features for adding new modules as you want. At the same time, you can delete a module if you think that will be no longer useful for you.
Check Out: 20 Best ERP Software for Small Businesses
By the time you get, what ERP software for the Retail Industry is and how it helps you. Now, you may wonder how you can get the appropriate software for your company. The first step is, think and examine what your business really needs. After identifying the needs, look for the software that will meet your criteria. Next, after making an eligible list, find the best one for your company. And to do that following steps can help you.
See the reviews of other customers.

If the reviews are good, check if the developers give additional support or not and if the post support time will meet your needs.

Most importantly, if the software is within your budget or not.
If you are looking for a budget-friendly retail ERP Software, at the same time six months-long free support, you can check out Sales ERP.
To summarize the overall thing, we can say that retail ERP software can be a great assistant for you to move forward with your business. Therefore, it's essential to find your best solution. But the truth is, finding effective ERP software is not an easy job. You have to do a lot of research beforehand. But don't make a hasty decision. Always keep in mind that learning about ERP software is a complicated and time-consuming process. So, take your time and make sure you're buying worthwhile software.
Would you like to read: Top Features of ERP Software that Helps To Grow Businesses