What Is A Cloud Kitchen? Time-Worthy Cost-Effective Concept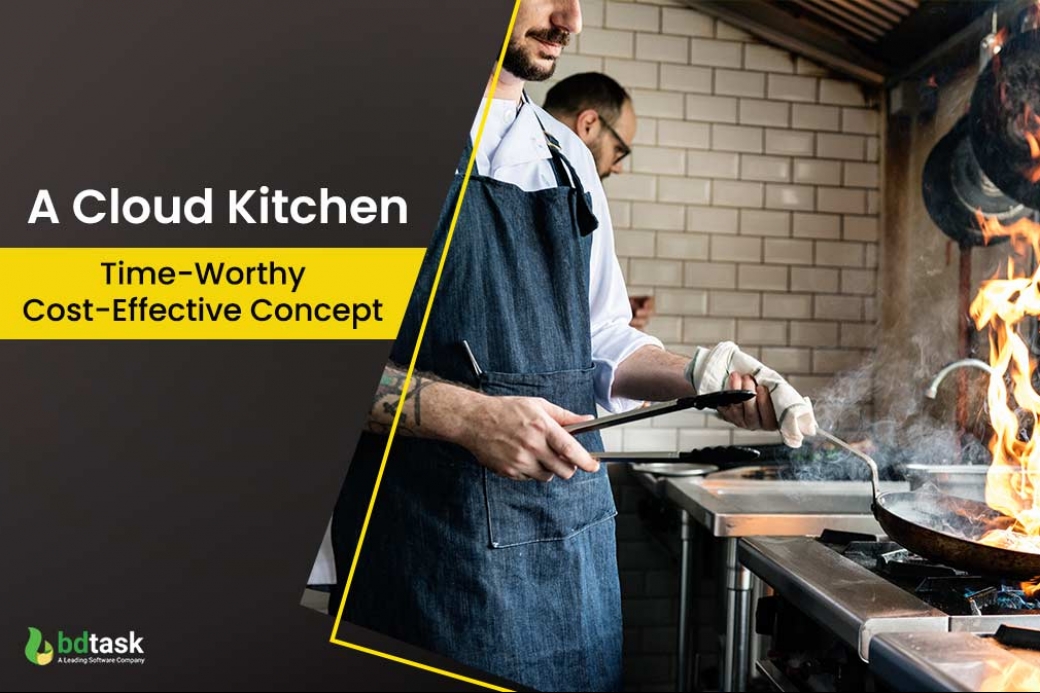 Cloud Kitchen is a popular term nowadays for restaurant business owners. Someone knows it as a dark kitchen or ghost kitchen. At first, it's noted that the covid-19 pandemic creates a critical situation in every business sector, especially the food industry. Restaurant service users and service providers face a considerable challenge during this pandemic. At that moment, modern technology acts as the only helping hand for the restaurant business owners. What is a cloud kitchen? Let's explore the cloud kitchen concept.
Cloud kitchen is a virtual platform where the customers can place an order anytime online, and it's a commercial space that offers food services to the customers, only takeout and delivery. A Cloud kitchen is also called a ghost kitchen or virtual kitchen.
Cloud kitchen is a web-based service that offers the ultimate business solutions for restaurant business owners and requires minimal startup costs that maximize the ROI.
In the traditional brick and mortar restaurants, the customers can dine in. But the cloud kitchen concept thinks one step ahead and focuses on cost and time-efficient food services. Although a cloud restaurant provides you more or less the same food services as a physical restaurant, you get a more convenient and time-worthy solution.
The restaurant business owners who aim to expand the business area, cloud kitchen is a quick solution to them. Different types of restaurants can adopt cloud restaurants or cloud food services.
Caterers:
The cloud kitchen is an ideal solution for food catering companies as this type of food service provider needs a kitchen only to prepare the food. Besides, they need a vast amount of storage facilities to store the foods.
Delivery Focused Restaurants:
The delivery optimized restaurants mainly focus on food delivery services. There are some popular third-party delivery companies like DoorDash, Postmates, and UberEats.
They just provide the logistics services. The users can place an order by using mobile apps. In this case, the service users get the ordered food items at home or office.
Packaged Food Producers:
The packaged food producers need ample warehouse space. Cloud kitchen provides them the desired space of warehouse and equipment.
Food Product Testing:
Cloud kitchen supports the business owners to conduct the business at low risk. In this case, the minimum capital is required to start the cloud food service. So the restaurant owners can easily test the new products in the market.
Meal Prep Companies:
This type of food service provider requires a kitchen space rarely. Maybe they need a kitchen to prepare the food once a week. Cloud kitchen is the solution for meal prep companies, and it increases flexibility.
In some cases, cloud kitchens and traditional kitchens are similar in the service. On the other hand, cloud kitchens are a more convenient and cost-effective solution compared to traditional kitchens.
What are the special things & benefits that differentiate between traditional kitchens and cloud kitchens?
Let's explore some of the most important points.
Capital
Do you know it's a big amount of money that you will require to start a traditional-style restaurant? It includes a dining area, a host stand, a bar, a waiting area, and restrooms.
In this case, you must need heavy capital at the initial stage.
Around $275,000 is required to start a restaurant business in the USA if you have a leased building.
On the other hand, a cloud kitchen or ghost kitchen doesn't require any physical evidence of your restaurant. You can start your business from just only a small room and with the
You will need almost $40,000 to start a cloud kitchen.
Staff
When it comes to traditional restaurants, you will need several things, including hosts, servers, chefs, bartenders, maintenance personnel, and restaurant managers.
On the contrary, when you run a ghost kitchen or cloud restaurant, those extra costs will be lessened. You will require only a few staff and the maintenance will be easier. Only the restaurant owner can monitor and manage all essential activities in the cloud kitchen.
Location
The location is a big matter when it comes to traditional restaurants. Because if your restaurant's location is not the desired place, your sales will be decreased at a considerable rate. In that case, you will face a critical issue at the end of the day.
On the other hand, a dark kitchen doesn't deal with the location. It can be placed in the far away from the city area where the room's rent is lower. Besides, we know that a standard kitchen size can be built within 300 to 400 feet.
When you are going to search for a location for your cloud kitchen, it is a lot easier and hassle-free process. You will have to need a place that is between 250 to 350 feet.
Profit
Traditional restaurants need more investment, and the operational process of this type of restaurant is complicated.
In this case, you have to maintain a huge number of employees. So considering all the expenses and costs, it's a big number that you have to pay if you run a traditional restaurant.
On the other hand, a cloud kitchen's operation is not as complicated as a traditional restaurant. You don't need more costs and expenses to run your dark kitchen and huge numbers of staff.
However, when your production costs and operational costs are controlled and minimized, your ROI will be ensured. Compared to traditional restaurants, cloud kitchens have a big opportunity to generate more profit.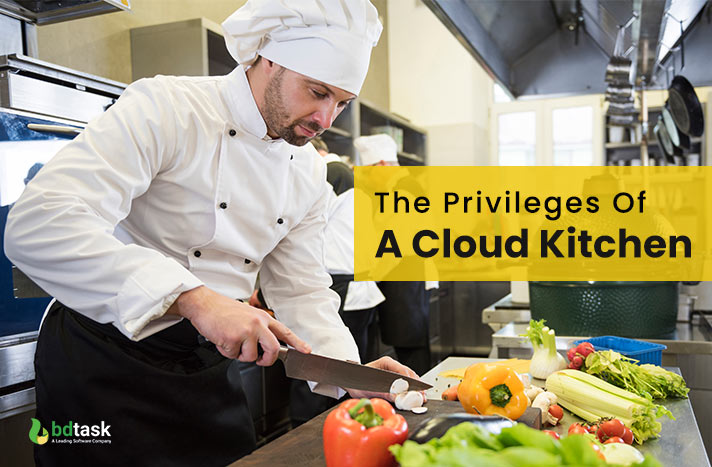 The benefits of cloud kitchens are obviously fruitful. You have already been concerned about several things where cloud kitchens are a much better choice than traditional restaurants.
In the above part of this section, the cloud's different privileges, the kitchen is already explored. What else benefits the ghost kitchens provide!!!
Minimum Start-Up Cost
In the upper part of this article, it's already mentioned how much it will cost to start a cloud kitchen. You can take a look.
The traditional restaurant system always needs higher costs for its infrastructure and other essential processes, including building inspections, expensive building construction, zoning compliance, etc. If anyone has a minimum budget, they can easily start a cloud restaurant.
Affordable Operational Cost
The operational costs of a restaurant include expensive utilities, cumbersome staff payroll, high property taxes, and pesky maintenance costs.
But the ghost kitchens don't need such types of additional costs. Your minimum budget can help you to start the journey. Besides, the maintenance costs of dark kitchens are affordable.
Moreover, the administrative tasks are complicated. The dark kitchen is a hassle-free advanced restaurant where you don't need to face administrative difficulties.
More Intuitive & Convenient
Cloud kitchens provide you more convenient experience while running this virtual food service. There are no additional activities including-
Health inspections;

Equipment repairs;

Janitorial services;

Security monitoring;

Property taxes and

Utility bills.
Your entire business activities will be run smoothly, and cloud restaurants service helps you make your business decision properly based on your actual situation anytime. It's totally your decision wherever and whenever you want to provide the service to the desired customers.
Expanding The Market
Cloud kitchens help you to expand your market. Suppose you have a traditional restaurant and it offers quality services to the customers. But you are conducting your business in a specific location.
On the other hand, the Cloud kitchens locations are not specific. The customers won't know the exact location from where the food is prepared. They just place an order through the online application.
After confirming the order, you will prepare the food and deliver the prepared food to the desired customers. In this case, your business area is large, and it can cover a large area. Besides, it helps you to create your brand value through different social media platforms like Facebook.
Customer Satisfaction
Nowadays, customers are focusing online. In this case, you have to cover the online ordering process and delivery system first.
Cloud kitchen helps you to manage your restaurant business entirely through an automation system. It assists the restaurant owners to continue the food services properly.
Besides, efficient logistics, lower costs, technological innovations, etc., can maximize your ROI and meet the customers' needs and demands.
Better Delivery Experience
When you come to Cloud kitchen or ghost kitchen, it's all about the delivery services. You will prepare the food after confirming the online order. Afterward, you will ensure your delivery services reach the prepared food at the desired customer's door.
Cloud kitchen enhances the experiences of delivery services as it provides the customers optimized delivery experiences. Commercial food delivery is getting improved daily, which is a plus point for both service providers and the service users.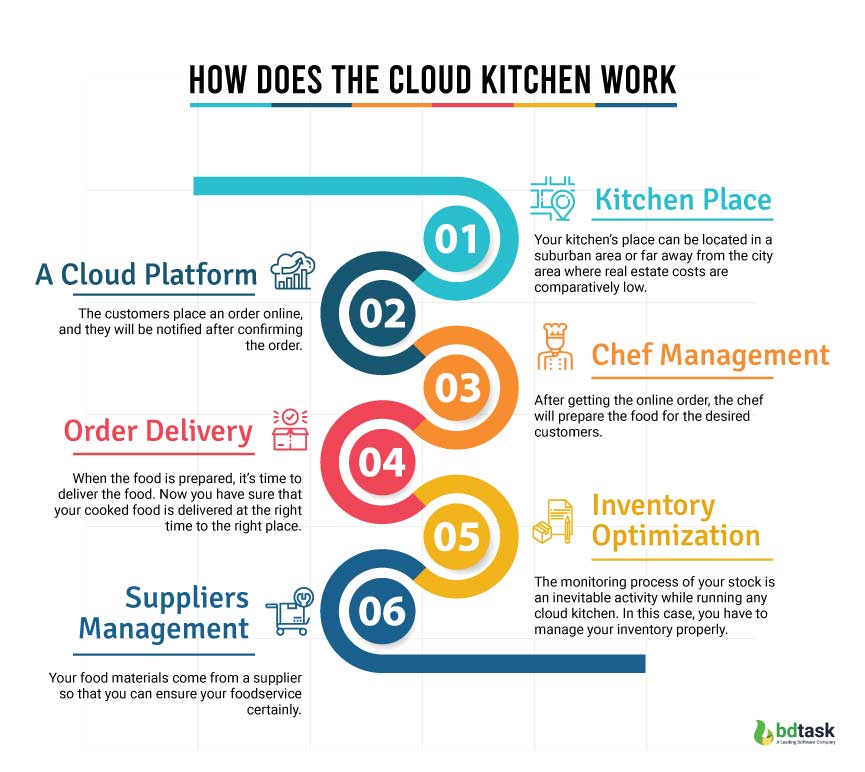 Commercial kitchens are increasing. You can say it as a time demand.
But the term ghost kitchen is an emerging food service. What is a ghost kitchen?
The cloud kitchen and ghost kitchen are similar, and both aim to aim at the same target. The concept of cloud restaurant is the online food services without physical evidence.
Here you will get an overview of how the cloud kitchen works.
Kitchen Place
Your kitchen's place can be located in a suburban area or far away from the city area where real estate costs are comparatively low.
You will require a small-sized space where you can just conduct your cooking process. In the kitchen, you need essential components to cook.
A Cloud Platform
The customers place an order online, and they will be notified after confirming the order.
You need to adopt an online-based service. Suppose you have a website and a mobile app by which the customers can place an order.
You can maintain your order and other essential activities like the supply chain process through a single system.
Chef Management
After getting the online order, the chef will prepare the food for the desired customers.
As you are running a food service business, it is a must you need cooking staff. Your chef management is a crucial task.
You can easily maintain your chef with the cloud system software. Besides, you have to schedule your staff's work.
Order Delivery
When the food is prepared, it's time to deliver the food. Now you have sure that your cooked food is delivered at the right time to the right place.
The proper delivery services increase your brand value and customer satisfaction level. However, the online food delivery system is an essential part of your cloud restaurant service.
Inventory Optimization
The monitoring process of your stock is an inevitable activity while running any cloud kitchen. In this case, you have to manage your inventory properly.
Besides, you must have a better knowledge of how to manage your inventory.
Suppliers Management
Your food materials come from a supplier so that you can ensure your food service certainly.
When you can manage a good relationship with the supplier, you can easily cut down your operational cost. In this case, you can offer the food to the customers at an affordable price.
The supply chain solutions assist you in managing your cloud restaurant's supply chain efficiently.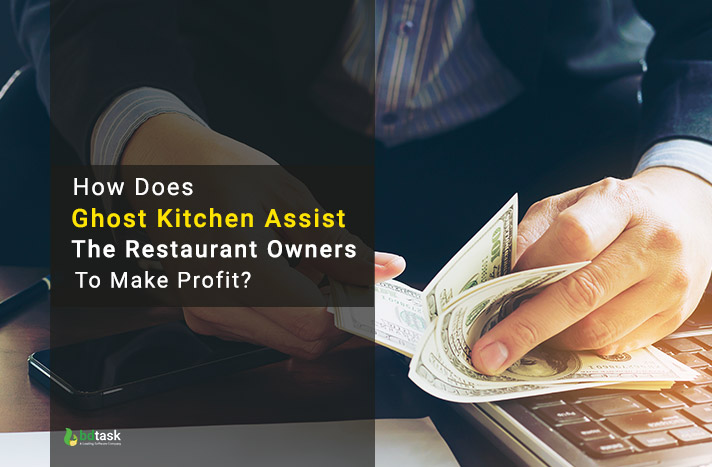 Earning profit is the main concern of the business owner, in this case, whatever business you have. The restaurant business is profitable, but all restaurant business owners can't see the bright side.
What should the restaurant owners do to make an expected return? The answer is not specific. But you can see what successful restaurant business owners do to make desired profit.
If any restaurant owners are aware of the latest technology, they can easily catch the market demand. The customers' demand fluctuates frequently. So understanding the market requirements is an essential task for the restaurant business owners.
If you look at the 21st century's recently launched restaurants, you can understand those food services' intentions.
At first, they want to understand the market needs by negotiating the customer's mind. Then they try to grab the attention of the customers by conducting proper restaurant marketing. This is the way to start a business.
What Factors Ensure Your Profit!!!
When it comes to the ghost kitchen, it's the effect of modern technology. People nowadays love to order their favorite items online and feel safe to take the meal at home instead of going to the restaurant physically.
In this regard, you will get a considerable number of customers online. Besides, it has no particular place, so your marketplace is not limited. You can get your customers from anywhere.
Besides, you don't have to pay additional costs that are obvious in any restaurant as you just need a small-sized kitchen area and a few numbers of staff. Moreover, you don't require to manage a large restaurant supply chain as your minimal operation can be maintained easily.
The cloud kitchen is a popular term, and it's just a starting point of this cloud food service. The restaurant business professionals can see a long-term future of the cloud restaurant concept.
Just take a look at the last decade. People love to take out, and they spend relaxation time in the restaurant. Besides, they arrange different occasions, parties in the restaurant.
The pandemic situation creates the opposite. At present, the people are feeling interested in taking the meal at home rather than going to the restaurant. The time is yours. You need to make your business decision based on the present situation.
Undoubtedly, the cloud kitchen can sustain in the long run as not only for the pandemic situation but also the psychology of the service users get changed.
Some factors that affect the cloud kitchen trend to be more reliable and sustainable in the future, including
Real estate prices in the urban areas

Enhances the demand for the online delivery

Reducing the additional expenses

Minimizing the operational costs

Developing modern and convenient technology
No matter what position you belong to right now, you can change your business's future anytime. But what makes your business feel alive?
The planning and decision both are responsible for altering your business's prosperity. While making a decision, you follow your planning. In this case, if you think one step ahead, which is time-worthy and business-friendly, nothing can hinder your way.
The automation system can control or manage your entire business operation, including accounts, staff, sales, orders, delivery, inventory, etc. Is this possible to cover all essential activities through a single system?
Yes, obviously. Modern and advanced technology helps business owners to make the business more convenient and cost-efficient. Cloud kitchen software is a complete business solution by which you can manage your entire restaurant supply chain.
The user-friendly mobile app and the dynamic website for your cloud restaurant help grab customer's attention. In this regard, you can gain a competitive edge over the rivals and fulfill the customers' needs.

Cloud kitchen is a modern concept of restaurant service. Whatever name it is known to all, you have to understand the cloud kitchen's main idea.
Integrating modern technology to run your modern concept makes your business operation smoother. So what are you waiting for? Let's get started on your journey to grab the future.
Would you like to know: A Details View of Restaurant Billing Software