5 Easiest Steps to Create a Dynamic Restaurant Website & App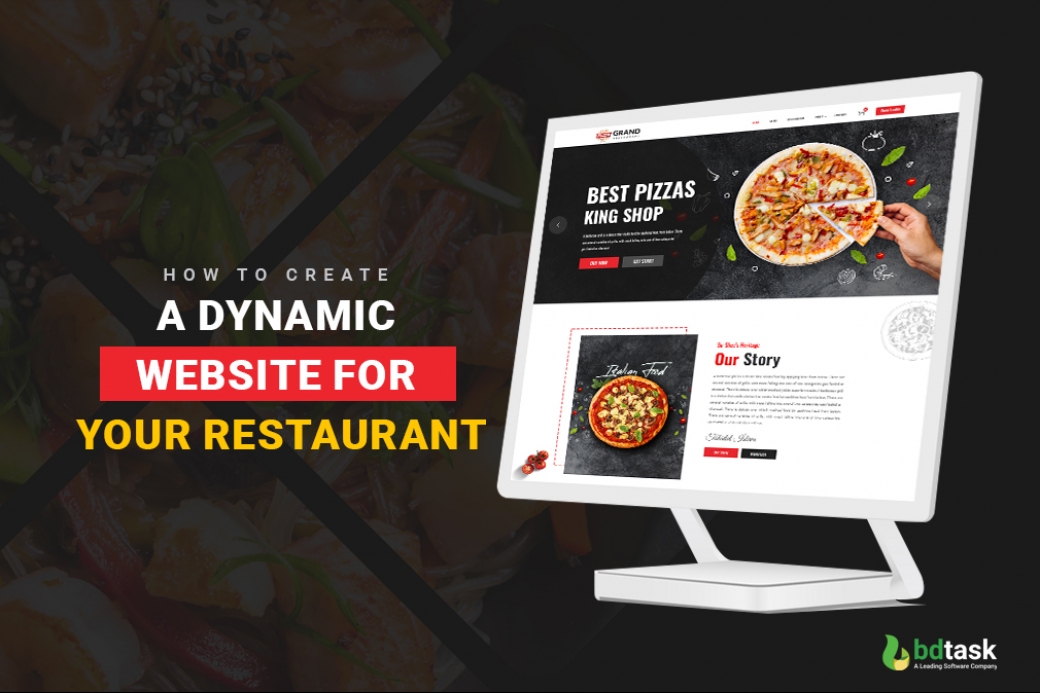 Creating something dynamic makes you special, doesn't it? In this modern era, people like to eat out and look for a restaurant to have an amazing meal with an exceptional ambiance. Does everyone go from restaurant to restaurant to have a desired meal? Obviously no. In this regard, you have to offer your services through a restaurant website or app. So it is a must to know how to create a dynamic restaurant website and app.
In 1994, Pizza Hut introduced the first online food order system in the US. At present, online food ordering has increased by 40% (US).
You have to conduct research properly before beginning your journey in the virtual world. In this case, various opportunities can knock on your doorstep.
Your determination and consideration help you to find out the best scope. No matter what others do, the point is what you want to do.
A virtual platform provides you a broader marketplace. Here your best choice will assure you to become a successful business owner.
Suppose you are going to start a restaurant business. You have to think about developing a restaurant webpage.
On the other hand, you are a restaurant business owner. You must need to create a dynamic website for your restaurant.
It is estimated that around 90% of people research online before going to eat out at present. A website of your restaurant works as an extension of your business.
A well-developed website for your restaurant will help you to expand your business area. Besides, it assists directly to increase the number of customers by converting visitors into customers.
A dynamic website of your restaurant helps to
create a brand awareness
Promotes the business
Make the people understand about your unique offerings
Gain a competitive edge over the rivals
Expand business
Maintain online delivery properly
Increase sales and profit
keep pace with the modern world
Moreover, you will get benefited while adopting the restaurant website for your business.
Proper account management
Track your sales and orders
Real-time business report
Human resource management
Customer relationships management
Marketing solutions
Controlling via android devices
However, a restaurant website is essential, and the more important thing is how dynamic your restaurant website is.
A restaurant business owner cannot achieve the target without adopting a dynamic website for the restaurant.

How do people get to know your unique offerings? Well, in this case, you can develop your restaurant website.
But is it enough to attain your business objectives?
So, you have to create a dynamic website to make people understand that your services are also exceptional. Build your own restaurant website according to your requirements.
Before developing a website for your restaurant, you have to consider several factors. These factors significantly affect the creation of an online platform for your restaurant.
In this part, the significant steps that can help you overcome the challenges of developing a restaurant website.
The mentioned steps are the pathway to fulfill your dream successfully.
A website is a virtual platform in the virtual world. You can find a better scope for developing your restaurant business, provided that you have a well-developed website.
The objectives of the restaurant website are explored below-
Increase Customer
The website of the restaurant helps you to get more customers. In this case, you have to develop an attractive website.
Existing customers share their experiences with new customers. Besides, the website of your restaurant can encourage new customers to take your services.
However, increasing the number of customers is one of the most significant objectives of your business website.
Enhance Sales
As the customers increase, the sales rate enhances. The website of a restaurant directly affects sales.
The profitability of your restaurant business highly depends on sales. The website assists you in increasing sales both directly and indirectly.
So it is one of the most considerable objectives of a restaurant website.
Improve Customer Service
A sound communication system is developed through the website. The customers can easily submit their queries and get support promptly.
A website plays an essential role in developing customer service quality.
Without providing good customer service, you will not be able to achieve your desired aims and goals.
If you ensure a greater level of satisfaction, your restaurant's profitability and productivity will increase.
However, your restaurant's website assures you to improve customer service a lot.
Promote the Brand Value
Nowadays, the online market is the best platform to conduct business operations successfully. So every business owner gives focus on developing the online service.
The customers at present look for products on the internet. If your restaurant's website is unique and attractive, the customers can take the desired services.
Besides, the promotion of your business is also done through the development of a restaurant website.
Sustain in the Market
The marketplace is getting more competitive, and the restaurant business is increasing significantly.
To keep pace with the world, you have to be dynamic and proactive.
You have to adopt the right technologies to sustain in the market. In this regard, a dynamic website for your restaurant contributes remarkably.
However, you must have a better understanding of restaurant website development. It will ensure your ultimate success.
Without a practical cost analysis, your hard-working can nip in the bud.
Besides, your resources must be analyzed properly before developing a website for your restaurant.
The budget mainly depends on your business type and size. Your interest and feeling about the digitalization of your business play an essential role in this case.
First, make a plan of what you are going to do. Afterward, make a plan based on your budget.
Cost and resource analysis is a crucial step. You have to consider your essential cost and additional cost before doing a cost analysis.
While developing a budget for your restaurant website, you must consider the cost of the advanced tools. You must know a proper understanding of different types of websites and their effectiveness and features in this case.
Depending on how complicated the website you have chosen, the restaurant management system's price is set.
Suppose you only want to operate your sales and accounting activities with the system. In this case, the cost is lower. On the other hand, the price is much higher, provided that you want to get a more comprehensive system.
Traditional marketing is followed by 6% of people in Europe and the US.
You must modernize the marketing system for a restaurant at present. Without adopting advanced technology, the marketing of your restaurant will not be successful.
Suppose you provide a quality service to the customers. Besides, your products are unique and demand.
But if you do not promote your services and products by following a systematic and effective way, the customers cannot know about your services.
In this case, your business objectives will not be achieved.
You have to create an effective restaurant marketing plan for your restaurant business.
The marketing plan will help you to conduct this operation systematically and indeed.
On the other hand, unique ideas and thinking play a significant role while promoting your restaurant business.
In this case, you can follow unique restaurant promotional ideas. It will assure you of attaining your marketing objectives.
Moreover, if you are an entrepreneur and want to start a restaurant business online, you have to consider the marketing system. In addition to this, your restaurant's unique name selection plays a significant role in your business's market.
The name selection is a simple task, but the significance of choosing the right restaurant name is inevitable. So you must have proper knowledge of how to choose the right restaurant name.
A wrong selection can ruin your dream.
Business owners always aim to sustain themselves in the market by competing with rivals.
Sometimes they feel needy and hopeless because the corporate world is a complicated place where everyone struggles for existence.
When you are thinking of adopting a business management system that helps you fulfill your dream, you will face a dilemma.
In the present market, there are several number management systems which are available.
You must have adequate knowledge about the restaurant website. The restaurant management system can assure your business operation is more smooth and flexible.
You can be a small, medium, or large restaurant owner. The restaurant POS system will help you to manage your business activity more efficiently.
It is a crucial step. Suppose you have made any mistake while choosing your restaurant's right website, your hope, resources, time, investment, and effort will be good for nothing.
You should have a better understanding of the restaurant management system before choosing the desired one.
You can go for the monthly payment POS system. On the other hand, you can permanently get your website for the restaurant through a one-time payment method.
It's up to you what you want exactly, but both have positive and negative sides. Based on your requirements and interest, after considering the strengths and weaknesses of different POS systems, you should choose the right platform.
Types of Restaurant Management System
You can choose the right platform considering your choice and requirements among the restaurant management system below types.
POS
The POS system will help you to integrate third-party systems for accounting, inventory, and marketing.
End to End
It is the most comprehensive type of restaurant management system. This includes inventory control, CRM, order, payments, and staff management.
In addition to this, it also provides reporting, analytics, and technical support.
General POS
Some businesses provide both retail and food services. General POS is designed for that type of business. Besides, it also offers different add-on modules.
Android or Other OS
While integrating with your device, you have to think first about which OS you are going to choose.
Maximum systems are developed to operate only one OS, Android, or iPad.
Web-based vs. Cloud-based Software
All cloud apps are web-based, but all web-based apps are not cloud-based.
Generally, multiple data centers are utilized by cloud apps. On the contrary, web apps cover only a single location.
Multiple users can use cloud apps as it has synchronized versions. On the other hand, web apps are specific and unique to every user.
Cloud-based RMS vs. Traditional RMS
A cloud POS system is mainly subscription-based. It shifts your capital expenditure to operational expenditure.
In cloud-based RMS, the data is stored in the cloud. So it is accessible on any device. You will need an internet connection in this case.
You can start from a traditional management system that stores your data on a local server. It is an on-premise system with high upfront costs that affect your capital expenditure.
You should analyze by yourself and choose the desired one that contains the best features.
The Essential Features of a Restaurant Website
POS system
Good user interface
Quick checkout option
Proper order management system
Extremely customizable
Inventory tracking system
Integration of CRM
Top Restaurant Software for Website
Here, some best restaurant websites are provided by which you can easily evaluate the best features for your restaurant, small, medium, or large.
Bhojon
It is designed by PHP and Codeigniter framework. You can control it both online and offline. Besides, it has HTML, JavaScript JS, PHP, CSS. To operate this management software, you do not need to have any coding knowledge. It is easy to control and customizable.
Toast
Toast is one of the most well known PSO software for the restaurant business. The payment process for this system is high. In 2018, it achieved the award named Best customer service of the year. Besides, the installation process of Toast is easy. This restaurant management system provides a platform where service users can share their opinions.
Foodomaa
It can be installed on any device, and it is a multi-restaurant management system. It provides a huge number of add ons. The payout system is easy.
You can create product customization, and it has an order cancellation system.
King Burger
It can be used for cafes, burgers, fast food, or other food products. The delivery boy has access to login, and they can check the order details. The checkout process is good. In this POS system, you can share your location while ordering through Google map. It supports RTL.
Khana
It is also a multi-restaurant food ordering system. Laravel framework is used while developing this website. And it has a high-end feature like Lazy loading. Khana includes a seller registration page and a rider registration page. In this POS system, the customers can easily track the orders and the delivery man.
However, there is also some restaurant management system that has some common and unique features. If you want to get more information and gather more knowledge of the restaurant POS system, you can look at the top 15 restaurant software.
Integration and up-gradation are a must if you want to develop your website. The technologies are updated regularly, and the new features are getting available day by day.
Suppose you have chosen your desired POS system to operate your restaurant business more efficiently. Now you have to be aware to upgrade your website.
You must integrate some apps on your website that helps you to make your website more convenient.
Android app integration is essential nowadays. Without integrating the android or IOS, you will not get complete satisfaction.
Besides, it will provide you a comfortable and suitable way to handle your business operation.
Some POS systems will offer you several mobile apps that can be integrated with your restaurant management system.
The add ons which can assist you in making your POS system very efficient.
In this case, you have to spend a little bit more. But you will get benefited by integrating those add ons like waiter app, kitchen app, customer app, etc.
The up-gradation of your website is essential. Without upgrading your restaurant website, you will not get benefited in the long run.

If you do an analysis to find out the best website for your restaurant, you will get several restaurant website builders.
For informational restaurant website builders, WordPress, Squarespace, Wix, Duba, Weebly are the best. Among them, Wix is the easiest informational builder. Besides, the best simple restaurant website is Weebly.
On the other hand, if you look for restaurant website builders for online orders, Square Online, Wix, Shopify are the best.
Although those are the best, they have some cons. Such as Squarespace is challenging for beginners. Besides, Wix and Duba are costly.
The most considerable thing is you have to pay per month, and the payment will increase with time.
You will require more investment to design it as your choice.
In this regard, the software with PHP source code will provide you a better user interface. You will get an attractive and customizable POS system by which you can customize your website as your choice.
Moreover, the POS system, which is developed by PHP, will offer you a vast scope to optimize your website. You can get more information about PHP from here.
Furthermore, you will get your desired website through a one-time payment. You can upgrade your system anytime. Besides, it will offer you different types of add-ons by which your business operation controlling will be more comfortable and convenient.
The best website always provides you unique and essential features. A dynamic website plays a significant role in accelerating your business.
Besides, you will get a practical solution for your restaurant business after evaluating the features of the Bhojon- restaurant POS system.
Bhojon is one of the best restaurant website builders for the restaurant. It is a POS system for your restaurant business and a complete guideline for your business.
It is getting popular day by day all over the world as Bhojon offers unique features that are beneficial for your restaurant business. Besides, the dynamic modules will give you a better controlling system.
Front End Side
Bhojon offers attractive themes. It will help you to attract visitors. Besides, you get an option to set up the web setting module to decorate your website.
You can add an interesting story about how you began your journey on the website. The front end side of Bhojon is well developed. In addition to this, you will get a complete solution for your restaurant website.
Bhojon provides a Check menu, place order, and reserve table in the front end view. The customers can easily take their desired services.
Back End Side
You have to control your back end side of the website. The front end side will be exposed to the visitors depending on how you control the back end side.
However, Bhojon offers a dynamic admin panel by which you can set up your front end view.
Top Modules
Top modules of Bhojon are listed below-
Dynamic dashboard
Order Management system
Food Management
Real-Time Reports
Purchase Management system
Accounts Management
Human Resource Management system
Top Features
Key features of Bhojon:
Restaurant POS Invoice system
Production and purchase management system
Restaurant billing software
Account management
Workforce management
Restaurant table management system
App integration system
The online and offline control system
QR code scanner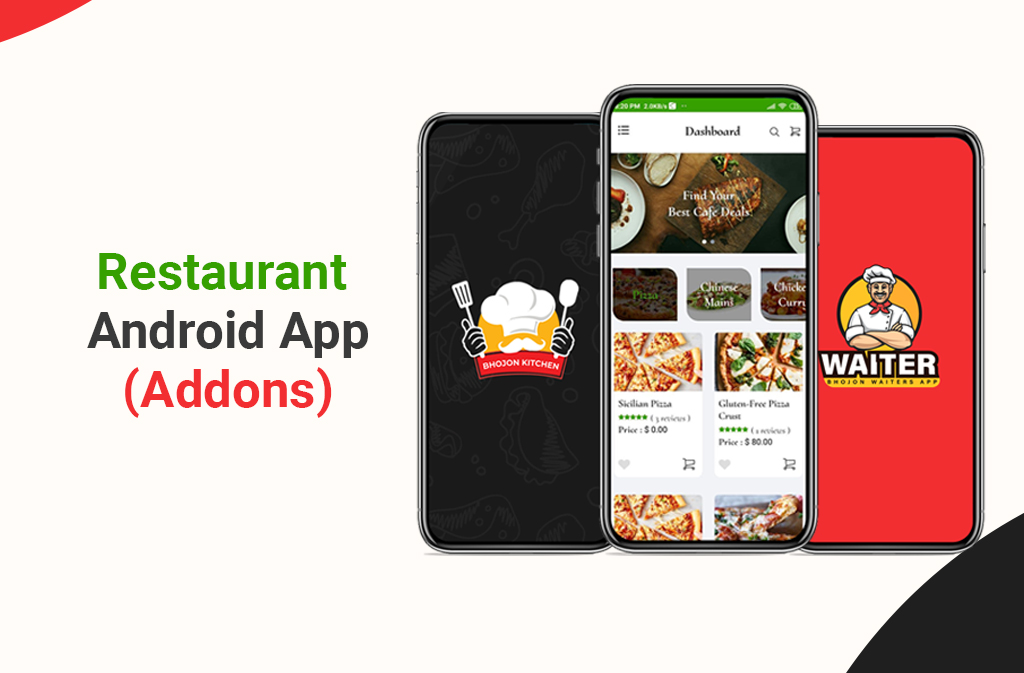 Bhojon App - You can add three apps with Bhojon, which will help you to smooth your operation.
Through the customer app, visitors can turn into customers. Nowadays, everybody looks for online information. This app can be integrated with both Android and IOS. The customer app provides several benefits to the customers. They can do different activities through this app like
Check menu
Find offers
Place order
Reserve a table
If you adopt new technology to maintain your workforce more efficiently, you can use the waiter app. It provides a better scope to handle the customers. Besides, this app helps you by providing different ways like-
Taking orders
Getting notification for new orders
List of pending and processing orders
List of complete and cancel orders
As a restaurant owner, you need to focus on your kitchen activities. You can monitor your kitchen status by using the kitchen app. Moreover, it can be integrated with Bhojon restaurant management software.
The features of the kitchen app are-
Notification of food status
Orders processing
Accepting the orders
However, Bhojon is the best restaurant POS system as it can provide you a convenient strategy to regulate your restaurant business operation.

Now you have an idea to develop your restaurant business website. The discussion of this content mainly focuses on some questions like-
Why do you need a restaurant website and app?
Which website is the best for your website?
How to design effectively your restaurant website?
However, a better selection of the restaurant website will assure your sustainability.
Would you like to read? 7 Unique Ideas to Create a Restaurant Marketing Plan That Maximize ROI