What Is A Hotel Channel Manager? Scheme To Make "Housefull"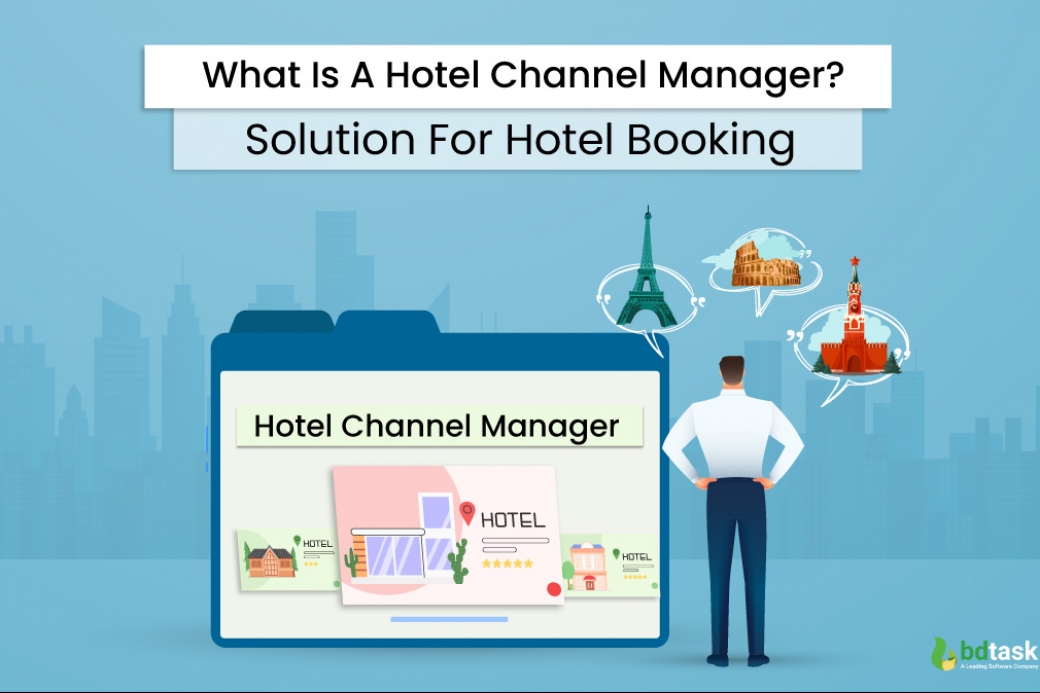 What is a hotel channel manager? It's not less than a magic broom to a hotel business owner. Let me give you a perfect scenario to make you understand the concept of hotel channel managers.
Suppose you start a hotel business, after that how will, I know I should say "customers"; but no since you just started the hotel business, I would say audience or people; let them know about your brand, your existence in the market?.
Yes, using different hotel marketing strategies to catch the attention of the audience but is it enough? People don't recognize your hotel, the facilities, the price range and of course the location.
However, uploading the availability of your hotel's room or some exciting offers over different hotel booking sites will catch the visitors' eyesight. Hotel booking sites are the most and the very first thing, a core competent customer research to find the most affordable hotel according to their need.
A channel manager or channel management conveys a path, passageway to reach the targeted client and raise the revenue. A communicative way to reach your potential customer fast, a broker, or you can say a third party between hotelier and visitor.
Channel manager in the hotel industry that works like advanced technological solutions. This channel management tool assists you sell your hotel's room on different online hotel booking sites.
Besides, showcase all the other essential information such as ratings, price, the complementary facilities, availability, the image of the room, facilities available in the room, and of course the reviews.
Photo courtesy:Booking.com
In a channel manager, you list up your inventory (hotel room) in various booking channels, then it will automatically process and will be available to both global and local travelers.
Yes, you can consider this strategy as a marketing strategy too. Since whenever a person visits any booking site, he/she will notice your brand, hence increase engagement.
As I mentioned above, hotel channel management is a modern technological path to get connected with your potential clients. In short, it makes it possible to sell your hotel rooms or other services on various booking sites.
This hotel channel manager facilitates the hotel business owners' to do business both locally and internationally. As booking sites can be accessed globally, therefore anyone from anywhere can give reservations according to their needs. Besides, visitors can compare the current price and availability status; whenever they think of traveling far away from home.
On the other hotel channel, managers also create a fantastic opportunity to boost up your hotel booking with higher revenue. Moreover, it creates a hotel room selling network, where different hotels can upload their inventories for sale. And, the more hotel channel managers you use to execute sales, the less you will lose the lucrative booking opportunities from the potential customers.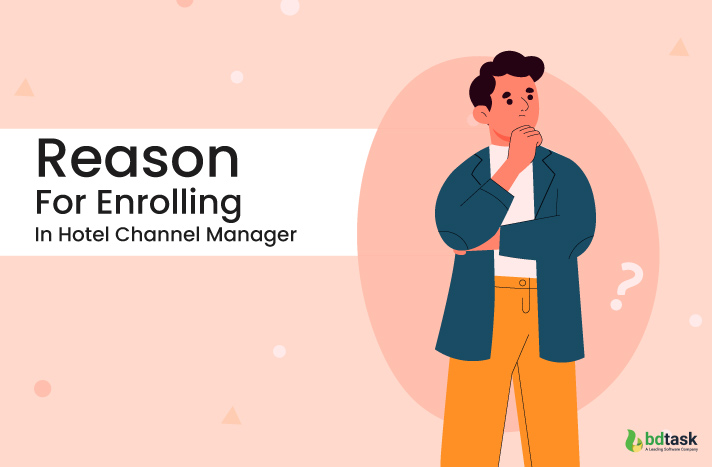 There are various beneficial reasons behind enrolling your hotel property in a hotel channel manager, such as it's a point of connection between the visitors and the hoteliers, a recorder of all the booking data, and a comprehensive monthly report.
As a result, without making any effort, you get a readymade report every month. In addition, it also helps you to increase your distribution network to reach the targeted customer fast.
As time passes, day by day, the world is also changing with massive technological growth. Now people don't wait for any local travel agents or tour guides to get directions from the airport to the hotel. Thanks to Google Maps and Google search engine, people are now independent, the world of the internet. Whenever any information is needed, people search over the internet and instantly get the result.
People consider hotel channel managers the most prominent travel agent for travelers in this internet-oriented world. Whenever there is a need for information regarding the travel they search different booking sites; and get all info instantly and if match the visitor requirement; they convert into customers. There are some critical advantages of enrolling your hotel inventory in various hotel channel manager sites:
List your hotel in different hotel channel manager sites' for example, Booking.com, kayak, Tripadvisor, Expedia, and hotets.com; increase engagement/ online presence.

Hassle-free booking, no direct dealing with guests.

No chance of bargaining

Control the rate parity for you.

An automated monthly report from a channel so that you can track from which channel you are getting the most clients.
Through hotel channel manager works automatically but follow three core rules :
Real-time reservation process

Setting the rates

Auto-updating the availabilities
On the other side, the hotel channel manager operates following two steps:
In the first step, the data flows in from the hotel's property management system to the world. Data such as price rates for different rooms, number of rooms available, and types of rooms available.
In the second step, the data flows from the world to the hotel's property management system. In this step, OTA(Online Travel Agency), GDS(Global Distribution System), STO(sell to operate) helps to supply raw data to the hoteliers. Data such as; guest name, staying duration, and payment method.
Traveling to a new place is a difficult task, and if the traveler also finds the booking procedure more difficult, he/she might lose interest. Therefore this whole booking procedure needs to be user-friendly and feasible for all sizes of hotels.
Supplies price, ratings, availability, and type of room

Receives all the guest booking information

Keep in constant updating the price and room availability on different channel manager

Real-time reservation confirmation from your property management system
Yes, hotel channel managers significantly contribute to growing your hotel business from zero to a million-dollar business. Hotel channel manager is like a social media for hotel business owners; potential visitors come to search for their desiring place to stay.
And get to introduce your hotel room offers, hence increasing engagement and visuality over the online platform. Here are some vital factors below that contribute to creating your hotel brand more decisive to your targeted audience, thus bringing more ROI.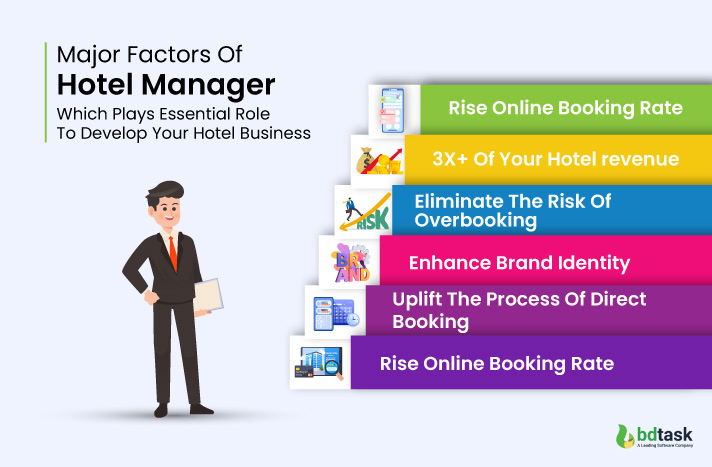 1. Rise Online Booking Rate
The more hotel channel managers you enroll, the more rise in online booking rates. With time, people's habits of consumption and usability also change. Now people don't have to depend on hotel receptionists to receive the call or don't have to stay uncertain whether the room would be available.
Now in this internet craze world, people just go to different booking sites and book their choice. Now phone call, no dependency, total contractless booking.
2. 3X+ Of Your Hotel revenue
As we have already understood, hotel channel managers perfectly visualize all the prices, ratings, and availability status all over the world at the same time. Anyone from anywhere can access any details of any hotel and automatically update with faster booking.
Hence, only because of this unique channel invention, hotel business owners can easily reach their targeted customers and easily raise the hotel revenue (totally effortlessly).
3. Eliminate The Risk Of Overbooking
As we have already understood, hotel channel managers effortlessly expose all the pricing details, ratings, and availability status all over the world at the same time. Anyone from anywhere can access any details of any hotel and automatically update with faster booking.
Hence, only because of this unique channel invention, hotel business owners can easily reach their targeted customers and quickly raise the hotel revenue (totally effortlessly).
4. Enhance Brand Identity
Enrolling your hotel in different hotel channel managers increases your online presence all over the world. Your hotel started to build an online reputation and recognition; hence the travelers, who never heard about your hotel, are also now making reservations.
5. Uplift The Process Of Direct Booking
Not necessarily all who click, check or visit your hotel over different booking sites will convert into customers. You can track them, count the views and count the leads; who abundant your hotel and ultimately nurturing them with remarketing strategies.
Most visitors play the role of "late majority" and don't readily accept new innovation until they start to feel severe economic and social pressure. These types of customers search the review, every little fact about your brand, and then accept it.
These types of customers will discover your hotel on a booking website but won't buy it in that instant; they will search more about you, websites, reviews, ratings, different offers and then directly book their stay from the hotel's website.
6. Create A Strong Business Platform
Hotel channel managers not only create an excellent opportunity for online presence and to reach potential customers easily. But also makes a robust platform for your promotion and increases the network.
Besides, as all the data of your hotel and inventory are already transparently available over different systems and channels, hence you can easily track down which channel brings you the best business and which inventory is performing well. And according to that, you can nurture the customers, remarket the inventory and also get a comprehensive report on channel yield and room reservation rate.
At this stage, I will introduce some essential facts about hotel channel managers, which might help you deal with all the channel managers you have enrolled in your hotel.
The hotel channel manager creates a platform for all the hoteliers, where hotel owners' can upload their inventory (hotel room) on different booking sites at the same time.

Hotel channel managers play a big part in increasing online presence, networking range, grabbing more bookings, and maximizing profit.

Online hotel channel manager encompasses retail travel agents, OTA's, metasearch engine, global distribution channel, or direct channel, including websites and different social media.

The hotel channel manager plays a vital part in planning the hotel distribution strategies and also creates a massive reach in the hotel room selling network.
There is some beneficial advantage in enrolling your hotel in channel manager software.
Didn't you think about it?? It comes to your mind whether or not this channel manager tool is actually bringing enough profit as you're paying monthly subscription fees along with a commission to OTA.
But some sources have been proven that even the slightest occupancy using these channel managers not only pulls out the cost of acquisition but also a heavy profit.
Here are some other benefits of using a hotel channel manager, and decide by yourself whether it would be better or not:
Eliminate the time consumed while managing multiple extranets

Automatically update the inventory data

Enhance the brand identity both globally and locally

Accelerate the occupancy and ROI

Eliminate human error while entering rates and availability

Both channel performance and booking data; are transparent

This channel manager solely gives you the stability to upscale the hotel business.

Real-time channel update.
I know it's a million-dollar concern, as the sale of your hotel inventory heavily depends on hotel channel manager performance. "How many customers they can pull out using this hotel channel manager?" the main concern for hotel business owners.
There are many different hotel channel managers, some are suited for small hotels, and some are suited enough to handle five-star hotels. Hence, before you choose any hotel channel manager, you research them and see whether they can fulfill your requirements.
Hence Here are Some Essential Points, That You Need To Analysis,
No Matter What Size Of Your Hotel Is:
Do they offer a user-friendly interface?

Do your chosen hotel channel manager software support PCI and DSS?

Do they offer a free trial period?

Do they support the pool inventory model?

How many countries do the channel distribution support, combined with XML connection?

Do they support full integration with the property management system?

Do they follow a comprehensive reporting system?

Will it properly integrate with your online booking engine?

What pricing model do they follow? Per-channel or per reservation or flat fee?

Do they have an option to take customer feedback?

Is the channel appropriate to support multiple users at the same time?

Does the channel manager have connections with STO, OTA, and GDS?

Does the channel manager software support accommodation restrictions such as setting the price range, duration to stay range, and the maximum or the minimum number of guests allowed?
Features and functions are always the main gists of software; these are qualities based on which people gain trust and choose to work with it further.
Besides, the features and functions also help entrepreneurs decide "what goal to achieve?" and "which features help the most reach the targeted goal?" Here are some rich features of a hotel channel manager; which supports all sizes of hotel inventories:
Support all kinds of booking sites

Smooth integration with PMS, CRM & RMS

To track all the channel performance: a comprehensive reporting system is needed.

Eliminate the hassle of overbooking: pool inventory system

Have seamless integration with online booking engine

The hotel channel manager comes with an effective price intelligence tool.

Integrate with an intelligent booking management tool, which takes nanoseconds to optimize the guest data and shows the correct location with the correct rate within optimal time.
The primary purpose of using this kind of intelligent tool like hotel channel manager is to transform the whole traditional process of booking into an easy, fast, and hassle-free one. Integrating with different hotel channel managers makes the path easy to reach their potential customers faster and encourages many investors to invest in this hotel industry.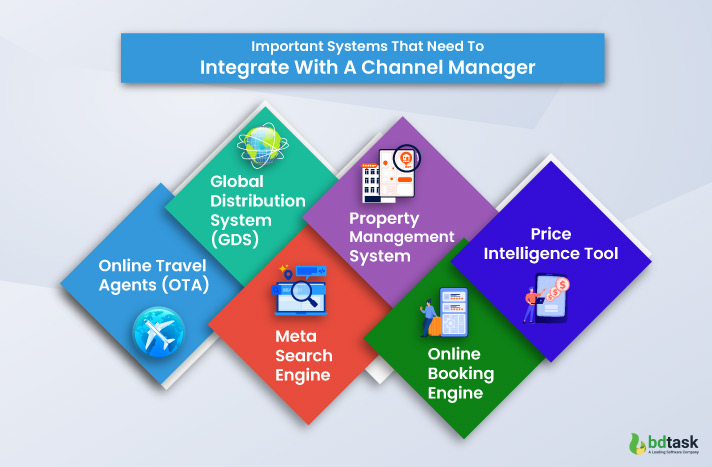 1. Online Travel Agents (OTA)
Have you heard of booking.com, Expedia, Trivago, etc.? They are basically the online travel agents who work as a third party, interconnecting travelers and hoteliers.
It also helps generate an extensive number of exposure both globally and locally; as a result, people who have never heard of your hotel also get the proper exposure. In addition, online travel agents help to generate traffic for the hotel website too.
Visitors know your hotel inventory from different booking sites, search your website and convert as direct customers.
2. Global Distribution System(GDS)
GDS or global distribution system; a; which works as a channel to connect the travel bookers and the suppliers of hotel inventory or complimentary accommodations. The global distribution system makes it possible to live the hotel inventory on different booking sites, updating the price, customer feed, and availability to various travel agents and online booking engines.
3. Meta Search Engine
A metasearch engine is also another kind of search engine, just like the Google search engine. With the help of a metasearch engine, travelers can easily compare different hotel room rates at different online travel agents (OTA).
Some of the popular meta-search engines are Trivago, Tripadvisor, Google ads Kayak, etc. Potential travelers browse this kind of search engine to compare and choose their desired room at an affordable budget.
4. Property Management System (PMS)
Property management systems cover the essential aspect of the hotel's administrative tasks such as reservation management system, guest's portal, check-in & check-out information, availability & occupancy, maintenance, etc., all be recorded in this property management system.
After you merge your PMS with the channel manager, it will automatically start to work as a two-way communication process. Whatever information you update in your property management software will be automatically identified by the channel manager and alert the third-party booking sites and direct channels.
5. Online Booking Engine
Online booking engine converts the whole process of online booking process becomes straight & straightforward. As most of the visitors are generated from websites, social media, or pressing the "Book Now" button.
While using the channel manager, the booking engine will also play as a third-party site, hence will track the room performance, update the rates and room availability.
6. Price Intelligence Tool
It is one of the essential tools of all because it keeps the track of the competitors and automatically raises and drops the price according to market demand and supply.
Besides, this tool can also help you to avoid the consequence of overselling and underselling. It also works as an alert system to never miss the opportunity to raise or drop the pricing rates.
Enrolling your hotel on different booking sites (online travel agents) increases the visibility and gives your brand recognition over the internet; to the world. The revolution of hotel channel management makes it possible to eliminate all the trouble and hassle a hotelier. and the guest has to go through with the whole hotel booking process.
This hotel channel manager works as a communication channel between hoteliers and travelers and a source for all the hoteliers to reach their potential faster. Hotel channel managers also reduce the possibility of overbooking and also easily multi-manage the whole booking process. On the other side, travelers also get multiple options to choose their desiring hotel inventory based on their budget.

We all know how hassle-full it is; to travel to another unknown city and find a delightful place to stay. People expect a satisfying place to stay and also with smoothing services from the booking process to the check-out process.
The hotel industry is very competitive. There are various sizes and criteria of hotels in the market. And obviously, all the hotel owners are desperate for 100% occupancy, but a traveler chooses that hotel that can provide the best satisfying and instant service; after all, we have to keep in mind that people always like instant confirmation. To fasten and smoothen your hotel management service, you can adopt a hotel management software, giving you all in one solution typed package.
Presenting You The Best Of Best Hotel Management Software
Xian-Hotel Management Software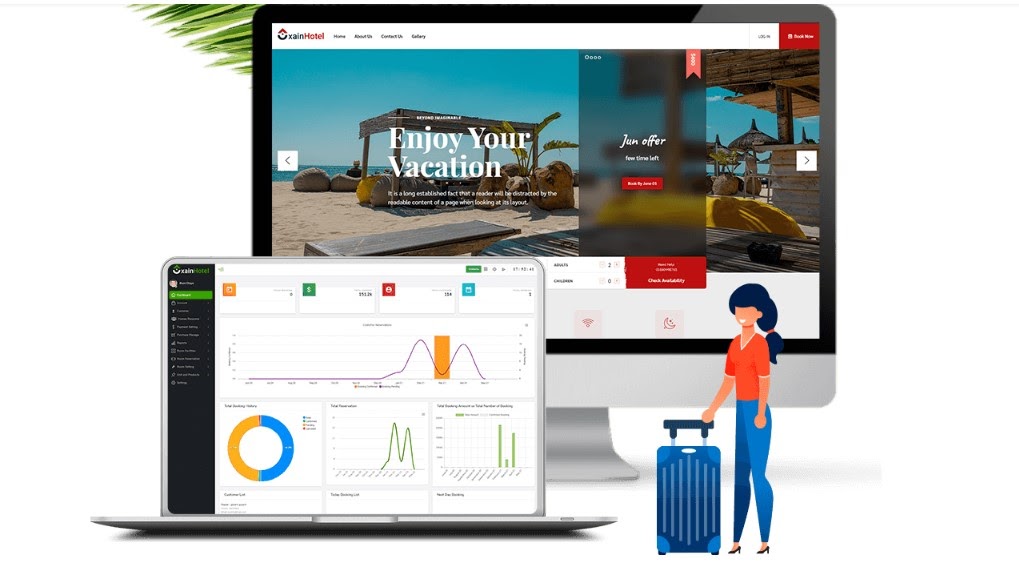 Xian- hotel management system- offers you an all-in-one solution to erase up the manual process for hotel booking. This hotel management software covers all the troublesome tasks involved in your hotel operation, such as hotel reservation, customer management, user billing system, a dynamic dashboard to track every movement of your hotel, etc.
Xian - hotel management system can be both available in readymade and custom-made types. So, what are you waiting for??? Book yours today!!!
Thank you for holding your patients to this long. At the end of this blog, I know you get to introduce so much technical information and facts about the hotel business model.
Yes, you can generate customers from different social media. Still, the hotel channel manager is the tool that helps reach the targeted customer and the hotel inventory selling market. People browse various booking sites and get to know about your hotel, and click for instant booking. Hopefully, this content will assist you in understanding and reach your goal faster.
Read More: