10 Best eCommerce Platforms for Startups and Small Businesses in 2021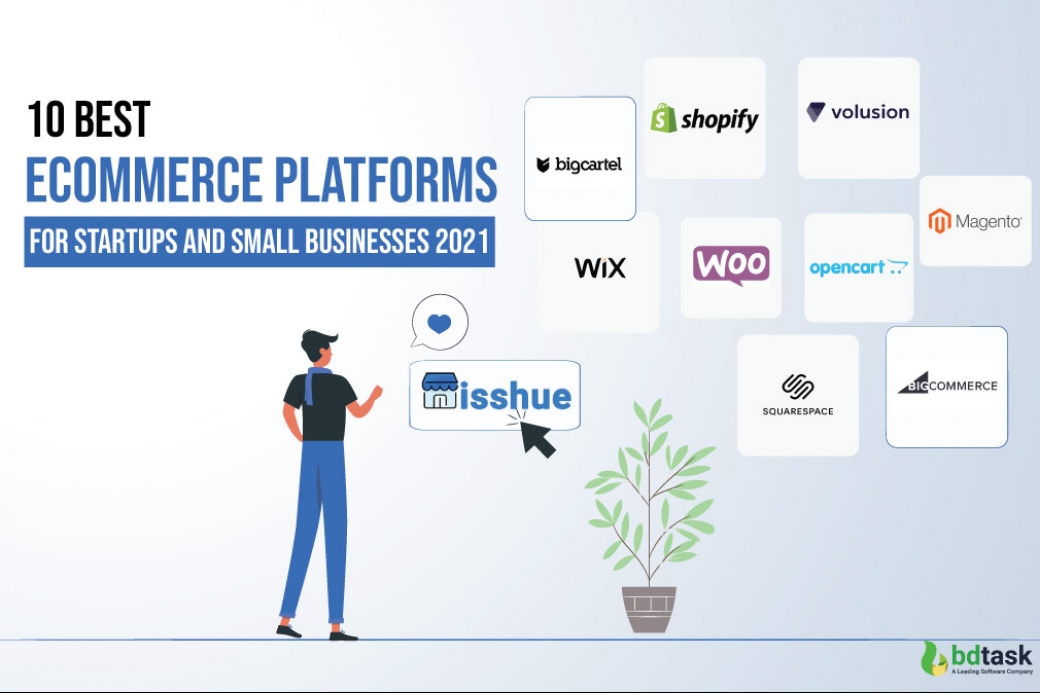 Are you a small business owner and looking for the best eCommerce platforms for startups? The fact is, there are so many eCommerce solution providers available in the market. But to choose the best one for you is definitely not a piece of cake. You need a lot of time and research.
In this article, we will give you an ultimate guideline to find the best eCommerce website builder. You will also get a list of the 10 best eCommerce Platforms for small business. So let's proceed and save your valuable time for researching.
"The global eCommerce market size was evaluated at USD 9.09 trillion"
An eCommerce solution is a complete package to fulfill the technical, business, and legal functions of a business. It conducts all the tasks from securing a website to marketing products or services and also maintains privacy.
The platform lets you create an eCommerce store with or without any coding or web designing knowledge. But of course, you need to choose the best eCommerce website builder to get a good ROI.
Do you know the idea of eCommerce first invented in the late 70s? It's surprising, right? Michael Aldrich first conceived the idea of online shopping in 1979. After that, the invention of the internet gave the idea a real form. And now it's the era of digitalization; almost everyone around the world has a mobile phone and access to the internet. Therefore, eCommerce platforms become more versatile and, at the same time, open doors of opportunities.
From running an online clothing store to selling electronic gadgets on the internet, every business owner needs an appropriate platform to manage their business. Therefore, a large number of eCommerce solution providers target this extensive market and offer their services. However, they have their own different approaches to meet different kinds of needs. Some of them specialized as the best eCommerce platforms for startups and some of them offer services to giant industries.
If we generalize the overall things, we can come up with three main types of eCommerce platforms.
Open Source
Open-source eCommerce platforms are the solution that is popular among the best online businesses where they have their own developer team. In this platform, you can use and modify available code. WooCommerce, OpenCart, Magento, etc., are examples of this kind of platform.
If your business provides unique products or services, it will be best to use an open-source platform. Moreover, the platform will give you more freedom and unique looks than go for a SaaS or CaaS solution. But you have to remember that this solution needs so much time to start and is also very costly. So, you should not consider it as one of the best eCommerce platforms for small businesses if you are not a programmer.
SaaS
The most convenient eCommerce service is SaaS or Software-as-a-Service. It takes only a few months to set up an eCommerce store, and the cost is also very much affordable. Here, all you have to do is simply buy a readymade eCommerce website and customize it. Isshue, Shopify, BigCommerce, etc., are SaaS-type eCommerce platform providers.
If you use the SaaS platform, you don't have to worry about any coding segment. Within a friendly budget, you will get a secure and scalable website. Therefore, it is viewed as one of the best eCommerce platforms for startups.
CaaS
CaaS is a relatively new term in the eCommerce world. The complete form of CaaS is Commerce-as-a-Service. It's the mixed-up version of open source and SaaS platforms. In CaaS, your business data moves to the cloud, but the maintenance of front-end software remains in your hand.
An eCommerce solution controls your overall business. From selling to managing employees and customers, you can do all the things with a single platform. Now, it's time to see the features of the eCommerce platform.
Mobile-Friendly Website
According to Statista, mobile takes 72.1% of total eCommerce in 2021. That means more than half of the customers come to your eCommerce store through mobile phones. So your website must need to be mobile-friendly.
On the other hand, Google also wants a mobile-friendly website and gives a better ranking position. The most significant opportunity you will get along with eCommerce platforms is a mobile-friendly website. As it's one of the most important factors, no eCommerce website builder develops a website without this feature.
High-resolution Photo Management System
Does a customer buy your product with only a simple photo? The answer is no. Nowadays, everyone looks for a 360° image while purchasing a product. That's why eCommerce platforms are focusing on attractive photo management systems.
Generally, viewers read less and see more. Therefore, you need to take detailed photos and attractively display them. An eCommerce platform will provide you the service.
Product Management System
An eCommerce solution does the task of hundreds of employees. A significant example is product management. This feature will assist you in monitoring all the product information, such as the number of items available, price, stock, and many more. Therefore, you will keep up to date about your eCommerce store.
However, no matter how many stores you have, you can keep track of all of them under a centralized system. This will help your online business to go smoothly without arousing any confusing situation.
Be Well Informed about Warehouse and Stock
If you have multiple warehouses, you can monitor all of them. The continuous monitoring will make sure that you are never out of stock. Besides, you can also check which items are popular and which are not.
The warehouse and stock management facility not only give an accurate and overall idea of your business situation, but it is also one of the crucial variables for decision making.
Advance Payment Options
The best eCommerce platforms come with several payment channels and gateways. You can integrate your local payment method and also the international ones.
After considering your buyers and business place, you can customize the payment option.
Strengthen Customer Relationship Management
CRM is another essential factor for improving business value. There is a saying that the customer is the king. However, the satisfaction of regular customers brings you not only profit but also other potential buyers.
An eCommerce solution keeps track of the transaction records, customer details, and others. It will help you identify your regular shopper so that you can provide special discounts, offers, membership accounts, and many more to your customers in a systematic way.
Integrated Marketing Tool
Email and SMS marketing is a modern approach to make potential customers. And an excellent form to build relationships with shoppers too. Best eCommerce website builder keeps that in mind when creating a system.
With this feature, you can store the email address and phone numbers of individuals and send them promotional messages whenever you need.
Responsive and Secure Website
A simple and responsive website is key to the success of an eCommerce website. In the case of online shopping, your customers first come to the website, and if that interface is hard to handle or takes too much time to respond to, then they simply move on from your website. Because the fact is, there are hundreds of other options available out there.
However, an eCommerce solution comes with an easy-to-use website so that you will get this facility automatically. On the other hand, an eCommerce platform is built to ensure the highest security. It has a two-step verification mode, captcha security, password protection, etc. These things will protect your system.
Multiple Store Management System
Your startup may conduct work at multiple business locations. At that time, an eCommerce platform will bring them under one roof. Besides, if your system supports individual accounts for each store, then every store can act individually. At the same time, sync with the central system too.
The complete process lets you be informed about the current situation despite your physical location.
POS System
Though all eCommerce stores do not have outlets, you can utilize the POS system facility if you do. This feature will assist you in all the tasks that are needed to run a shop. Like, you can scan the barcode of a product, calculate billing, print invoice.
However, this feature will help you to manage online orders too. You have just to create an invoice and ship the product to the customer's address.
So now that you understand what kinds of facilities you can get with an eCommerce solution, it's time to see how you can decide the best one. Here are some points that should not be overlooked while picking up a platform.
Budget
The first thing you have to think about is the cost of eCommerce software. Select the one within your budget and have all the functionalities to support eCommerce for startups.
Therefore, when you are going to choose an eCommerce platform, first determine the cost range and then prioritize your needs. But remember the additional cost too. Buying a solution does not mean buying an eCommerce PHP script and installing it. You need to consider the process of customization and training.
Site Design
A potential customer picks the best online business based on how stunning their website is. As mentioned above, no buyers will browse your website if it's hard to follow. Besides, an eCommerce store is all about graphics. You need to make an eye-catching interface as well as displaying impressive photos of your products.
For these reasons, the site design of a website is an essential factor that should not look over.
SSL Certificate
Basically, SSL or Secured Socket Layer is a protocol that establishes a secure connection. The SSL encryption guarantees that the user's confidential information like credit card information will keep sealed.
On the other hand, the Google search engine does not allow an eCommerce site without SSL encryption. So make sure your website has the certificate and gain trust from everyone.
Easy Customization
We keep saying that your website needs to look easy in the buyer's eye. But the fact is, it needs to be handy for you too. So before picking up an eCommerce platform, see their demo version. It will give you the idea of customization.
However, also check out whether the service provider gives additional support or not. Because if you face problems, it will be helpful for you to get help from the developer site.
The following segment is the core part of our article. Here you get the suggestion of the top 10 best eCommerce platforms. This list is prepared by focusing on low-budget, great features, and suitability for startups. So let's start!
1. Isshue
The first one on our list is Isshue. It is a self-hosted eCommerce platform. The software was developed using the CodeIgniter framework. It's a complete package to run an eCommerce shop. Besides, the software is compatible with IE11, Firefox, Safari, Opera, Chrome, and Edge. Moreover, there is no monthly charge needed for this solution. You can get the software with a one-time payment. You might wonder why we give this software the first position, right? Well, we prepared this list for small business owners. For this reason, we examine which platform has the lowest price rate and, at the same time, has suitable characteristics. Therefore, we keep Isshue because of its outstanding features for less than $50.
So, let's see what advantages you can get from the software and whether it has any shortcomings.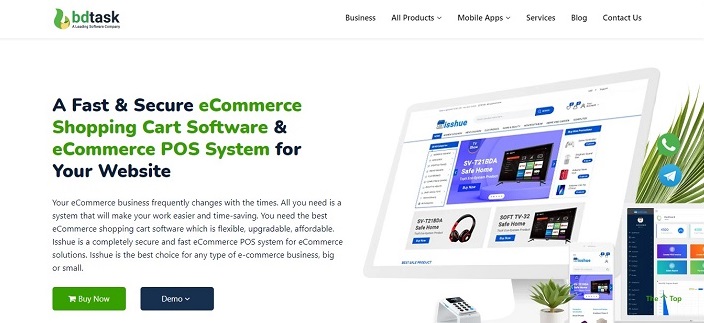 Benefits You Will Get
Fast and secure eCommerce platform

It comes with clean and understandable source code

Therefore, you can update the whole software if needed

Easy customization

User-friendly interface

Built-in SMS and Email marketing tools

Combined all types of payment gateways and channels

Easy customization

Budget-friendly software

Eye-catching design

Can control multiple stores

POS management system

Quotation management system

Product, purchase, and vendor management system

CRM features

Warehouse and Stock monitoring

Integrated

eCommerce android app

Control both online and offline order

SEO Friendly Website

Supply management
Major Drawback
Fortunately, there is no downside to this software until now, except you have to buy your own web hosting and get a domain. But according to the price, the services are satisfactory. Moreover, the software is regularly updated, and the developer teams are very attentive to details. If any customers find any difficulties, they immediately solve the situation.
2. Shopify
Shopify is one of the famous eCommerce platforms for startups. Over 100 million businesses trusted this service across the world. It's an online platform with 70+ expert themes.
With the 14 day free trials, you can check their service even without giving any credit card information. However, the main reason behind their fame is the Shopify app store. It has a vast collection of marketing applications.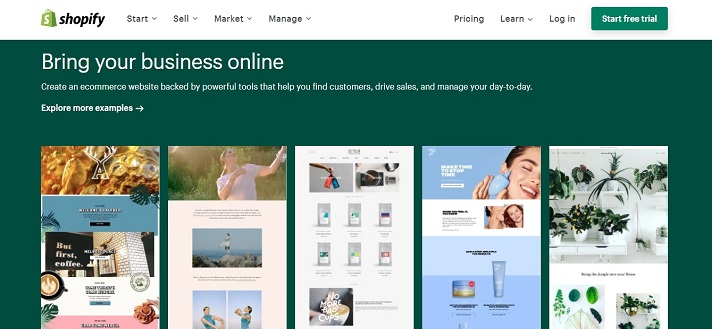 Example of a website using Shopify: Mount Vernon
Benefits You Will Get
Fastest load time

Super easy customization

Reasonable price

iOS and Android POS app

Unlimited product selling

Gift cards for building customer relationship

Multiple sales channel

Built-in fraud analysis feature in Shopify Payment

CRM feature

Editable HTML and CSS file

Built-in mobile shopping cart

Utilize Shopify blog

From bitcoin to PayPal, it has more than 100 payment gateways

Support 50+ languages

Analytics feature

Products management system

Store management system
Major Drawback
Despite the popularity, Shopify has some shortcomings. The first one is that it is not affordable for low-budget startups, apps are expensive, and inadequate SEO and marketing features.
3. Magento
Magento is an open-source-based leading eCommerce platform. As one of the best eCommerce platforms for small business, the price is also affordable. Moreover, it's enriched with attractive features that offer flexibility and scalability to eCommerce stores. With the inbuilt admin functionalities, you can develop your site as your business needs.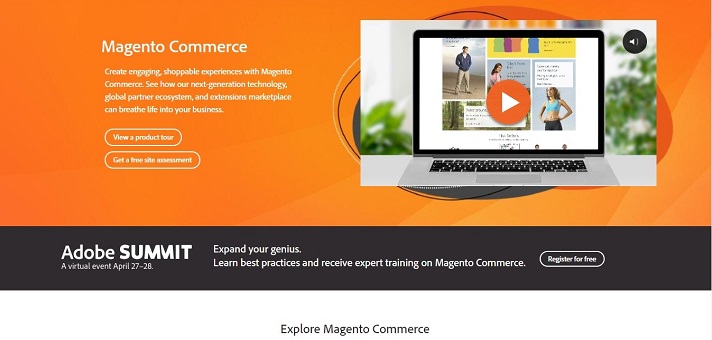 Example of a website using Magento: SIG SAUER
Benefits You Will Get
Marketing and promotional tools

Strong search engine optimization

Site management

Order management

Customer account

CRM features

Support for localization

Analytics and reporting features

Mobile supported website

Content management system

Manage and schedule System backup, database backup, and media backup

Customer information management

Order tracking widget

Strong data encryption and password protection
Major Drawback
Small business owners can utilize the free form of Magento. Despite that, the themes are a little bit pricey to afford. And the platform slowed down sometimes. On the other hand, as it is an open-source solution, you need development skills to build a website.
4. OpenCart
OpenCart is another free and open-source eCommerce platform. It is a PHP-based solution that uses MySQL database. Though it's called free software, practically it is not at all. The reason is; initially, you need to do web hosting, get a domain name, and then the SSL certificate. After that, you will need to purchase some add-ons to get an entirely operated website.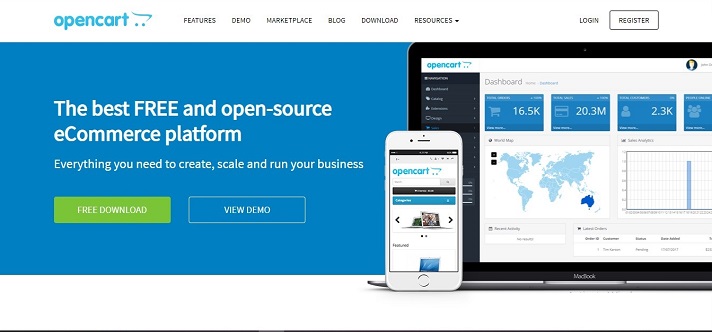 Example of a website using OpenCart: Sportwing
Benefits You Will Get
Can get all the information available in the administrator dashboard

Advance user management system

Manage multiple stores under one admin interface

Option for adding extra product variables.

Inbuilt affiliate system

Offer discount coupons and special offers to get the attention of the customers.

Allows to set-up own backup and restorations

Product management

CRM features

Multi-currency and multi-language supported

Email-marketing campaign tool

Integrated world-renowned shipping method

Sales analysis and generate reports

Responsive website

SEO features

Add and track marketing campaign
Major Drawback
Like the other open-source platform, the major drawback of OpenCart is that it needs developing knowledge to develop your eCommerce store. On the other hand, the add-ons are often expensive.
5. BigCommerce
BigCommerce is a SaaS eCommerce platform. It's run on its own server, so the significant advantage you can get is, you don't need to buy any web-hosting service. But every month, you need to pay the service charge and maintain your eCommerce store from anywhere.
The platform comes with customizable themes that help you to build your eCommerce website. Furthermore, They also provide some marketing tools that allow you to promote your business online. You can check their service in a 15 days free trial period.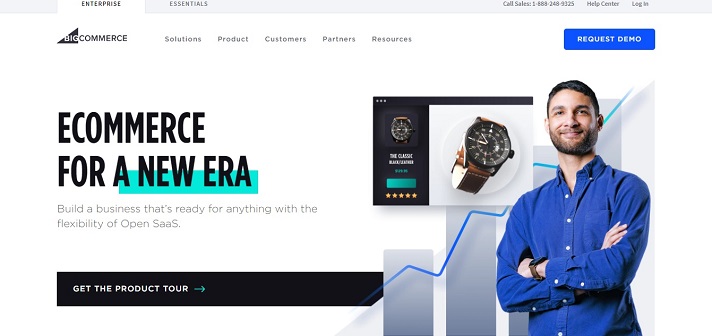 Example of a website using BigCommerce: Berlin Packaging
Benefits You Will Get
Inventory management system

Categorized customer group feature

Save and use preferred shipping methods

Easy creation and management of content with page builder

24/7 support from BigCommerce

Strong SEO tool

Reach more buyers through social media channels

Google shopping integration

Get traffic within-site blog

Drive mobile user with a responsive site

Apply filters in the search bar

Well built CRM features

Easy to create custom fields

Support multiple currencies
Major Drawback
The most significant shortcomings of BigCommerce is, it has sales limits. If you cross the boundaries, you need to go for a more expensive package. On the other hand, the free templates are not that unique and a little bit hard to edit.
6. WooCommerce
WooCommerce is the most favored WordPress plugin that is used by millions of online store owners. It's a customizable open-source platform with every feature to start your eCommerce business within a short period. If you have a skill in WordPress, then you can go for this platform without any hesitation.
If you want to shape your eCommerce business plan using the WooCommerce platform, you will get a lot of flexibility and become a part of a large community. In the following segment, you will see what the advantages you can get from this renowned eCommerce platform are and whether this platform is favorable for all kinds of online shops or not.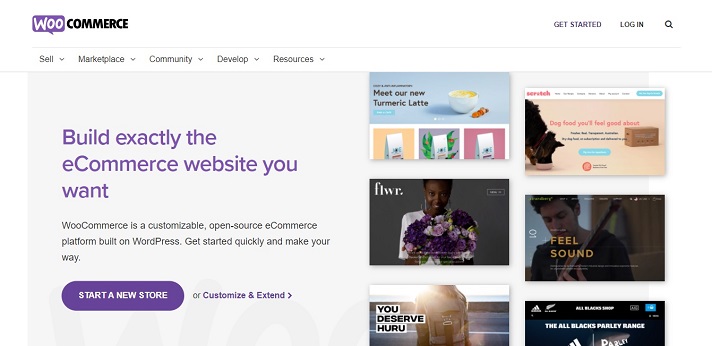 Example of a website using WooCommerce: Jackbox games
Benefits You Will Get
Thousands of customizable themes

Access to the CSS, HTML, PHP code

Suitable for affiliate marketing

Flexible enough to sell any kinds of products or even services

Regular update to ensure the cybersecurity

Secure gateways and e-wallets

Features for marketing

Support 24 different languages

Create categorized contents

Free to install WooCommerce Shipping method

Run and manage multiple stores from the same mobile

Points, reward, gifting features for customers

Boost traffic with a built-in WordPress blog

Integrated SEO tools

Show related products for upsells and cross-sells

Send newsletters to engage your customers

Email marketing tool

Money refund policy within 30 days
Major Drawback
Besides the problem of developing knowledge, the large number of plugins sometimes creates confusion for the less experienced peoples. On the other hand, installing too many extensions slowed down the system, and the extensions are costly too.
7. Squarespace
Squarespace is another popular SaaS-based eCommerce platform for building and hosting websites. The service is famous for its eye-soothing design. It offers 100+ flexible, responsive themes for customization. Moreover, the price is also affordable compared to the previously mentioned platforms. The provided packages would start up from $12 to $40 if you paid annually. They also have monthly packages too which cost a little bit more.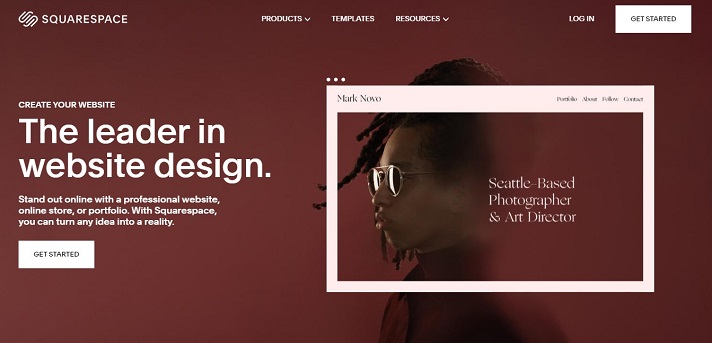 Example of a website using Squarespace: SM Wholesale USA
Benefits You Will Get
Easy-to customize with unlimited design options

Robust blogging tool

Built-in SEO tools

Analytics features for an in-depth interpretation

Integrate popular apps

Customizable page and layouts

CSS editor for adding CSS code

Create and edit blog posts with Blogging functionalities

Commerce feature to create and manage everything in an eCommerce store.

Control everything from product management to orders and sells

Manage POS system

Multiple payment methods

Support multiple currencies

Have features to strengthen customer relationship

In-built marketing tools

Email and social media promotion
Major Drawback
One shortcoming of this service is, their page loading time is much more than other platforms. On the other hand, it can not support multilingual websites and large websites with so many options.
8. Wix
Basically, Wix is a website builder platform that is suitable for small startups. It provides a similar service to Squarespace but at a lower price. The platform offers 500+ customizable templates that you can customize according to your business needs. Moreover, you can also build your website from scratch if you want.
You have just to choose your starting point, add your eCommerce store, publish the website, and maintain the website with built-in SEO tools. With these simple steps, you will be ready to go with Wix!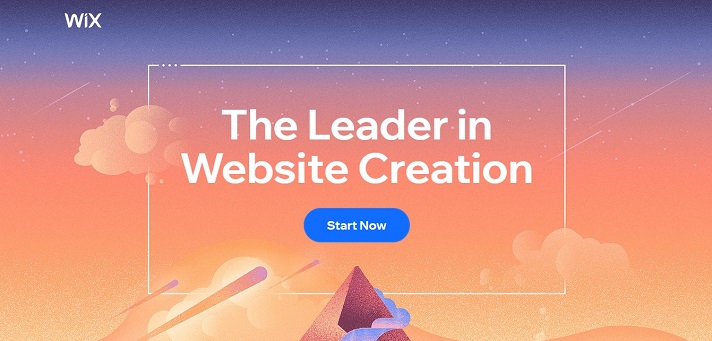 Example of a website using Wix: Doughnuttery
Benefits You Will Get
Unique functionality to add animation in any text or elements.

Provide personalized SEO plan

Mobile editor specialized for mobile version

Wix editor to create video background, use effects, and animations.

Wix ADI helps you to build your website faster

Strong analytical tool

Free web hosting with a powerful SEO system

24/7 customer support

With coding knowledge, you can add advanced functionalities

Get automatic site backup

Easy integration of apps from the app market

There is a Wix free version available for the user
Major Drawback
Page loading time is the biggest issue of Wix too. Moreover, it has another major drawback: you can't switch to another template after choosing one.
9. BigCartel
Do aesthetic products need extra attractive templates to showcase their art? BigCartel thinks about it and reaches this target audience. It's an eCommerce platform specially built for running creative businesses. However, you can use it in any type of small eCommerce store. With a relatively lower cost, the service provides artistic templates that are perfect for creative business owners.
The fact is, the mission and vision of BigCartel are to stay focused on small companies. So from 2005 to now, they provide platforms to sell t-shirts, merchants, art, jewelry, and many more.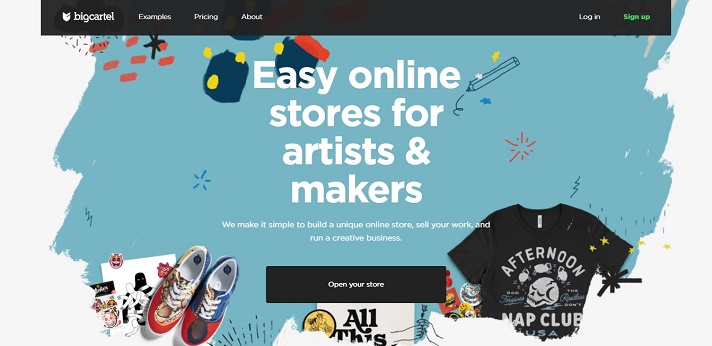 Example of a website using BigCartel: Colour Code
Benefits You Will Get
If your eCommerce store has only 5 products to sell, you can use the free plan

No coding knowledge needed for building a website

The main dashboard to show the current situation of your business

Order management feature

Responsive and modern 16 pre-built themes

All the system apps from the app store are completely free to use

Developers can edit the HTML and CSS codes

Integrated with Facebook

Available support team

Google Analytics integration

Accept PayPal, Square, and Stripe payment methods

You can switch between themes any time you wants

The platform doesn't take charges for your selling
Major Drawback
As the platform is built for only small-scale businesses, you can't make a big website with it. Besides, the customization option is very less so that flexibility is the biggest shortcomings for BigCartel. But in the end, it's a good choice for building a small and creative website.
10. Volusion
We come at the end of our list, and the last one is Volusion. It's one of the popular eCommerce platforms that is used by millions. It's a website builder that hosts your eCommerce store. You just need to build the website and upload your product, and Volusion will do the rest.
The platform is basically favorable for small to medium-sized businesses. It will be an excellent solution for your startup to start your business with less time and without coding knowledge. However, you can check their 14 days trial version before going to use any of their packages.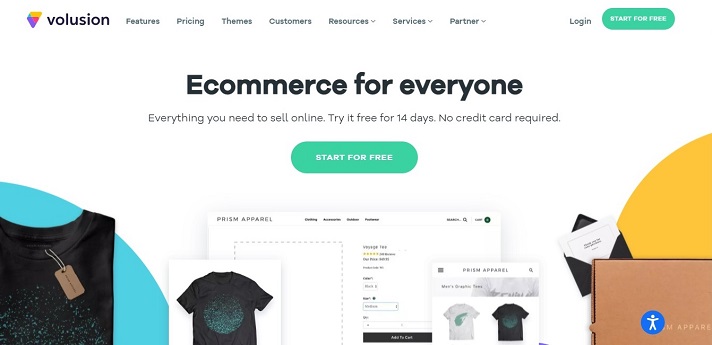 Example of a website using Volusion: Game Bibs
Benefits You Will Get
Responsive themes

Easy-to-use and powerful content editor tool

Categorized product page

Advanced search filter

Built-in order management system

Stock and product management

Multiple gateways and payment processing

Upsell features

Strong customer management features

Intrigued mobile app for manage store from everywhere

Powerful SEO tools

Facebook, eBay, and Amazon integration

Generate reports to get insight into the business

24/7 support

Newsletter feature

ROI tracking based on ad campaign, affiliates, and newsletters

Social account linking system
Major Drawback
The major drawback of Volusion is, it requires add-ons for essential features like CRM at a different price. Another thing is, the number of themes is less according to its cost, and they also don't support any third-party plugins.
Findings of the Best eCommerce Platforms for Small Business 2021
Isshue- best eCommerce platform for startups and small businesses for one-time payment method.
Shopify- best eCommerce platform for medium-sized businesses
Magento- best for businesses that have their own developer team
OpenCart- best for startups owners who have previous developing knowledge
BigCommerce- best for built-in features
WooCommerce- best for WordPress platform
Squarespace- best for building small websites
Wix- best for creating small websites for free
BigCartel- best for creative small businesses
Volusion- best for small to medium-sized business
We know that growing a business is more challenging than starting one. However, the failure rate in eCommerce startups is about 90%. Do you know why? Well, the main reason is the lack of a suitable and appropriate eCommerce platform. An inappropriate platform leads to inadequate online marketing, social media marketing, and the absence of SEO. Which draws the ultimate result that is business failure. On the other hand, poor marketing strategy, weak team management, and lack of budget are other reasons for collapsing.
So, it's clear that you can be in the rest 10% if you use a worthy platform to create your eCommerce website and app, and at the same time have good management and adequate budget.
Another research shows that 36% of small businesses still don't build a website for their online presence. Therefore, you can take this chance and keep your business one step further.
Study shows that most of the customers judge a business by their website design. According to 94% of consumer's feedback, a website needs to be convenient to navigate. Therefore, make sure to build a user-friendly marketplace to attract more potential customers and increase your sale.
Check out the following points to build a user-oriented eCommerce website.
Eye-catching Design Wins The Favor
A poorly designed eCommerce store loses its potential customers. According to research, about 80% of consumers switch from a site that does not look good. So, be sure about the design, color, and the formation of the text and contents. Similarly, do a thorough check that all buttons and options are working correctly.
Ensure Maximum Uptime and Faster Loading Speed
Uptime and loading speed are two essential factors, especially for eCommerce websites. Therefore, look for the best hosting service, optimize images, and use CDN for your website. You should utilize every possible solution to avoid any mistakes.
Don't Compromise With SEO
Without Search Engine Optimization, your eCommerce platform will be nothing but a failure. So, make use of SEO features as much as possible. And always remember to check the SEO performance using tools provided by Google.
Marketing is the key in this digital era
The fact is, consumer trust also depends on promotional activities. No one will trust a startup if they never hear their name. So, keep a close eye on advertising your company.
By the time you see the list of top 10 eCommerce platforms and the guideline to make a user-friendly website. Now, it's time to tell which one is the best in our opinion.
We choose Isshue as the Best eCommerce platform for small business in 2021 for remarkable features and one-time payment methods. Previously we saw every other platform provide services based on a monthly or annual payment, and the amount is much more than purchasing Isshue with the complete source code.
As a small business owner, you can build your website with the necessary functionalities without coding knowledge. The customization is so easy, and you also get support from the service provider. Besides, if you have coding knowledge, you can utilize the coding segment too.
So, we give our vote to the Isshue- Multi-Store eCommerce Shopping Cart Solution by analyzing all the aspects.

The market researcher believes that 95% of all purchases will be through eCommerce by the year 2040. Undoubtedly, it's high time to start your startup and check out the best eCommerce platforms. Choose the best one for you and be ready for the future world.
I hope this article will help you out in picking up a suitable platform for you. So, don't be late. Make a unique strategy and use the best eCommerce website builder; hopefully, you will soon be able to compete in eCommerce!
Would like to know: 30+ Best Free SEO Tools to Rank Higher on Search Engine