 A continuous fight happens in ERP vs.CRM. Enterprise resource planning and Customer relationship management are both compelling tools. So, Their ultimate goal is the company's efficiency, streamlining business processes, and increasing profitability.
When you come to a discussion table, several questions come like
What's the difference between ERP vs CRM

Are CRM and ERP the same?

Which system is the best for cost saving?

Which one is good for my enterprise?
From Various points of view, ERP and CRM are both similar in many ways. But their core functions differ.
Don't worry. Take a deep breath. We will lead you to solve this problem
To understand the true value and make a decision about which system is perfect for your enterprise, you should consider ERP and CRM as two different systems
Let's investigate,
The Enterprise resource planning systems manage everything of a company day to day tasks like a pro. It removes the need for paperwork and automates the business process and
increases the profitability of your business.
It also makes a bridge with key functionalists like human resources, order management, accounting, inventory, supply chain, and many more.
With this, it also focuses on how ERP can reduce overhead and cut costs to increase the business's visibility.
Want to know more about ERP in e-commerce?
"ERP is first an attitude; second, a process, and only third, a set of tools."
Alexis Leon.
Suppose you want to implement an ERP system in your enterprise. An ERP obtains live interconnected management of exact business processes, assuring the enterprises are filled with standardized facts and readily accessed throughout every department.
Some benefits you can get:
Improve the efficiency

Data synchronization

Web-based platform

Manage all the resources more securely

Business growth

Reduce Human errors

Reduce the cost

enlargement communication between roles and divisions

Time savings

ERP is more oriented toward enterprise
So, What's The Definition Of "CRM?"
Although the article is all about ERP vs CRM, we have to know about CRM first.
Customer Relationship Management (CRM) is a solution that helps businesses to interact with their current and possible future customers. This tool encapsulates the whole buyer journey, from seizing the lead to the conversion of the lead. CRM is a data-driven tool that analyses customer data to assemble, maintain and boost customer relationships.
Basically, CRM tools collect all the customer contact information, including their telephone number, personal data, social data, transit history, and engagement metrics.

It provides a way to connect businesses to their exact customer. when a customer connects more organized way, then it helps to gain more sales.
CRM is your GPS to a better route on your Business Development journey." Bobby Darnell
Benefits Of Using CRM (Customer Relationship Management)
Some important points to note down about CRM
Its main priority is to focus on customer relationship management

Sales activities

Manage to track functions for the organization

More focus on their target

Sales and invoice.

Monitor sales performance at once

Track the Sales Pipeline
So everyone can use this solution. Here is the list is given below
Solo freelance operations

Remote e-commerce

Mid-size businesses
Understanding key ERP features clarify why this software plays a key role. Here are five capabilities to consider when evaluating ERP software
Accounting management

CRM management

Supply chain management

Order management

Inventory management
And Many more,
On the other hand, CRM software gives us some features as well. which is
Contact management system

Notifications features

Workflow automation system

Customer relevant service

Make your own customizations

etc
01.

Software

Functionalist
The major difference is the software functionalist. Focuses are a part of software functionalism. Because CRM focuses on customers and sales, and on the other hand, ERP covers the whole business.
Another key difference is CRM software stands for customer data, and ERP software stands for financial data process.
ERP software mainly helps you with the internal process management CRM software gives you the Exterior support of the system.
CRM software:-customer satisfaction+customer management+ customer interactions = improved marketing presence

ERP software:-Entire back office functionalist +automate and manage nearly all central exercises =To enhance efficiency and workflows of the enterprise
02. Increase The

Profit Chain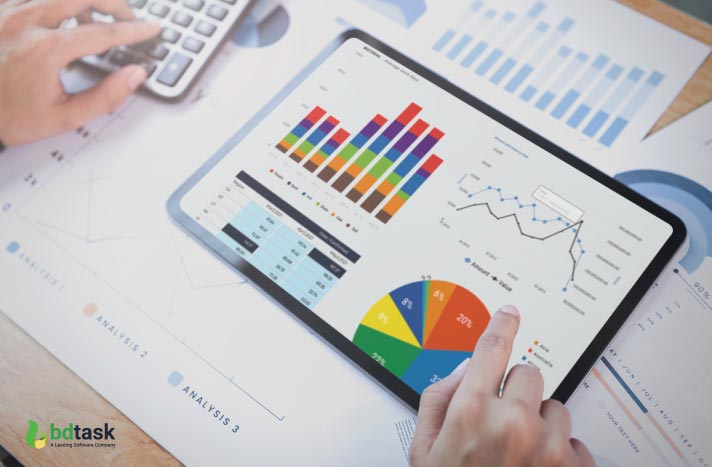 ERP vs CRM which solution makes more profit? That is the basic question that everyone asks.
Operational and overhead this is the two terms where ERP systems reduce the cost and produce a huge profit.CRM systems conduct greater profits by growing customer pools and, accordingly, sales and service volumes.CRM also works for higher sales volume
With the best ERP system, you can standardize your process throughout the business. ERP system brings all of your system chains into one single place. Remove all human errors and gain some speed in your day-to-day work.
On your behalf, using CRM software, You'll grow profits by enhancing customer service, gaining more economic insight into sales, optimizing production, and lowering internal manual procedures.
Although ERP and CRM both get some profit, their ways are different.
03. Boost Up Your

Performance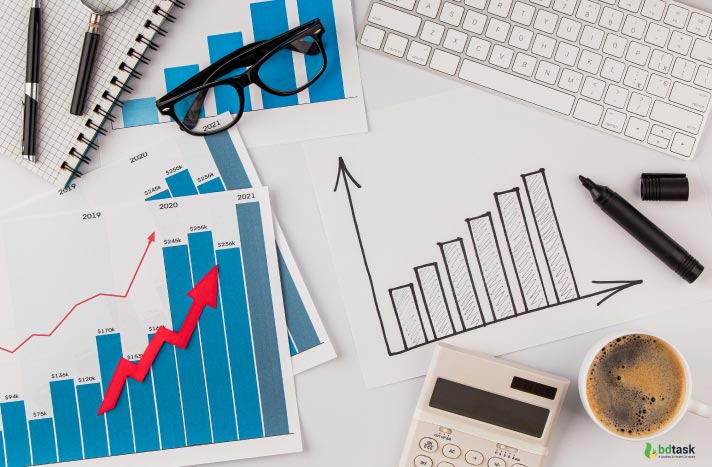 Ways of performance depend on your system. Individually system delivers you different performances according to its customization.
An ERP's success metrics grow across various enterprise departments, from order procurement to vendor management. However, a CRM's success metrics are more precise to calculate as they rotate around the investment and retention of clients. Therefore, you can use metrics from a CRM to set transparent and measurable dreams.
If you want to boost your ERP performance, you can follow up on these four ways
Customization ERP tool for your requirements

Process your documentation more organized way

Erase all of your unnecessary data

Give the leadership the right person to use ERP software more playful way.
Quite the reverse CRM software also boosts up company performance through their client's satisfaction.
Here are the four ways to raise CRM software performance
Know the customer segmentation

Customer satisfaction is the key to your performance

Develop KPIs

Enhance customer retention
04. Increasing

Sales Or Reducing Cost

? Which One Is Your Main

Priority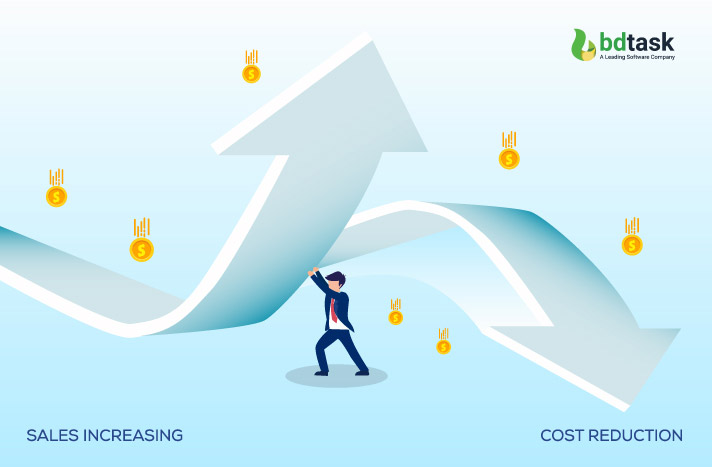 ERP vs CRM !!! ERP software gonna win the final race? Does CRM solution win the Trophy?
To know the update on this, please stay calm and let's read the rest of the Articles .2 Main factors you have to remember. One of these is sales, and another is reducing cost.
If an enterprise's main goal is to reduce costs, then think less and implement ERP software. Reduce overall operational costs by 23% and organizational costs by 22%. That's significant salvation over time. And while operational savings may be an ambitious factor in exploring ERP adoption, quality ERP programs can do better than save money.
95% of businesses achieve major improvements after using ERP
The company's priority is sales. The second focus is sales, and the final priority is sales. So CRM software is the right answer for you. But remember that periodically sales do not give a better outcome.
A survey shows that 82% of companies use CRM for reporting sales.
So the decision is yours.
05. Relationship Between

Customer

And

Organisation
The primary difference between" ERP vs CRM" is that one is an organized process controlled by an organization, enterprise, or company. Another is more connected to the customer management system.
So, today customers want fast, responsive, and 24/7 support.CRM software gives the best support out of the box. Implement a new CRM software and make sure a customer's day-to-night support. CRM software can help you to get high-quality support.
Moreover, offer the best support throughout this CRM software. So we can say that CRM software mainly focuses on customers.
ERP software is more focused on the overall performance of the organization. It gives an overall performance about everything. It is like a businessman can get 360 views of everything.
If you want to start a global and local business altogether, ERP software assists you in centralizing all the data to one single system and making it more organized than ever before.
06. User Deviation in ERP vs CRM
Who are the users of ERP software and CRM software let's check them out
| | |
| --- | --- |
| ERP primary user | CRM primary user |
| Accounting | Support team |
| Finance | Sales team |
| production | |
| Retails and eCommerce | |
| Healthcare | |
| Agriculture and farm sector | |
| Food industries | |
| Business intelligence | |
These analyzes display how enormous is still the blossoming potential of the ERP systems market, among others

07. What About The Cost Of ERP and CRM Software?
Enterprise resource planning offers more customization and many premium features and a range of services in all sectors of the system.CRM software also offers many features but is not at large as ERP software.
So in that case ERP software installation cost much higher than the CRM software implementation process.
Infrastructure needs to host and ensure so many services on the cloud that will cost a lot of money too.
On the contrary Labour, software, and hardware can cost up to millions of dollars.
So if you want to control all your business, and enterprise in one centralized way, ERP is the right choice.ERP software handles all that one single way smooth like butter.
On the other hand, CRM software prices can range from free to thousands of dollars annually, depending on many factors which are:-
including user total

feature kinds

flexibility in customization

whether the software is on-premises or cloud-based.
So note that:-Starting a business you have to deal with the price range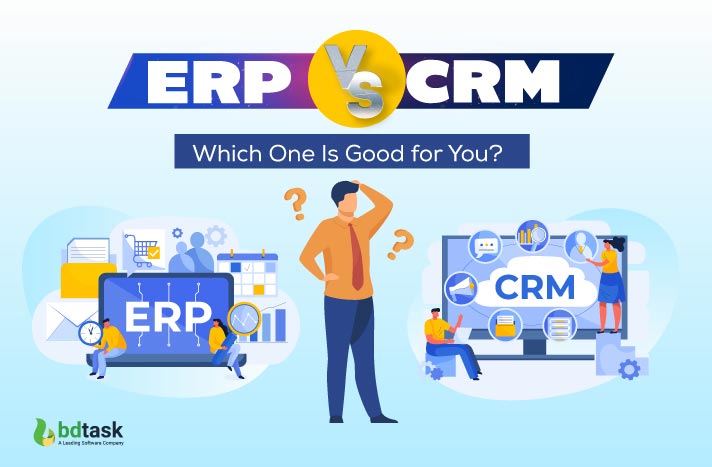 In some cases, CRM is a part of ERP software. which means you can purchase one software with some limited facilities or buy a full package with premium features.
Before you choose the right system for your business you have to remember these 4 factors
What is the Requirement?

After implementation does this tool archive your company goals

Support and training option

Security.
ERP software comes with in-built CRM software but with premium features. So most businesses invest in an ERP package first. Afterward, if they feel the need to communicate with customers regularly and more effectively, then they invest in CRM software.
basically, it is good to have both of the systems in your pocket.
However, it is not necessary at all.
If you have small and medium size businesses you are welcome to buy CRM software. But you have to remember that CRM software has some security and privacy issues in their cloud system.
so that's a limitation.
Therefore you can try our sales ERP with the built-in CRM
Sales ERP Software as the Best ERP Software with POS apps. Sales ERP is an intelligent ERP solution to operate your business. Sales ERP software helps you manage your business and keeps track of your inventory and human resources. It has a complete account management system also. To limit your small & big business, outlet, or company Sales, ERP is the right choice.
Features we have:-
Inventory monitoring

Remote access

Online and offline system

Android pos app integration

Data backup

Dashboard

More Secure server.
We have built-in
CRM software, dynamic dashboard, product management, CRM system, account management, stock management, hr manager, and many more modules.
ERP and CRM solutions aim to boost a company's profits, albeit in various forms. Once you're ready to choose your system, your decision should be based on your business's current needs and where you intend to go.

A Finishing Touch
Confidently now, you can choose between ERP and CRM based on a detailed topic breakdown.CRM and ERP are both e-commerce systems.
Some industries prefer one system more than two systems used at a time. In that case, first of all, you have to clarify the requirements first.
ERP software brings together multiple organizational and operational units so that they can smoothly transfer information and convey it to one another in real-time through a single computerized system.
On the other hand, if your main goal is a customer relationship and developing the clients' trust, you can choose CRM software.
Both CRM and ERP software work for max profitability and efficiency.
ERP vs CRM so, Choose the best software and give a rocket ride to your company.
Read Also