10 Actionable Steps of How to Respond to Negative Restaurant Reviews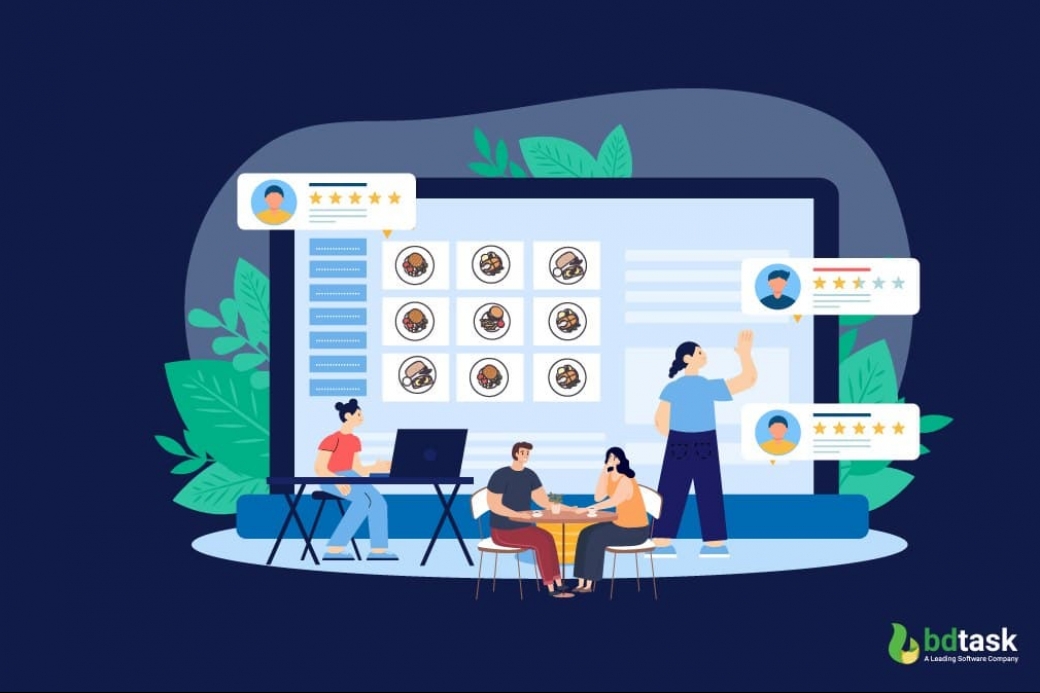 As a restaurant business owner, you are not unfamiliar with the concept of negative reviews. A negative review can happen regardless of your food quality or how many people like your restaurant overview. Most restaurant owners do not understand how to respond to negative restaurant reviews. This article will help them deal with it in the best way possible.
A negative review doesn't seem like a big deal, especially if your customer feedback is mostly positive - but it's always best to deal with the situation. 
In the age of the Internet, no one goes to a restaurant without seeing the reviews. In that case, a negative review would have a terrible effect on the restaurant business. But the restaurant owner should not look at it in the wrong way. They need to consider it as an opportunity. A great restaurant management system can help restaurant owner to manage their reviews easily.
It depends on the situation. Sometimes for food and sometimes for the service. Here are some reasons why restaurants usually get bad reviews:
Taste is not as expected.
Serve food poorly.
Long waiting time.
The food price is high compared to the taste.
Some additional charges.
Terrible environment.
Rude staff behavior.
Deafening music.
Creating more noise
Sometimes for not mentioning the vat.
So these are the common reasons why a restaurant gets negative reviews.
When a customer gives a negative review, there is always a valid reason behind it. If the restaurant owner never responds to that review, concerned customers may think the problem is still ongoing. 
Then the customer will never revisit the place and advise others not to visit there. Also, other customers will feel that they never think about what their customer is saying. 
After reviewing these, they will also be discouraged from going there. 
That's why you should not ignore a negative review. 
It's not easy to respond to a negative review. Many times, when we see a bad review, we react instantly without realizing it. But we shouldn't do that. Now we will see some points which you need to avoid in response to a bad review:
Will you wait too long to respond?
Of course not. Respond to reviews within two to three days so angry customers can recover before your restaurant is completely written off.
Will you respond to a review when you feel angry?
When you get angry after seeing a negative review in your restaurant, you can avoid the response at that time. Control your anger and take it positively. And then you should respond.
Will you take bad restaurant reviews personally?
Restaurant business owners should not take reviews personally. Many times they feel stressed seeing bad reviews. 
Sometimes they misbehave with their employees for negative thoughts or attack the customer online with personal feedback. Both are bad for his restaurant business. 
Negative reviews hurt. Restaurant owners often lose their temper when they see bad reviews. When you have lost your coolness or feel like taking revenge, it is wise to move away from the keyboard. What you are about to write in response to negative reviews cannot allow your emotions to determine.
A bad review should be monitored, and it should be seen as an opportunity. Most of the time, we can see that customer's complaints are correct and need to take them seriously. 
So in the first place, you need to check the review of why it was given. 
There are some things you always need to follow:
Satisfying everyone is not possible:
It would be best if you always remembered that what you do is not enough for some people. They will always search for negative things in it. You can never make them happy. 
Sometimes we see that everything was perfect in a restaurant, but some people still leave their negative reviews. In that case, you always need to remember these things. This will help you to control your anger towards them.
Do not panic: 
Take a deep breath; Negative feedback is a part of life.
Relax and remember this is not the end of the world. Nothing great was created in one day, and the success involved a few grains on the road.
Focus on your next goal:
When you receive a negative response for your restaurant, your next step is to focus on how you can respond to it or how you can resolve it in what they are addressing. 
Criticism is incredibly uncomfortable when you come across a guest review about a meal or service at a restaurant that you have worked so hard to perfect.
Nowadays, bad restaurants are real. So it hurts when you get a bad review. Because you have worked tirelessly to build your own restaurant business. You've even put years of work or a lifetime on the menu.
Imagine that you have spent the whole day preparing a menu but in the end, the customer leaves a negative review on that. So it will be really difficult for you to digest. 
There are many reasons behind bad restaurant reviews. For example, the food in your restaurant is great and delicious but your environment is not good. If anyone leaves a review for that, it will affect the whole business. 
Also sometimes customers leave a review for staff behavior. The food may be great in this situation but for other things, it leaves a negative attitude about your restaurant.
Larger restaurants have an advantage over followers and social media ads, but engaging with your audience can significantly impact a small restaurant business - especially when they're not happy.
A negative comment that everyone will see causes some frustration and embarrassment, but your customer will remember your reaction in the end. Keep in mind that you are at an advantage - you have some time to plan your response and control your emotions; you can give everyone a preview of how to manage your excellent customer relationship.
Whether the comment is positive or negative, public feedback helps build accountability, transparency, and trust. If you need to discuss other personal matters with the customer, such as something related to the account, you can still respond publicly and let them know that you have reached them directly or via private message. It sends signals to your current and future customers that they can expect feedback from you regardless of how they arrived.

 Want to learn: Unique Promotion Restaurant Ideas
There are some ways to respond to a negative review. If you can organize the steps, then it will be easier for you. These steps are given below:
Read the review cordially
Address the reviewer
Give credit for their feedback
Highlight positive points
Apologize and Sympathize
Take responsibility
Make things Right
Move situation offline
Ask for a second chance
Convert negative review to positive
1. Read the review cordially
This is often a neglected step in responding to negative restaurant reviews. You will need to read the review carefully several times. Move slowly so you can get inside and understand the meaning. 
Many restaurant owners reply without understanding the context of the review. This makes customers angrier. So as a restaurant owner, you must read the review carefully and know its context.
2. Address the reviewer
Start your response with a personalized address on the right foot, which can be as easy as a greeting by the name displayed by the reviewer.
 You can further personalize the response by specifying details about the reviewer's experience. Call certain foods they eat or drink they order.
Your customers want to be heard and addressed individually. So don't forget your greetings and avoid generic "dear guests" or "dear customers," if possible.
3. Give credit for their feedback
You can give credit to the customer for their feedback. You can thank them for visiting your restaurant. You can show them that your business appreciates and values honest feedback, whether it's positive or negative. 
Some things you can address:
"Thank you for your review. I'm sorry to know that about your disappointing experience; I really appreciate you bringing this to my attention. "
"Thanks for letting us inform you. Your review will inspire us to do better in the future. We feel really sad about your bad experience. But we will try our best to figure out the issue." 
"Thanks for your honest opinion. Your feedback will give us the motivation to do better in the future. We promise you that we will not give you a chance to complain next time."
4. Highlight positive points
Sometimes we see some reviewers say something good about your restaurant first and then address the negative attitude. In that case, you need to highlight the positive points and give them thanks for their compliment. 
Like you can say:
 "Thanks for highlighting our positive side. We are glad that you like it" and then you can tell the other things. 
5. Apologize and Sympathize
When you say sorry to your customer, they will feel that you care about them and are not too proud to admit your mistakes.
Even if it's not your fault and there will come a time when it will be true, say sorry anyway. No people want to eat at a restaurant that is too proud or refuses to admit its flaws. People (and restaurants) make mistakes, and it's important to own them.
6. Take responsibility
Every restaurant tries to combine the same quality of service and experience, but it can be difficult, and mistakes are inevitable. 
When a reviewer notes it in their review, make sure you acknowledge and are responsible. You shouldn't make any excuses even if it's not your fault.
Explain the given efforts and changes to make sure the error does not happen again. While reviewers may not realize that something went wrong because it has already ruined their experience, this response may clarify some potential customers.
Check out: Top Restaurant Software
7. Make things Right
Customers share their feedback to let others know. So it would be best if you took it as positive. You need to be very specific about the customer experience and let them know if you change or improve anything as a result of their response.
If you don't have a detailed plan for your work, you can always mention that you're looking for the best ways to improve the customer experience (and reviews like this are helpful in that process). 
Just make sure you work on it and don't make empty promises, which can break the trust between any business and its customers.
8. Move situation offline
Your response should be in detail and to the point, but there is always room for further discussion. Provide an email address or other contact form to encourage a personal conversation with the reviewer. 
It shows that you are willing to spend the necessary time resolving their complaints.
9. Ask for a second chance
It is essential to invite the customer back to your restaurant. So you can get back to them. Often, this is followed by commercial gestures such as discounts on their next tour.
These feedback strategies will increase the chances of potential customers choosing your restaurant despite some weak reviews.
Here are some things you can say:
"Thank you for taking this matter to our attention. I'm sorry I failed to meet your expectations. I would appreciate another opportunity to fulfill your requirements. If you are at [Company name] next time, please call me or ask me. "
That's how you can invite them again.
10. Convert negative review to positive
If you follow all the steps we have addressed before, the customer will be satisfied with your behavior. They will understand how much you value them.
 In that case, they can change their mind. Or if you think you can change their mind, then tell nicely:
"Sir, hope all of your issues are fixed now. If you are happy with our service now, can you change your mind? If you can do that, we will be grateful to you."
Negative reviews have the potential to build trust between you and your customer. They let buyers know that you can't be perfect, but you can choose to trust those negative reviews to disappoint you, or you can take advantage of them and get excited!
As you can see, negative reviews are not the end of the world, and as long as you respond to everyone appropriately and have more positive reviews than negative feedback, they have no power to tarnish your restaurant business reputation. 
In fact, if you are a smart marketer and follow the tips given in this article, you can enhance your marketing strategy and use it to your advantage. I hope you understand how to respond to negative restaurant reviews if follow and remember these steps that will increase your ROI.
Finally, remember:
  "There is a positive side to everything; you just need a positive mind to see it."
Would you like to read?: A Complete Guide of Restaurant POS System