8 Unique And Effective Ways To Market Your Mobile App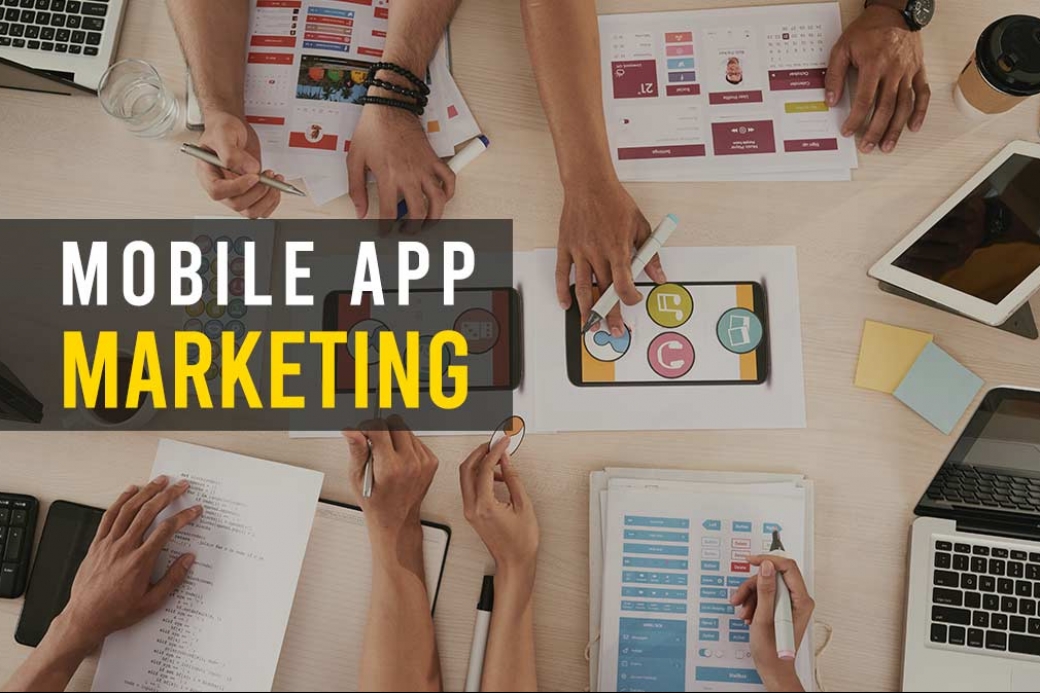 Obviously, your curious mind wants to know some effective ways of mobile app marketing. But if you haven't enough information and resources, you can't start it properly. Moreover, this initiative brings a massive advantage to your business. So, why are you waiting to market your mobile apps? This article provides 8 unique and effective ways that will ensure to sell your mobile apps successfully. Now, it's time to alleviate all of your anxiety and start how to market your mobile app.
Look back at the exact moment when the idea for your mobile app hit you. Remember? How exhilarating was that moment? After researching and brainstorming, the idea for a mobile app begins to take form in your head. Months of tireless toiling followed, and your mobile app is here to introduce itself to the world! So, you need to apply some effective marketing ways to ensure your business's success and growth.
In this technology-dependent era, the ratio of developing mobile apps is increasing day by day. Thus, you need to apply an effective marketing strategy to sustain the world market. Otherwise, you can not cope up with the reality and can not reach out to your target audience.
But wait, what if the app doesn't reach as many people as you'd like? In simple words, what if the app is not a success? That can't be!
Marketing your mobile app is as important as developing it. Remember what the great business leaders have always said about leadership, it is about taking the initiative, and they can't be more right!
Do you want to be lost in the rubble, or do you want to stand out with your app? Only smart marketing of your mobile app can help you do that!
Increase Visibility
Will your newly released mobile app be visible to users intended as your target audience? Where will your app show in the search results on the play store? Are you sure it will not get lost among hundreds of other apps for the same search query? To resolve these kinds of issues, you need to apply a proper marketing strategy.
Marketing is the way of attracting your target customers. Without marketing, your product will fail to create value. Moreover, an effective marketing strategy helps to increase the traffic of your website. Also, the marketing of mobile apps is helped to capture the attention and increase the visibility of your target audience.
Enhance Customer Engagement
Are you worried about creating a better engagement with your customer? This one is the critical factor to increase the sales of your business. To conduct any business activities, you need to ensure business-to-customer communication because it is the crucial part, and marketing is a way of handling this. Thus, the marketing of mobile apps can be able to create a vast network to connect with your customers.
A smart marketing strategy is necessary for your mobile app to reach a vast number of people. For any business venture to succeed, reaching out to as many people as possible is a must. The months (or even years) of effort you invested in developing a smooth, user-friendly app will go to waste if your reach is limited.
Effective Branding
Without branding, your business can not gain popularity, and you may lose your expected revenue. Popper branding helps to enhance your marketing strategy, and it acts as a cornerstone of your marketing strategy. Moreover, effective branding can be able to create an enduring perception in your customer's mind. Also, it can build a unique identity that will help to differentiate you from your competitors.
The process of smart marketing doesn't just enhance your app's reach; it makes sure that your app reaches the target audience. Just like your app fails if it doesn't get enough people, it is destined for failure if it goes to the wrong people.
Communication Bridge
Hundreds of new apps are submitted to the Play Store every day. If you want your app to be visible amidst this sea of applications, marketing efficiently is essential.
Communication is one of the vital issues to keep maintaining your customer satisfaction. It would be very usual that your customers have any queries or questions that they want to know from you. In this regard, the marketing process helps to ensure this task smoothly and efficiently. When you launch your mobile application, you need to apply some effective marketing strategy that will help to create a communication bridge.
Build Customer Loyalty
Do you know the significance of customer loyalty? It is one of the key factors to increase your business sales. Moreover, the proper marketing strategy of your mobile app helps to gather your customer loyalty. You can be able to observe your customer's likeliness and satisfaction through the loyalty program. Also, customer loyalty can represent the value of your products or services.
So, an efficient long-term marketing strategy makes sure your effort in developing the app does not go to waste. Let's dive right into some simple yet effective ways to market your mobile app.
Check Out: Ecommerce Android App
8 Effective Ways to Market Your Mobile App

What worked in marketing five years ago doesn't necessarily work today. Similarly, what works in marketing today might not work in the near future. The marketing world undergoes constant transformation, and the market rejects those who fail to adapt. So, what are the ways of marketing mobile apps that work wonders today? Let's find out the ways of marketing your mobile apps.
Your presence on social media is not enough. You will hardly find an active business today that does not have a social media presence. As the heading says, you have to "intrigue" your audience, and being dull and uninteresting just doesn't cut it.
Social media can come in extremely handy in promoting your app if you know how to interact with your audience. Remember, it isn't about putting out one update after another. It is about making sure your posts stand out.
Check Out: Step by Step Guide to Facebook Marketing for Restaurants
There are specific big names when it comes to writers within a niche. These influential writers have an audience that looks up to them for opinions and reviews.
Track some of these writers in your niche and pitch your solution to them. If some of them like or take an interest in the answer your mobile app provides, they might as well take part in writing about your mobile app and the solution it gives.
Infographics are the kind of visual content that everybody loves to consume. Instead of reading a lengthy blog about a topic, users tend to prefer viewing a well-made infographic.
They simplify the most complex of explanations, and that's what internet users like the most. Share your infographics with bloggers and content creators on social media and promote your new mobile app in the simplest of ways.
Check Out: Sales ERP App
Numerous tech organizations give out awards every year to the best of apps. They rate the participating apps for design, functionality, and user-friendly nature. Look for such opportunities and let your mobile app contest.
Even if your app doesn't bag the prize, participation enough helps your app catch eyeballs within the industry. Most importantly, bloggers within your niche become familiar with your mobile app and might give your app the exposure it needs.
Check Out: Restaurant Management App
Giveaways have become quite a thing recently. And when it comes to promoting something, there is nothing like a giveaway. Giveaways provide the much-needed incentive to your target audience to crowd up and let your mobile app get noticed.
You can choose winners from the people who post about your business. After that, you can select those who have continued to engage with your brand over time. Choosing such winners for your giveaways will also give other users an incentive to continue interaction with your brand across platforms.
Check Out: eCommerce Business Plan
Many make the mistake of hesitating when it comes to promoting their mobile app.
Whether it is your email signature or your blogs, attach a link to your app website and social media channels for the same. This process makes sure that more and more people get to reach your mobile app via various channels.
Check Out: Newspaper App
You need to make sure that you provide considerable discounts on your app in the beginning stages of your business. When it comes to incentives, there is nothing more direct and effective than the substantial primary discount.
To keep the target audience in touch with the latest deals, you need to provide email newsletters that come in extremely handy.
Always remember! Your app's success will be visible if you could interact and win over the critics. A significant fault for marketing your mobile app is made when critical reviews are either ignored or mildly acknowledged.
Remind yourself that not every negative review is a hater, and learn to reach out to critics who make sense. Reaching out to critics will also bode well with other members of your base and will paint your business and your mobile app in a certain glow.
Check Out: How to Respond to Negative Restaurant Reviews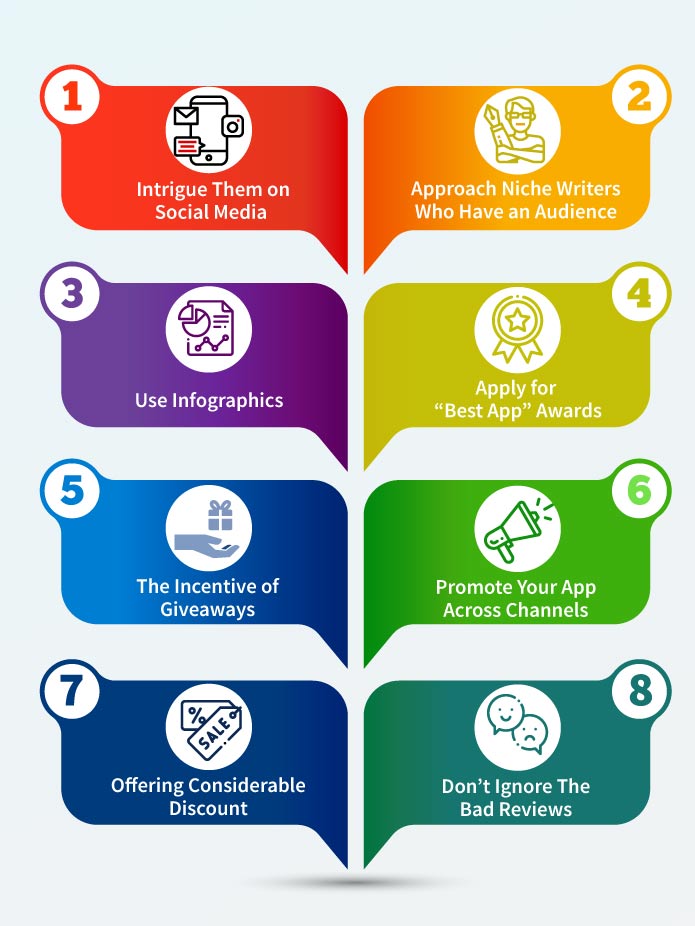 Hire a Marketing Consultant & Give Your Strategy a Little Backing!!!
According to a 2015 International Business Times report, the Apple App store receives a whopping 1,000 app submissions every day. This number would only have increased over the years. Only a small percentage of these apps receive any success. In some cases, well-developed apps do not perform as expected.
If your mobile app is not garnering enough attention, it is time to rethink. As already mentioned numerous times, no matter how good your mobile app is, it requires backing. It would be useful to find the right consultant to help you out with efficient ways to market your mobile app. There are marketing consultants who you can hire to assist you. They can prove to be just the help you need in devising the perfect mobile app marketing plan.
Marketing Strategy is Vital for Your App to Thrive!!!
If there's one thing that can be trusted in the business, it is the numbers. All the analysis, research, and surveys are all about numbers.
According to The Manifest, 68% of companies have a long-term and organized marketing strategy for their apps.
Moreover, there is no better way to determine what works for your business and what doesn't than statistics. On the other hand,
Only 2% of companies say that they do not have an active marketing strategy for their mobile application.
According to the same survey, 35% of companies dedicate 30%-50% of their app development budget to fund their mobile apps' marketing campaigns.
So, these numbers prove that the bulk of all businesses with a mobile app understand that it is not just about developing a slick, user-friendly app. It is essential to make sure that your app reaches the maximum number of people.
Check Out: 15 Best Business Management Software (Most of them have Mobile App)
The simplest ways to market your mobile app involve innovation, interaction, and incentives. There is no room for a dull, single-minded approach to marketing in a business environment as competitive as today's.
How can an app built on such a unique idea be a failure? Unfortunately, that's not how simple it is! Even the best mobile apps would end up in the bin if you do not market them smartly.
In this circumstance, it is crucial to make sure that your mobile app reaches the right people. And this is where smart marketing of your mobile app comes in.
Would you like to know: Restaurant Marketing Plan