Swiggy Restaurant Registration Process; The Simplest Way to Grow Sales What makes a restaurant owner hopeful? More customers, more sales, customer satisfaction, or quality service. Yes, but consistency ensures sustainability. So you need to be proactive and keep going with the time-worthy decisions.
It is estimated that the foodservice business in India will hit INR 5.99 lakh crore by 2022 to 2023. The report is based on the National Restaurant Association of India.
Oh… one more interesting thing. Do you know which cuisines are the most popular in India? According to a recent study, Southeast Asian cuisines got the maximum response.
The Indian restaurant business is the fastest-growing across the globe. At present, online food service is emerging. Swiggy is one of the most renowned online food delivery platforms in India. It connects the restaurant with its customers virtually.
Add your restaurant to Swiggy and explore your service consistency. Go through the Swiggy restaurant registration process and know more about your business scope.
In 2014, Bundl Technologies thought it was high time to introduce a new online food delivery platform. Because at that time, the available online food ordering and delivery platforms including Foodpanda, TinyOwl, and Ola cafe were struggling.
Nandan Reddy, Shiharsha Majety, and Rahul Jaimini were the founders of Bundl Technologies. Finally, they launched a food delivery app named Swiggy headquarters in Bangalore, India.
Swiggy operates its business in 500 cities in India at present including all major cities such as Ahmedabad, Chennai, Delhi, Mumbai, Hyderabad, Kolkata, Pune, etc. Besides the food delivery, in 2019, Swiggy comes with a new service like dropoff or pickup service called Swiggy Store.
Swiggy delivery giant is promising in the Indian marketplace. Based on a report of SoftBank, Swiggy has grown 2.8 times in the last year. Moreover, this well-known food delivery service started a grocery delivery platform in 2020 named InstaMart.
After starting its journey in 2014, Swiggy always focuses on quality services and the satisfaction of the clients. From the beginning of this startup, it kept the service consistent that's why Swiggy established its position as what it is today.
You'll get to know about how to become a partner of Swiggy from this article but first, you should have knowledge about why Swiggy is popular. And this article will show you the Swiggy restaurant registration process.
Focusing on Vision
Swiggy starts its operation with 6 delivery boys and ties up 25 restaurants. The CEO of Swiggy thought if they provide the best service, one very day they can reach the desired place.
Brand Communication Strategy
As the initial period of Swiggy was not a bed of roses, Swiggy had to fight. At that time, the existing food delivery services were providing the services in the marketplace.
But the innovative ideas and thoughts help them to walk on the street perfectly. In this case, they need to ensure more service flexibility and scalability.
The brand communication strategies of Swiggy help considerably to sustain in the market competing with the rivals.
Well Developed Service Structure
Swiggy always tries to prove them they are the best online food ordering and delivery service in India. So they adopt new and innovative technology.
The proper service structure includes reliable, fast, and hassle-free delivery.
Up to the Mark Customer Experience
Customer satisfaction is the primary goal of Swiggy. The user experience of this delivery platform is satisfactory.
Almost 1,50,000+ restaurants are operating their foodservice business with Swiggy in 500+ cities across India. Swiggy has gained a high level of trust from the customers.
Besides, Swiggy focuses on customer relationships with 24/7 support. In addition to this, the refund policy of Swiggy is actively working.
The time is the 21st century. Now the business sector is getting modernized. Besides, the customers have greatly changed their purchasing behaviour compared to the past.
Online ordering and delivery systems make the foodservice business more convenient and flexible. Moreover, you'll get a ton of benefits by adopting the online food delivery app.
Swiggy restaurant registration is required for the restaurant business nowadays to get more customers as well as sales. Let's explore why Swiggy food delivery service can be an excellent choice for you.
Grow Your Service Area
Swiggy restaurant registration helps restaurant owners to expand the marketplace. The online ordering and delivery platform helps to expand the marketplace.
When you are a partner of Swiggy, your restaurant will live on this virtual platform. The more customers can see your offerings. So you can cover a greater marketplace.
Get Online Orders
Online ordering system makes order processing easier. Now the online orders increase but how can you manage those orders?
In this case, the Swiggy food ordering and the delivery app will help you to manage your orders. You can see the running orders, pending orders, and delivered orders. So the order management difficulties are not a challenging task.
More Customers
As mobile-friendly technology is evolving nowadays, business owners tries to adopt this technology. Besides, almost everyone has a smartphone nowadays. If restaurant owners integrate the mobile ordering system, they can grab more customers.
Swiggy has a mobile application for customers. The user of this application can see your restaurant services anytime and anywhere. Your orders will increase and the proper service ensures customer retention.
Gain Competitive Edge
Maybe you are in a depression that your competitors make a better profit as they can make more sales. Swiggy food delivery platform assists restaurant owners to gain a competitive advantage.
Now you'll get more customers, more orders as well as more sales. At the end of the day, you don't need to worry about your rivals if you adopt an online ordering and food delivery service.
Earn More
When you make a partnership with Swiggy, you'll get more orders for sure. In this case, you'll also get the customers' data and feedback on your services.
Swiggy ensures more profit as the restaurant can make more sales. If you focus on the customer's requirements, it'll be great.
At first, identify the most demandable food item and get ready with it. Again offers discounts on some less demandable items. In this case, you can make a balance in your sales.
Branding Your Service
Swiggy is also a big virtual marketplace. The restaurant owners can easily market their restaurant here. At a time, your restaurant is live on Swiggy and a thousand customers can see your brand and services.
So Swiggy is a big scope to create your brand awareness for free. The customers always feel comfortable taking meals from a reliable service provider. In this regard, the Swiggy platform helps restaurant owners to make the brand trustworthy.
However, there are many more advantages that the restaurant owners got from the online ordering and delivery service. Swiggy is already a popular platform that won the attention of the customers. Swiggy restaurant registration is a time-worthy choice for the restaurant.
You must require some documents to make sure you are an authorized foodservice business owner. It makes the Swiggy platform more reliable and credible. Swiggy restaurant registration needs some important legal papers.
Without the legal documents of your restaurant, you can't add your restaurant to Swiggy. Before filling the Swiggy partner registration form, you have to be ready with the required documents.
Because you need to submit those legal papers of your restaurant on the Swiggy partner registration process. Before knowing how to register with Swiggy, you should know the required legal documents.
Personal Info
At first, you have to prove your identity with adequate information. In this case, the restaurant owner requires PAN card details. If you run a partnership business, you'll require your partnership PAN card. The Income Tax Department in India provides the PAN card.
Besides, personal contact, address, and Aadhaar card info are required.
Restaurant Establishment License
As you are running a restaurant business in India, you must have a shop license. It is an essential document to register your restaurant on Swiggy.
FSSAI License
It is inevitable to have an FSSAI license as a restaurant business owner in India. The Food Safety and Standards Authority (FSSAI) of India provides this license to foodservice business owners.
GST & Tax Details
Goods and Service Tax Council provides a certificate to an individual. You must need it if you are interested in becoming a partner of Swiggy.
While registering your restaurant on Swiggy, a copy of your GST and Tax details will be required for sure.
Bank Account Info
You must explore your bank account details with Swiggy for transactions. In this case, your restaurant bank information including the canceled cheque must be submitted.
Photographs
Some photographs of your restaurant, you have to attach to the registration form including
Facade

Kitchen

Dining

Packaging

Locality
Restaurant Menu
You have a restaurant menu card and you include here what food items you are serving to the customers. In the Swiggy registration form, you need to include what type of cuisine you have. So Swiggy wants your food menu card to complete your registration process.
However, if you are conducting your restaurant business in India, you must know about Swiggy. This food delivery platform desires not so much but the essential documents.
You have to keep both soft copies and hard copies of those documents. Swiggy restaurant registration will be completed properly if your submitted documents are verified.
Swiggy restaurant registration is straightforward. In this part of the article, you'll get a complete guideline of how to add a restaurant on Swiggy or how to register a restaurant on Swiggy.
Becoming a partner of Swiggy can help you to make your restaurant business more noteworthy. Besides, Swiggy provides a plethora of facilities to the restaurant owners who already developed a partnership with this online ordering and delivery platform.
Let's explore how to tie up a restaurant with Swiggy.
Step 1: Sign Up Process
In this step of Swiggy restaurant registration, you have to do some tasks to complete the signup process.
Task 1: Go to the Official Site of Swiggy
Visit the official website of Swiggy.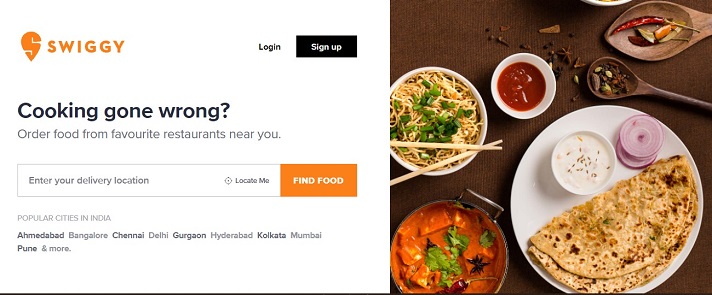 Scroll down a little bit and you can see the Partner with Us option on the home page of Swiggy.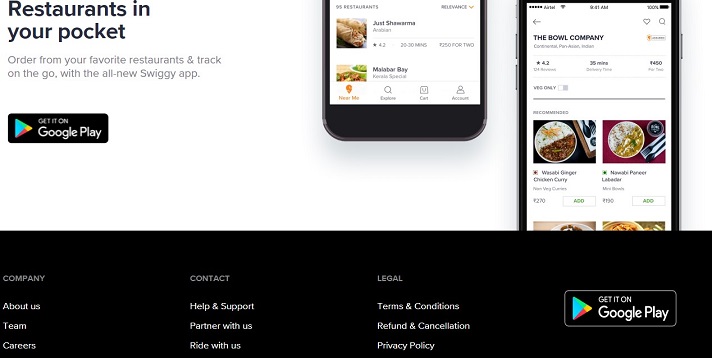 Task 2: Click on Partner with Us Option
After clicking this option, you will get a new page like this.
Besides, you can directly get the page link here: Swiggy partner registration page.
Task 3: Get Started the Registration Process
In this stage, you'll get two options to go to the registration page. At first, you can click the Let's Go button that is marked in the attachment below.
Secondly, you can choose another option to go to the registration page. In this case, just scroll down and you'll see the Get Started Option. Click this button to get the registration page of Swiggy.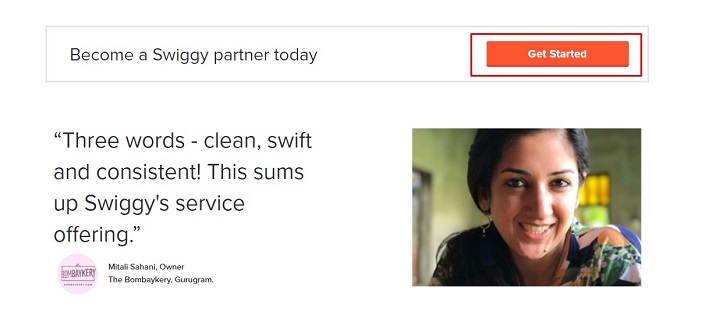 After clicking on any of the options, you can see registration forms that suggest you give your restaurant details.
Task 4: Fill up the Basic Information
The Swiggy registration page provides eight different individual forms. You have to put down the information one by one.
You should be careful while filling up the form of Swiggy restaurant registration. Check the given information once again before proceeding to the next page.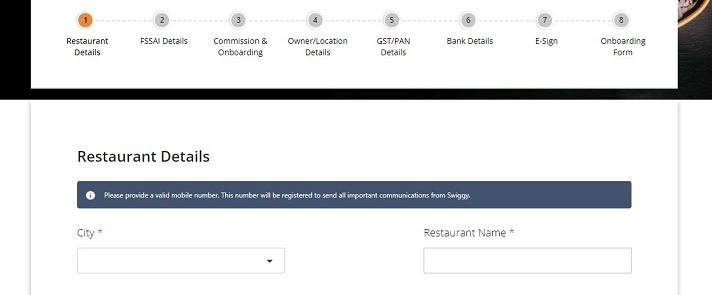 The primary information of you and your restaurant includes-
Full Name

Restaurant's Name

Business Details

Bank Information

State

City or Area

Owner's Contact Number

WhatsApp Number

Address

Email

ZIP Code etc.
Step 2: Set Up Process
In this stage of the Swiggy partner registration process, you have to add or submit the required documents that are essential for completing the registration process.
The documents that are necessitated for the Swiggy registration process to the restaurant owners are mentioned in the above part of the article.
Here you can take a look at the list of the documents. These documents for registering on Swiggy must be authentic and verified. Otherwise, you won't be accepted by Swiggy to make a partnership.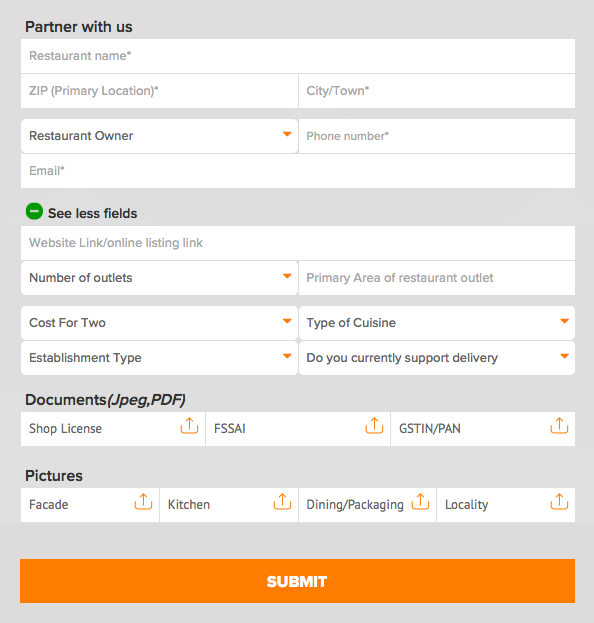 Attach the below documents and images with the Swiggy registration form.
Shop License

FSSAI License

GSTIN/ PAN

Kitchen Images

Dining Pictures

Packaging Images

Canceled Check Book

Food menu

Facade of the Shop

Locality
You have to keep both hard and soft copies of those documents. While registering or filling the Swiggy partner registration form, you have to upload those documents.
Step 3: Verifying Process
After submitting the fulfilled Swiggy registration form, you have to wait for a while. A sales representative of Swiggy will contact you.
In the meantime, your submitted documents will be evaluated and verified either all information and papers are authentic or not.
It will take to complete the verifying process 7 to 10 working days. Then you'll be notified that your Swiggy partner registration process is successfully done.

Step 4: Go Live & Get Orders
When you've submitted the filled form, you'll get notified that your submission is successfully received.
Then after evaluating your provided information, you will be live on Swiggy. Afterward, you'll receive online orders.
However, the Swiggy restaurant registration process is simple and you don't have to pay any Rupee to get registered on Swiggy's online ordering and delivery service.
Swiggy is a growing online ordering and delivery service in India. It develops the infrastructure of a restaurant to handle online orders, sales, and customers.
The working procedure of Swiggy is given in the below section.
Phase 1: Tie-Up with Restaurant
Swiggy enlists some restaurants which provide quality food services. In this case, the restaurants have to go through a registration process.
The Swiggy restaurant registration process is given in the above part of this blog.
Phase 2: Provide Required Equipments
After registering with Swiggy, the restaurant owners get the required tools from Swiggy. So the restaurant owners can accept the orders, see the order status and get the update of delivery info.
Phase 3: Manage Online Orders
The customers who use the Swiggy app on their smartphone place an order. The restaurant owners get the notification on the provided tablet. The order details and the list of orders can be managed through the application.
Phase 4: Delivery the Orders
The customers place the orders from the Swiggy app and the restaurant owners prepare the food. After preparing the food, the delivery man will come to receive the food from the restaurant.
Then the delivery man of Swiggy delivers the ordered item to the doorstep of the customers.
Phase 5: Payment Management
Swiggy offers multiple payment options including cash on delivery, debit card, credit card, etc. Besides, the customers will get a refund in case of any considerable issues.
On the other hand, the restaurant owners calculate the total orders and sales every week.
Phase 6: Commission Fee & Service Charge
Swiggy offers a minimum delivery charge. Besides, the commission fee per order is not out of the limit. Swiggy charges the delivery fees based on the distance and order amount.
However, Swiggy is an online ordering and delivery platform. It helps the restaurant owners to increase sales and profits.
The restaurant owners may think that they have to spend money to make a partnership with Swiggy. But it's totally wrong. There is no Swiggy registration fee. It is free of cost.
You don't need a single Rupee to tie up your restaurant with Swiggy. The registration process is free and after completing the partner registration process, you will be provided the required tools or equipment.
But you have to spend when you will get online orders from the Swiggy platform. You have to pay 20% to 25% per order to Swiggy. It depends on several factors like area, restaurant category, the distance of the restaurant, etc.
The service charge also greatly depends on the distance. Swiggy charges Rs. 29 for the first two kilometers. And it charges Rs.15 for every additional kilometer.
On the other hand, if any restaurant owner wants to promote the brand through Swiggy, it's possible. But in this case, Swiggy charges a 4% to 7% commission fee.
Although Swiggy's online ordering and delivery platform provide great benefits to restaurant owners, it has cons too.
The negative effects of Swiggy may reduce your profitability. But how? Okay let's see the below points to get a clear overview.
Pay a Considerable Amount
Yes, it's obvious for every third-party food delivery platform that you have to spend a commission fee per order. Besides the service charge including the delivery charge is also payable.
In this regard, you have to pay a huge amount. At the end of the year when you are calculating your investment and return, you can realize that a considerable amount is gone.
Reduce the ROI
As it cuts a big amount from your business, your profit will be negatively affected. The maintenance of your orders, sales, and delivery get easier but at the end of the year, you can realize that your return is not satisfactory.
Limited Scope
Swiggy gives a limited facility to manage your foodservice business operation. You can especially control your online orders, sales, and delivery through Swiggy's online ordering and delivery app.
High Competition
As Swiggy offers the same opportunity to all enlisted restaurants, it'll be challenging to get the desired output.
The customers browse the Swiggy mobile application and look for the expected dishes. In this case, the probability is too low to find out your services since food items are also being offered by your rivals.
Inadequate Management of Other Operations
As a restaurant owner, you have to manage several operations at a time. But the third-party online ordering and delivery app can only support your ordering info. You can't manage your other essential activities with this automation software.
However, sometimes something brings advantages with limitations. You'll be benefited from a delivery platform for sure but it doesn't mean a complete solution for your restaurant business.
It's a common query. Every restaurant owner looks for the answer to this question. The answer can differ based on the time and situation.
Now it's the 21st century. The technology is getting improved remarkably. The business sector adopts modern technology and makes food service easier.
Let's take a look at the below key points on how to minimize the additional costs and earn more profit.
Manage the Employees
The human resource of your business is an asset. If you can't manage the employees, the efficiency of your staff will certainly decrease.
Besides the proper management of the payroll, shifting, communication among the workforce are mandatory to grow the performance of the staff.
Maintenance of Cash Flow
Accounts management is an important part. When you can manage your accounts properly, you must get a better output.
The more you can manage your cash accurately, the better output will appear. The food cost calculation and the management of the entire cost of the restaurant is not an easy task. If you do it manually, the probability of making any mistake or error is maximum.
On the other hand, if you use any automation software that can manage and calculate your entire year's accounts within a moment without any error.
Maintain Online & Offline Orders
You have to manage both online and offline orders of your restaurant. Otherwise, the actual sales and the earrings can't be calculated perfectly.
On the other hand, the proper maintenance of your orders helps to identify which item is popular and which item is moderately popular to the customers.
Monitor the Inventory
Inventory management is a crucial task for restaurant business owners. The inventory of your restaurant is the heart of your business.
The management of the stock ensures the flow of your stock in and stock out. It helps to balance the supply chain of your restaurant.
Monthly/ Annual Report Analysis
The restaurant business owners always need to evaluate the performance of the present year. In this case, modern technology helps them to predict the future of the business.
Now you can see your every functional operation unit growth with an analytical system. It will show you the exact requirements for improving the business.
Build a Relationship with Suppliers
The suppliers of the restaurant help to keep a balance of your stock flow. If you can't contact your suppliers properly, you can't provide the desired food items to your customers whenever it is required.
Besides, supply chain management is mandatory. The managing, organizing, and monitoring of your restaurant business are important. In this case, automation software can notify you whenever the stock is needed.
Customer Support
Customer retention is the first and foremost step for restaurant owners to get more sales. In this case, customer support is on demand.
When you can treat your customers perfectly and the customers will get higher level support from your personnel, the customer's retention will certainly increase.
However, modern business management technology saves time as well as the cost of restaurant owners. The entrepreneur starts their business with a new strategy and introduces many more convenient services.
The most profitable restaurant type helps the entrepreneurs to choose the right track with a minimum budget. Besides, if any restaurant owners think that they will start an additional convenient food service they can introduce a time-worthy food service business.
Do you know what is the cheapest food delivery service at present?
The restaurant business is increasing so the competition is higher. And the most challenging task that restaurant owners face is sustainability.
When the productivity is not satisfactory the restaurant can't make the desired amount of profit. As a result, the restaurant business can't sustain itself in the long run.
If you are looking for the best alternative and the most compatible solution for your restaurant, restaurant management software is the best option for you.
You can only manage the online orders and delivery through a third-party delivery platform. But if you want to manage your entire business, the restaurant management system is the one and only choice for the business owners.
Adopt the best restaurant management software and control your entire business operation anytime anywhere.
The best restaurant management system provides all the basic requirements of restaurant professionals.
Key Features of Restaurant Management Software
Online ordering system

Website integration system

Mobile app integration (both iOS & Android)

Order management system (both online & offline)

Accounts management system

Customer management system

Workforce management

Sales management system

Inventory management system

Delivery management

Highly customizable and responsive

Production management system

Purchase management system

Reporting and analytics etc.
However, when you can get a complete restaurant management solution with a minimum budget. Then why a third-party platform? Integrate a restaurant billing software that suits your restaurant type best.

The modern food service business is far far more convenient than in the past. Likewise, digital restaurant management is better than traditional restaurant management.
Online food ordering and delivery platforms are increasing and Swiggy is one of the most well-known food delivery services in India.
In this article, the Swiggy restaurant registration process, Swiggy registration documents, commission fees, and the service charges of Swiggy, etc. are explored.
In addition to this, the best alternative of Swiggy or any third-party food delivery platform is given with its key features.
However, choose the best technology for your restaurant business that can ensure your business's productivity and profitability.
Read More: