Increase Your Hotel Bookings With Top 8 Online Travel Agents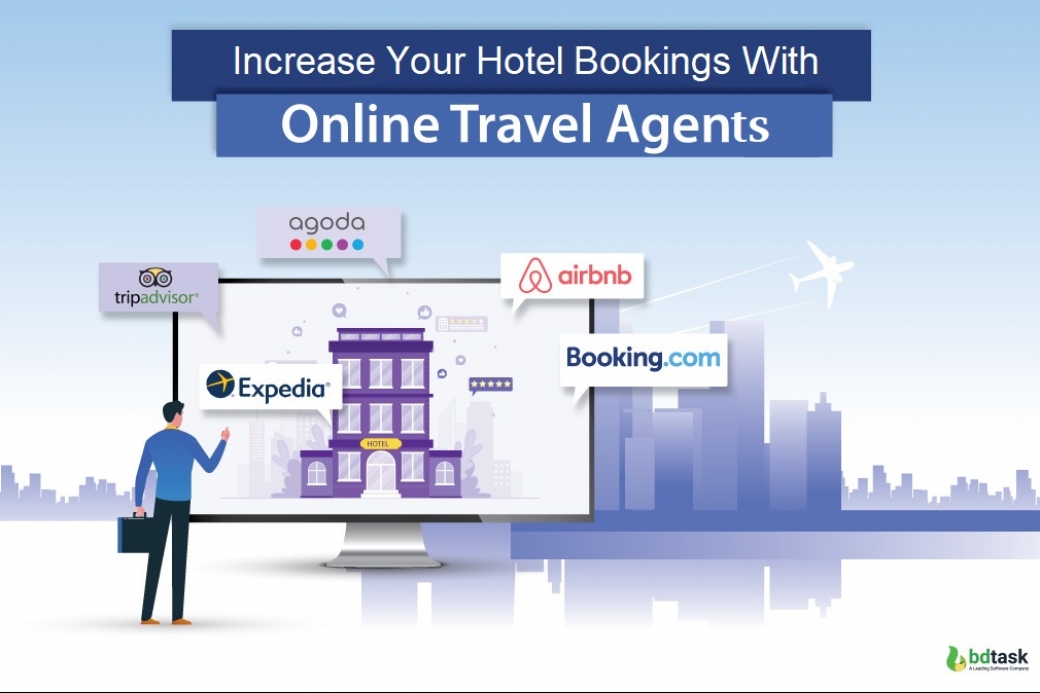 An online travel agent plays a significant role as a distribution channel for most hotel businesses. Not only that, the revolution of this online travel agent has eliminated the whole manual process of hotel booking.
The old hotel booking process, which includes lots of phone calls for booking, or frequent in-person visits to physical travel agencies and at the end suffers in insecurities until you reach the hotel and confirm your booking in-person. This whole hotel booking procedure is history like "phone directory". Now people have many options to compare and have the self-choosing right to select their desired hotel inventory after comparing different competitors.
As a hotelier, you can consider, online travel agent (OTA), an automated revenue generator; confused!! How is it even possible?? Here is proof for your convenience: only from the online travel agency almost $600 million revenue is being generated every year.
Online Travel Agency!! A Loss Platform Or A Profitable One
For every room booking, online travel agencies charge almost 10% to 30% commission, if I compare which is apparently less profit margin than direct booking; AKA; the loss side for using these OTA platforms.
You enlist your hotel into different online travel agencies, and in return, you get to increase the brand awareness, popularity and unlock new sides of these industries; AKA, the profitable side for using these OTA platforms.
Online travel agencies create a platform for both hoteliers and visitors so that both can connect in real-time. Indeed, enlisting your hotel on the online travel agencies will help you to gather new customers, who don't know about your brand and just get to introduce themselves through this online travel agent.
On the other hand, online travel agencies make revenue management a lot easier, and also hoteliers can capitalize as per the seasonal demand by adjusting room rates recommended by different OTAs'.
Online travel agent; in short OTA; considered as a third party middleman website; which offers\sell hotel inventories on behalf of hoteliers. It's the perfect platform where people easily browse, search and compare numerous hotel inventories or services simultaneously. In addition, complete the entire booking procedure without even contacting any travel agents or hotel receptionists.
Some say; online travel agencies are the largest source for hotel booking and the biggest platform to offer different attractive package deals to drive more booking within a short period of time.
Many independent or small hotel brands usually rely on OTA because they typically don't have their own search engine like posh type hotels; vice versa; big-sized hotels such as five or four-star hotels don't depend solely on OTA's platforms. After all, they are successfully able to gather enough bookings by consolidating different sub-brands. Since they are already firmly established and popular brands; as a result, indirect promotions happen naturally.
Ways OTA Utilize To Make Money!!
Let's begin with the obvious thing, OTA earns almost 10% to 30 % above commission per booking. And how does this commission get decided? The commission rate is being decided based on brand by brand or property by property.
Many large and popular hotels use the power of brand value to negotiate a lower rate, as they are showcasing many hotel properties on the OTA platform. Hence whoever will book any kind of boutique or expensive hotel through OTA, which means customers have to pay less compared to the previous traditional style of booking.
On the other hand, OTAs can also earn money by using the pay-per-click advertising method. Whichever hotel pays to stay in a prominent position on the organic search result whenever desired travellers search can pay OTA platform and book the ranking.
Before answering this question, answer me this; Is it even possible to remember so many hotel names? I think it's not possible at all.
An online travel agency carries all the information of different sizes & criteria of hotel inventory and works as a metasearch engine. Whenever visitors put down the "destination" they decided to go to; a search engine bot will automatically crawl down and show the result of the nearest and affordable hotel to their screen.
Photo courtesy: hoteltechreport
In addition, many other different factors also influence people to chose the OTA platform instead of in-person booking or hotel website:
One-Stop Marketplace For Travelers

:
OTA platforms offer everything, whatever is included and needed for travelling. For example: shows the flight cost, hotel inventories, rental cars or tourist guide, etc.
In addition, since visitors get all kinds of facilities with multiple options available, to choose the desirable one, people may compare and contrast the hotel and the facilities they promised to provide.
People are smart now, they now not only compare price and facilities but also simultaneously search reviews. Because review represents the actual and real experience of that hotel, which ultimately makes it easy to make purchase decisions.
Since OTA is considered to be a one-stop solution for potential travellers, OTA is the place where travellers can quickly know the current status of availability of the room. OTA is also contemplated as a one-place solution for flight booking, car rental, and hotel booking. It's effortless to deal with, no need to contact multiple numbers for booking confirmation.
Why are they the best? They are best because of their exceptional quality, broad reach, trustworthy feasible credibility, and first-class support.
Now I'm going to list the eight best online travel agencies (OTA). Check out the list below: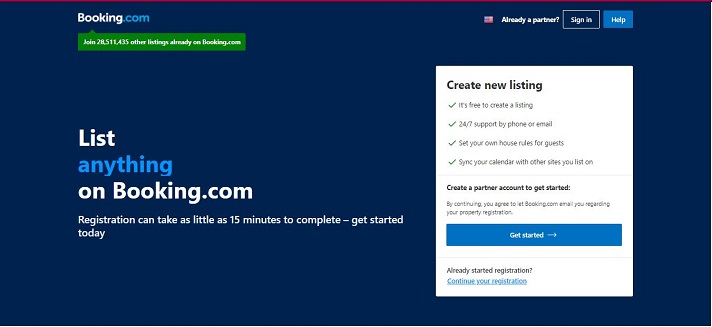 Booking.com is the very first OTA platform that has been introduced in the dot-com boom. Booking.com established its brand as a flagship brand to sell all kinds of travel-related items such as hotel inventories, tourist guides, rental cars, flights tickets, etc.
Booking.com is basically an international brand headquartered in Amsterdam, open for booking across 43 countries, covering almost 200 different countries. Booking.com is the most successful OTA platform, as they sell nearly 1.5 million hotel inventory per day, along with approximately 50 million verified reviews. Normally, booking.com charges 15% fess, but this percentage fluctuates if there is any change in the market segment and property availability.
What Extra Do Booking.com Offers?
Online travel agent brands like Priceline, Agoda are associated with Booking.com, as it is one of the best and largest umbrella companies in an online travel agent. Therefore, other OTA brands under booking.com can also seize all magnificent revenue and popularity to the travellers.

Booking.com not only offers hotel booking facilities but also offers many complimentary facilities too, such as motel booking, vacation homes, hostel booking, and other types of inventory booking.

Booking .com offers the best user-friendly website and has a robust algorithm set up to import any information within a minute from any other OTA platform.

Booking .com charges almost 10% to 15% of the commission rate per booking, besides listing nearly 28+ million hotel inventories with 6.2+ accommodation units.

Expedia is another well-known U.S. based OTA platform, established in 1996 and headquartered in Seattle, Washington DC. Expedia.com brand themself as a flagship OTA in the booking industry. The key niche of expedia.com is hotel booking, flight or cruise booking, or car rental, etc.
Expedia offers more than 200 travel booking sites, which includes Travelocity, Orbitz, hotels.com, Wotif, and Carrental.com. Moreover, Expedia.com holds a gigantic list of almost 500,000 properties across 60+ countries.
Commission Expedia.com charge per booking is 5% to 30% depending on the type of the property and, of course, the market demand. Expedia.com listed 1.8+ million vacation rental packages, 590,000+ hotel inventories, 500+ air ticket booking, and 175+ car rental companies, etc.
What Extra Do Expedia.com Offers?
As Expedia.com is a globally recognized brand, it's easy to enter the new market locally and internationally.

Expedia.com offers that much low and affordable price, which not only attracts the less potential audience but eliminates the chances of bouncing the customers and seeking the hotel's leading website for booking.

Expedia.com keeps a close connection to other OTA platforms so that whenever a visitor searches for his/her desiring hotel with their desired budget, expedia.com will automatically link to the other OTA's and shows the perfect result instantly.

Expedia.com can also assist visitors by offering other complementary facilities and offers such as flight booking, car renting, tour guide booking, etc.

Tripadvisor is also another best online travel agent, established in 2000. And within a short period of time, Tripadvisor has been able to achieve magnificent recognition as the largest travel website.
The secret of gaining popularity in the short period of the span is that they mainly focus on monitoring the users' reviews/feedback and using those complaints as a motivation to improve their platform.
Tripadvisor successfully picks out the trend, and they understand people's needs and understand that people are now very smart and technology freaks. As a result, people no longer book their stay just based on price, facilities, or availability; instead, they check the previous customers' perception and experience.
Tripadvisor's main strategy is to attract customers by sharing or flaunting the experienced customers' feedback and reviews. Visitors will read/ verify them and search more about their chosen hotel inventories. After all that process, they will book directly from the TripAdvisor platform if they like the hotel inventory.
What Extra Do Tripadvisor Offer?
Tripadvisor charges almost 15% of the commission from hotels and restaurants per booking. Tripadvisor holds almost 7+ million hotel and restaurant reviews with more than 500 million users.

Globally Tripadvisor has 450+million active users (per month).

Tripadvisors earned their reputation as a trusted and quality full platform for potential travellers. By applying the

mouth of word's strategy

(People may not trust TripAdvisor instantly, but they will generate a trustworthy relation and believe those users, who previously were your customer). Hence not only it gathered a huge volume of customer reviews but also gained the users' trust and positioned themself as a trustable online travel agent platform in the hotel booking industry.

Since Tripadvisor maintains a great connection with different hoteliers and restaurant owners, therefore, potential travellers thinkTripAdvisoror is a one-in-two deal". Therefore, TripAdvisor has a great lodging opportunity.

Tripadvisor also maintains a great bonding/ partnership with Expedia.com and Priceline; hence Tripadvisor gets a huge opportunity of raising up the visibility over different OTAs.

Airbnb started its journey as a marketplace for non-conventional travel accommodation and consumer-to-consumer (C2C) rental. You can consider Airbnb as a "gig economy"; a free market system where registered people can upload their property and do business.
After they completed their acquaintance with HotelTonight 2019, they have expanded their business into commercial listings and earned the best spot on the list. Airbnb always tries to attract their potential customers with unique business models, marketing strategies and user interface.
One of the fantastic facts about Airbnb is that; they hold 7 million+ listed hotel inventory, hostels, rented rooms, etc. Airbnb provided its services to more than 200 countries, with the huge support of more than 150 million active users. Airbnb charges 14% to 20% of the commission rate per booking.
What Extra Do Airbnb Offer?
Airbnb always tries to emphasize the local influencers and unique designs, which helps their platform to make a perfect fit for the hotel inventories they offer.

Airbnb's strategy is to expand their business line, especially to those are trendy tourism locations, popular and demanding hotel inventories. Basically, Airbnb likes to break the barrier and offers the best deal at the best price.

Agoda, recognized as one the largest pool of property listed in Asia, was established in 1998. Agoda expanded their business line in Europe and America and listed almost 2 million+ hotel inventories, homes, resorts, flights ticket booking, rental cars and hostels, available in 38 languages.
Agoda is also a part of the booking holdings, one of the flagship brands of booking.com and also confined with other major OTAs. Just like Expedia.com did in the European and American markets, Agoda segmented their market, focusing on low-priced or affordable range hotel inventories.
Agoda charges approximately 16% of commission fees per booking, of course, depending on the size and property criteria. Agoda has also been associated with Kayak, the metasearch; as a result, visitors can compare the price and choose the best one on budget.
What Extra Do Agoda Offer?
Since Agoda is Asian based; as a result, it's a beneficial factor for hoteliers and restaurant owners; who are Asian based or themed. Hence a great opportunity to reach targeted specifically Asian customers.

Agoda falls under the umbrella company of Booking.com, hence enjoys a magnificent connection with other OTAs such as Priceline. Therefore, Agoda not only can increase huge visibility but also smoothen the user convenience.

One of the best things about Agoda, they provide a sizable discount on commission for those hoteliers who uploaded multiple properties, thus enjoying a high-profit margin.

Well well!! Who doesn't know about Google?? The biggest and popular search engine of all. Thus Google ad is another part of the Google search engine. Google Ads; also known as a platform where you can promote your business or product, spread awareness about your brand, increase traffic for your website, and ultimately raise your sales. Hence, Google Ads slowly emerges as the most profitable and easiest way for the accommodation provider to reach their targeted customer.
Just like that, Google Hotel Ads is just a criterion of Google ads, where different old or especially newcomers, whichever wants to participate in the Google Hotel ads, will register themself. Google ads with their email, select the payment getaway and start promoting their product in the Google ads.
As per Google noted, all the participating hotels in the Google Hotel Ads successfully gathered more than 65% leads year over year.
What does Extra Do Google Hotel Ads offer?
Google Ads has reached over 150+ countries; Google earns 4.5+ million searches per day worldwide. Hence whichever hoteliers participated in the google hotel ads; gets the advantage of traffic, higher visibility worldwide, and of course, higher sales.

As reported by Google, 60% of the vacation lover travellers and 55% of the business purpose travellers consider "

Google search engine"

as

their first and trusted choice to search their on-budget desired hotel. They search, and when they find the perfect one, they straight go to the main website and participate in the direct booking.

Unlike other OTAs', Google Hotel ads do reveal the guest data; thus, hoteliers can use those analytics data to track the guests' trip-planning process and peak-time.
Bonus: Secret Tricks, Just For You"
Google hotel ads assist hoteliers in collecting the most qualified leads (potential customers) efficiently. In addition, when hoteliers, registered as Hotel Ad Partners, Google promotes the hotel inventories; as a result, visibility is raised on the search engine.
And whenever anyone browses for a hotel, the hotel ads will show your hotel on the first page of Google with no.1 ranking. Hence, visitors will click on the hotel ads, consequently automatically getting exposed to all the details, such as price range, availability, location, reviews, ratings, ambients, etc.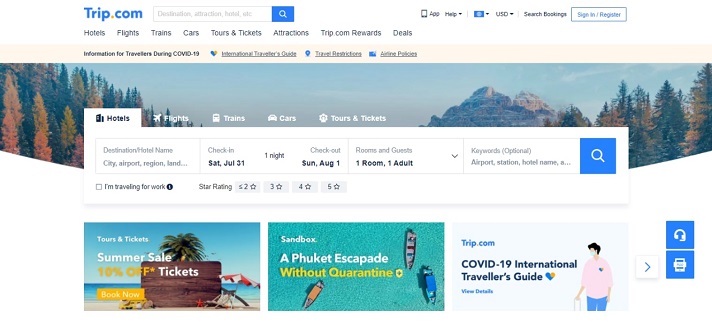 Trip.com or Ctrip.com is China's leading online travel agent. Trip.com is also under the umbrella organization of Booking Holdings. As China has the largest population globally, Trip.com makes it possible, especially for the low earners, to travel abroad and outbound tourism. Ctrip or Trip.com is now one the strongest OTA in China and also the local market. Trip.com holds 1.2+million hotel inventory lists, out of which 700,000+ are international. Currently, Trip.com successfully operates its business within 200+ countries, serving almost 5 to 500million visitors and charges an almost 19% commission per booking.
What Extra Do Trip.com Offer?
Trip.com usually offers hotel or motel inventories, car rental, corporate travel, tour guide, flight booking, train training etc.

Trip.com owns and operates other OTA such as Skyscanner, Qunar etc.

Trip.com servers almost 90 million+ registered active users.
Hotel.com, an American based company; introduce itself as a Hotel Reservations Network. Hotel.com falls under the umbrella company of Expedia.com, hence enjoying the magnificent benefits of online visibility and profit margin.
Hotel.com, holds the list of 360,000 hotel inventories, around 19000 different locations, charging the commission of 17% per booking. Hotel.com offers many different deals such as hotel inventories, vacation packages, car rentals, flight booking etc.
What Extra Do Hotel.com Offer?
Because of the close connection with the biggest OTA platform, Hotel.com is an easy opportunity to increase visibility, gain travellers attention; hence higher profit margin.

Hotel.com organizes a "Hotel.com reward program", which also assists them to attract more leads and also creates an opportunity to nurture the old customers and retain them.
More OTA= Higher Booking Rate + Higher Revenue
It's not necessary that you will only promote your hotel in only one OTA platform. But, I know, the more OTA you register for, the higher the commission rate expense.
But you need to understand that the more OTA you choose to register your hotel inventories, the more visibility over online, people will start to know about your hotel, research on your hotel inventories.
The higher your online presence, the higher the chance to reach your potential customer; the constant visibility will slowly gain the visitors' trust and create a strong position in the customer's brain. Thus either the visitor will think of the "perfect place for stay" or refer to their friend or family.
Choose The Best Hotel Management System And Make Your Online Hotel Booking SystemToday !!
Xian- Hotel Management System offers all the solutions that are needed in maintaining a hotel and reach it to its desiring goal.
THINKING!! How can a management system help you promote your hotel JUST LIKE OTAs?'.

Well Well!!
Xian offers every kind of service that will help, not only in the management process but also creates the opportunity to promote themselves. With Xian, you can manage all complicated operation solutions at your fingertips. Xian- fast customer management system, room reservation system, different room facilities, suppliers, human resource management etc.
In addition, with Xian, you can also build your own website and if you add some addon/plugin that supports all the facilities you can enjoy by registering your hotel on multiple OTA platforms

An online travel agent or OTA is the best and fastest way to reach the hotelier's potential customers. Another great thing about OTA, you can not only connect with the local audience but also attract and generate many international audiences.
OTA or an online travel agency is always perfect for every kind of property, OTA makes it possible for every audience to purchase or book any hotel, hostel or any kind of property from all around the world.
Read More: