15 Best Tour and Travel Agency WordPress Theme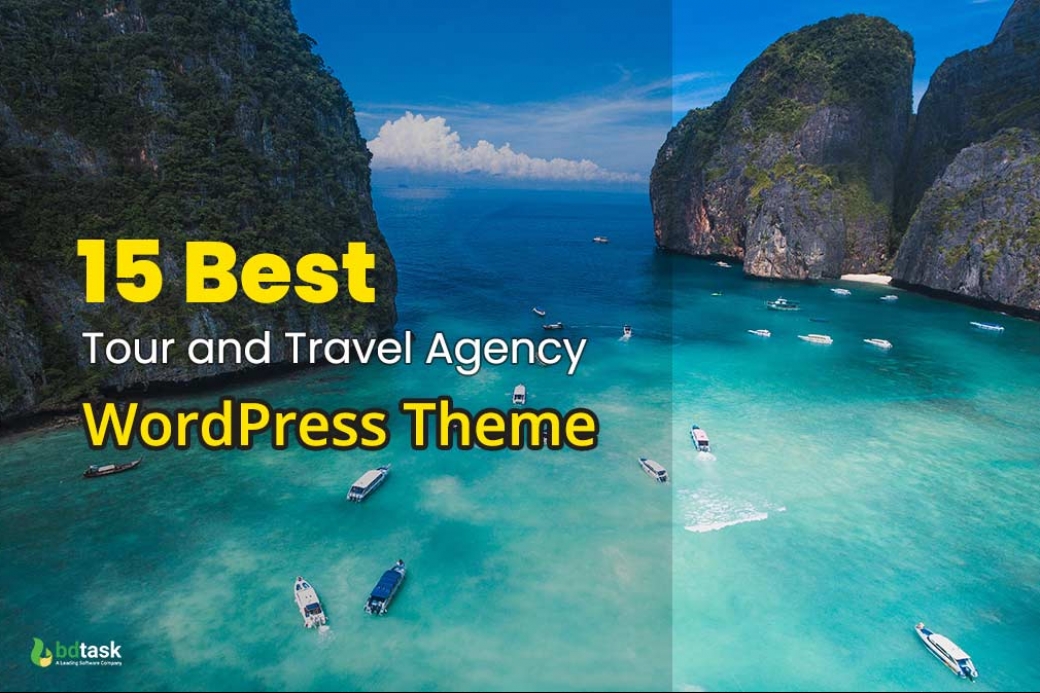 Do you want to start a tour and travel agency or looking for a better tour and travel agency WordPress theme for your tourism website? If yes, then browse the list of the 15 best themes and decide your one.
Tourism is one of the fastest-growing industries in the world. Moreover, about 10% of global GDP comes from tourism. So if you want to make your footmark on this large sector of the economy, do you know the most critical step? It's none other than travel agency website templates. At present, promotion is the base part of going forward with a business. Travel website theme is the essential part of advertising your agency. As the potential customers judge your business based on how well your website looks.
Using a good WordPress theme is one of the most significant parts to move a step further with your travel agency. At the same time, distinguish yourself from others.
Impact of Tour and Travel Agency Website Design
Nowadays, tour and travel-related works are entirely based online. So that website not only helps you to attract customers but also handles the complete package.
Let's think you want to book a trip to Hawaii. At first, you will go for a popular or eye-catching website. Next, before you find out about the other features, you will see if the website is responsive or not. If the website is difficult to use, within a moment, you will go for another option. As there are hundreds of other options, you don't have to rely on a hard one. The fact is, everyone will do the same in this situation. So it's essential to build attractive, at the same time, easy to handle websites.
What to Seek in The Right Travel Agency WordPress Theme?
In the question of building a fascinating and smooth website, a WordPress theme is the best answer. In fact, most of the websites are created by the WordPress theme at present. WordPress is the easiest way to develop your desired website at low costs and without any coding knowledge.
The primary purpose of travel and tourism websites is to display tour details while maintaining the overall booking system from anywhere in the world. In general, it has two main objectives, to show the package features and options for bookings—all in a striking way.
In order to give the facilities, travel agency website templates need to have the following features.
Pleasant Design
The most vital component is a pleasing design. Through the design, you need to convince the visitor that your agency is well organized and they will have a joyful experience if they choose you. Here, the overall message will be conducted by the picture, videos, and texts from your website. A beautiful template will eventually increase your face value. So, take a good look at the template before selecting a theme.
SEO Optimization
SEO optimization is essential for ranking your website on the Google page. The fact is, without the ranking, your website will not be visible to your potential customer. Therefore, no matter how well the agency is, you can't get any customers. So, look at the markup language integration before buying a WordPress theme.
Responsive Design
Before purchasing a theme, check whether it's mobile-friendly or not. Most people use mobile phones while searching for a tour plan. You can realize it easily. Just consider how many times you use a mobile phone to search for something. Almost every time, right? The fact is, not only you but also most people do the same. Besides, Google search statistics also show that everyone uses mobile phones for surfing the internet most of the time.
On the other hand, one of the potential ranking factors of Google is having a mobile-friendly website. So, it's essential to build a mobile interface for your website.
Easy Interface
As the early example demonstrates, no one will browse your website if it's hard to understand. So make sure the template has a straightforward interface. Basically, an easy interface means easy navigation. You need to make sure that the viewers find their desired content within a moment.
Categorized Section
To make an easy navigation panel, you need to categorize all your content. In this way, customers will understand your features easily. Basically, the more well organized your website is, the more it will attract customers.
Search Filter
A search filter is important for quickly finding things. Here, Customers can search for their preferred tour plan by adjusting the budget, types, and other activities. So make sure you have a search bar on your website.
Review Settings
Most travelers select a travel agency after seeing other's reviews. That's why you need to show what your clients said to get the new visitors' attention.
Changeability
As your agency may change in many ways shortly, you should choose a WordPress template that will support you. Usually, a good theme will allow you to make changes to your website without much effort.
Booking Segment
To build successful travel and tourism websites, you must have an integrated booking system. Only showing your agency's details does not make any good if you do not have booking facilities. Besides, the process needs to be easy to do and less time-consuming.
Payment Gateway
To build up a booking feature, you must need a payment gateway. Make sure the payment method supports local and international transactions. Also, it needs to have the option for adding a new gateway.
Contact Form
Lastly, The right travel agency WordPress theme allows well-written and utterly visible contact information. Your potential customer most likely wants to contact you before booking a program.
Top 15 Tour and Travel Agency WordPress Theme
Now comes our core part of the article. That is the list of the top 15 best tours and travel agency WordPress themes. The list is created based on the must-have features of a theme discussed above. Therefore, it will help you to decide your purchasing process. So, let's begin with the best one. My Recommendation is Travelz.
1. Travelz - WordPress Theme for Tour Agency
Do you look for a WordPress theme that has attractive features, at the same time budget-friendly? Then 'Travelz' will be the best option for you. It's a travel WordPress theme that is developed especially for tour and travel agencies. This theme has an eye-catching interface with the booking facilities. With this, you can maintain your hotel, destination, travel, and tour process.
The theme has been developed with the Unyson framework. The ThemeForest file includes PHP files, CSS files, and JS files. Moreover, it is compatible with IE11, Firefox, Safari, Opera, Chrome, Edge browser. That means you can run the theme in any browser.
Besides, the excellent documentation feature will help you to customize your coding part if you want.
Top Features
User-friendly, fresh, stylish, and clean theme

Can manage any travel agent, website, blog, tour package, and tour agency.

Build with the latest WordPress technology

Responsive theme

Can works on all web browser and any types of devices

Retina ready design

Easy customization

Integrated booking management system

Tourism and hotel management theme
Some Tutorial for Customization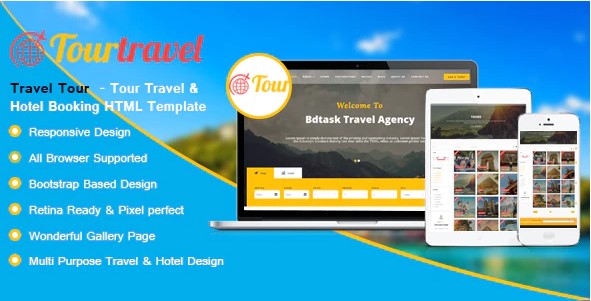 Prefer a basic website? Then go for a low-cost HTML template. You don't have to maintain any software. Besides, it's easy to keep the code. 'Travel Tour' is one of the best HTML templates for hotel and booking management. It can run on IE10, IE11, Firefox, Safari, Opera, Chrome, and Edge browser. The ThemeForest file includes HTML files, CSS files, and JS files.
If you want to upgrade your website, you can easily plugin this HTML template into your WordPress theme.
Top Features
Responsive design

Support all browser

Design is based on Bootstrap

Retina ready design and perfect pixel

Attractive gallery page

Fulfill various types of travel and hotel management
Check Out: The Best Hotel Management System & Booking Software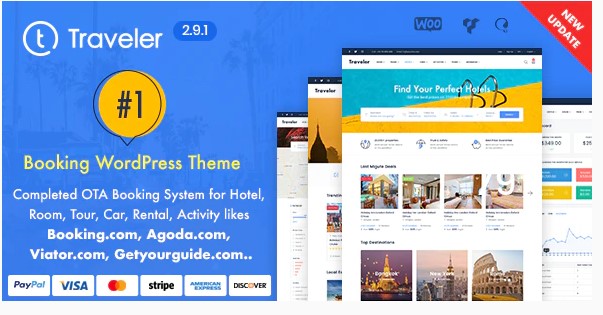 The main motto of Traveler is to save time and money in the overall online travel booking process. In fact, they can save your time, money, face, almost everything. Moreover, it has a fully customized booking form with an easy online payment method. The WordPress theme is not just a booking theme. It's a marketplace to cover all the things that are related to tour and travel.
The WordPress theme is compatible with Firefox, Safari, and Chrome browser. Besides, the ThemeForest file contains PHP files, CSS files, and JS files.
On the other hand, the theme generates automatic notifications, sync with Google Calendar, TripAdvisor Calendar, Airbnb Calendar, HomeAway Calendar. You can also earn from the Affiliate system.
Top Features
15 demo platform with the continuous update process

400+ theme option

You can make any kind of travel website.

Help to create a marketplace by allowing partners/vendors.

Editable booking form

Friendly dashboard

Built-in analytics with booking statistics

Developed support team

Search filter with a wishlist feature

Review segment

Google, Facebook login

Multi-language supported

Customer management system

WooCommerce supported

Affiliate support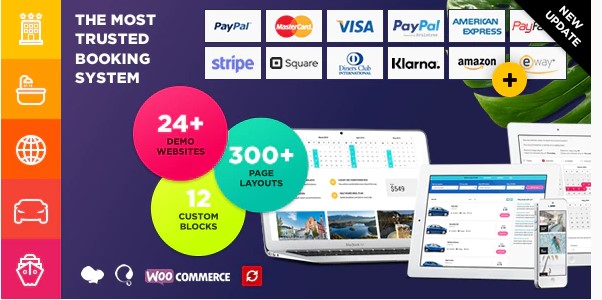 Book Your Travel is the first WordPress travel booking theme that comes in the ThemeForest platform. So, if you love to try the leading platform, try this one. Book Your Travel is an attractive WordPress theme for your online booking and reservation management. It will help you to control accommodations, tours, cruises, rental car services. The theme was designed specifically for tour and travel agencies.
The theme is regularly updated and run in IE11, Firefox, Safari, Opera, Chrome, Edge browser. It also included PHP files, CSS files, JS files.
Moreover, you can use the theme in any preferred language, as it supports language variety. The theme also has an accurate availability checker, advanced search filtering, and marketplace management features.
Top Features
Room booking facilities

Tour booking facilities

Rent a car/ cruise booking

Online payment system with partial payment facilities

Availability Checker

Control promotional activity

Help to create marketplaces.

Detailed documentation with reliable support

Review settings

Support multi-currency and multi-language

Wide, Boxed, and Fluid layout

Support affiliate links

WooCommerce Supported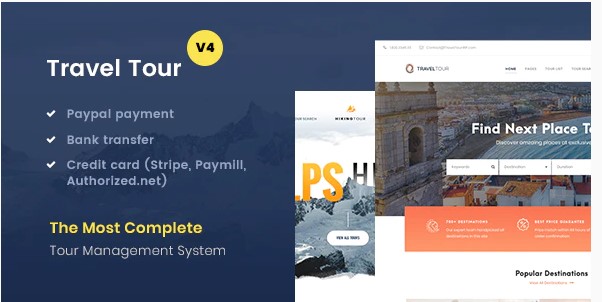 If you want a premium responsive WordPress theme for completing all your management features, then go for Travel Tour WordPress theme. The theme is specifically designed for tour operating, maintaining travel agencies, and travel websites. It includes the facilities for a city tour, one-day tour, sailing trip, and yacht charter.
The theme is also compatible with IE11, Firefox, Safari, Opera, Chrome, Edge browser. But with the PHP files, CSS files, and JS files, it has layered PSD and PSD files as well.
The theme developers are very attentive to the customer's feedback. In fact, they check every one of them carefully and update the theme regularly. That's why the theme is super flexible and has tons of customizable features.
Top Features
Save about 34$ because of the integrated Revolution Slider and iLightbox.

Powerful demo for your better understanding

Attractive and customizable admin panel.

Full/Boxed fluid layout design

You can have unlimited sidebars.

Color customization is available.

SEO optimized

Wishlist and Review feature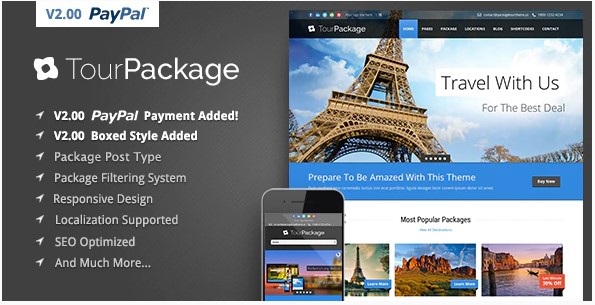 Tour Package is a travel/tour WordPress theme that is developed especially for travel companies. The theme is SEO optimized for your better ranking. Moreover, it has a built-in localization support feature. Besides, the design is also very responsive and eye-catching.
Like others, this theme is also supported in IE11, Firefox, Safari, Opera, Chrome, Edge browser and contains PHP files, CSS files, JS files, layered PSD, and PSD files.
Top Features
Paypal payment gateway feature

Boxed style layout

.pot file for localization

SEO optimized and retina ready design

WPML and WOO commerce supported

Responsive design and easy color customization

Flex, Nivo, and Layer three types of slider available

You can create six types of posts

Video tutorial for helping you to set up the demo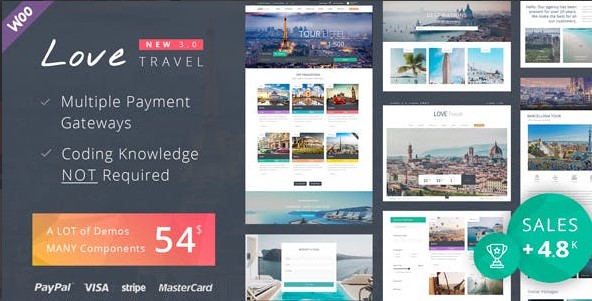 Doesn't the name sound so lovely? As the name suggests, the Love Travel theme also has a beautiful and attractive design. It is basically designed for travel agencies, tour operators, and travel blogs, but the theme is also suitable for making any website. Anyone can use the simple, modern, flat, and clean graphics theme in all sorts of tourism-related services. The theme has been designed with a 1200 px grid system that has 12 columns.
On the other hand, the theme is supported on IE9, IE10, IE11, Firefox, Safari, Opera, Chrome, and Edge browser. It also contains Layered PNG, PHP Files, CSS Files, JS Files in the ThemeForest files.
You can use this lovely template to talk about your travel experience. You can also create other creative web agencies with this theme.
Top Features
Monthly update

Customer filter for searching destinations, prices, seasons, types, and trip duration.

Revolution slider

Dummy data

Responsive design with Retina icons and Meteo icons.

Sticky main menu and Left menu

Jquery UI

12 columns grid system
8. Adventure Tours - WordPress Tour/Travel Theme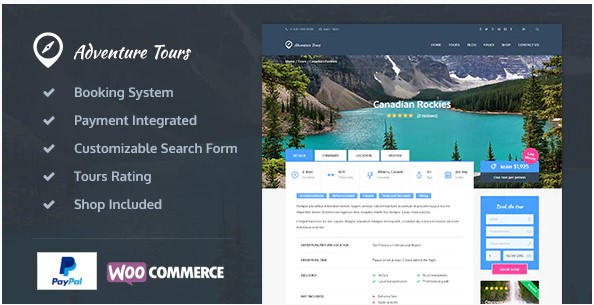 Need a WordPress theme that is suitable for any type of travel operator? Go for Adventure Tours. It allows flexibility in tour setup. Therefore, you can even add as many new attributes as you want. The booking system is also customizable. Moreover, the theme also supports Woo-commerce. Therefore, PayPal and other payment methods are possible.
The required browsers for running the theme are- IE10, IE11, Firefox, Safari, Opera, Chrome. On the other hand, the ThemeForest file contains PHP Files, CSS Files, Less Files, JS Files.
The theme has recently been updated. So, you can go for this one if you need a template with recent features.
Top Features
Responsive and Retina ready feature

Customize theme colors and typography

Tour rating

Search filter

The custom page contains FAQ, contact, gallery.

SEO optimized

WooCommerce supported

Schema integration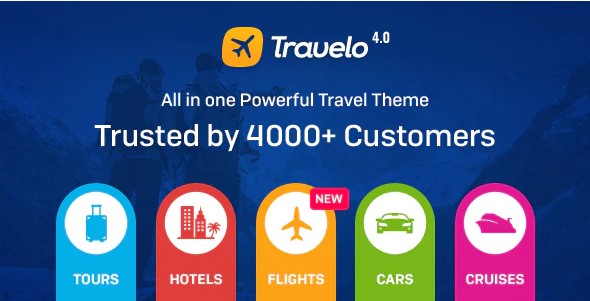 Travelo is a travel/ tourism/ hotel/ accommodation booking WordPress theme with rich features. It has come with six-month additional support. Besides, the theme is called one of the best themes for hotel, tour, car rental, cruise, and flight booking. It has notably excellent skin and layout with tons of features. You will surely like the theme to make your website.
The supported browsers are IE9, IE10, IE11, Firefox, Safari, Opera, Chrome, and Edge. Additionally, the ThemeForest file contains PHP Files, CSS Files, JS Files. You will understand the code easily because of the good documentation.
Top Features
Search filter for every segment

Responsive and flat design

WooCommerce supported

Business partner feature

Ten homepage layout

Have Revolution Slider and Layer Slider

Included Visual Composer

Great customization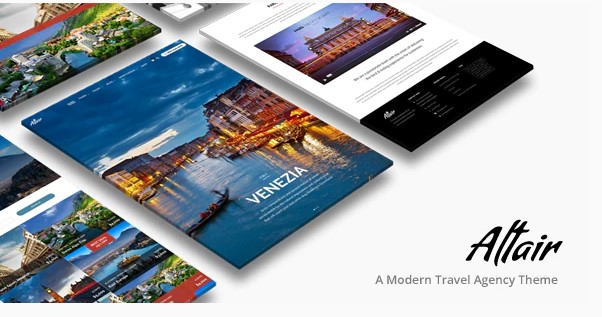 The Altair theme is a perfect solution for tour and travel agencies. It has both fixed and full-width layouts. Moreover, the theme provides an advanced search filter to the users to find their preferred match within a moment. The design is also outstanding. Like the previous themes, it also supports all kinds of browsers except Edge. It also contains three essential files: PHP Files, CSS Files, and JS FIles.
Top Features
Clean, responsive, and modern design

Drag and drop content building feature

AJAX search

Retina Ready, high-resolution graphics

Available booking and contact form

Revolution Slider

Linked Facebook, Twitter, and Google+

Unlimited Sidebar

Free updates and supports
Check Out: Top Blogging Platforms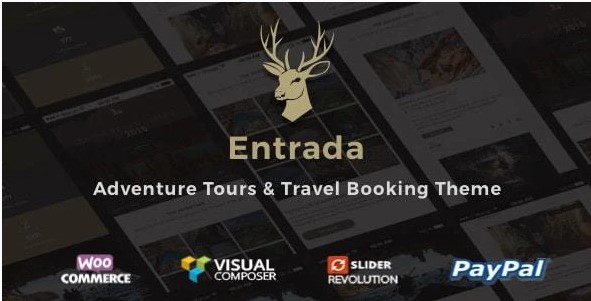 If you want an elegant WordPress theme, then Entrada will be the best option for you. Simplicity and functionality are the two main bases of this theme. It's an ideal theme that specifically develops for the tourism industry. You can maintain every kind of tour packages, vacation, hiking, campaign, cruise packages, and many more.
The theme is developed in the Bootstrap 3 framework. It's also supported in all kinds of browsers. As usual, the ThemeForest file contains PHP Files, CSS Files, and JS Files.
The Retina-ready and 100% Responsive layout indeed give you the best visuals with easy customization features.
Top Features
WooCommerce integration

Easy creation of tour packages

WPML Compatible

Retina Ready

Unlimited color customization

Schema.org integration

Revolution Slider

Boxed and wide layout

Responsive Mobile Layout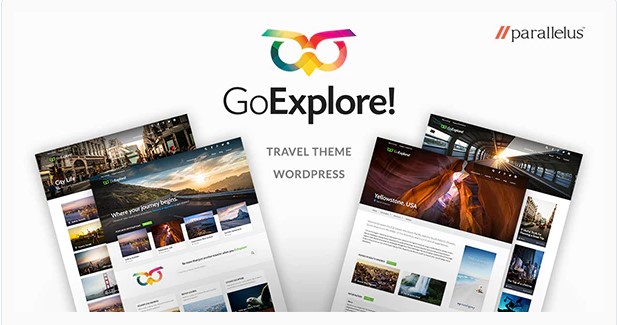 Do you want to build a website that visitors remember? Then build your website with GoExplore!. You can manage any travel website from this WordPress theme. Moreover, you can make your travel agency, lodge, club, blog, or destination website very easily and quickly. Community or as a single owner, you can do whatever you want with your site.
The responsive designed theme is supported in all browsers. It also comes with PHP Files, CSS Files, and JS Files.
You can go for this WordPress theme without hesitation. In fact, the developers have created the theme so that your visitors want to come back again and again.
Top Features
Super Responsive layout

SEO optimized

Travel destination and Content Blocks plugin

Support Revolution Slider

So many customization options

Retina ready

Easy Translation into other languages as it contains .po/ .mo files

Demo content available

Including photoshop files
Want to look? How to Add Article Schema Markup to a Blog Post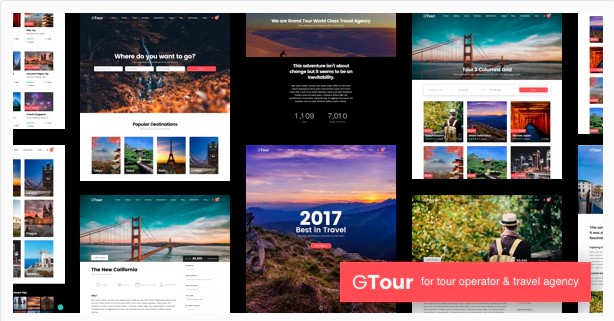 Grand Tour is a responsive WordPress theme for building Tour and Travel Agency websites. The theme looks well on all devices. Besides, the demo segment can help you to develop your tourism-related website easily and quickly.
The theme is supported in IE11, Firefox, Safari, Opera, and Chrome. Moreover, the ThemeForest file comes with PHP Files, CSS Files, and JS Files.
The theme gets high reviews from the user, and the developer updates the theme recently. So, you can go for the theme if you want.
Top Features
parallax feature

Plugin Contact Form 7

WooCommerce supported

Advance search bar and tour review option

20+ pre-design demo

SEO Optimized

Retina Ready design

Easy customization

Translation Supported

Unlimited and Custom Sidebars
14. Roam - Travel & Tourism Theme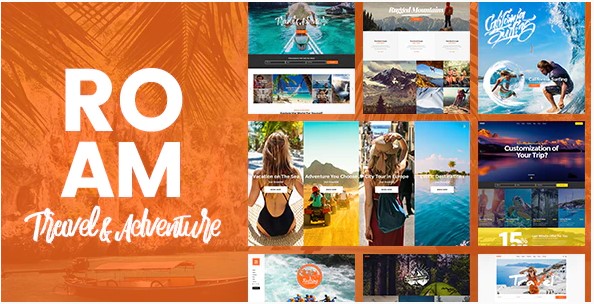 Roam is an attractive WordPress theme to ensure you a fascinating online journey. The theme is specially designed for travel business websites. You can get everything you need on one platform. The theme is ideal for outdoor businesses, adventure tours, travel agencies, outdoor sports, tourism offices. Moreover, tourist guides and travel bloggers can also use this theme to build their websites.
The theme is supported on every main browser. The clear documentation helps you to make any change in the code if needed.
Top Features
Booking module

Support multiple tours and destinations

Attractive galleries

Option for user review

Option for blog posts

Super customizable

Responsive and Retina Ready design

Different layout options

Compatible with Contact Form 7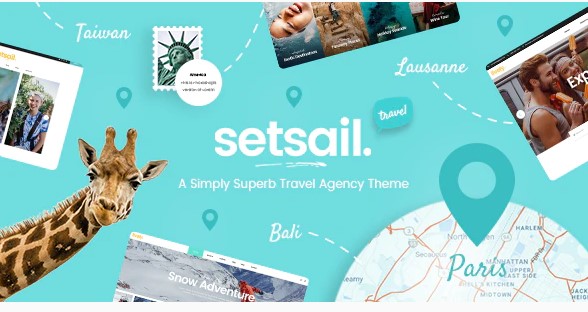 The ultimate WordPress theme on our list is SetSail. To display your tourism website uniquely and attractively, SetSail will be the best option for you. You can present your tour's features in a detailed way. Also, people can book your services online. The theme comes with many demo content that will help you to create your website simply by editing.
As usual, the theme is also supported on all the main browsers. Therefore, the clean documentation is easily editable.
Top Features
Powerful admin panel

Highly customizable without any coding knowledge

Shortcode facilities

Multiple layouts for tour list

Includes WPBakery Page Builder for WordPress and Slider Revolution

Contact Form 7 compatible.

Review features

Allows translation

Retina Ready and responsive design

Reviews and search features
Want to learn? 10 Types of Blogs That Make Money (Most Profitable Niches)
Which WordPress Theme for Travel Agency Is Best for You?
Now, you know the top 15 WordPress themes for building your tour and travel agency website. Obviously, you don't want to purchase all of them. So let's talk about which one will be the most beneficial for you?
At first, consider your budget. Next are features and design. Find out the theme that will cover all your business facilities. With that in mind, find the appropriate model. I hope you will find the best travel agency WordPress theme for you after some research.
Are You Going to Build A Travel Agency Website?
So, after selecting a theme, what will be the next step? Definitely, you are going to build a website. To make sure your website is worthy enough, the ending part of this article contains some suggestions. These are the crucial points to remember for travel agency website design.
Use more images and videos for making an engaging interface.

Always keep your popular package list at the top.

Includes as many search filter as possible in the search bar

Integrate Google Maps, calendar, and other gadgets to make your website more eligible.

Make an eye-catchy color combination.
Conclusion
We are reaching the end of our article. By the time you definitely know what to look for in a tour and travel agency WordPress theme. Now, it will be faster for you to select the best one. As the list contains only the best ones, they are all suitable to create the best travel agency websites.
But my recommendation goes to the first one, Travelz. It is the most budget-friendly theme with almost the same features. On the other hand, if you need to build a primary and static website, then Travel Tour will be a nice option for you. You can't find this much simpler and updated HTML feature in any WordPress theme. For less than 15$ you can make a simple at the same time attractive website without any problem. So, choose your right one, and create a charming website. Thus, move forward with your tourism business.

Would you like to know? 7 Reasons Why Should Never Use Nulled Scripts & Nulled Themes