How to Build Your Own Bitcoin Exchange Website?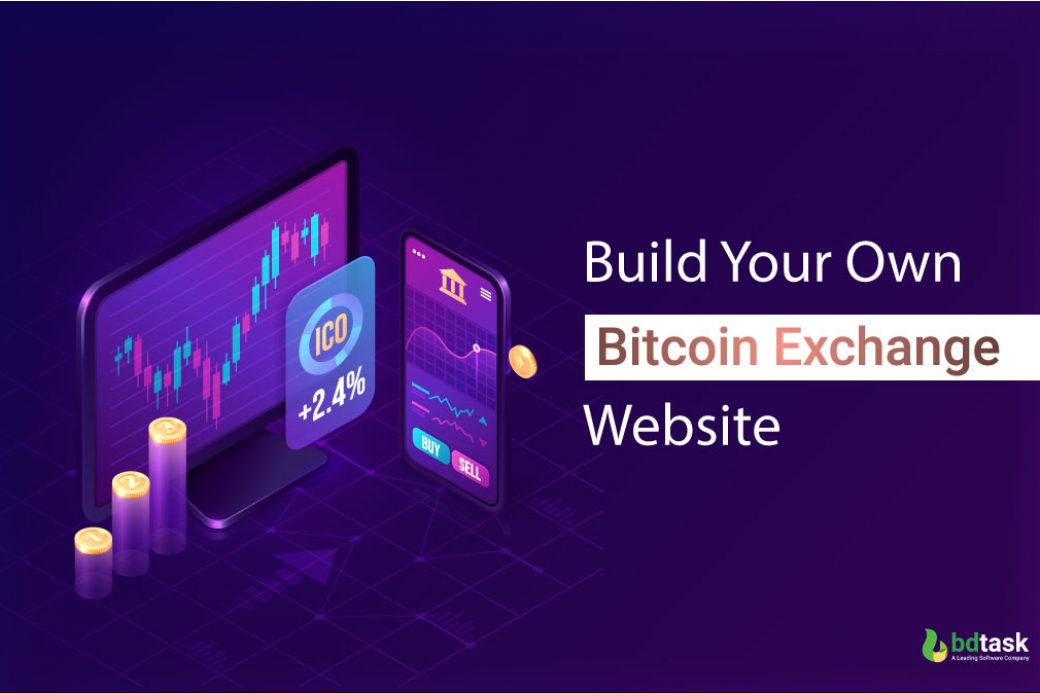 Is it rocket science to build your own Bitcoin exchange website? The answer is no. You can easily start one if you have the proper knowledge and budget. Moreover, you don't need to have any professional experience to take a step into this fast-moving business.
Besides, earning from a Bitcoin exchange website is the more safe and secure way to profit from digital currency. As you don't need to worry about your geological restriction, you also don't face any loss in the transaction process. So, let's see how this modern-day's digital currency works and how you can be part of this trending business. In a word, How to build a cryptocurrency exchange website for your greater benefit.
Before going to Bitcoin, let's learn what cryptocurrency is. Cryptocurrency is a digital currency that works under a decentralized system. It has no physical existence but can be traded via online trading platforms. Bitcoin is the pioneer and the most famous among all cryptocurrencies. After that, Ethereum, Litecoin, Bitcoin Cash, etc., are the most popular ones. Now, come to the point of what Bitcoin exchange is. Bitcoin exchange website is a platform that allows traders to exchange their Bitcoin with other cryptocurrencies or Fiat currencies.
You may say why we need to exchange Bitcoin in other currencies. The fact is, every cryptocurrency has a different and, at the same time, independent blockchain. Therefore, you can't use your Bitcoin in the Ethereum platform or vice-versa. So, the Bitcoin exchange websites come forward with a stage where traders are gathered and exchange their cryptocurrencies as they need. Thus, you can build a cryptocurrency exchange website and play as a medium to exchange others' currencies.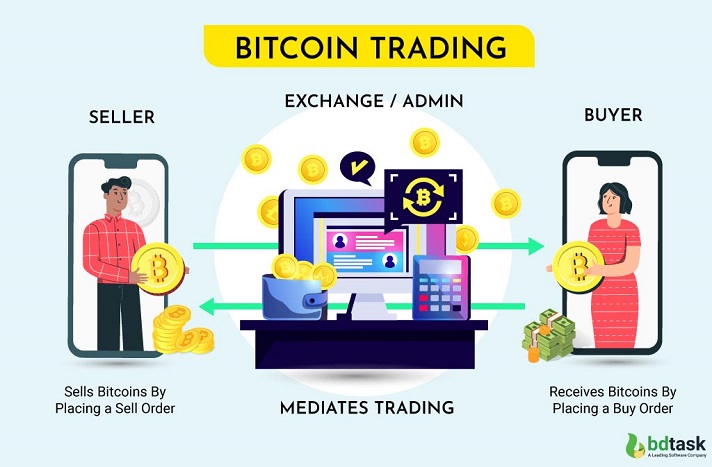 As mentioned before, Bitcoin trading is done on a secured platform where traders gather their Bitcoins and exchange them with other currencies. Basically, there are three main characters on the Bitcoin exchange website. They are- buyer, seller, and admin.
The admin creates and controls the overall platform. The tasks of admins are-
Connect Bitcoin buyers and sellers through a network

Transaction monitoring

Take charges for every transaction.

Keeping the website secured and up to date
The buyers and sellers are called traders. They have to create an account on the website. After that, exchange their Bitcoin with others.
Read more: How to Buy and Sell Cryptocurrency?
Benefits You Get from A Bitcoin Exchange Website
As the current statistics show, Bitcoin is the most profitable currency at present. Moreover, the growth is increasing day by day in a surprising way. From October 2013 to the present day, Bitcoin's price has grown from 196.02 USD to 57128.64 USD. So, it's clear how profitable this sector is. However, this sector's users are mainly Freelancers and people involved in a trading business. Among them, most transactions happen between traders.
So, the main target audience of your website is cryptocurrency traders. As you can see, how much wealth entangles this sector. Therefore, dealing with the leading people helps you to get enormous profits.
Now, let's see the benefits you can get from a Bitcoin exchange website.
Huge Financial Rewards
The primary purpose of setting up any business is to get profit. As you see earlier, there are massive amounts involved in the Bitcoin sector. So, may the startup is a hazy work but the rewards you will get is big. Besides, you need time to start any business. So don't worry about the time you have to spend.
Be Ready for The future world
When Bitcoin came into the spotlight, everyone thought this would be the future of the world currency. But now, it's not only a theory, and we see the reality before our eyes. Indeed, Bitcoin is our future. So, to take part in this leading sector, take your step as soon as possible.
Opportunity to Help The World
The cryptocurrency exchange is not only about money but also for the welfare of everyone in the world. Imagine a world where banks are not the head of the economic system. Doesn't it sound good? The nightmare called Bank loan will come to an end. Besides, you don't have to pay a huge currency conversion fee for any currency. Bitcoin basically gives all of us economic freedom. Therefore, the further it will move, the better our world will be. So obviously, you can think of it as an opportunity to help the planet.
How to Create A Bitcoin Investment Website?
Now let's see How to build a cryptocurrency exchange website in the following segment. Usually, the most fundamental part of creating a website is to start coding or buy a PHP script. But in making a Bitcoin exchange website, you have a long way to go before beginning to build the website. Now, I'm going to explain the overall process briefly.
Know Your Competitor
For every business startup, knowing your competitor is the first and most crucial step. So, to start a Bitcoin exchange website, it will be great to do some research on existing Bitcoin websites. You can learn how they came to the present position, what they faced during their journey, and how they overcame it. The research will help you to make a basic plan for your website. But remember, the Bitcoin platform is changing at the same time, a controversial one. So, what your competitor faced may not come to you, but the history will help you build your marketing strategy.
Choose The Right Marketplace
In the Bitcoin exchange field, choosing your marketplace is crucial as Bitcoin is in an argumentative state. Many countries still do not allow the transactions of Bitcoin. However, many of them make some rules and regulations to control the transactions. So, you have to decide your marketplace and learn about the law through professionals.
Otherwise, you may fail for a huge penalty or, in the worse case, end up in jail.
So, to turn aside from this type of situation, you need to understand the law and get licenses from every region you want to operate in on your website.
Therefore, keeping these things in mind, you need to choose your marketplace.
Develop Your Website
After meeting all the legal issues, we have now come to the core part, building a secure and eye-catchy website. In developing segments, the most important things are security and functionality. As your website will contain sensitive information like credit card information, the website will also be at the center of an extensive amount of money. Besides, in recent years, many exchange websites have fallen victim to hacking issues. Therefore, implementing two-step verifications, encrypted database, captcha, etc., security features will help you strengthen your security.
However, make sure your website has the fundamental component of a trading website. The basic Bitcoin trading website contains the following things-
The primary module of an exchange website is the admin panel. The dashboard is the center of the whole system. From here, you can run the trading operation, verifying processes, create liquidity, and provide customer support.
Basically, the frontend is the face of your website. You need to make sure your UI is capable of maintaining fast and smooth trading and transaction processes. Also, create an interface that will help the user to find their account quickly. At the same time, they can see the exchange rate changes, deposit crypto or fiat money, or place any transaction order.
Another thing is, don't show too many ads on your website. Users tend to avoid sites that show so many ads.
The trading engine is the core part of your website. In fact, without it, your overall system is nothing but wastage. A trading engine processes the order booking, transections, matches all the purchasing and selling orders, and calculates balances.
The electronic wallet of your website should enable a fast and easy launching at the same time secured enough for withdrawing and conversion processes.
Read More: How to Create a Cryptocurrency Wallet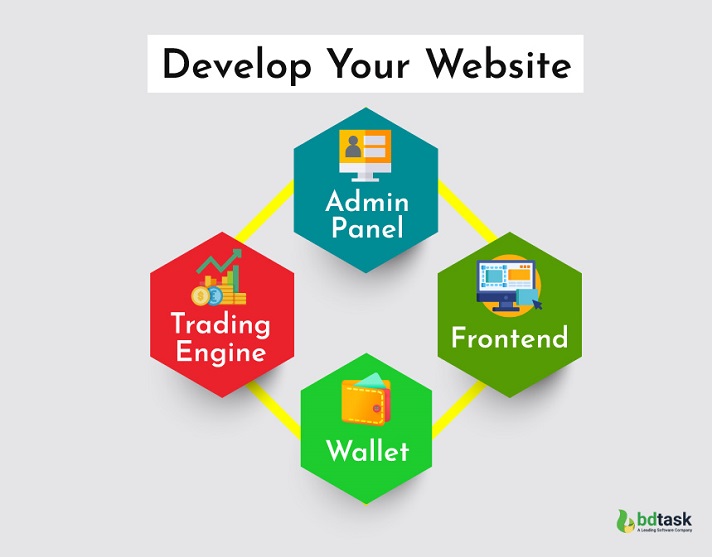 Partner with A Bank Or Payment Processor
In order to exchange money with Bitcoin, you need a bank or other payment processor. So, it's necessary to partner up with a bank to make your website successfully running. But keep it in mind that in current times most of the bank does not allow cryptocurrencies. However, some banks allow them. So, find one of them and open an account for the Bitcoin exchange.
But before opening an account, make sure that the account is enabled for such transactions. Also, their transactions are faster than usual.
Apply Marketing Strategy
It's better to apply marketing techniques before launching your website. In the marketing segment, using social media is the most effective and beneficial one. So, try to create accounts in all popular social media and write blogs, articles about your Bitcoin exchange website. Your success rate depends mostly on how well you attract the attention of your potential customers.
Do You Need to Build Your Website from Scratch?
Generally speaking, there are three ways to build a Bitcoin exchange website. They are- Building in-house exchange software, using code from an open-source, white-label exchange software. Among these three, only in the first option, you need to build your website from scratch. However, the second and third ones don't need to start from scratch. In fact, the third one is easier and less time-consuming at the same time, less expensive than others.
Let's see how to create a Bitcoin investment website in these three ways.
Building In-house Exchange Software
In this way, you need a dedicated team of developers. They will start the coding from scratch and maintain the code. But this is the most costly and time-consuming process to set up a website. Still the most effective one because all the codes are built specifically for your website. You can create modules and functions as you need.
But the thing is, you need one to two years to complete the project with a vast amount of money. If you are confident enough about your budget and time, then build a cryptocurrency exchange website in this way.
Using Code from An Open-source
In GitHub or other open-source platforms, you can find existing code for building an exchange website. In this case, you don't need to develop the whole project from the start. You can use the codes and modify them for your website.
In this instance, you also need a developer team who will understand the code. The only benefit you will get, you can save time. But the fact is, you can't trust open-source codes all the time. Sometimes they are full of bugs or errors. So, it may take a lot of time to find the mistakes and correct them than building a whole project from the base.
White-label Exchange Software
It's the faster and simpler way to build your exchange website. If you buy a bitcoin exchange website with a PHP script, you can make changes in the script if you need any and also if you have programming knowledge or a developer team. Here, you don't need to start from the base. The script also will be error-free. Therefore, a programmer can edit a PHP script without fixing the existing bug.
On the other hand, if you don't have coding knowledge, just customize the demo segment. You can build your own and unique website within a few months. I hope by the time you get now, How to create a Bitcoin investment website in an easier way.
Check Out: Top White Label Cryptocurrency Exchange Software
Basically, you need only three things to build a cryptocurrency exchange website. They are- web hosting, PHP script, and demo customization.
Web Hosting
You know web hosting is the most basic thing to upload to any website. First, buy a domain for hosting your website. Remember that choosing the right hosting plan will give you the proper allocation of resources. So, your website loading will be faster, and your visitors can rely on your website.
Get A PHP Script
The fact is when we say developing a website, that mainly refers to creating a PHP script. By the time you know the three ways to build your PHP script. Among them, if you want to launch your website within a few months, then white-label exchange software will be appropriate for you. So, find the best software company to buy a Bitcoin exchange website.
Demo Customization
After getting the white-label exchange software, the final part is the demo customization. You see, good software comes with a lot of demo features with easy customization options. Also, you can get additional support from the developer team to customize the website. Moreover, to understand the software and customize it, you need only a few months. Thus, within a month, you are ready to go!
Now, come to the most critical part, that is, how can you get your preferred Bitcoin exchange website script. Before buying any kind of software, the first thing is to research and get advice from the experienced. After that, you will understand the features you need to run your business. After that, find software that will fulfill your overall needs.
As for the white-label exchange software, find out if it contains the four fundamental features mentioned above. Next, see the demo options to understand the functionality.
It will help you decide if you read this article about Top White Label Cryptocurrency Exchange Software. The content has given a list of the best eight cryptocurrency exchange software. You can go through the article and find your suitable one. But in my opinion, Tradebox and Nishue will be the best options.
Why Tradebox or Nishue Is The Best Option for You?
As mentioned earlier, now you know what features you need to get from a Bitcoin exchange website. So, in the demo segment of Tradebox and Nishue, you can check the features. You will understand whether they are right for you or not. Besides, the easy customizing option helps you to build your website in less time. On the other hand, both software support multi-currencies and give you 100% security. Moreover, Nishue has a responsive interface so that you can run the website on your mobile phone also.
Above all, you can get all these features in less than a hundred dollars. Also, get six months of additional support to help you to customize your website.
If you need a website only for trading, then go for Tradebox, and if you need a website with investing features too, then Nishue will be the best choice for you.
Now let's see the setup process of these two software.
Now, let's see the setup process of Tradebox and Nishue.
The first step is web hosting. Find an affordable and appropriate hosting platform. After that, contact the server to install the PHP scripts onto the web so that you can run your cryptocurrency exchange website.
Check Out: 15 Best Web Hosting for PHP Website
Step 2: Install Your Preferred White-label Exchange Software
In this step, download Tradebox or Nishue from Envato. After that, unzip the downloaded folder and then upload it to the server. The main installation process will start now.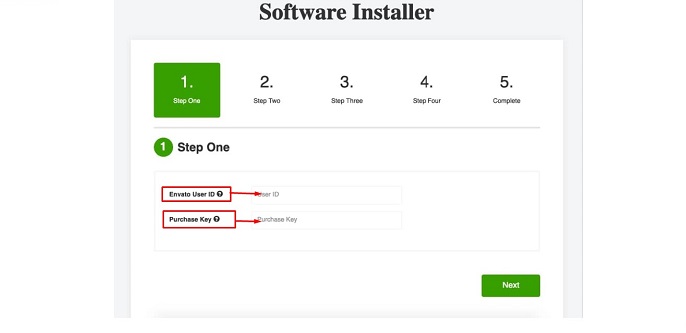 You can get the Envato User ID and the Purchase key from the software authority when you buy bitcoin exchange websites.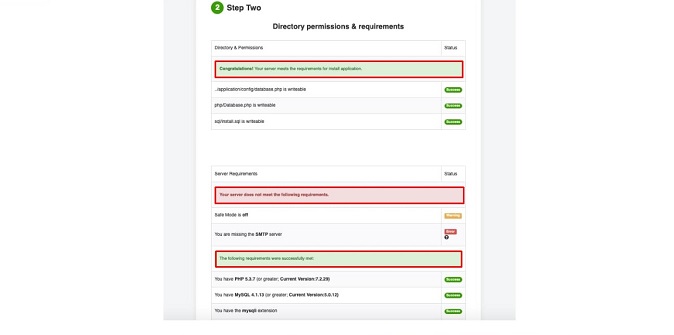 In step two, the marked box refers that the hosting platform fulfilled the requirement needed for your exchange website.
In step three, you need to set a database name to store all the website data. Next, set a username and password for security purposes. Lastly, in the hostname, you can add your localhost.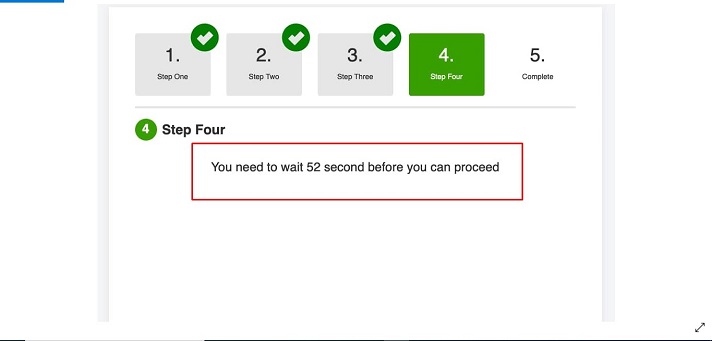 After finishing the third step, you need to wait 52 seconds before going to the next process.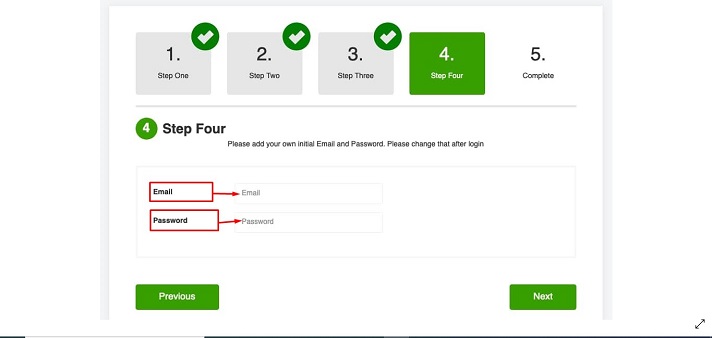 After 52 seconds, you can add an initial Email and Password, which you can change later.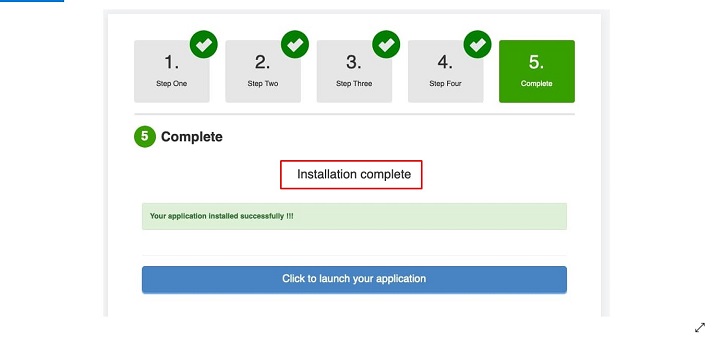 In the last step, you will get a notification that your installation is complete. From here, you need to click the blue button to launch your website.
After launching your website successfully, it's time to organize the site according to your needs. And to do so, you need to replace all the demo content.
If you buy Tradebox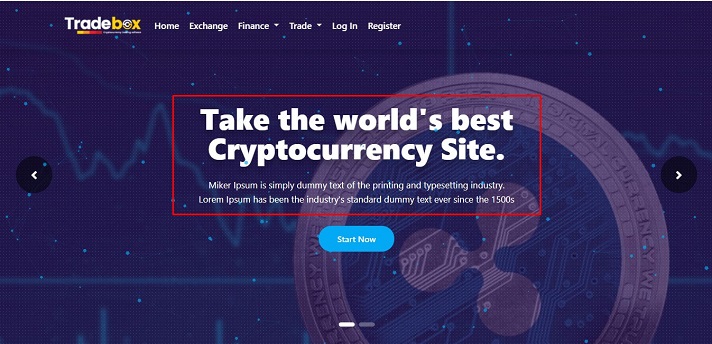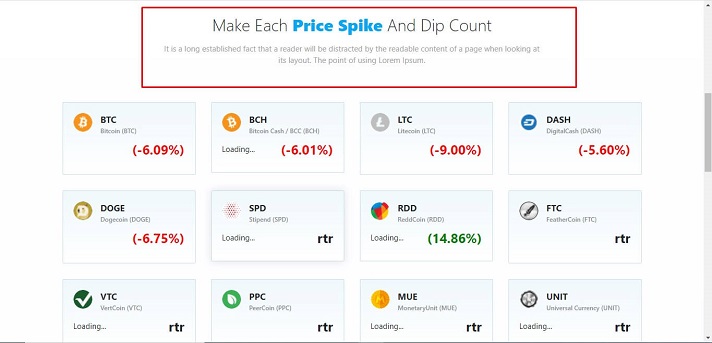 If you buy Nishue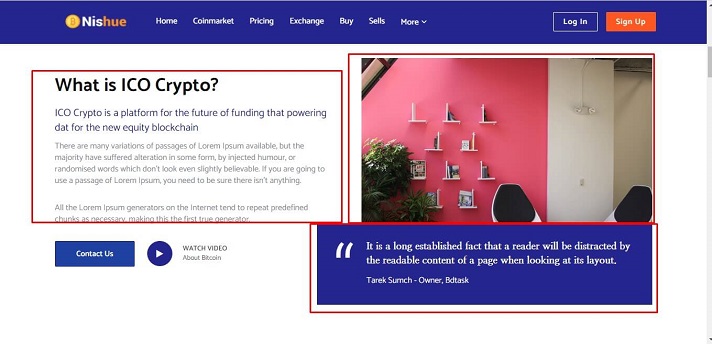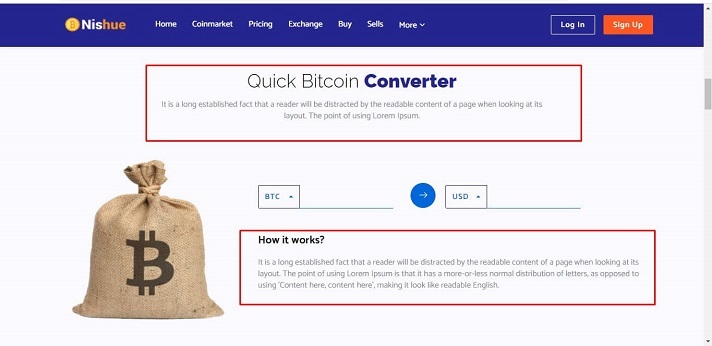 You can edit the overall platform whenever you need. You can change images, text everything except the platform's structure.
Here, you can customize the admin panel. You can add users, more admins, and the general settings to maintain your website.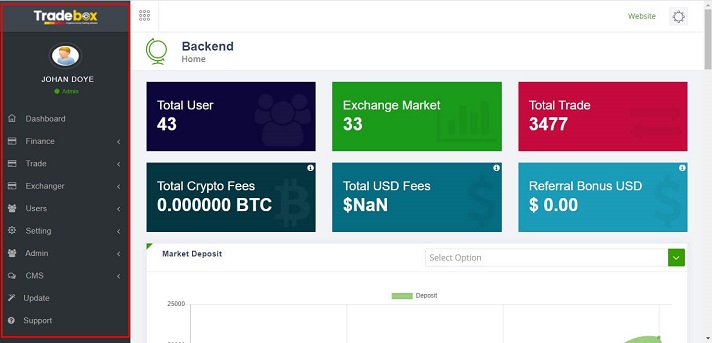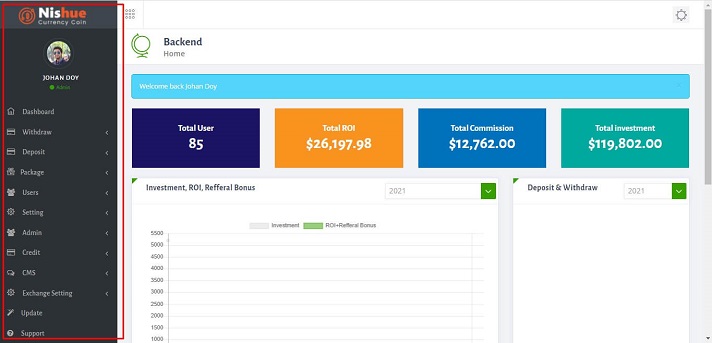 If you find any problem, you can get support from the developer site.
Step 5: Successfully Run Your Website
Now when your website is completely ready, at this moment, you need to maintain some essential points to successfully running your site.
Provide Liquidity
As soon as you introduce your website, you need to do some artificial transactions. It will generate activity on your website. You can do it in two ways.
Buying and selling Bitcoins using manually created profiles

Connect to the network of other exchanges.
Security
The biggest, and you can say the certain threat you will face for your website, is hacking. So, always stay alert of any security issue and solve the problem as soon as it happens. You need to remember that hackers will target your website as soon as it starts to grow.
Increase Page Load Speeds And Always Be at Service
In the Bitcoin field, time is money. The transection rate may differ within a few seconds. So, loading speed is one of the vital points for the users. So, make sure your site does not take much time for loading.
Moreover, if your site does not provide a 99.9% upvote time, it will create distrust among the users. You need to always be in service. But, for some reason, if you need to shut down your service, then make sure to solve the issue quickly and announce it in the media. So that the user will understand and trust your site more.
Provide The Best Customer Support
Customer support is one of the best ways to get loyal customers. As the overall process is totally running online so make sure to show your dedication towards your customer. One of the ideal ways is to create a support team. Whenever a problem arises, they can handle the situation professionally and answer the customers' queries.
Keep Your Site Up to Date
You know that cryptocurrency is a changing platform. Therefore, almost every day, new rules and regulations come into this world. So, don't think your work is done only by setting up the website. You have to add all the new things to make your site a trendy one.
Besides, try to allow users to buy and sell multiple cryptocurrencies. So they don't need to go to another site. Therefore, they will solely depend on your site.
Recommendation for Cryptocurrency Exchange Website
So, that's all about how to build a cryptocurrency exchange website. Hopefully, this article assists you in understanding the basics of the Bitcoin world. By the time you get the steps to build your own Bitcoin exchange website and the fastest way to start the trading business. Therefore, if you want to begin your own business, don't be late. Take your step into the amazing field of cryptocurrency as soon as possible.
Would you like to know: