How to Fund a Restaurant Startup with No Money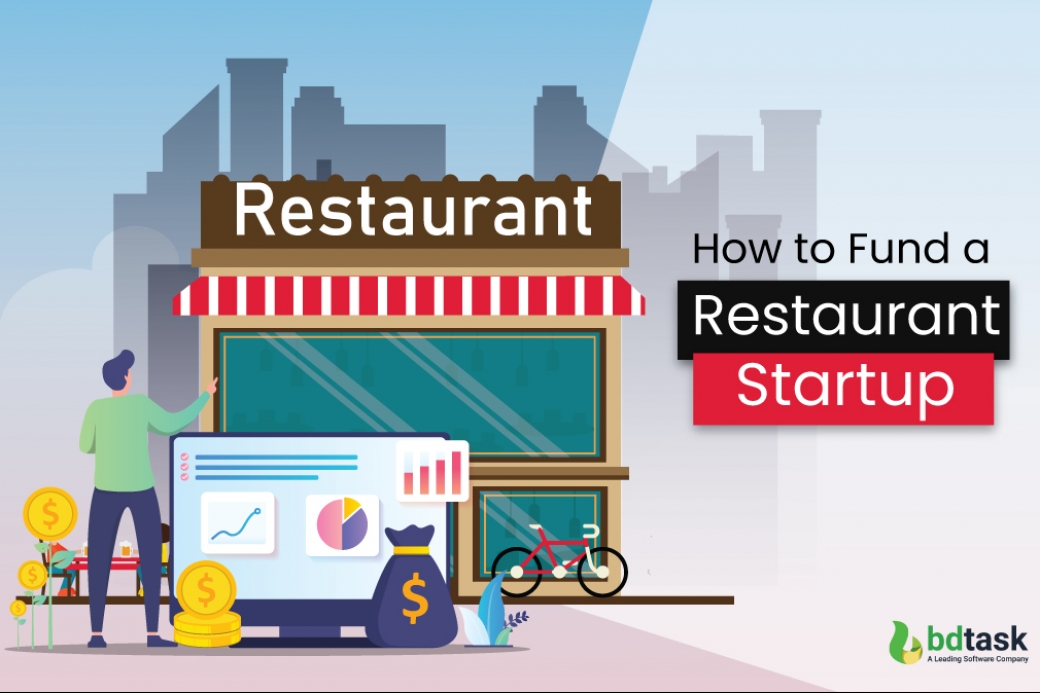 The restaurant business has a future. So you don't have to worry if you have already decided that you are going to open a restaurant. But have you decided which type of restaurant you are opening?
At first, you have to know the most profitable restaurant type at present based on the budget, place, and situation. Well, thinking about funding the restaurant?
It's a common scenario that entrepreneurs face the investment issue most of the time. Suppose you are ready with personal capital investment into your restaurant but it's not enough as you planned.
In this case, you need more but how can you manage that? You are in the right place to get your answer. Do you know there are a lot of places to look for restaurant funding?
Just go through the article and know how to fund a restaurant startup or how to finance a restaurant and where to find traditional and non-traditional sources of extra funding for your startup.
Here you will get the top ten funding sources to open a restaurant. The restaurant business needs a fixed amount of funding. The best sources can be the reason for your success. But how to fund a restaurant startup needs to be crystal clear to you.
You can raise your fund with some creative ways which are provided below. Let's get started.
SBA loans refer to Small Business Administration loans. It's a government organization of the USA and it is designed to assist small businesses as well as encourage startups.
The government doesn't provide this type of loan. It's a third-party loan but guaranteed through the SBA of the US. The policy of the SBA loans limits the risk of the renders. Besides, it helps to get the loan easier.
The SBA loans offer the standard facilities that are favorable to small business owners. On the other hand, the processing time of this loan is more as you have to go through government organizations.
Sometimes it may frustrate you. Moreover, the SBA loans provide a wide number of packages. You have to choose one of them before applying. You will get complete information on SBA.gov.
Crowdfunding is a creative fundraising method. Nowadays different crowdfunding sites are the desired choice for restaurant business owners or entrepreneurs.
Several restaurants started their second or third branch through crowdfunding. Some popular crowdfunding sites are Kickstarter, GoFundme, Indiegogo, FoodStart, etc.
If you are well known already for your restaurant services or any brand, you can ask your customers to spend a few bucks for your restaurant startup or new location.
Although crowdfunding is not appropriate for restaurant startups, some restaurant business owners got desired success through crowdfunding to expand their business.
Generally, the business investors are not known but invest in your business because of your business ideas and thoughts. There are several types of business investors.
The restaurant investors invest considering various factors including-
The effectiveness of the business plan

Your popularity

Business strategy

The strength of the business skills

Experience

Opportunity to grow

Future return on investment
Every investor has some demands because they want to protect and maximize the return of investment. Finding out an investor is like you get your business friend. But you have to explore your business goals and objectives with the investor and get everything written.
Do you know the investors ensure the benefit of their investment from the restaurant? There are a lot of ways that restaurant investors follow.
Go for Equity Investors
This type of investor takes more risk. The equity investors maintain a balance with the restaurant owners. Let's see how.
Suppose, a restaurant business owner fails, the money of the investor goes with it. But the equity investors will receive a reward instead of the investment.
If there is no option, then you can go for the equity investors. It's essential to maintain the equity investors. Equity investors are more suitable for the solid business rather than the restaurant business.
Manage the Debt Investment
In this type of investment, the investors provide you a loan but they are not going to take part in your business partnership. You can arrange meetings, pitching, site visits, and other activities to manage your investors.
The loan you are offered can include collateral and interest rate. You have to remember that the investors who are willing to invest their money in your business are really optimistic to get the return of investment.
Bank business loan is challenging but you should try it as it is worthy. The bank will provide you the business loans considering different factors including
Personal credit

Interest and collateral you put up

Business ideas and skills

Restaurant business strategy

Business plan
In this case, the more you can show your strength, the better your chance of getting a loan. The traditional bank business loans provide you a great thing that they give you a large lump sum of cash upfront.
You have to be more careful while lending the money from the bank as several policies differ from bank to bank. You need to focus on additional fees rather than the interest rate.
The interest rate can be higher but the lower fees can be the best choice for you as you are going to repay it based on the schedule.
Personal loans are an easier process compared to business loans. Although the personal loans are unsecured, the business loans need collateral.
You are reliable to repay your loans. If you are not capable of paying it within time, it will negatively affect your credit scores.
Most of the time the restaurant startup goes with personal loans. The business loans are difficult to obtain as it requires more standards. You can take the loan from a bank and you should repay it within the time that ensures your further loan.
Microloans are the new and secured way to take a loan. You can take a small amount of cash for a short period of time. The modern era gives us the internet and technology. You have to beat the marketplace in a new way.
Nowadays people invest small amounts of cash with short-term loans. Based on the popularity and credit scores of the site, the investors invest in the business sector. The microloans can be a big scope for the restaurant startup.
Peer-to-peer lending is like microloans but you can get a higher amount of money from here. Investing a small amount through multiple loans minimizes the investors' risks.
The P2P sites are-
Generally, you will get 20k to 40k from these lending sites. Besides, you can get a small amount of loan from here.
These peer-to-peer lending sites are the best alternatives to traditional bank loans. Suppose you need less than $50k to start your restaurant.
After considering some points like
Credit score

The loan amount

The term of the loan

Interest rate etc.
Investors of these sites invest.
To attract the investors, the rate of interest can be higher which is typically 20%. Actually, the loan amounts are lower because it ensures the minimization of the lender's risk.
Maybe you are a credit cardholder or you can easily get a credit card from a bank. You will be able to get multiple credit cards if you have great credit.
Besides, you can get credit card loans with a reasonable interest rate. It depends on several criteria like credit score and timely payment.
It is highly recommended that, if you use a business purpose credit card you should not use that credit card for your personal use. But why should not you do it? Let's see.
If your business gets audited, at that time you have to demonstrate your all expenses. On the other hand, if you want to track your business, you must need an accurate report. In this case, it helps you with bookkeeping.
Do you know the local business community is the best place to find investors outside your existing social circle?
Yes, you can create a network here and the potential investors are waiting for you. Besides, you will get a proper guideline on how to run a restaurant startup from experienced restaurant business owners.
In addition to this, you will get valuable advice from the local business groups about loans and investments in the restaurant. How to raise funding for startups? It can be the best and appropriate option for you.
You have to find a community business group and local restaurant owner to get involved. Some groups or organizations can help you to find loans and investors.
State restaurant associations

Local community business meetups

The local chamber of commerce
Certainly, you can meet the business owners through these groups and they can help you to find the resources you need to fund your restaurant startup.
The restaurant business needs a considerable amount of investment. But you can manage it through the support of your friends and family.
When your friends invest in your business it seems like they want to help you to fulfill your dream. In this case, the lending amount of money is free of interest.
The friends and family are the relatives to you and you have a strong relationship with them. In this case, you will get the money from them to raise your fund.
Besides, if you are unable to pay, the relatives can consider you without facing any unwanted situation. In this regard, you have to inform them, there is a risk so they should invest more carefully.
Moreover, you must be aware that you are not going to take from your family more than the desired level. And if you face loss, you should overcome it through another income source.
One thing you have to remember is that the irregular exchange can negatively affect your family bonding or friendship.
However, here you have got the most reliable sources on how to fund a restaurant startup. Now you can evaluate yourself to choose the best option.
How Personal Credit Impacts Interest Rates & Loan Availability?
You have to open additional lines of credit prior to making a plan for taking a new loan. It is essential to know the credit score you have.
The financing options are greatly affected by the credit score. Before starting to look for a loan, you have to spend time on your credit score.
The rejection of loans is a common affair but if you focus on it before shopping for loans, it will reduce the rejection percentage and headache.
Besides, if you are able to take a loan with a lower interest rate, it will save your money. In this case, you have to ensure that you are qualified for that through a good credit score.
Considering the credit score range, you will get the type of loan. Let's take a look at the classification.
Exceptional: 800 to 850

Above: Average: 740 to 799

Median: 670 to 699

Fair: 580 to 669

Poor: Below 579
It is noted that only 3% of people score in the above-average range. It is a basic step to know when you are looking for a solution on how to fund a restaurant startup.
Tricks to Get the Lowest Rate
When you are thinking about how to fund a restaurant startup and get the sources of funding, now you need to consider some tricks to owe it in a suitable way.
In this part of this article, you can see how to finance a restaurant in a profitable way. So you don't have to pay more to your lenders.
A great credit score is a must
When you can take a loan with the lowest interest rate, it will save your money indeed. After paying the interest rate year after year, you can realize that the rate of interest can be your burden.
If you raise your credit scores, it is estimated that you can save tens of thousands of dollars in a long-term loan because the interest rate will be lower. So it is noteworthy that you have to raise your credit score first before going to take a loan.
Focus on the small banks
Well, you know that the traditional bank loan is complicated and you need a good credit score to take the expected loans. In this case, the large banks are strict while giving you a loan.
The large or popular banks always focus on your qualification to get the loans. So don't target those banks only.
The community bank and local credit unions offer more flexible and favorable loan facilities compared to the large traditional bank.
The small credit unions and the community banks provide business loans. If you have a good credit score then you should apply to those banks as they will offer you desired options.
Are You Ready to Establish Your Restaurant Business? Grab it!!!
Well, now you get a perfect guideline on how to fund a restaurant startup. But here, you have attained what you should do before applying for a loan in a bank. Besides, there are so many reliable resources from where you can manage your restaurant fund.
Suppose, you have managed a loan or investors whatever and now you are going to run your restaurant business. But do you know what exactly you need to sustain your business?
Restaurant management is a challenging task for restaurant owners. But when you can manage your restaurant perfectly, you never feel that it is difficult.
How do smart restaurant owners manage their business?
Modern technology helps restaurant owners as well as customers. Nowadays the restaurant management is not a big deal where the automation system manages the restaurant.
The customers can place an order without going to the restaurant. Besides, the restaurant managers can organize, manage and monitor all activities through a single system.
Smart business owners always find out the smart solution. They adopt a digital restaurant management system by which they get the time-worthy and cost-effective business solution.
Let's explore what the best and advanced restaurant management software offers.
Online delivery system

Sales management system

Employee management system

Restaurant table reservation system

Accounts management

Android and iOS app integration system

Report and analytics etc.
The long-term benefits of restaurant management software
Restaurant management software is a complete business solution. The pandemic situation negatively affects the traditional restaurant business. Besides, you can't get the desired level of profitability through traditional system food service.
Saves cost and time (Need o know

how to calculate food cost

)

Increase efficiency

Enhance productivity

Ensure profitability

Compete with the rivals

Sustain in the marketplace

Cover a large area of your business
However, it's not an optional choice to integrate an automation system in the restaurant business. At present, it's an obvious thing to adopt digital restaurant management software.

Endmost Line
The entrepreneurs who are searching for raising the fund to start a restaurant startup, this article especially for them. Besides, the restaurant business owners who are operating business operations traditionally, the blog can be the solution for them.
How to fund a restaurant startup is a way to start your journey but how to become a successful restaurant business owner is your solution. So be dynamic and proactive to ensure your restaurant business long-lasting and worthwhile.
Read More: