7 Proven Ways for Restaurant Management - Complete Breakdown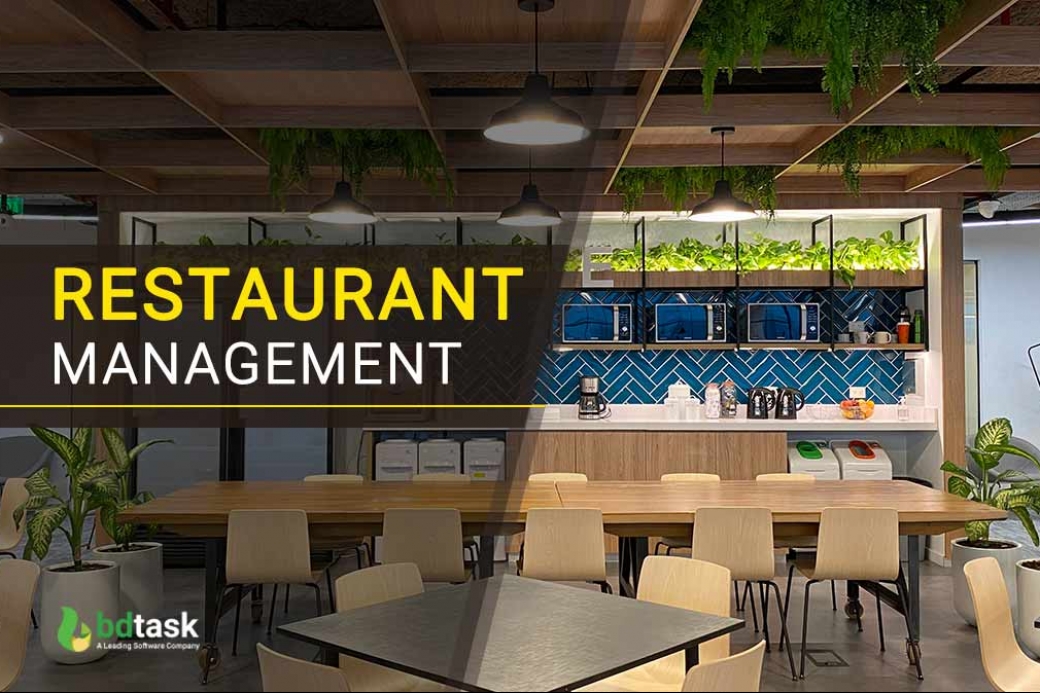 Restaurant management indicates not only food-management but also several responsibilities, including hiring and training the employees, budgeting and basic accounting, tracking sales and conducting marketing, improving customer service, etc. As a restaurant manager, it is essential to know how to manage a restaurant efficiently. Besides, proper restaurant management can assure a smooth operation to provide the desired service to customers.
Comprehensive restaurant management maintains a balance among different processes and missions to develop a seamless operation. The daily restaurant management operations include food and labor costs, employee training, tracking inventory or stock, producing food, marketing, and customer support. 
Restaurant management refers to the process of conducting many activities like managing public relations, staff, accounts, inventory, sales, marketing, and so on. Managing the daily operations of a restaurant is a vital task for a restaurant manager. 
Sometimes, the restaurant owner acts as a restaurant manager who strategically maintains the entire business. Restaurant management is a vast process. It indicates maintaining all essential operations of a restaurant. 
Restaurant management divides into two categories. One is directing regular operations, and the other is managing the business's health. Daily operations indicate costs handling, meeting targets, and growth forecasting. 
On the other hand, the second category includes maintaining operational standards, prioritizing customer satisfaction, and establishing a friendly culture.
"Success of a restaurant business significantly relies on effectual restaurant management."
As a restaurant manager, the basic things you must do are the responsibilities. It seems like you have to manage your employees and customers. But it is actually something more than that, isn't it?
The restaurant needs to provide food to the customers, and the main service of this type of business is food and food-related products. The responsibilities and duties of a restaurant manager are huge. 
A new manager of a restaurant can confront a dilemma while regulating the entire business operations. It can be overwhelming for the new manager. 
A question can arise in your mind. What does the successful restaurant manager do? Some managerial skills help you to improve your performance as a manager. 
Managing is easy when you manage systematically; otherwise, it is a difficult task. You must be proactive as a manager. Instead of being reactive, you should go ahead. It means you should have the ability to look in the future and work for the long run. 
The manager of Piccola Cucina Osteria focuses on several things while operating the restaurant. Piccola is one of the renowned restaurants in New York.    
In the decision-making process, the manager needs to contribute considerably. A manager does not think only about the current situation but also about the future.
Employees requirements
Food menu updates and changes
Inventory manage
Campaigns for marketing
Identifying the consumers' trends
Adopting updated and advanced technology
Without being proactive and dynamic, as a restaurant manager, you will never achieve your business targets. Besides, sustainability in the marketplace will be difficult for your business.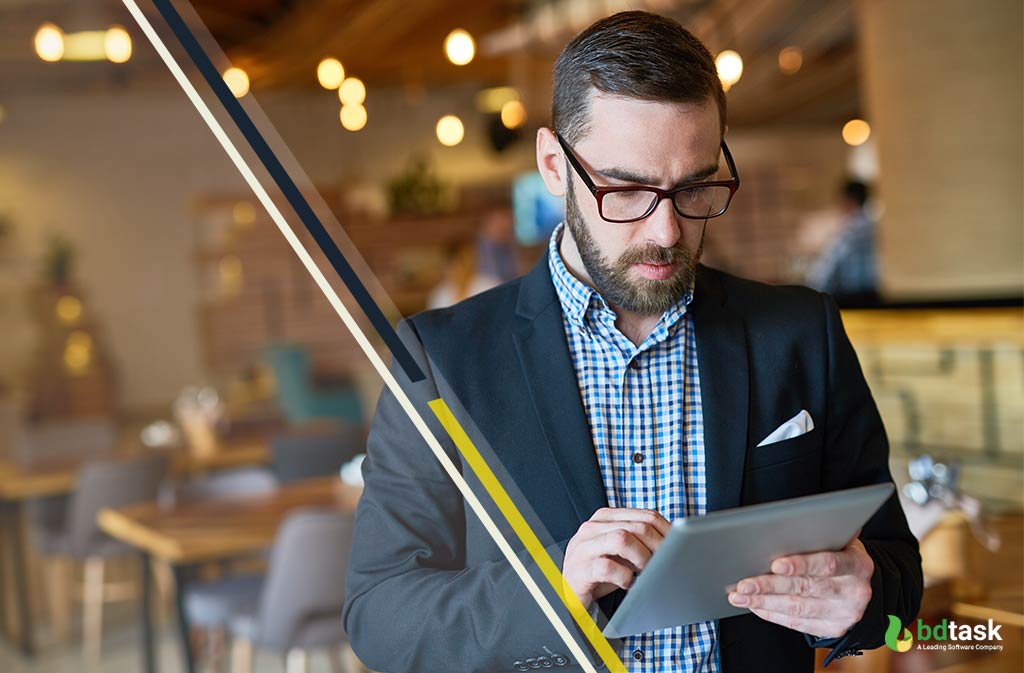 Problem-solving ability is one of the best skills of a manager. This ability helps you to enhance your performance. 
In the workplace, the more you have practical experience, the better you will perform. Besides, the actual experience will assist you in increasing the problem-solving ability. 
A manager will be an all-rounder. Managing all essential activities like operating the kitchen, dealing with food materials, knowing the cooking process, servers stress, etc. 
Besides, you should cooperate with your chef and staff to know why they use the method they follow. In addition to this, your behavior with the employee must be proper. It will help you to gain respect from your staff. Moreover, it will affect the relationship between your customers and employees.
Are you capable of taking any decision in any situation while conducting business?
Most of the managers face a common challenge to solve any issue. It is an inconsistent approach.
For example, the Boucherie Union Square is a big size restaurant in New York City. The manager of this restaurant has to handle a lot of employees and customers. The consistency approach solves the operating challenges. 
The approach that you should adopt must be consistent while solving any business problem. The problems are different, and every day you will confront specific difficulty.
In this regard, consistency is essential. It also indicates several things like
How you cooperate
How you obey policies and rules
What your predictions and expectations are
The consistency of a manager greatly affects the employees. When you have a lot of customers, and your kitchen is busy ready the food. At this moment, your employees have to handle the high-stress loads. In this case, your consistency helps to manage the loads without cracking.
Develop Customer Experience
In the USA, nearly half of the people eat out instead of cooking food at home. Some convenience issues are responsible for this food habit. 
As a manager, you may think you just manage the food and delivery operation. But it is something more than that. You are also managing the customer experience. 
What is the main target of your business? Indeed, it is your customers.
What includes the improvement of the experience of customers?
For instance, Obao is a renowned restaurant in America. It provides a gorgeous ambiance, and the manager always focuses on several activities that improve the customer experience, including cleanliness, fair price, friendly staff, amazing food, etc. 
The people are looking for spending time and money where they have already got a better experience. So if the manager doesn't focus on the customer experience, it will be impossible to manage the customers.
Learn about: 10 Actionable Steps of How to Respond to Negative Restaurant Reviews
Focus on Employee Retention
The restaurant manager has to regulate different challenging tasks, including hiring, motivating, training, and retaining the employees.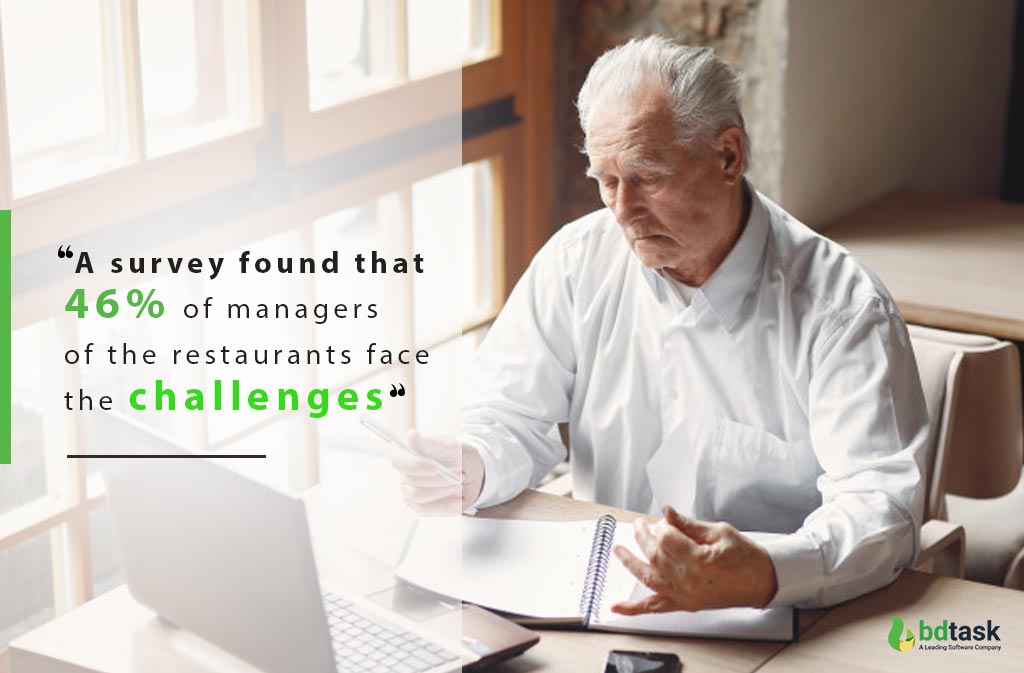 Staffing is a significant task for the manager. The manager should focus on employee retention rather than sales, inventory, trends. 
The recruiting and training process is a complicated task for the manager. The proper hiring process can ensure staff retention. So the manager should prioritize this thing.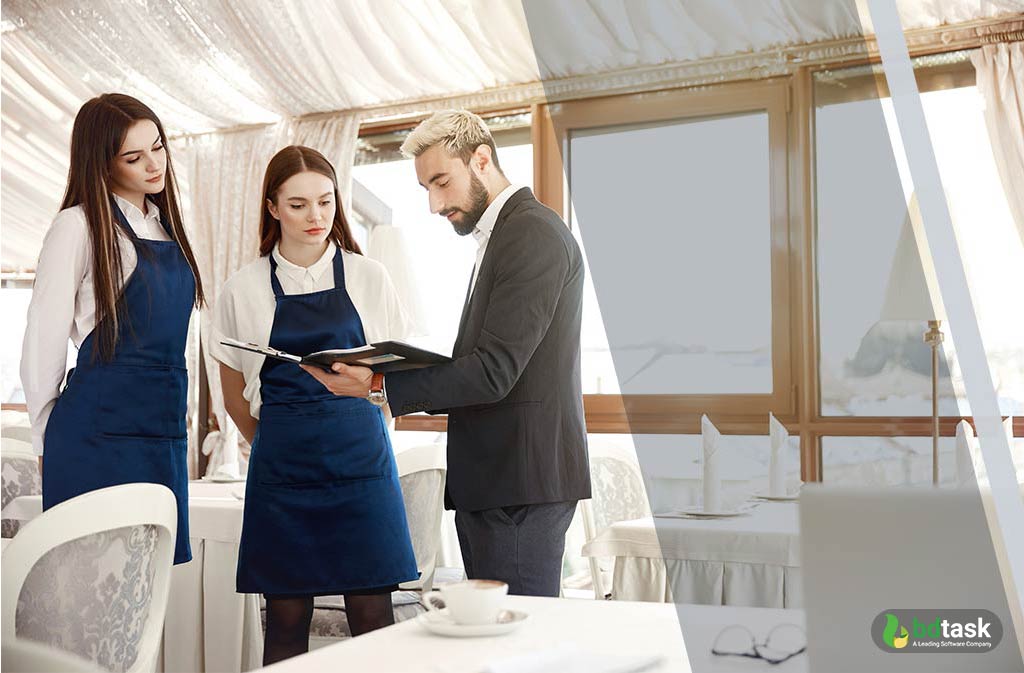 The problems are obvious while operating the business as a manager. The manager must learn continuously, and the practical experience helps the manager to enhance the problem-solving ability.
In this regard, managers need to find a mentor—the mentors from anywhere who has already gained practical experience to handle the challenges. 
How can you find your desired mentors?
At present, social media is one of the most useful platforms for business organizations. Most managers and business owners are available on social media nowadays. 
Quora, Reddit, and other popular websites can help you to find out experienced managers who can help you by providing real-life knowledge. 
Prioritize Customer Satisfaction
Satisfaction relies on perfection. The question is, what is perfection?
Restaurant business owners or managers conduct different operations like selecting food, managing staff, advertising, serving the customers, providing quality food, and many other things. 
But the managers at first consider the customers' expectations. Understanding the exact requirements of the customers is a complicated task. The choices and the demands of the customers differ from person to person.
The ultimate goal of the restaurant business is to satisfy the customers. When the customers' issues pop up, the managers must handle this situation.
In this case, the understanding of the psychology of the customers is essential. One thing you must remember, not only focus on your customer satisfaction but also you have to consider the staff of your restaurant. 
It will be a big mistake provided that you lose your employee to handle the customer. 
Do you think only word of mouth is enough for restaurant marketing?
Whatever you are thinking, the answer is no. You must need print ads, online ads, Facebook Marketing, and other advertising tools to promote your restaurant.
As a manager, the investment is in your control. You should allocate the budget for the marketing purpose. 
Marketing is the first and foremost step that you must consider. As a manager, you need to set a budget and conduct all operations within the budget.
While investing in marketing, you need to gather some essential data and information. 
Demographics
Customer trends
Food trends
Sales
You can look here: 7 Unique Ideas to Create a Restaurant Marketing Plan That Maximize ROI
The last one that is mandatory to continue your all responsibilities perfectly. Take care of your health.
You can think it is a silly fact. But let's into it. 
Physical fitness is the most important thing that you must be aware of. As a manager, you have huge responsibilities to do. So it is essential to keep your health fit. 
Sound health is the root of the sound mind. And a healthy mind can generate a fruitful idea. 
However, the successful manager follows those criteria. As a new restaurant manager, the tips mentioned above can be your way to be a successful manager in the long run. As a restaurant manager, you must have knowledge of the basics of restaurant management.
The world is changing rapidly. You should go-ahead to keep pace with the world. But how can you do that?
Every restaurant manager tries to provide the best services to the customers. You may think it is only the solution to achieve the target of the business. But it's wrong.
Effective management is the first considerable thing. If you fail to manage your business, your mission and vision will remain like a dream. 
Learning and implementing the knowledge to the desired job can assure your success in the race. 
Here, some basics of restaurant management are explored to make you understand the effectiveness of restaurant management. 
Knowledge of Actual Cost of Restaurant
Expenses and costs are different. Do you know which things make them unlike? 
Knowing the operational costs and expenses of your restaurant is a must. These influence significantly the business.
What are Restaurant Costs?
Costs demonstrate the health of your business. It fluctuates dramatically but costs are controllable. What is COGS? It refers to the cost of goods sold that includes the investment in supplies.
On the other hand, labor cost is excluding from COGS, but it's also controllable. If you track your labor separately, like the dining room, kitchen, and back of the house, it will help adjust their potentiality in front of the house. 
What are Restaurant Expenses?
While starting a business, you consider some expenses, including business license, utilities, rent, and many other things that don't fluctuate. It is regular payable. 
The expenses are important to know as it has a long term effect on the decision-making process. Besides, your restaurant's expenses are more or less fixed from the time of introducing your business.
How to Balance the Restaurant Costs and Expenses?
The manager of a restaurant needs to control the COGS and expenses. As we already know about the difference between costs and expenses, balancing these two is inevitable.
Do you know the exact way to maintain the balance between these?
Strategy. Yes, the effective strategy to maintain the costs and regular expenses can ensure a good balance. It also helps you to minimize your regular costs. Finally, it will affect your business revenue and growth.
The restaurant has to maintain the two biggest costs, including labor cost and COGS.
Labor Cost
Labor cost indicates the cost of a large portion of a restaurant, including salaries to the employees like managers, chefs, and other staff, payroll tax, sick pay, vacation pay, bonus, overtime, etc. 
A regular labor cost of 20% to 25% is good in the restaurant business.
Labor Cost Figuring
If you want to figure your labor cost in a simple way, the tally is the most useful way. You can calculate your costing considering different timeframes including, per day, weekly, monthly, or yearly. 
Labor Cost Percentage= (Total Wages/ Total Sales) X 100
You can calculate the costs manually. It is time-consuming, and you have to prepare your payroll report carefully. On the other hand, the POS system allows you to calculate the entire cost automatically.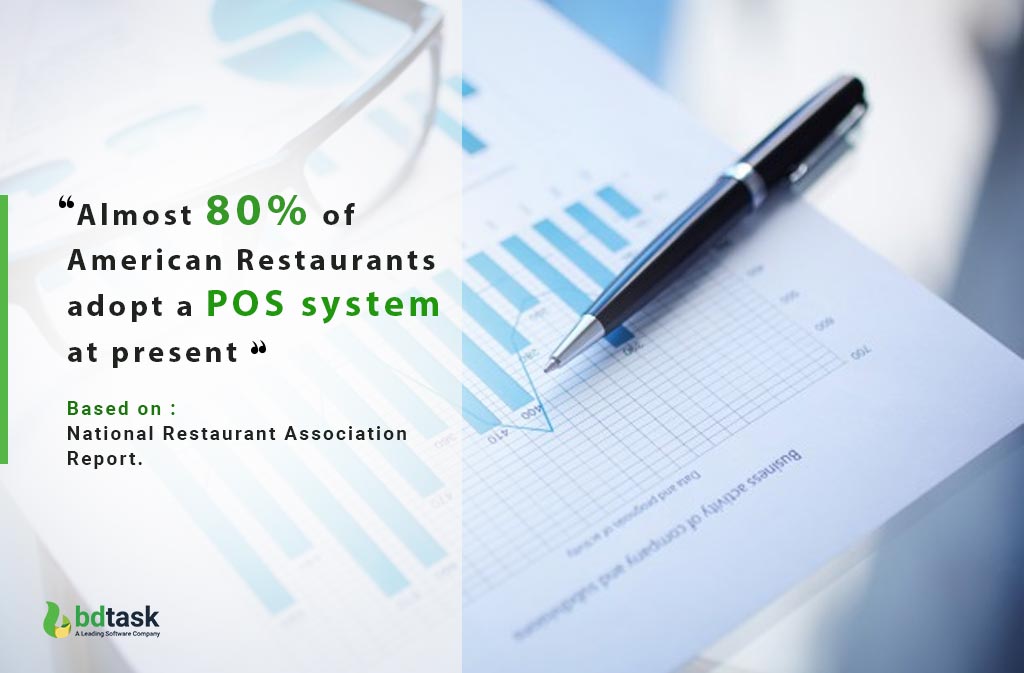 This system helps you to prepare a detailed sales report. Most restaurants demand to figure the cost precisely like reporting front house labor and back house labor regular activities. 
The POS system helps them to fulfill the needs. Besides, it offers you a graphical view of the cost.
Food Cost
Food cost is categorized into two like 
Some steps you should follow to figure the per plate food cost. 
Ingredients
At first, list all ingredients that you require. For example, a burger ingredient list includes meat, condiments, bun, toppings, fries, etc. 
Identify individual ingredient cost
List down your particular cost of ingredient. It helps you to recognize your ingredients cost individually.
Total ingredients cost
Now, it's time to combine the cost of your ingredients.
The per plate cost depends on the cost of your ingredients. 
Menu price= (Plate cost X 100) / Food cost 
Overall food cost starts with the COGS. 
Overall food cost percentage= (COGS/ Total food sales) X 100
Remember Beverage Costs
Separate your beverage costs that include wine, liquor, beer, and nonalcoholic beverages. If you figure the beverage cost separately, it can assure an accurate calculation in a larger operation. 
Besides, the proper monitoring of overall food costs assists you in cutting your costs. You can save money by following two effective ways like
Using energy-efficient bulb
Low flow faucets

Appropriate Customer Service
It's not your customers' job to remember you; it's your responsibility to make them remember you.
The manager of a restaurant monitors all operations. But how can they improve the customer experience?
For example, when a restaurant manager is on duty, sometimes walking around the kitchen and front desk. It is an excellent way to handle customer queries also. 
Keep up to date is another approach to manage the restaurant. Moreover, the current trends of the customers must be considered to provide the desired services.  
A restaurant manager in a crowded situation must focus on
Dining room
Helping staff
Handle the negative reviews
Aware about comp and void
In addition to this, the managers should do several activities to manage the customers, including
Daily shift log
Instruct the staff
Handle social media
Get ready for the next day.
Your Customer is Always Right!
Nothing is important to a restaurant manager than handling the customers' complaints. 
Suppose a customer of your restaurant shares service experience with your staff. In this case, the first priority goes to the customers.
You should consider the review of the customers and try to make the experience positive. 
The inevitable thing is to be positive as a restaurant manager to improve customer service. 
Adjust Entire Operation with Goals
Do you know how much you should spend on food, labor, and prime cost, including expenses?
It differs from restaurant to restaurant. And your targets are unlike others. But you can get a clear idea of what a successful restaurant manager does and how to manage the restaurant supplies.
Consider the industry-wide instructions to spend on supplies.
Labor cost: between 25% and 30%
Food cost: between 20% and 30%
Prime costs (food cost and labor cost): 55% to 60%
Expenses: 30%
According to Marc Cohen, the restaurant profit rule is 30% labor, 30% COGS, 30% expenses, and 10% profit.
What are the Ways to Adjust Labor Cost?
For example, the balancing of your labor cost and food cost is improper. Although your food cost is in line, your labor cost is out of the line. 
In this case, what should you do to control your labor cost?
Some steps help the restaurant manager to control the labor cost-effectively.
Optimizing schedules by using advanced technology
QSR (Quick Service Restaurant) Model
Allow side-work tasks regularly.
Train your team correctly.
Handling overtime policies
Payroll liabilities
What are the Ways of Controlling Food and Beverage Cost?
The first and foremost thing is to control your food and beverage cost is proper communication among the employees.
It is essential like controlling labor costs. If you can prevent this cost, the balance of food cost and labor cost will be assured. 
But what should you do to adjust the cost?
Some basic steps that can assist you to adjust the food cost, including the beverage cost.
Avoid spillage and spoilage
Manage your inventory 
Consider the daily requirements.

Monitoring Cash Flow
What is cash flow?
Cash flow refers to the cash of your business that comes in versus coming out. Monitoring the cash flow daily, weekly, and monthly is a must for a business. 
In this regard, financial knowledge helps you to understand restaurant finance. Sometimes, the managers have to handle financial risks while conducting the business. 
So it is obvious to avoid the financial risk to manage your restaurant successfully. 
Employees are an asset, and find out the desired staff is mandatory. You need some persons to handle the customers, serve the customers, cook the food. From the waiting room to the kitchen, you need staff.
The hiring process must be proper that can assure the right person for the particular position. In this case, the experienced staff contributes more. 
Sometimes, the restaurant managers allow a trial before confirming the employees. It is also helpful to understand the movement of the employee. 
But is only one parameter considered to permanent the staff?
No, the managers should consider different parameters before selecting the staff like interpersonal skills, performance, productivity, attitude, and behavior. 
Moreover, teamwork is an essential task for the restaurant staff. It is a must to check the teamwork capability.
Monitor Regular Essentials & Activities
Monitoring is a solution of management. Suppose you direct your staff and train them to operate the particular job. 
What you think, is it enough?
Certainly not because the employees face different difficulties while doing their specific job. The manager has the ability to confront any situation. So the managers need to help the staff hand to hand.
Besides, different regular activities include refrigerators, power issues, burned-out light bulbs, and many other things. 
Restaurant managers must keep in mind some basic things-
Local fire code
Local health code
Labor code
Standard operating process

Employee Training and Motivation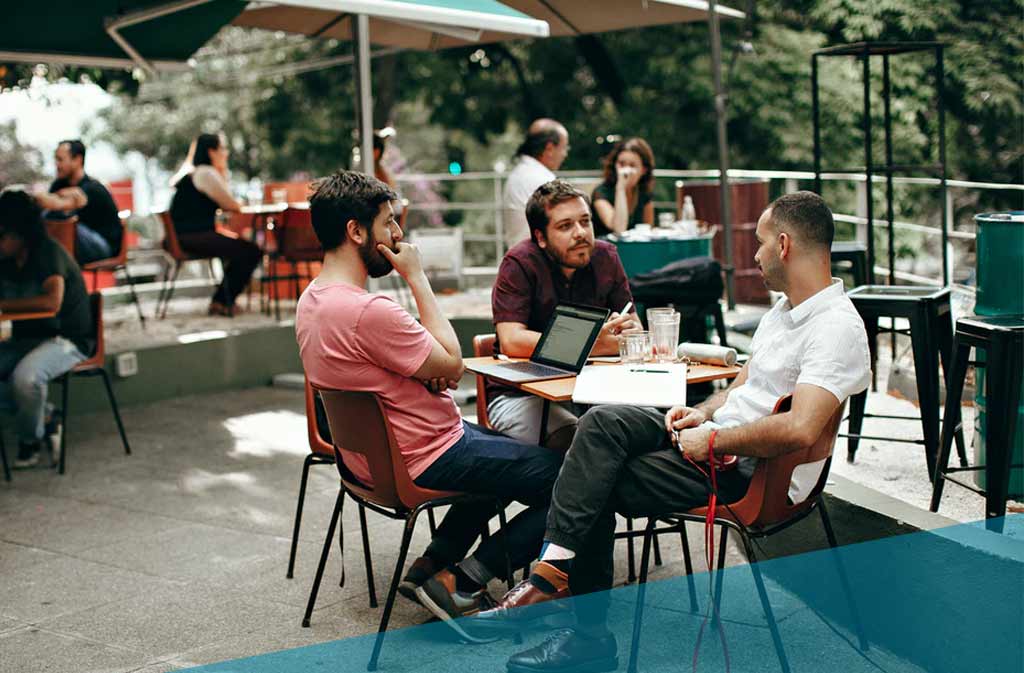 How attractive and meaningful the service style of your restaurant depends on your staff. 
For example, you have some employees for your restaurant who are working for the betterment of the organization. Well, as a restaurant manager, you hire the employees. Then you make them aware of the recruited employee of the culture of your organization.
You selected those staff based on the experience and skills. But if you don't provide the proper training to the employees, they can't provide you the desired output.
Besides, the motivation process helps the employees to contribute more in attaining the business objectives.
Some steps that can help you to motivate and perfectly train the employees. The successful manager follows these to establish a congenial working environment in the organization.
 
ProTips! Future Management Challenges' Solutions
What was your business plan in 2020? And what are you thinking for 2021?
These are the biggest questions for you.
Suppose you operated your restaurant business in 2020, and your ROI was expected. But is this enough?
The upcoming days are more challenging as the competitors are rising and the technology is updated.
In this regard, you must be spontaneous and proactive to handle your business. The customers are your primary target, so if you catch the customers' psychology and understand the current trends, your solution is here.
The future challenges are obvious. As a restaurant manager, you have to face that, but how can you overcome those challenges?
You will get 100% employee turnover by dint of effective management. The retention of the staff depends on your management, not the business.
Suppose a customer reviews your services negatively. In this case, you must consider the problem of the customer to return the customer. What do you do in this case? Do you misbehave with your employee who serves the customer?
Considering this type of situation and many more factors, you should go ahead. The protips help you to gain employee retention as well as customer retention.
ProTips
Motivate your staff
Consider the employees' requirements.
Understand their needs
Award them for better performance
Push them in but positive way.
Show proper atiitutude
Regular salary review 
Develop a bridge with them
However, you know well how your employees are and what you should provide them. But your staff is your resource, so never lose them.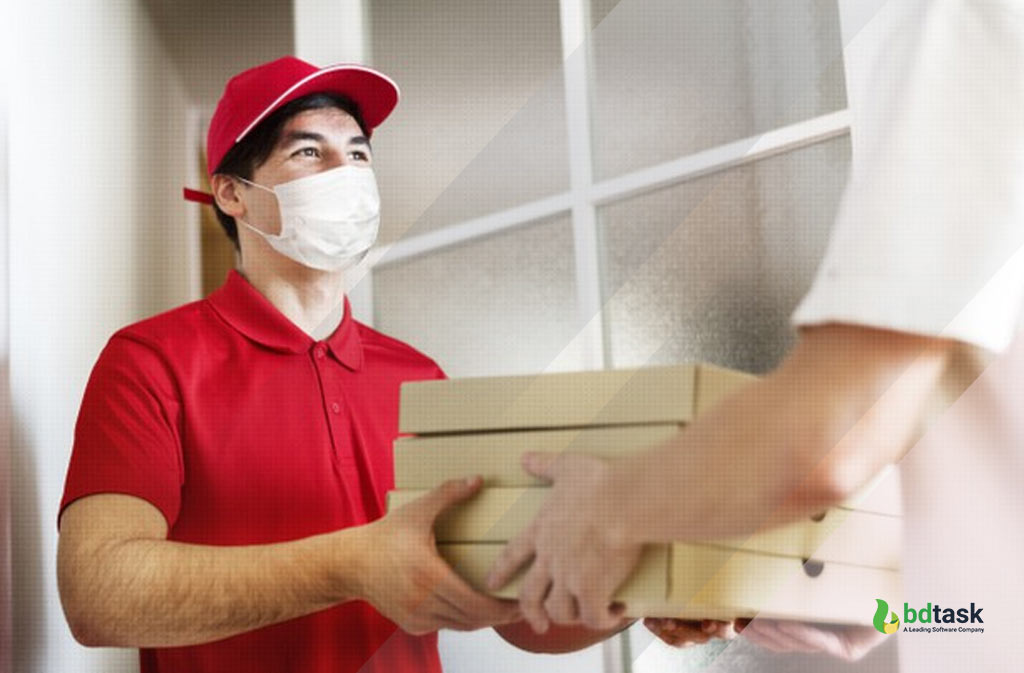 Well, you exist in the 21st century. 
The last decade teaches you how to develop yourself with technology. But this decade teaches you how to sustain yourself in the competitive world.
The people are getting busy, so they look for convenient services at present. The updated system helps us to ease the way of surviving. So why aren't you?
Tips
Online food delivery 
Online table reservation 
Develop ghost kitchen
Online delivery grows three times compared to the last decade. The customers' interest to take your service grows 70% more when you offer them online ordering and delivery. 
Plant-Based Meat Production
In 2020, there was a countrywide shortage of plant-based meat. When the fast-food lover changes their habit to take plant-based meat, the service providers face a significant challenge to meet the needs.
At present, plant-based meat production is getting prioritized as the agricultural producers are investing significantly in this sector. 
A survey finds that almost 72% of millennials consume plant-based meats with children 12 times a year. 
ProTips
Focus on the plant-based meat
Develop a good relationship with the producers
However, it can be a significant challenge for the restaurant manager. The agricultural development and the restaurant business are interconnected. In this regard, you must keep update about the latest technology and new demands of the people.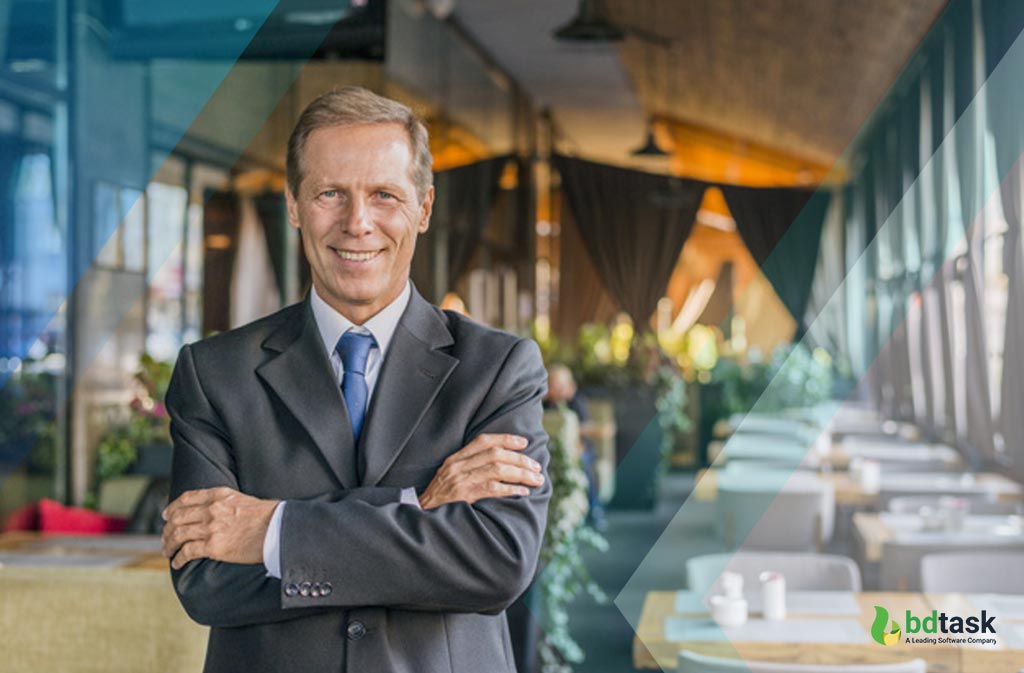 The managers or owners of the restaurant or any kind of business has a common dream. What is the dream?
The answer can be expressed in the word "Success." It's a long story that you must know to be an experienced one.
An entrepreneur was enthusiastic about starting a business, a restaurant business. Several factors affected while choosing the restaurant business. Although it is more competitive, the businessmen target it as it's a promising business sector.
The customers always want new and delicious dishes. Besides, they always look for unique services.
Goals
As a restaurant business owner, the entrepreneur had goals to sustain in the long run. The aims and objectives of the owner are established considering several factors. 
Brand value creation is the first and foremost task. In this case, the perfect restaurant name is a goal.  Besides, the best marketing plan of a restaurant helped the entrepreneur to be successful. 
The owner of the restaurant set goals including-
develop the brand awareness
create a marketing plan
adopt a dynamic website
manage the restaurant 
achieve the missions
increase the productivity
earn the profit
These goals helped the owner to go ahead. After all, the development of your business goals is more important than investing a lot of money. 
Challenges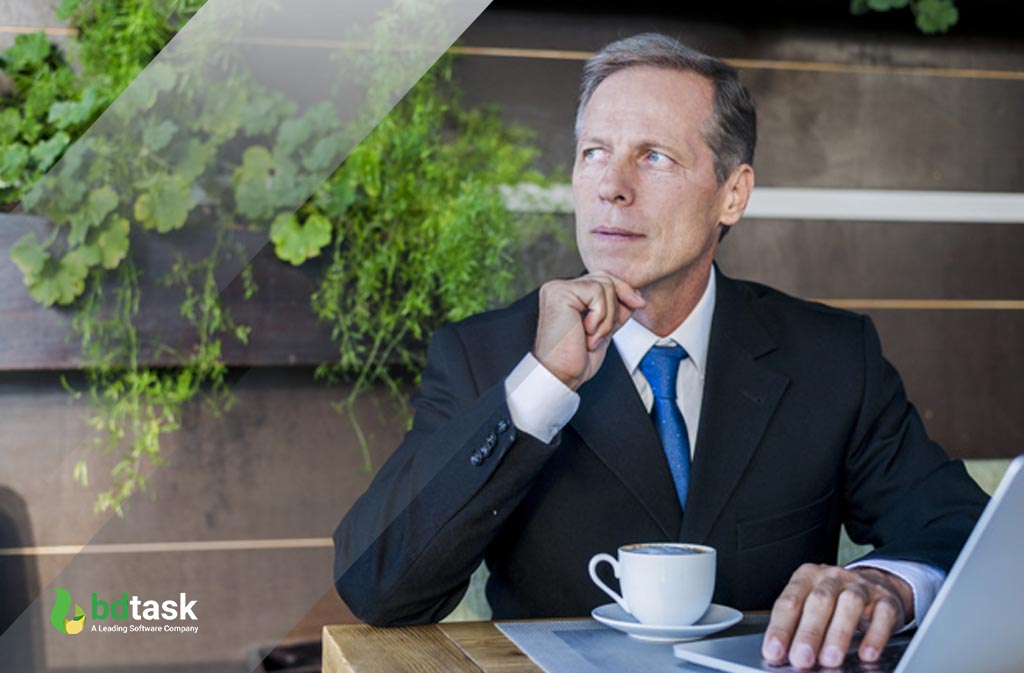 But the entrepreneur faced some difficulties while operating the business. Management is a complicated and critical task. When the restaurant owner conducted the business operation according to the goals, many issues were the barriers on his way.
The management of the entire operation was the biggest challenge for the restaurant manager. He recruited talented and skilled staff and invested more in the business, but the ROI was low. 
He confronted some challenges like
Maintaining staff including, attendance, performance, activity, etc.
Managing the kitchen 
Maintaining the accounts
Handling the orders of the customers
Delivering the ordered items
Safety issue
More time and cost required.
Inventory management problems
Customer support issues as well as dissatisfied customers
Decreasing customer and staff retention 
Challenges are apparent but how you can handle those situations to sustain at the end of the day is the real question.
Success
The owner of the restaurant was looking for a solution. But he was confident that he would find a solution. 
There are several management systems in the marketplace. Based on the business size and requirements, the restaurant owner made a decision. Before adopting advanced technology, he considered several things that can help you in the long run.
The restaurant owner chose the best management system software that brings all essential features. Restaurant management is a tough task, but a complete package can ease the way of managing the whole business smoothly. 
The budget is also a fact. In this case, the entrepreneur decided to have an open-source platform as it has no monthly or yearly subscription fee. An open-source platform offers you a complete package through a one-time payment. Besides, you can customize it as per your requirements. 
Learn about: Restaurant Marketing Plan
"If you can operate your restaurant business both online and offline, it will be more convenient for you, won't it?"
The restaurant business is a promising business sector at present. Although modern technology helps the business organization to conduct the business operation smoothly, everyone requires a convenient system. Online and offline restaurant management software ensures you a user-oriented business operation.  
Are you passionate about your restaurant business? Consider a vital factor.
At present, restaurant owners are facing a great challenge while regulating the business. The main reason behind this is the competition. You should be more proactive and dynamic to sustain your business in the long run. The strategy is yours, but the automated restaurant management system can reinforce your ideas.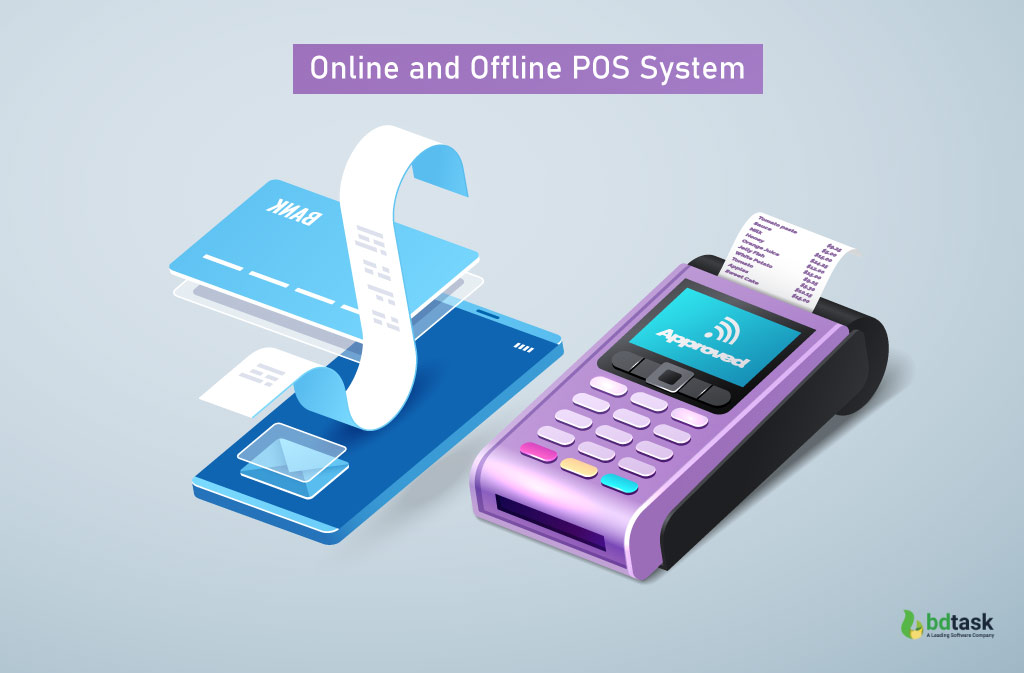 Restaurant management software is a coding system based on a set of computer programming. This software is designed for your restaurant's management purpose, either small, medium, or large. 
You can be the owner of a restaurant, food business, bar, or coffee shop. This multifunctional automation software is developed to streamline your restaurant's regular activities that directly impact your business performance and productivity.
Online and offline restaurant management software refers to a productive and advanced system that can manage your restaurant operations both online and offline from anywhere and anytime. 
Suppose you are running a restaurant business. You realize that you need more time and cost to manage your business. In this regard, you are looking for a solution to save your cost and time.
Online and offline POS system is an advanced system to regulate your business perfectly. It is a cost-effective and time-saving solution that can grow your efficiency and revenue.
Learn more: A Complete Guide of Restaurant POS System
An online and offline restaurant management software helps you to automate your daily operations properly. Some features must be present in a complete package of a restaurant management system, which allows you to perform your works efficiently.
The vital feature of this system is that it works smoothly both online and offline. If you don't have an internet connection for a while, no need to panic. This restaurant management system software will support you to continue your activities without an active connection.
Don't worry if you don't have any coding knowledge because this online and offline management system is easy to handle. Besides, you will get all systems within one single system.
A fully responsive website for your restaurant contributes a lot to increase your experience. You should have proper knowledge of the features of a standard online and offline management system. It will help you in choosing the best management system for your restaurant.
Dynamic Dashboard
A dashboard can bring all your business data and information, especially growth and profit, to your fingertip. 
A dynamic dashboard is a mirror of your business. You can easily monitor your business performance, sales percentage, and other essential things. 
The dashboard will show you the monthly report and graph of your business. It helps you to evaluate the performance and progress of your business. 
Moreover, the dashboard will demonstrate to you the graphical data so that you can easily identify the exact problem of your business. It will be easy to recognize the issue, and immediately you can solve the problem.
However, you can get some essential features in the dashboard, including
Latest order
New reservation
Latest online order
Monthly sales graph
Monthly business overview
Account Management System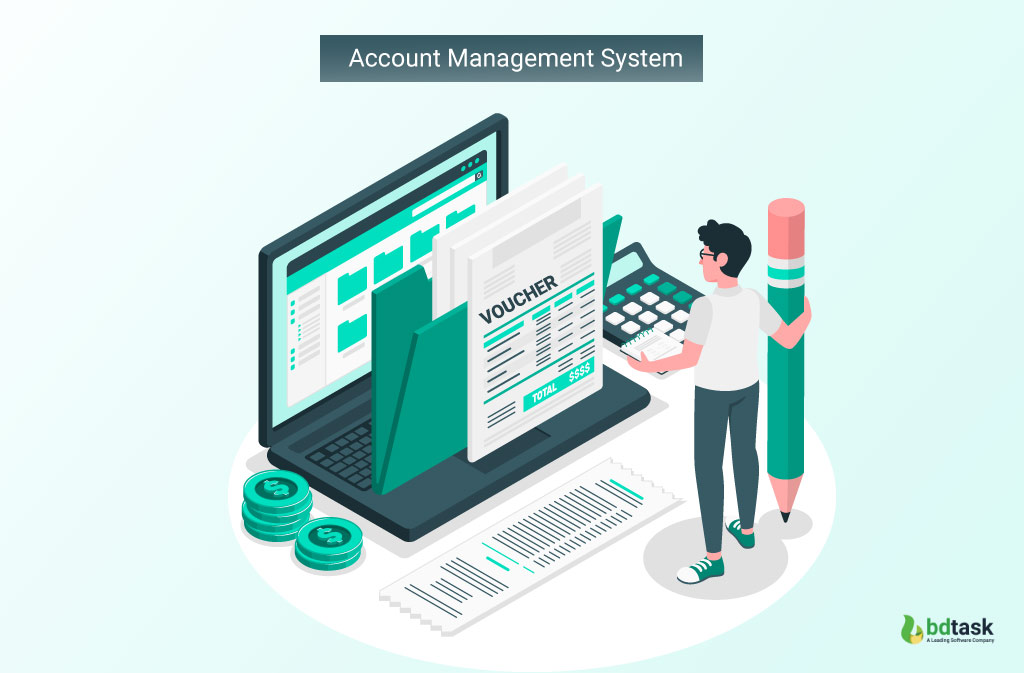 Account and financial management is a vital task for a business organization. The account management system is an essential feature of online and offline restaurant management system software as it helps to maintain all your accounts' information and data securely and accurately. 
This feature will assist you in performing your account-related tasks very smoothly. Manual account management is a comprehensive task, and in this case, the probability of the mistake is an ordinary matter. 
But the automated account management system helps you to complete all your calculations correctly. If you input your account data properly, the calculations will be 100% accurate. You will get the desired and correct result if you input the information appropriately.
The account management system contains several special functions like 
Cashbook
Voucher report
Profit and loss
Coa print
General ledger
Trial balance
Bank book
Online POS System
Restaurant POS system is an essential component of a restaurant. The online and offline POS system helps you to operate your business more convenient way. 
The online POS system helps ease business maintenance like walking order, dine-in, online order, etc. You can easily take your order from the customer. Besides, the online POS system assists in managing online orders. 
The point of sale system software can adequately check the food list. This system also offers you a token printing system and online order notification. The notification helps you to serve the customers timely. 
Moreover, the daily order list and ongoing order management can be done through this feature. Finally, you can print a complete order invoice.
Offline POS System
On the other hand, you can easily manage customers' orders with your laptop or PC without an internet connection. The Offline POS system is an essential feature for the restaurant business.
This total order management system helps you to input the data when you are offline. And after getting an internet connection, all input data will be synchronized. It includes placing orders, creating invoices, printing invoices, online data synchronization, and managing orders. 
Order Management System
When you can manage your online and offline customers' orders appropriately, you can realize your improvement. It is an essential part of growing your sales rate as well as profit.
An order management system is a vital feature of online POS system software if the customers' orders manage effectively, the satisfaction level of the customers' increases. 
This automated system helps you to manage offline and online orders automatically. It also improves your order related activities. While managing orders, you must need some features like listing the orders, checking the pending order list, completing orders, and canceling the orders list.
However, the order management system is an inevitable feature of restaurant billing software.
Learn More: Top Restaurant Management Software
Human Resource Management System 
As a restaurant business owner, you must maintain your employees. The proper utilization of your human resources can assure the improvement of the performance of your business.
Generally, employee management is a challenge for an organization. If you are going to start a restaurant business, you should consider workforce management first. 
The business owner can handle the recruiting process, selection process, resigning process, and many other tasks. It is quite difficult and challenging without an automation system.
The online and offline POS system helps you to manage the workforce efficiently. It helps you manage the employees' attendance, the number of employees, payroll management, salaries, recruitment, loans, leave, etc. 
However, as an entrepreneur or a business owner, HR management is a crucial task, and this software helps you to organize and manage your workforce perfectly.
Purchase Management System
Restaurant business needs to manage the purchasing process carefully. You must purchase your ingredients or other essential resources for conducting your business.
The management system software for your restaurant contributes a lot to manage the purchasing process. Anytime and anywhere, you can manage the purchasing process through this software.
Moreover, the purchase management system saves your time, and it is transparent and measurable. 
Production Management System
Production management is a significant task for the restaurant business. If you can record your production history properly, that will affect your future step.
For example, you are running a restaurant business. You need to manage your production. In this case, information about current production and a new production list must be required.
The production management system is a time-efficient system that can maintain all your production history for further uses. So you can get a clear view at the end of the month, how your production process is active.
Besides, you can track your production process, and anytime you can make any decision based on your business situation. 
Restaurant Billing System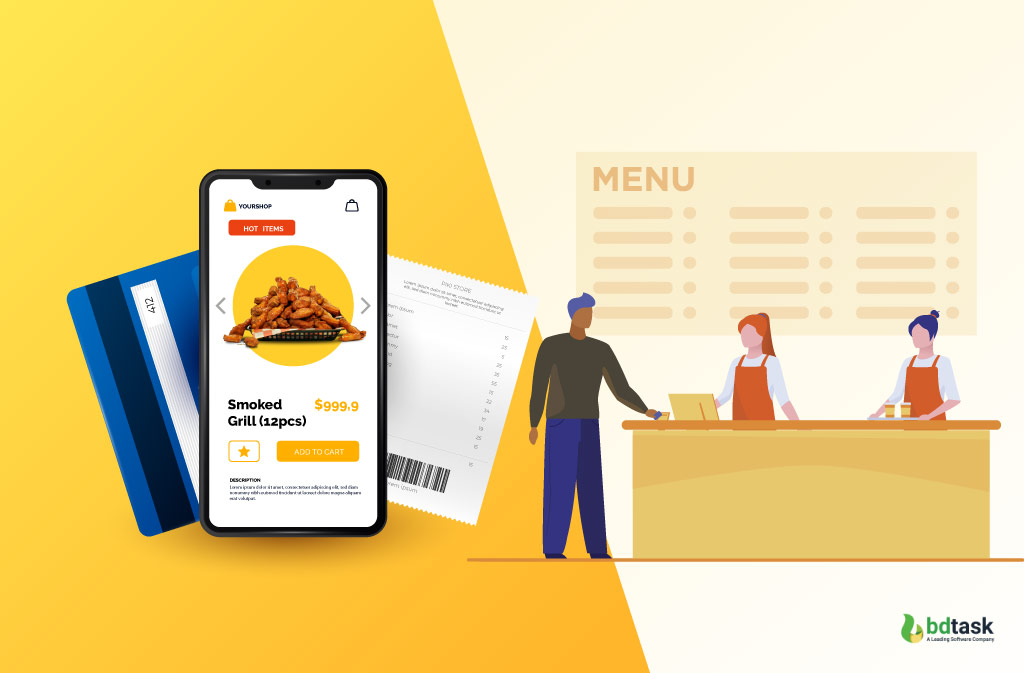 The payment method must be secured and trustworthy. Otherwise, you will lose your customer.
The restaurant billing system helps you to secure your payment method or transactions. The customers use multiple payment gateways at present. If you cannot provide adequate facilities in the payment process, they will not show interest in purchasing from you.
Your restaurant's billing management system must have multiple payment gateways like Paypal, SSL Commerz, card payment, RMA payment gateway, etc.
Moreover, the proper payment method can assure your customer retention as the customers always look for a trustworthy and secured payment system. 
Inventory Management System
Tracking your stock is an important part of your business activities. If you can track your inventory through an inventory management system, you can save time and cost.
When your stock is out, this inventory system helps you by notifying you instantly. You will get informed when your product is available. 
The inventory management system also helps you to manage your stock properly. Suppose you want a report of your stock to check the current status. This system will help you to get a report or status of your inventory. 
Restaurant Table Reservation System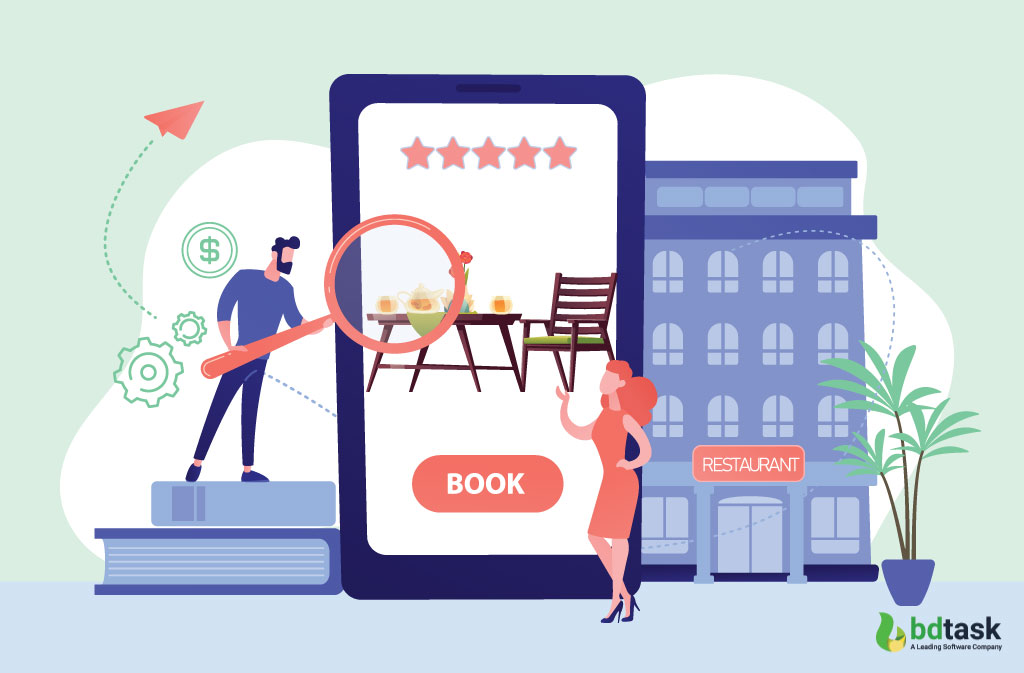 The table reservation system is an advanced feature of restaurant management software. It is one of the best features of management software for the restaurant business. 
If we consider the past time, we can see that direct calling to the restaurant owner was the only way or physical presence was needed in case of requiring advance booking of a restaurant table.
But nowadays, the customers can easily check the status of the restaurant table through the customer app. Now they can book the table within a moment through one click. 
The management software will provide you this updated feature, and you must consider this feature. Besides, the customers can get notified about the vacancy of the table. 
On the other hand, proper table management increases your restaurant outlook. You can place your table in the right position. 
Real-Time Report System
Have you realized the importance of report creation for a business? For instance, you run a business and require a monthly or yearly report to evaluate your business's performance and growth. 
If you manually prepare your report based on your entire month's report, it will be time-consuming, and the probability of making mistakes is apparent.  
Your restaurant's management software provides you a magnificent feature that automatically helps you generate a monthly report accurately. 
When you get an accurate and error-free report at the end of your business month, you will get benefited. Besides, within a short moment, you will get a complete report that demonstrates your business overview.
Moreover, you will get different operational reports like purchase reports, stock reports, product-wise, kitchen, and monthly sales reports. 
QR Code Scanner System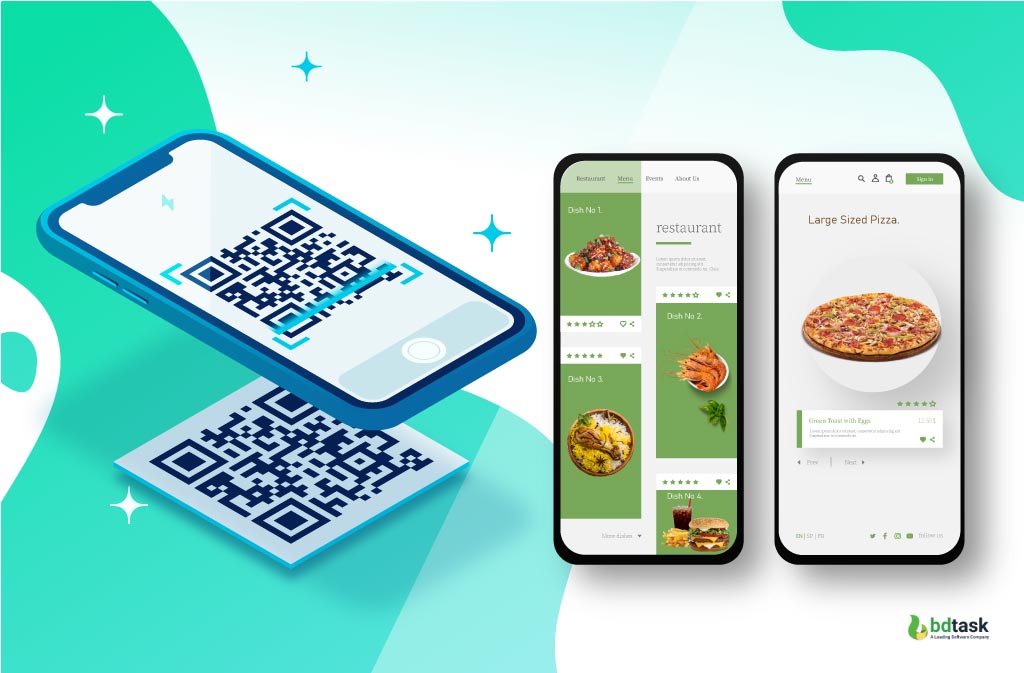 Advanced and smart restaurant owners always search for an updated system. The new technology helps a lot to ease the way of operating business.
QR code scanning system is the newest feature of restaurant online software. It is a contactless ordering system that allows the customers to place an order sitting on the table. 
A digital menu of your restaurant helps you to minimize the workload of the employees. Costumers can quickly place their orders with the QR code scanner. In this case, the waiters don't need to contact the customers for the orders.
Besides, the customers can pay their bills with this scanning system. It comes with some special features by which the essential activities can be done smoothly.
Contactless order
Real-time order update
Order placing and cancel option
Bill collection
Order edit and update system
Digital menu 
Support in all types of devices
Shipping Method
The shipping system is a crucial part of a restaurant business nowadays. Different types of shipping methods make your customers more interested in your services. 
You can easily control and manage your shipping process without facing any difficulties. The online restaurant management software helps you to do this business operation properly. 
Besides, you can track your shipping, and the history of the shipping information can be recorded through this system. Now you don't need to panic about your shipping operation. The online ordering system makes it easier and convenient for customers and business owners.
Multi-Language and Multi-Currency system
The multiple language support system is another essential part that can help your customers convert the language. 
Besides, the LTR option helps you to align the text or font size. This feature helps to increase the user interface of the customers. 
On the other hand, multi-currency support allows you to add the desired currency you want. For example, your customers are looking for services in different regions where the currency is different. In this case, the multi-currency support system is a must to accelerate your business. 
Android App Integration System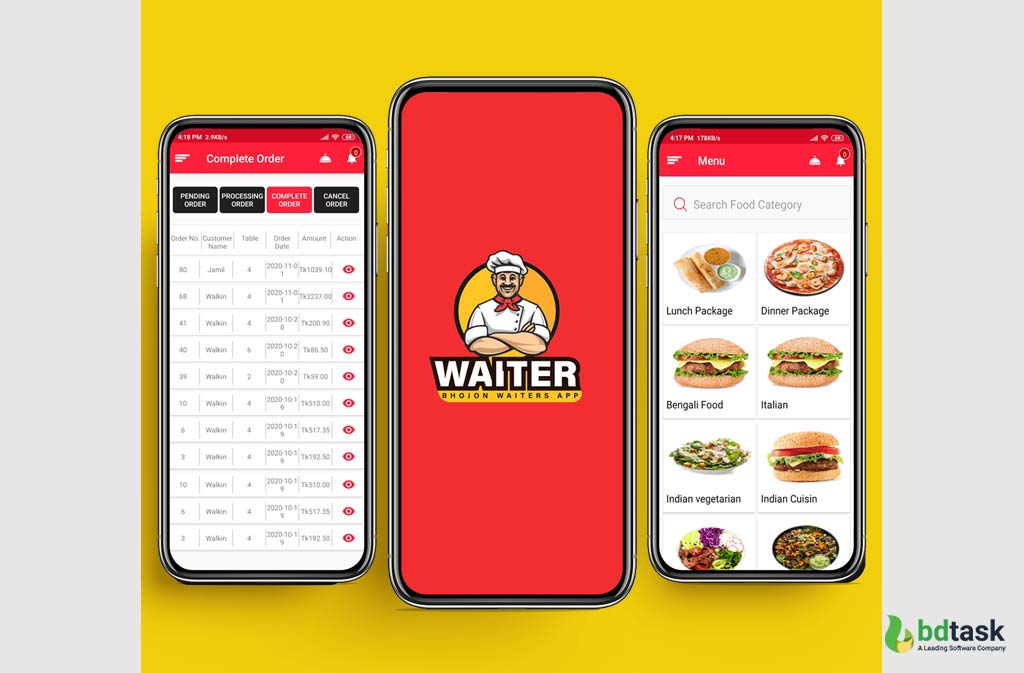 Do you know how convenient it is to have an integration system? Android app integration system helps to increase the user experience and helps grow the customers. 
Nowadays, preorders or advance order system is popular and trendy. If you can provide the android app with your restaurant's website, it will greatly affect business productivity and profitability. 
Moreover, the integration of customer app, waiter app, and kitchen app contributes remarkably to ensure your business's smooth operation. 
You can look here to see the features of these Android apps: How Can You Manage Your Restaurant Ordering System with a Single Platform?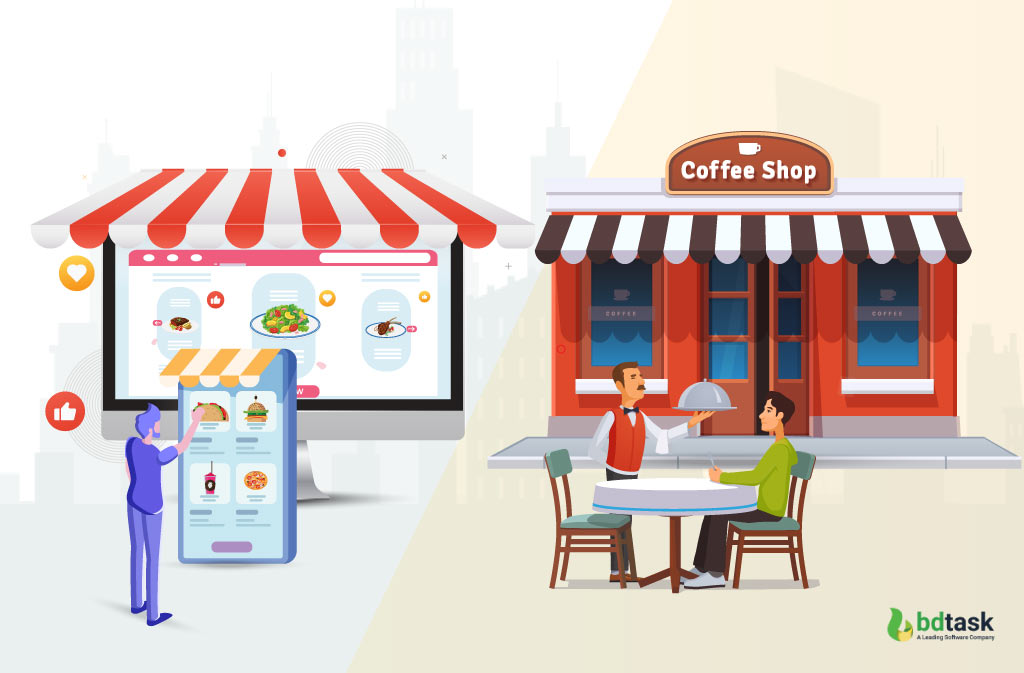 The best restaurant management system offers you the best functions. The benefits you will get from online and offline restaurant software help you fulfill your business objectives and goals.
Suppose you are thinking of adopting an online ordering system for your restaurant. In this case, you must consider its features first. Later you will go for the desired one. 
If you realize the automated system software's contribution to your restaurant, you can choose the best one based on your requirements. 
Some restaurant software offers you only online services, and some provide you the offline services. But the best restaurant management system software will offer you both online and offline services.
Benefits of Online Restaurant Management System
The online management system for your restaurant refers to the software that helps to manage your business online. 
Suppose you owned a restaurant management system that is already installed on your hosting server with your domain name. 
Now your restaurant business is live on the internet, and you can easily access your restaurant website through your desktop or mobile from anywhere and anytime.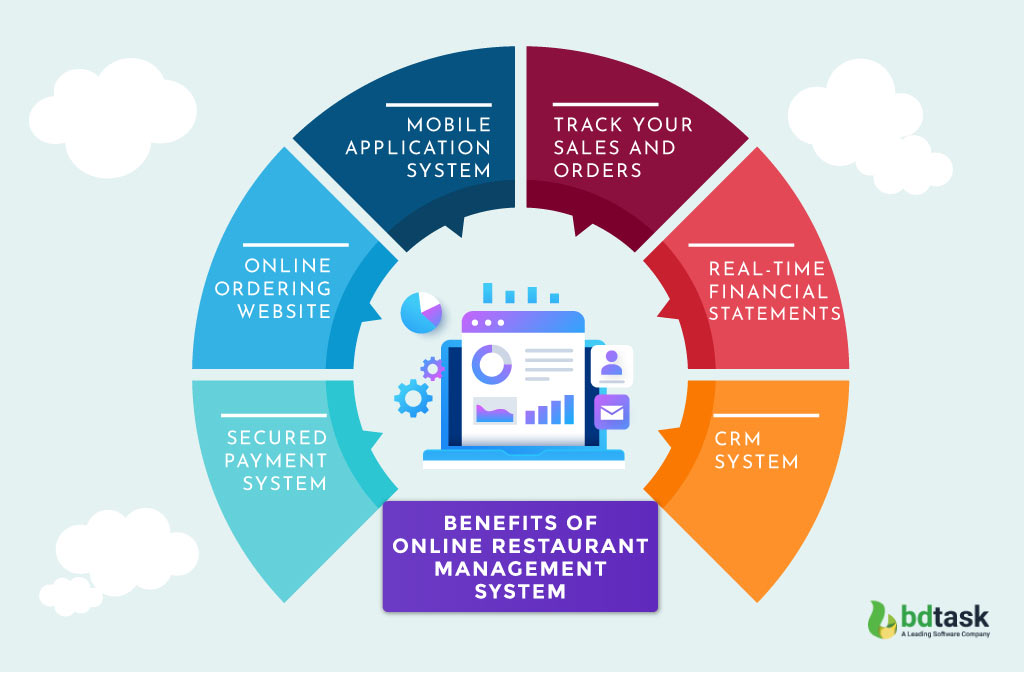 The website visitors are now aware of your business services, and the customers can order the desired food from your website. If you go with the online restaurant management software, you will need an internet connection. 
Track your sales and orders: 
You can easily track your sales through this management system. Besides, the orders of the customers can be appropriately managed.
Real-time financial statements: 
Account management is a crucial task for the business organization. You will get the accurate statements of your accounts through the online POS system.
Customer relationship management depends on several factors. It is a crucial part of growing your business. The restaurant software will help you to maintain an effective customer relationship by providing adequate customer support online.
The payment method is always a sophisticated matter. If you fail to provide a trustworthy and secured payment gateway, customer retention will be decreased. 
As the number of online orders increases, the online ordering website provides you a great benefit. Your number of customers will be raised.
Mobile application system: 
A fully responsive website and the mobile application system help you operate the business operation more conveniently. Moreover, the mobile application allows the customers to find out about your food services easily. 
Benefits of Offline Restaurant Management System
Offline restaurant software means the system that helps you to manage your business operation offline. You can operate the management system from your desktop or phone. 
The offline POS system doesn't need the internet for access as it works smoothly offline also. Besides, it is fully secured like an online POS system. 
The features you will get from the offline POS system are the same as online. But when you are in online mode, all required data and information will be synchronized on your website. 
However, the online and offline restaurant management system software will allow you to run the business operation with an internet connection and without internet access. From the accounts management to the monthly report, all activities can be regulated both online and offline through this software. 
For a Clear Concept You can Look Here: Why Online Food Ordering System is Required For Restaurants
Managing the entire business operation is not an easy task. As a restaurant business owner, you know it well. 
Effective management is not only a solution to your restaurant business. There is something more that is the complete solution for your business. Then what is it?
For instance, you are a restaurant business owner and regulating your business activities properly. You have a business goal, and based on the aim, you are working.
In addition to this, you can support your customers 24/7, which contributes significantly to maintaining a good relationship with the customers. You can manage your stock by adopting the system.
The maintenance of the whole activities of your restaurant is not difficult, is it?
Will You Have to Follow a Unique Strategy?
A restaurant business owner is looking for a new strategy and new technology to smoothly handle it. This business owner adopts a management system that helps to operate the business operations both online and offline. 
Now you can realize who is the gainer and who is the loser at the end of the day. The person who manages the business operations with a single platform increases productivity as the automation system is time-efficient and cost-effective. 
Moreover, visitors to the website can be easily converted to customers. At a time, the website owner of the restaurant can cover a large number of customers and can handle all of them through an online platform. 
The online and offline management system software is easy to handle. This system will help you to minimize the cost of business operations. You can manage your account section through this software. Besides, the human resources of your restaurant can be maintained properly.
Learn About: How to Start a Restaurant
What! Only $100 can Solve the Management Issue of Your Restaurant.
The vital thing is to consider the budget while making any step for the betterment of the organization. 
The online and offline restaurant management system is a &100 solution; is it real?
Do you know how many restaurant business owners are adopting this effective management system? And which system can provide you a complete package within $100?
Yes, you must consider these questions before choosing the best management system for your restaurant. In this case, you should have explicit knowledge of the exact cost, including software, hardware, and miscellaneous expenditure.
You will get a brief concept in the following part. Make sure you are going on the right track.
Learn About: Restaurant Ordering System
Spending on purchasing a restaurant management system is a crucial step. If you make any mistake while adopting the POS system, your restaurant business will be negatively affected. 
Generally, the cost depends on your requirements. There are several types of management systems, including open source and cloud-based. Depending on various kinds, you need to spend specifically. 
Suppose you are going for cloud-based software; in this case, you need to spend a certain amount every month. On the other hand, while choosing the open-source software, you can purchase the software through a one-time payment system. 
Then, you should consider some essential costs like 
You will need terminals, routers, kiosks, card readers, kitchen, printers, guest-facing display, kitchen display system, desktop, etc.
It indicates the platform with some features like payment processing, analytics, reporting, order placing system, etc. 
Besides hardware and software costs, you need to spend some additional costs to adopt the system ultimately. It includes integrations, an online food ordering system, and delivery, payroll, rewards program hosting, gift card programs, etc. 
However, there are different types of software, and the pricing structures are different. One thing you should remind, the more expensive one is not always the best. 
The best management system for your restaurant must-have essential features that are already mentioned to manage your business operations smoothly. 
The most considerable thing to spend your money on developing better management software is considering your requirements and business size.  
Now it is high time to make your decision. Look Here to check the Live Demo of a Restaurant Online and Offline System.
Save Your Money & Save Your Time 
As a restaurant business owner, one of the missions is to grow your business and earning profit. Increase your performance and grow your revenue.
Online and offline POS systems and restaurant billing software are mandatory at present for your restaurant. Without the automation system, it will be challenging to gain a competitive edge.
Online and offline restaurant management software allows you to achieve business targets by competing with competitors. It also helps you to sustain in the long run. 
Do You Know Bhojon is the Fastest Growing Restaurant Management System in The World Recognized by Thousands Restaurant Owners! Must Take a Look!
However, what is restaurant management? It includes how to manage a restaurant kitchen, how to manage restaurant finances, how to manage a restaurant effectively, how to manage a small restaurant, how to manage a fast-food restaurant, and many more management questions. Determine what you are going to manage. It brings your success.
The right decision and proper knowledge made the entrepreneur winner overcome the challenges in a cost and time-efficient way.
Success depends on your passion, but you need to evaluate the contemporary marketplace. Time is valuable, and by saving time, you can save your investment. So in the end, you can increase your productivity and ROI.
Would you like to read: A Details View of Restaurant Billing Software