How Does Automated KOT Help Grow The Restaurant Business?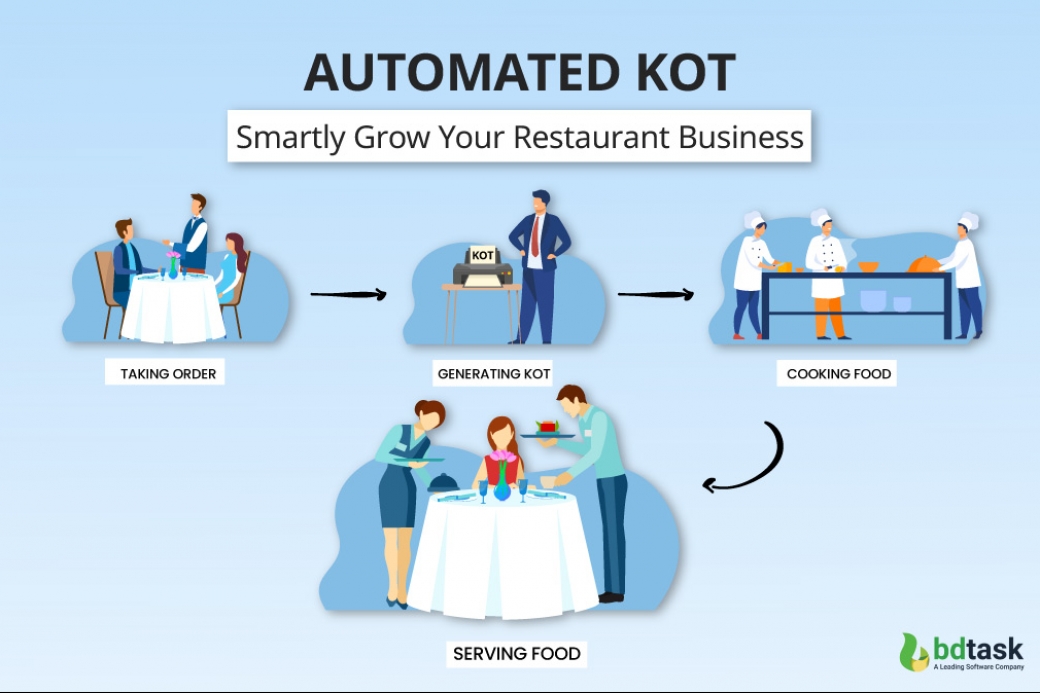 We are living in the age of technology. Advanced technology has brought many changes not only in our life but also in the restaurant industry. It has become an essential part of facilitating restaurant operations and running business smoothly. Restaurant KOT (Kitchen Order Tickets) is a small part but it has become a major part of the success of the restaurant business.
In this blog, we will discuss restaurant business KOT, why automated KOT is important, and finally how it will help accelerate your restaurant business.
The Restaurant Kitchen Order Ticket is a small piece of paper or document where the customer's order is written. It mainly refers to the chef with a list of ordered items and food preparation comments so that the food can be prepared accordingly. In addition, it may include item add-ons like extra cheese, extra sausage, etc.
The paper or slip is brought to the kitchen and given to the kitchen counter. From the kitchen counter, it's handed over to the chef. Finally, the chef can start making the food according to KOT. That's how a Kitchen order ticket works in a restaurant management system.
Basically, we can see that Restaurant KOT is a single piece of paper but three KOTs are generated for one order. These types are given below:
One that is sent to the kitchen to make orders.

The second is that the waiter has to double-check the order sent to the kitchen

The third bill will be sent to the cashiering center as a reference for the production

We already know about KOT systems. Now, what is an automated Restaurant KOT system? Automatic KOT means you can create orders automatically from the system. Through the restaurant's website, you can order your food, and then an automatic KOT will be created for your order and it will be automatically transferred to the kitchen. When the kitchen approves it, it will go to the chef.
That way, you don't need any paperwork. You can view tokens at any time through the software or app and deliver customer orders on time. Now almost all restaurant software has this kitchen ticket order module. This module makes restaurant work easier and smoother.
There are different kinds of KOT in the restaurant business. These are described below:
Return Check
If you order two or three meals and for any reason, you have to return a dish, you must make a KOT for this item. The return must be marked and sent with the dish. After sending the copy to the cashier, they will remove the item from the bill.
When the food is returned and the cashier checks the ticket again, it is called a return check
En Place
As a customer of a restaurant, sometimes you may want little change for a particle dish. For example, you want green sauce instead of tomato sauce. So you will not get it just without any token. You have to first generate a token for this change. This token is called EN place KOT.
When you generate EN place KOT then it needs to be signed by the kitchen manager. When he will approve it then you will get the changes. Also, you need to ensure that for this change you don't need to pay any additional charge.
Suivant KOT
Suivant KOT means that a KOT has already been generated for this order which is on the same table and on the same guest.
This KOT is created when an order does not fit on a KOT slip and another KOT has to be created for it. Or when the second course is ordered after eating the first course. For example, in the first course, you order some rice or chicken and in the second course, you want some coffee or juice. In that case, you need to create a suivant KOT.
Supplement Check
Supplementary check in restaurants is an important token. This KOT is generated very often. Sometimes a waiter needs some ingredients to complete a dish. For example, they want some extra sauce or mushrooms to finish a pizza.
In that case, they have to make a supplement KOT which is signed by the restaurant manager and of course without any extra charge.
Complimentary KOT
Sometimes restaurant owners do some promotional work to attract their customers. They provide some complimentary food for their regular or special guests. A restaurant KOT will be generated for Complimentary food. It can be on the same order slip or waiters can create a separate KOT as a complimentary KOT.
It also requires the signature of the restaurant manager. In this KOT the waiter has to mention the reason for complimentary food.
No Charge
Sometimes the waiter will deliver you some complimentary juice or something within a minute when you enter a restaurant. They will deliver it before your order. Many restaurants do this on special occasions like Eid, Christmas, etc.
So for serving this food, a KOT will be created and you don't need to pay for that. That's why it's No charge KOT.
Accident Check
Occasionally, there may be an accident in the middle of a waiter's meal, such as a collision with someone and some food falling off. In this case, the food has to be remade.
Another token needs to be created to remake the food. This is called an accident check. The waiter has to give the same order slip to the kitchen chef again for the same food. And guests don't need to pay for that.
Duplicate KOT
If for some reason the KOT copy is lost or deleted from the system, a duplicate KOT must be created. All information will remain the same.
This token is known as a duplicate Kitchen Order Ticket. This duplicate KOT is signed by the restaurant manager and the reference KOT number is specified there.
The whole world is evolving through technology. Now people are using Automatic or Digital KOT in their restaurants. But still many restaurants are using the traditional KOT method. But they should avoid it. Because it wastes both their time and money.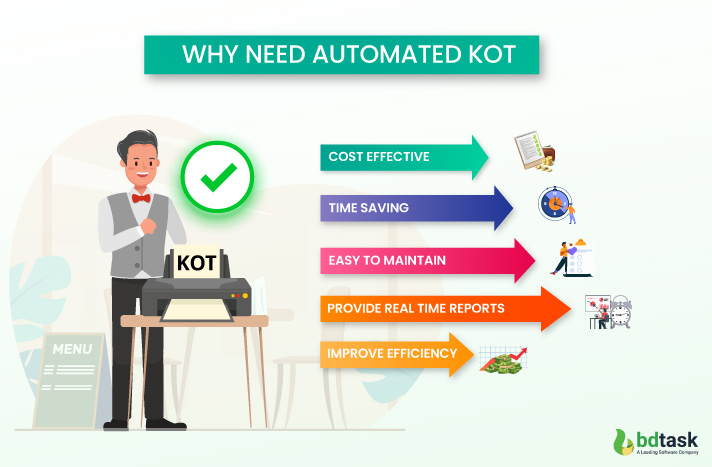 Here are some reasons why restaurant owners should avoid paper slip KOT:
Time-consuming
Writing an order on paper, approving it again from the kitchen, and then going to the chef is a very time-consuming matter. Sometimes we can see that it takes lots of time to prepare the food for this paperwork. Even some customers get offended by these kinds of issues.
So, there is no doubt that paper slip KOT is very time-consuming.
Decreased customer satisfaction
Customers always want timely delivery of their meals. They don't have too much time to waste at the restaurant. When people are hungry, they go to restaurants. If delivery is delayed for KOT paperwork, the customer must be annoyed by this fact.
Sometimes they even give negative reviews for this service. Thus it reduces the level of customer satisfaction.
Slow down the sales
From the above point, we have seen how KOT paper-slip affects the level of customer satisfaction. When the customer is not happy then in future they will not go to the same place again.
At the same time, they will advise other people to do the same. This is how it will affect restaurant sales. For this type of work, sales will decrease. And it will create a huge impact on the total business.
Double the Efforts
Paperwork doubles the efforts of both the chef and the staff. For example, you are preparing a dish and you have to serve it within 10 minutes. After a while another slip comes from another table for the same order, then it will be challenging for you to serve the food on time.
Most of the time KOT comes late to the kitchen chef due to going through a few steps. At that point, your first order is almost finished and you can't increase the ingredients. Now, in this case, you have to work under the pressure of delivering food on time.
Fear of losing token
When a waiter takes a kitchen order ticket on a paper slip it is likely to be lost. Now, why are we saying this? Because after taking the order he has to go through 2-3 steps. He may lose a piece of paper in these steps. Many times even the chef loses the token in the middle of making a dish. It's very frustrating for them.
Because everything is written on the slip and also the table number. So he will be confused about which order is lost. So they need to check each slip to find out which one is missing and then have to confirm the order again from the restaurant customer. And the customer will be very upset about the truth.
Mismanagement or misunderstanding
When you are using paper KOT then mismanagement and misunderstanding can happen at any time. Writing orders manually takes a lot of time to take the orders and the waiter needs to move three different places.
This is why they can give very little time to spend at the customer's table. Staff is busy with other tasks when customers call for a service.
Even the KOT does not explicitly mention who is cooking what? This also creates confusion between waiters and kitchen chefs.
Late cooking process
If you use paper KOT you will have to wait 10-15 minutes to start your cooking for each order. Because first, the waiter will take the order then they will give it to the kitchen manager. The manager will check the ingredients of the food and if everything is in stock he will approve it.
The waiter will then give it to the kitchen chef. Also, the waiter has to run from one place to another which will take time. That's why it's a late cooking process.
Waste of money
This will waste a lot of money when you use paper KOT. You need plenty of paper every day. But at the end of the day, you will throw it in the bin. So it is a kind of wasting money. Also to maintain every step of the KOT from the table to the kitchen, the restaurant owner needs plenty of staff.
It will be difficult for them to maintain everything without a good amount of staff. So it will cost them a good amount of money.
Against the environment
Once the order is finished and all the information related to the order is stored in the main system of the restaurant, the paperwork is of no use. So, you have to drop it in the bin and the next day you have to recreate the new token for the new order. This cycle goes on every day.
Now you can imagine how much paper will be wasted on a daily basis. It is not eco-friendly at all. It will create a bad impact on the environment as well.
Restaurant owners use an automated KOT system to reduce the risk of manual error. It not only helps to grow the restaurant business but also provides them a cost-effective and time-saving system.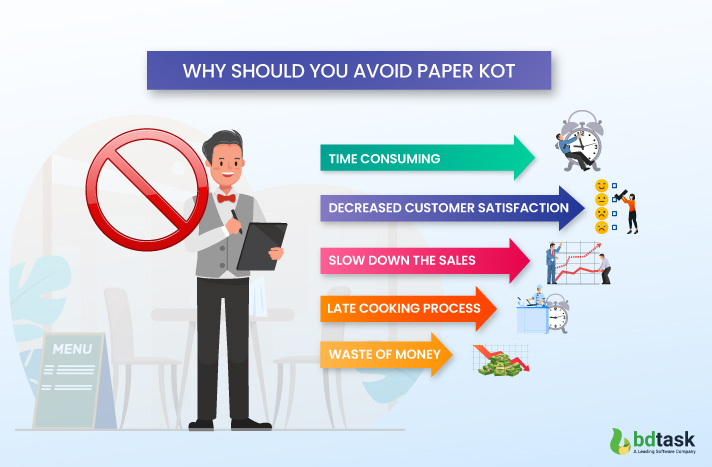 Many people are still using the previous KOT system but they should now switch to the automated KOT system. Because it will help them increase sales more than before and stay ahead of the competition with others. In this part, we will discuss How it will contribute to the growth of the restaurant business.
Cost-Effective
An automatic KOT system is very cost-effective. In this case, you just need to buy restaurant POS software. After that, you can use it for a lifetime. You don't need to buy tons of paper to write a daily-based kitchen order ticket.
At the same time, the restaurant owner can manage everything through software and transfer orders from the restaurant manager to the kitchen chef. In this process, they do not need any additional staff to maintain this work. So we can see that it will save a good amount of money. Which will eventually help to grow the restaurant business.
Time-saving
As we have seen before, how paper KOT wastes time. But if you use a restaurant POS or automated software for KOT, it will save a lot of time. In this case, there is no need to write anything on paper. Customers can choose and order food from the website. An automated KOT will be created from the system when they place an order and the manager will transfer it to the kitchen chef.
So, you can see that there is no need to move from one place to another. This will save a lot of time and the customer will get their food delivered on time.
Easy to maintain
It is easy to maintain the restaurant work when you use an automatic KOT. It optimizes the whole process and provides a KOT system to simplify order processing. This makes the whole process much easier with KOT printers.
Also from the software, restaurant owners can view all kinds of KOT activities.
Reduce error
Errors can occur when you use paper KOT instead of automatic. So when you move the paper KOT to automatic KOT, your list of errors becomes zero. Here all the work will be done automatically through a system.
So it will reduce errors which will help to grow your restaurant business.
No fear of losing token
If you use a traditional Kitchen Order Ticket it is likely to be lost. So, the fear of losing it always works in your mind. But when you use automatic KOT, you don't have to worry about that. You can view the generated token at any time with the token number. Because all tokens will be automatically saved in the KOT system.
So at the end of the day, it will calculate your total token automatically. And from that, your system will calculate the total sales. That's how it will help to improve the business.
Increased both sales and customer satisfaction
When errors are reduced, time is saved, and people receive orders on time, your restaurant sales will automatically increase. It will even increase the level of customer satisfaction.
No customer wants to wait too long for their food. So when they get the proper service and delivery on time, their level of satisfaction will increase tremendously. They will encourage other people to come here. That's how the sales will increase.
No more messed up orders
Previously we saw how orders can be messed up if you write orders on paper. In this case, there is a possibility of losing the token or even a token can transfer to others because no details are written. There is also no mention of the kitchen chef in the kitchen order token piece.
But if you use an automated system then there is an option for everything like you can choose the order for the exact table and you can even choose the chef. Chefs can view their tokens from their panel or via the mobile app. So we can say that there are no more messed up orders in the automatic kitchen KOT.
Improve efficiency
The responsibilities of all the staff in the automatic KOT system are clearly defined, the preparation and order execution procedures are also given in a beautiful and smooth manner.
Through the system, restaurant staff can maintain a good relationship between them. The whole team can follow the order status and when the order is complete, they can easily pass it to the kitchen manager. Each employee is able to focus better on their tasks. There is no scope for confusion or repetition. This is making the processes neatly aligned.
Since efficiency is improving in this way, it also plays a big role in growing the restaurant business.
Speed up the order process
When the order is from different places then an automatic token is created for each order and it will be transferred directly to the selected kitchen chef.
The system even ensures that no orders are missing or delayed and that they deliver orders on time. This process reduces errors and speeds up the ordering process.
Provide real-time reports
The restaurant POS software has a feature called Real-Time Report from where you restaurant owner can view daily kitchen order tickets. From this report, they can analyze total business sales and easily determine their next goal.
They can easily monitor and control the restaurant business from multiple outlets in multiple locations. They can also check which stocks are limited and from there they can increase the stock immediately.

The kitchen order ticket is a crucial part of the restaurant business. When you are purchasing Restaurant software then this module is mandatory. Almost every pos system has an Automatic KOT module.
Once the restaurant KOT is set up, employees will be able to pay more attention to their individual tasks. Meals are prepared on time if there is a KOT system, which reduces the waiting time for customers. So it will make the customers happy and they will get a good impression from your restaurant. Hopefully, this blog will help you make the right decision for your restaurant business.
Read More: