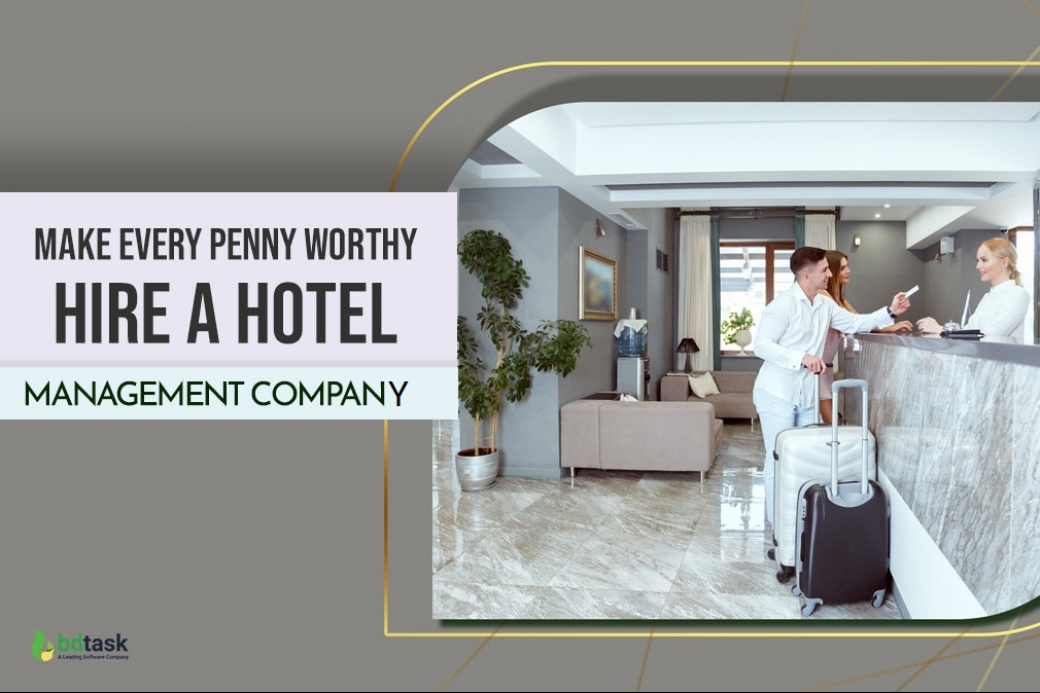 And if you're searching for such a business idea, where you will only invest your money but not your precious time? No involvement; the Only Concern is Total Revenue (unless the owner wants to).
Then, I think you can give the Hotel Business a chance; it's a trendy, booming, and hugely profitable business.
So, The Main Question Arises!!
Who Will Run The Hotel On Your Behalf????
The answer is hotel management companies, who handle the whole hotel business on behalf of you. So you have to hire a hotel management company that can match the hotel business model and fulfill your objectives.
Operating a hotel business isn't that easy; it holds an ample amount of management work, needs the support of a considerable number of human resources. Hotel business planning, plan the hotel marketing strategies, selecting a hotel channel manager for a reliable and fast hotel booking, etc. Therefore hotel management companies make everything possible and easy.
There's a lot of misconception about the whole idea of hotel management companies. Even the stakeholder in this hospitality industry doesn't even know properly; how it works. These hotel hospitality industries are adequately different from other industries or corporate sectors.
Let's explain this old idea in a new way with an example; suppose your Mr.Xeke, a successful, rich businessman, now wants to build, buy or invest his hard-earned money in this hospitality industry. But also, at the same time, he doesn't wanna be an active management member of his hotel business. So Mr.Xeke instead only keeps his focus on the revenue+ profit.
A curious mind may ask, how is it even possible?? If Mr. Xeke is a silent stakeholder of his hotel, how does he even get to run the whole operation of his hotel???
That's when the hotel management companies entered; Mr. Xeke hired a hotel management company.
What Are Hotel Management Companies?
Hotel management companies are the management companies, who handle every big or small operation involved in the hotel. Totally handle everything from top management to line management. The only responsibility top management fulfills is to send the monthly or yearly report, including the profit share.
The hotel property is owned by one party, operated by another party, and carries the brand name by another third party.
Thus it ultimately conveys that Mr. Xeke hired "hotel management companies" then relaxed….
Mr. Xeke will just see the numbers, how much he invested and how much he earned in return!!!
I hope; so far, you have a good understanding of hotel management companies. Hotel management companies totally deal with the daily operation from top to line management. In return, the hotel management companies share the profit with the owner (Mr. Xeke).
After The owner hires hotel management companies, the owner will hand over the whole responsibility of running this hotel business to a hotel management company.
Let's See What Are The Responsibilities A Hotel Management Company Fulfill On Behalf Of The Owner:
Controlling and managing all the diversified departments separately, for instance, maintenance, housekeeping, cleaning, and front desk, etc.

A good and experienced HRM handles all the recruitment and selection processes, on-the-job training, off-the-job training, and terminating employees.

Ensuring real-time payment to the employee, staff, vendors, and suppliers.

Setting up the price per room, recording all the miscellaneous/ capital expenses involved in running a hotel, customer management, managing up the yearly or monthly revenue, and sending a revenue report to the hotel owner and the profit share.

Budget management

Ensuring the hotel doesn't break any law or involve illegal activities; follow all the policy, rules, and regulations.

Maintaining a good customer relation with 100% royalty and loyalty.
There are different types of hotel categories in the Hotel industry, such as chain hotels and independent hotels. And to handle this type of hotel, there are also many different chain hotels and independent management companies in the hotel industry. So let's see; what are the differences between these two"what are the differences" so that you can choose your one accordingly.
| | |
| --- | --- |
| Chain Hotels | Hotel Management Companies |
| Series or group of hotels, operated by the same company or owner. | A hotel is owned or run by an individual |
| Is chain-affiliated, have many branches located in a different area | Don't have the permission to use the brand name by other proprietors |
| Have one or partial owner to manage all the administrations, marketing, and promotions | Operate single-handedly or with a limited no of employee |
| Chain hotels also dominate the global hotel industry | Suffer from a shortage of cash flow issues. |
| Has the ability to exploit different loyalty programs; such as different lucrative offers to the guests, or widely scale up the hotel brand. | Offers a diverse range of accommodation, such as; food, beverage & leisure products and many different price packages. |
| To run their customer loyalty program; they use many different technologies; such as blockchain technology. | Independent hotels focus more on the niche-based market rather than investing in market research. |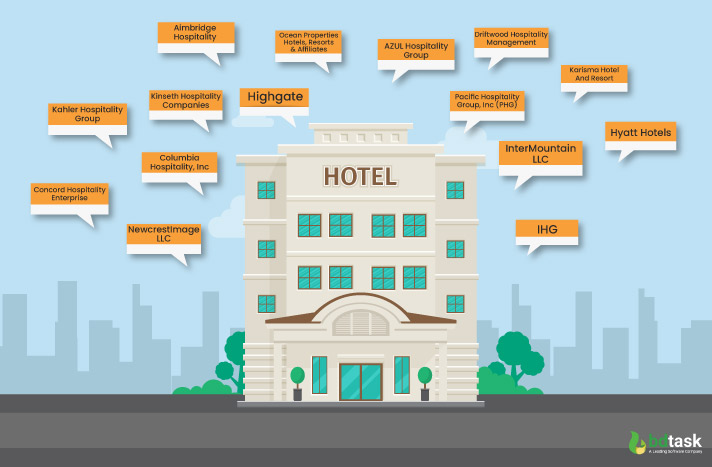 The list contains; some of the finest hotel management companies, so it will be easy for you to select your preferred one. Hotel management companies are the ones; who will manage, nurture, and invest the effort of human resources and transform all your hard-earned invested capital into a profitable hotel business.
1. Highgate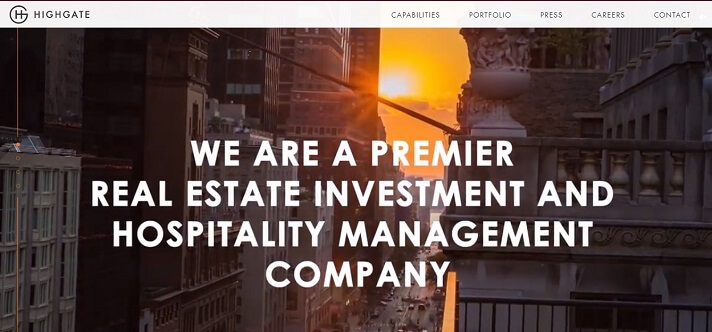 With more than 25 years, Highgate is New York's biggest hotel management company. Always confidently claim to offer the fanciest and premium service in the hospitality management industry. Highgate manages 142+ third-party properties incorporating 37,307 guest rooms. Highgate, hotel management companies, are specialized for independent hotels and other independent less known branded hotels in the US market; who have no other branch in any other location.
Highgate shares 10% of the hotel inventory with the Big Apple, the headquarters of Highgate is situated. They are majorly specialized in the key getaway market, including Boston, Miami, San Francisco, New York, and Waikiki. Moreover, Highgate now expands its operation line in Europe's and Manhattan's hospitality industry.
2. Aimbridge Hospitality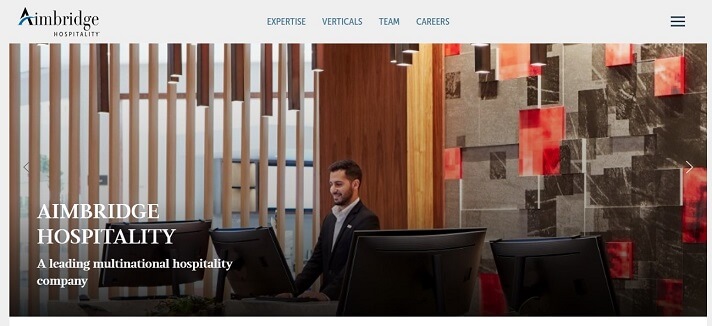 Aimbridge Hospitality is one of the largest & popular hotel management companies in the USA. Even though Aimbridge Hospitality started its journey in 2003, within a short time, they became the most Top-rated hotel management company by handling eight projects.
Being a top-rated hotel management company, Aimbridge Hospitality operates 182000+ guest rooms along with 20+hotels. However, after Aimbridge Hospitality merged with the second-largest hotel management company (Interstate hotel & resort) in 2019, their portfolio became heavier as they started to handle 80,000+ rooms and 500 hotel inventories.
#BONUS Details: JUST FOR YOU
The main focus and strategy that Aimbridge Hospitality always follows are to save cost from different operational criteria and improve efficiency and increase revenue per room. According to the Aimbridge Hospitality's website, management portfolio; are specialized to handles some of the popular hotel properties in the USA and Caribbean:
Convention

Resorts

Boutiques Hotels

Upper Scale Hotel & Restaurants

Luxury Hotel; for instance, Marriott, Hyatt, and Hilton
Furthermore, Aimbridge Hospitality additionally provides many management services such as renovation, inventory, and consultancy. In addition, to take good care of their staff and employee grooming, they launched the AIMClean program for better efficiency and revenue.
3. IHG (Intercontinental Hotel)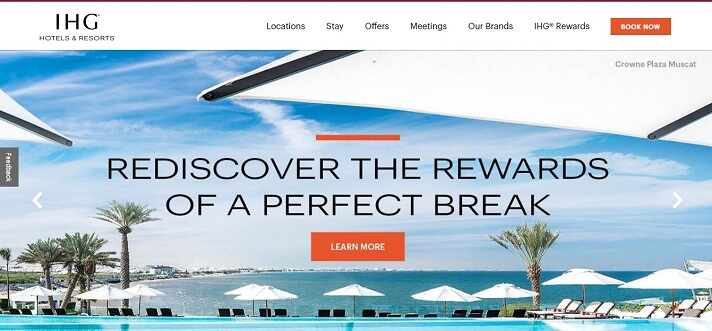 IHG is a British-based hotel management company situated in England. Being a third-party owner, they have handled some of the best, popular, and profitable hotel properties, such as Intercontinental Hotel, Holiday Inn, Kimpton, Regent, and Crown Plaza. Moreover, IHG efficiently manages 965+ hotels, handles 4615+ independent franchise hotels, 301 hotel properties, and 57,804 guest rooms, etc.
4. AZUL Hospitality Group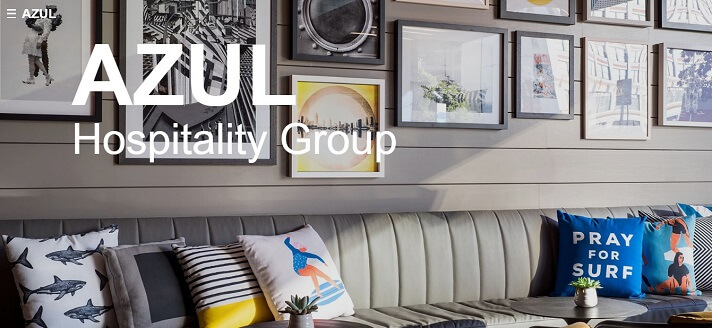 If you're searching for a hotel management company, which specializes in serving lifestyle and resort properties, boutique select service, and underperforming assets, then AZUL Hospitality Group is for you.
AZUL Hospitality Group is one of San Diego's best hotel management companies; their key focus is to put limitations on costs by increasing the property revenue and higher their standard. According to the AZUL Hospitality Group's website, their management portfolio serves many world-famous hotels, for instance, Mariot, Cambria, La Meriden, Westin, and Tribute Portfolio. Here are some management services that AZUL Hospitality Group offers to polish up its brand excellence and superior service:
Strict management

Guest and brand excellence

Cumulative sales and marketing strategies

Updating on food & bar department with uniques facilities

Re-positioning their services
5. Hyatt Hotels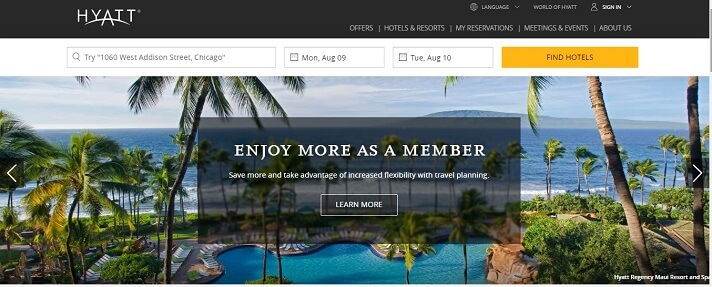 Even after being American's largest multinational hotel owner, investor, operator, and franchisor of several hotels and resorts, Hyatt still effortlessly manages two-thirds (⅔) of its properties. Under different corporate management, Hyatt properties operate 61,217 guest rooms and 372 hotels. Hyatt is a Chicago, IL-based company and also manages its brand in 65 different countries.
Hyatt owns many historic hotel properties such as; Paris, Miami Beach, successfully operating Jinmao hotel Lijiang in china, Hotel Martinez in Cannes, and Uruguay's Carmelo Resort, etc. Hyatt's unbound and unique collection makes it possible to transform their profound third-party management experience into the world's best hotel property.
6. Concord Hospitality Enterprise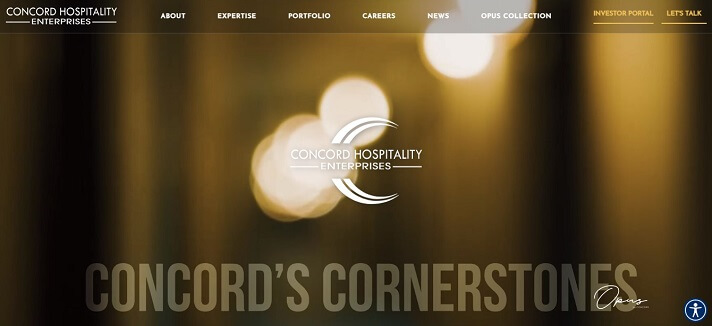 With the capability of managing 90+ hotels offering 13000+ hotel properties in 20 different states, Concord Hospitality Enterprise earned its position as an award-winning hotel management company.
Concord Hospitality Enterprise is situated in Raleigh, North Carolina, dedicated to operating hotels & resorts under some leading hotel brands. For instance, Choice Hotels, InterContinental Hotel Group, Holton Hyatt, Marriott, Starwood, and some independent boutique hotels.
7. InterMountain LLC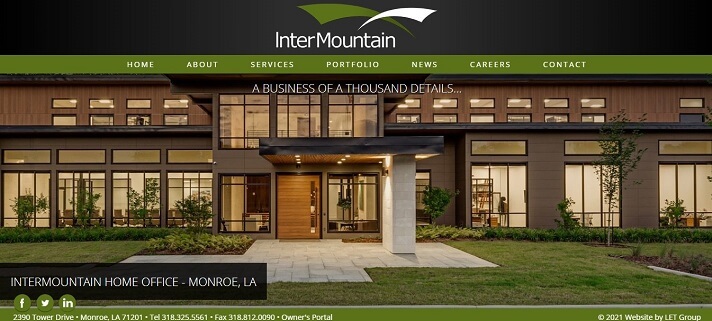 InterMountain LLC is North American's well-known hotel management and developing company. For almost 35 years, they have consistently provided dedicated and hard-working service to achieve and hold the tag as a successful hotel management company.
One of the main reasons; InterMountain LLC has achieved such an objective is because they have been dedicated and focused on specializing in the extended hotel-stay segment and premium services. They have worked with many large hotel management projects such as Wingate, Courtyard, Sheraton, and Hampton Inn.
8. Driftwood Hospitality Management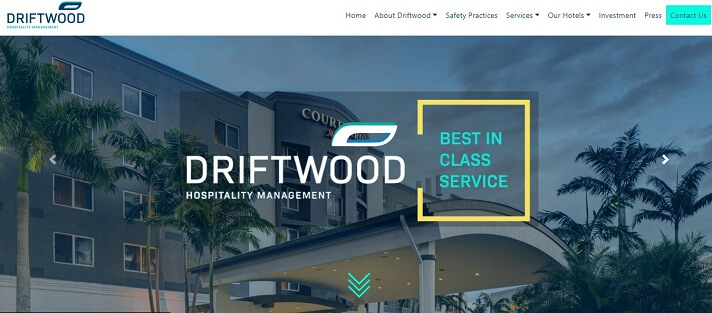 Driftwood Hospitality Management is a famous hotel management company, successfully dominates the whole USA's and Latin America's hotel industry. As per Driftwood Hospitality Management website; management portfolio, they handled and operated 48+ hotels along with 9584+ guest rooms.
In addition, Driftwood is also one of the top business travel agencies, convention marketplace and holds the best location for resorts & hotels in the USA and Costa Rica. Till now, they handle many profitable and successful hotel management projects such as Westin, Hotel Indigo and Wyndham, etc.
9. Karisma Hotel And Resort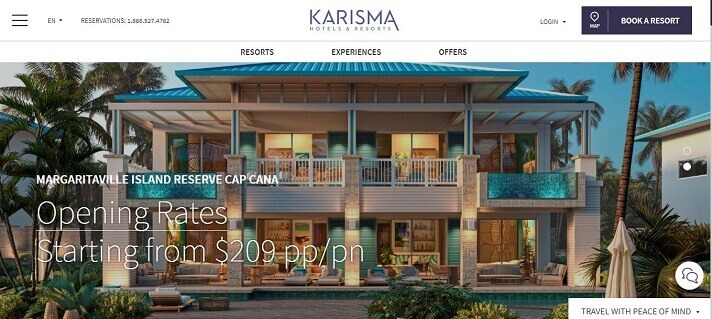 Karisma Hotel & Resort is an award-winner hotel management company. They hold some of most of Latin America and the Caribbean's luxury hotel collections. In addition, Karisma hotel & resorts have some of the exclusive hotel properties such as El Dorado Spa Resorts, Margaritaville Island Reserve, Azul Beach Resort, Generation Resort, Karisma Villa, Allure Hotel, Hidden Beach Resort, Sensatori Resorts, and Nickelodeon Hotel and Resorts.
10. Kinseth Hospitality Companies
Kinseth Hospitality company is another award-winning hotel management company and leading hotel management, ownership, and development company. Kinseth Hospitality is a North Liberty, Iowa-based company that successfully operates over more than 90 hotels and 5 well-known restaurant brands in 15 states. Kinseth hospitality companies fall under the corporation of InterContinental Hotel Group PLC (IHG), Wyndham, and Best Western.
11. Pacific Hospitality Group, Inc (PHG)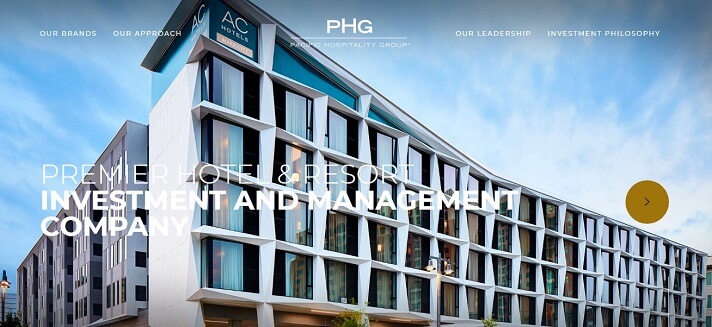 Since 1987, Pacific Hospitality Group, Inc (PHG), the best hotel management company, has dominated the Napa Valley to South California hotel industry.
Since then, Pacific Hospitality Group, Inc (PHG) has been following a very strategic vision and strongly serving its core value to reach the targeted goal. Pacific Hospitality Group; Inc; usually offers services for diversified hotel & resorts hotel projects and helps them reach their targeted goal.
Pacfic Hospitality Group, Inc operates, develops, and manages different financial and operational factors of the hotel business. There are many hotel projects; which Pacific Hospitality Group, Inc handles:
Bacara Resort & Spa in Santa Barbara

Balboa Bay Resort & Club

Newport Beach Country Club

Estancia La Jolla Hotel & Spa

Meritage Resort & Spa

Crowne Plaza Anaheim Resort

Doubletree Irvine-Spectrum

Doubletree by Hilton Santa Ana-Orange County Airport
12. Ocean Properties Hotels, Resorts & Affiliates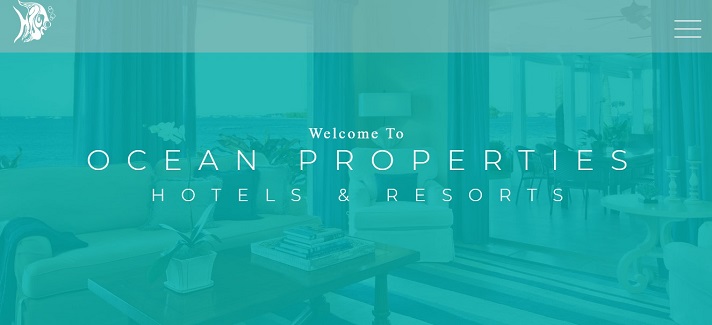 Ocean Properties hotel, resort & affiliates are North American's largest Hotel management company. And if any investor is searching for a family-owned and fast-growing hotel management company, then Ocean Properties Hotel, Resorts & Affiliates is your call.
Along with some award-winning independent & resorts, they successfully operate many well-known brands such as Marriott, Hiltons, Sandwood, IHG, signature Opal collection, restaurant, golf course, spa, etc.
13. NewcrestImage, LLC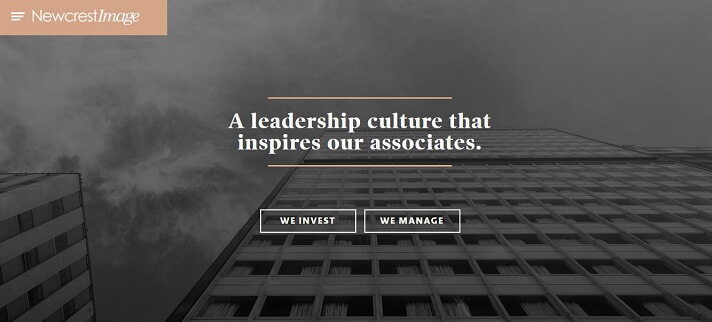 NewcrestImage LLC is not just a hotel management company; it's also a hotel development, construction, and of course, management firm.
NewcrestImage, LLC is a Dallas-based hotel management company, a privately-owned organization that handles and operates more than 20 + hotel properties. They are also in other diversified business lines, such as real estate development and construction business. NewcrestImage, LLC is well-known for renovating the old hotel; some of their successful projects are some of the dual-properties of Dallas, New Orleans, Amarillo, and Cincinnati, etc.
14. Kahler Hospitality Group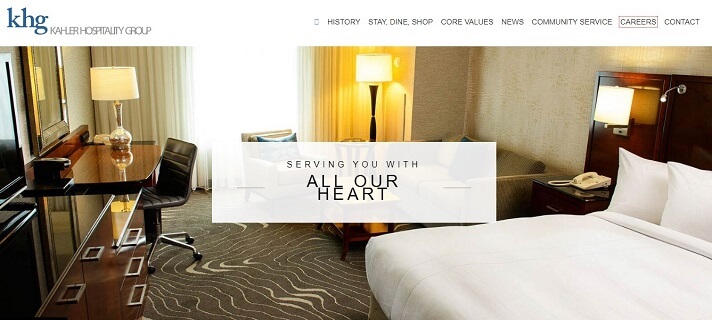 Kahler Hospitality Group is the only Rochester Minnesota's hotel management company; therefore, this hotel management company tries to put effort into making every visit; to their consulted hotel "Marriott" warm and pleasurable.
Kahler hospitality is also linked with Mayo Clinic through pedestrian skyways, underground walkways, vibrant dining, and many other accommodations.
15. Columbia Hospitality, Inc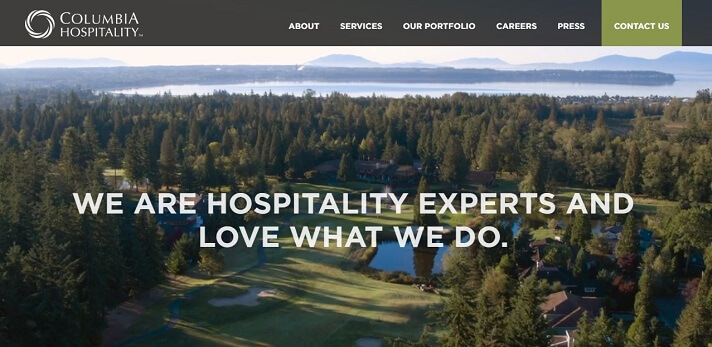 In 1995, a person named John Oppenheimer built Columbia's fast-rising portfolio and Columbia Hospitality, Inc. This Columbia hospitality, Inc is a Seattle-based hotel management company and consulting company. Moreover, it offers many award-winning hotels, conference centers, distinctive venues, public and private golf facilities, fusion restaurants, and also different residential properties.
Columbia Hospitality, Inc earned an exceptional reputation as a property owner; by providing a phenomenal experience for both the guests and the employees. Columbia Hospitality, Inc is in this hotel management industry for around 20 years now, carrying many proven success histories and inspiring many hotel management companies.
Till now, Columbia Hospitality, Inc had been involved in almost 200+ hospitality projects, with a recorded history of delivering highly personalized service both to the investors and their partners. According to Columbia Hospitality, Inc website, their management portfolio serves Hotel Indigo and Cambria Hotels.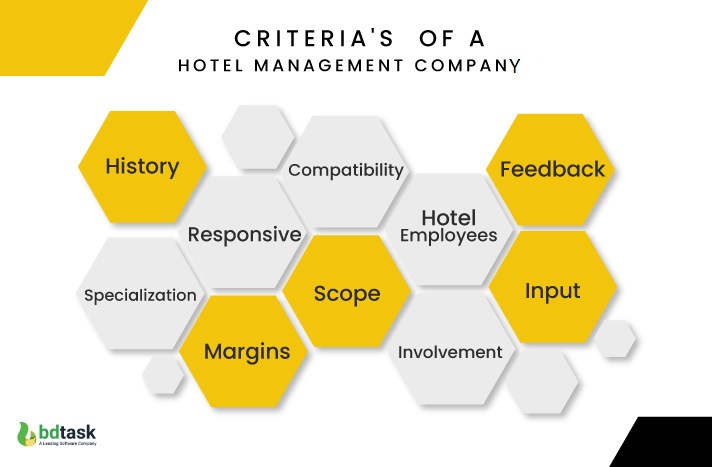 YES!! Handing over your hotel to some unknown management company to manage and run the whole operations is very risky. As it is not just a hotel business, but it's your investment, all your investments may go in vain if anything goes wrong.
So Better Be Safe Than Sorry!!!
Hence, here is a list of characteristics you need to confirm before you hand over your business to some hotel management companies.
1. History
Managing a hotel business is not child play; it is a huge responsibility; therefore, experience is needed. The experience will define "how well the hotel management company can handle the pressure and what strategy they use to manage the services, staff, customers and of course the brand royalty with a profit margin in the graph.
2. Specialization
Check out their previous records, whether or not management companies were involved in any illegal stuff and also previously, "what kind of hotel they used to handle" and, of course, the experience.
At this point, I would advise you to do research on them before you hire them. See whether or not your hotel business model matches with their potential and the ability to reach the targeted goal.
3. Responsive
It's another essential criterion of a good hotel management company. Responsiveness, approach, or behavior is vital to handle reputation, customer satisfaction, and brand royalty.
Maintaining a warm and profitable relationship with vendors, suppliers, and other stakeholders is very important, as every hotel operation depends on them.
4. Margins
Profit share, yes, the important part. Before you sign-up with any hotel management companies, you need to clearly clarify the percentage you want every year from them. You can also set a target for the management company so that the hotel management company gets a predetermined target to fulfill.
5. Compatibility
Finding a perfect hotel management company is hard, so many questions may arise in your mind; will they ever match and execute the hotel business, just like you dreamt. Will the hotel management company be trustworthy? Will they be able to handle all the responsibilities and can make your dream come true?
6. Scope
Check out their service offer guide, whether or not those would be helpful to fulfill your requirements? And also point out those services that might need you in future, the management company matches with your requirement then only go with it.
7. Hotel Employees (Top management to line management)
Check out "How do they handle their staff?", "How is their spending behavior?", "Do they spend more on unnecessary assets or payrolls?". Because wasting too much money on unnecessary expenses might increase the cost at the end of the year; as a result, hotel business shift to the loss curve. Research on your chosen hotel management company, understand their budget dividing policy, or "How intelligently do they utilize the budget?"
8. Involvement
You also need to identify how well and with care hotel management companies observe, manage, and control the whole hotel operations. Because; a hotel business cannot be operated on its own, it needs to be operated by a big team. So the entire hotel services, customer satisfaction, and management duties depend on the company that operates the hotel.
9. Feedback
Feedback is always important, whether it's the restaurant's food or even any software. Both positive and negative reviews are critical, it increases the product visibility and word of mouth. So, before you hire any hotel management company, check their thoughts from the other hotel owners; you also might need to check the reviews of the guests of the hotel; "how do they feel about the service and hospitality?".
10. Input
As an investor plus an owner of the hotel, it's totally up to you that; whether or not you want or get involved in the decision-making discussion. However, as you have invested so much money in the business, you definitely deserve significant decision-making royalty. Therefore, you should ask which hotel management companies will accept your important input and upon it.
Hotel Management Software
Hotel management companies do succeed overnight; these companies have to work very hard to achieve the targeted goal pre-set by the owner. After all, hotel management companies have to share the revenue and the monthly/yearly report from top management to line management.
Maintaining structural management in the hotel helps to build up the reputation, boost the brand image, earn customer satisfaction with fast service, and create high visibility over online and increase the booking rate.
Hence, to make these trouble-some management duties easy, flexible, and fast for management companies, some hotel management software is also available in the codecanyon market.
Xain- Hotel Management Software is now the most popular and has the highest number of features hotel management software in the hotel software industry.
Xain is new, best features, and soon will be the most popular hotel management system.
There are no such features; that Xain doesn't have!!!
Don't believe me!! Go check it out!!!
Xain-Hotel Management Software

And Credit Goes To Hotel Management Companies
Hotel business has become the most popular and trillion-dollar business, consistently and strongly growing worldwide and contributing almost $3.41 trillion to the global economy.
Many sources consider this result of growth occurs because of changes in generation, buying behavior, rise in desire for traveling and exploring new places. And all this is successfully possible because of the new system of digitalization and increase of online travel influencers, hence people getting influenced for traveling to different places; as a result, this hotel industry has boom almost $840 billion revenue per year worldwide.
Being a third-party; hotel management company helps many giant investors or entrepreneurs to handle their giant business line. These giant investors only invest money in the enterprise; they don't care "with what strategies they maintain to run or operate the hotel?".
They only care about the year-end report and profit share. And all the trouble-some operation-related tasks are the headache of the hotel management companies. Thus, hotel management companies handle every facet, from training management, revenue management, guest management to keeping the brand reputation; all hassle on the hotel management companies shoulder.
Read More: