The Role Of Kitchen Display System In The Restaurant Business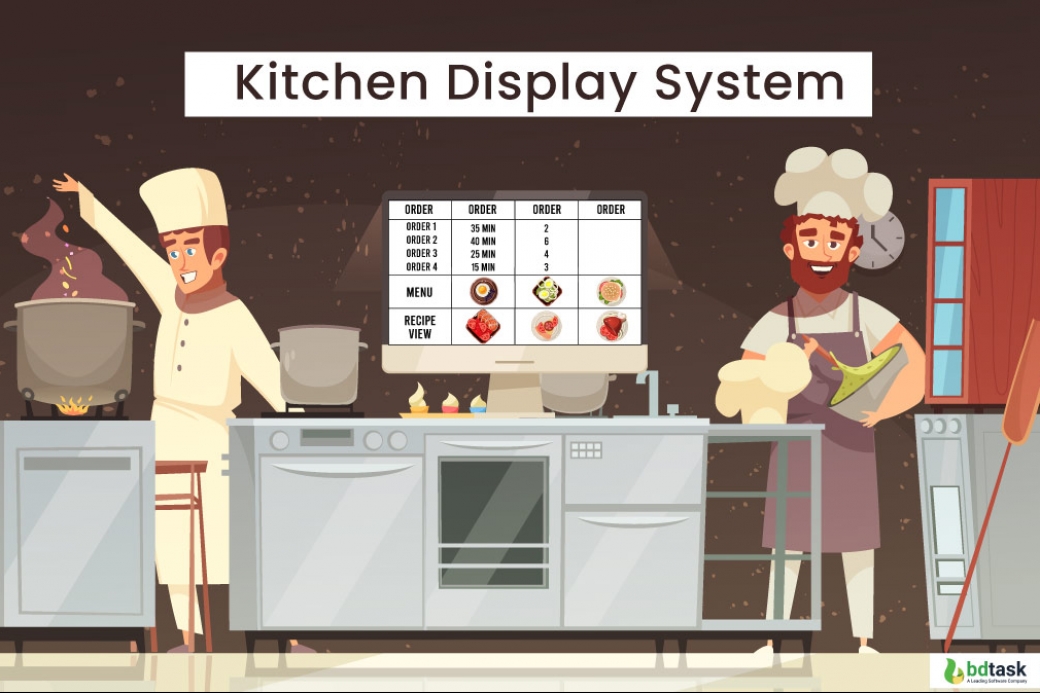 Still, now most people are not familiar with the Kitchen display system. But if you go to a 3 star or 5-star restaurant then you can see a big screen from where you can view your order. This is called a kitchen display system. It plays a big role in facilitating your restaurant operations.
Today, in this blog we will briefly discuss the kitchen display system, its beneficial factors, and how it contributes to the development of the restaurant business.
As a restaurant owner, your desire is always to provide your customers with the best dining experience at your restaurant. So, if you want to fulfill your desire then you need to use a system that can provide a smooth and convenient process for customer satisfaction. The kitchen display system is one of them.
Now what exactly is a kitchen display system or how can you explain it?
A kitchen display system is a digital screen that is connected to the restaurant's POS (Point of Sale) system and displays orders of customers. It reduces the use of paper kitchen order tickets. From KDS kitchen staff and chefs can view their own worklist and every order. According to the customer requirements then they can prepare the food. When the food will be delivered then the order will be marked as done.
This automates the whole process, reducing both employee effort and the possibility of manual error.
Day by day the popularity of kitchen display systems is increasing. It doesn't matter whether you have a small or big restaurant. Kitchen display systems can be beneficial for both types of restaurants.
Now people are using KDS more than paper Kitchen order tickets. Now the main question is: How Kitchen display system work?
Actually, the Kitchen display system is connected with Point of sale or POS software. Orders in POS software are automatically updated to KDS. That's why kitchen staff can easily view them. They can select the time and schedule to prepare the food. At the same time, they can see how much time is left to serve or deliver the food.
The order will be completed when they serve a meal and it will be marked as done in the kitchen view. Then the chef can start cooking another order. KDS displays basic kitchen activities like communication, restaurant food ordering system, inventory, and delivery. It also ensures fast delivery. That's how a Kitchen display system works.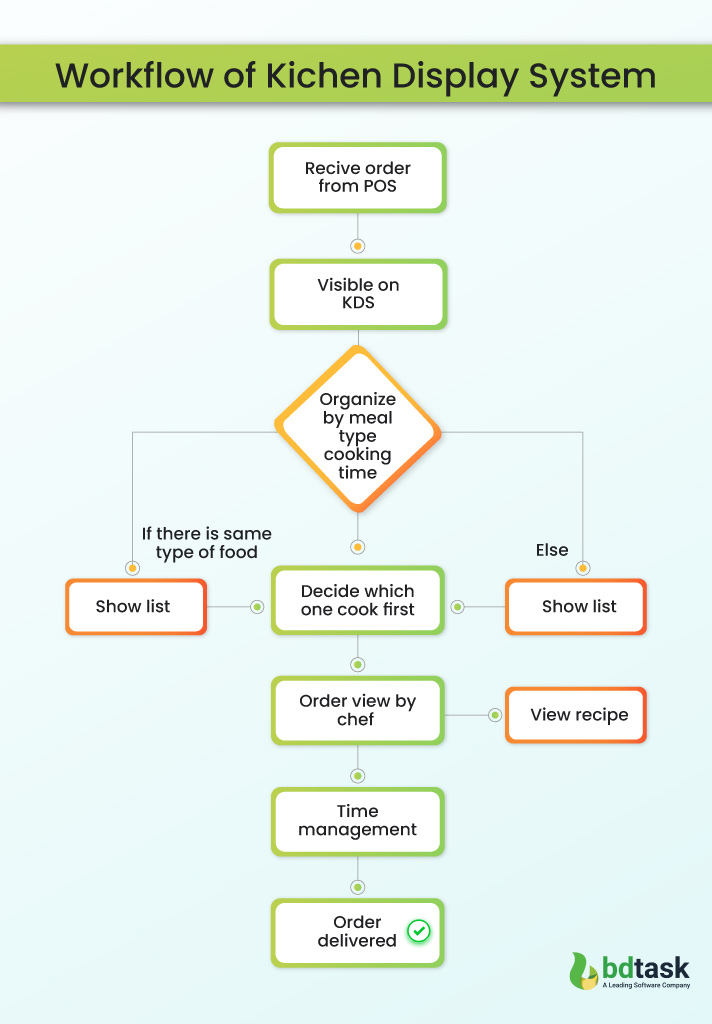 When we need a KDS system for your restaurant then first you have to know the features. If you know which features measure the best Kitchen display system then you can easily choose and buy one. In this part, we will discuss the features of the Kitchen display system. These are given below:
Redundancy
Redundancy is considered one of the most important features of the kitchen display system. Now why is it important and why is this feature needed for your restaurant software?
When redundancy is 100% then your restaurant kitchen will never go down.
This means that your kitchen will never have a single point of failure. In case anything happens, It will take you to a backup server to backup and save your existing orders. So before purchasing make sure your system has this feature or not.
Many software companies claim that they have 100% redundant systems. But after use, a lot of people complain that the system shuts down when there is a lot of order pressure. So, you need to do a lot of research before buying a kitchen display system.
Order manager
The Order Manager feature is an important one. It helps you organize orders by course type. For example, you have five or six orders. Now you can't cook it all together. So you can cook the same kind of food first. The Order Manager combines these orders to make them easy to prepare and send together. That's how they can deliver the food on time.
POS integration
Now, most Restaurants have a Point of sale or pos system. It's very important for your restaurant business. At one stage of your restaurant business, you will understand the necessity of the POS software and when your business grows, then you will invest money to buy one.
So before buying a kitchen display system, you must see if it can be integrated with your POS system. Otherwise, your money will be wasted. Your new KDS needs to be strong and versatile, able to adapt to your POS system updates. You can always make sure that your POS system works with your KDS when you decide to invest in one.
Recipe view
Recipe view is an important feature of KDS. Sometimes customers have some special requirements. They want some food according to their choice. In that case, the chef may not know about that recipe or may be confused. This allows them to view recipes from the kitchen display system. In addition, If you want to follow some of your chef's guidelines, you can upload recipes (For example, videos or photos) to KDS. Staff can easily save and search for recipes.
Meal cook times
The Kitchen Display system provides the cooking time of each meal. That's how one can get the idea of which one is easy to cook and which one is difficult. That's how they can make proper planning for cooking.
For example, you have more than 5 orders. Now when the order arrives at KDS it will order them in such a way that the things that take the most time to cook are prepared first, then the cooking time is reduced.
This feature makes sure that all items are cooking properly and timely. You don't need to wait long for your food. You can get hot and fresh food on time.
Routing to specific stations
The kitchens of the restaurant are divided into different sections. Like the grill section, pastry section, fryer section, etc. Now in that case KDS will send the food order to the right and appropriate station. This feature is important for restaurants that have buffet arrangements.
Delayed routing and meal pacing
This feature helps to fix the balance of cooking time and table items that are ready to serve.
You can delay the item by shortening the cooking time to make sure everything is fresh and hot when brought to the customer. So as you can see, cooking time management is very important.
This is how it's easy to measure how many items have desired cooking times in real-time. At the same time, it helps to identify the major and sill issues in the kitchen and improve the efficiency of the Restaurant business.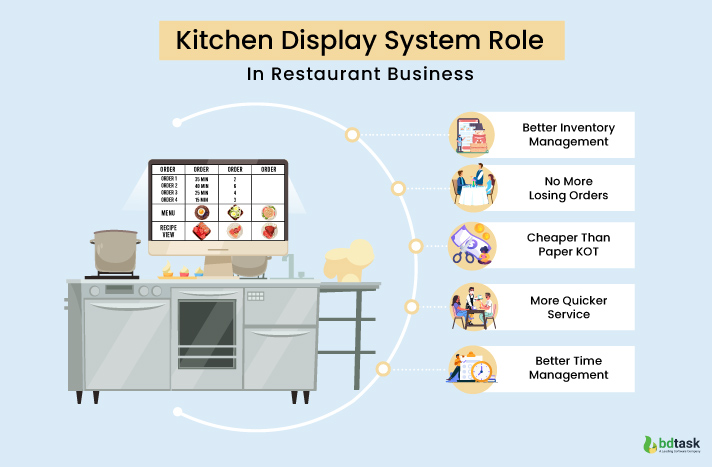 The kitchen display system plays an important role in the development of the restaurant business. It reduces human error and increases efficiency. It also provides a better inventory and time management process. Some important points are discussed below:
Enhance Kitchen Efficiencies
Kitchen efficiency is surprisingly improved if you implement a modern kitchen display system with your restaurant. KDS provides real-time updates and reports on your orders. It manages the workflow of the kitchen in a beautiful way. Kitchen staff can easily increase inventory if an ingredient is out of stock. Because they can see on the kitchen display which is available and which is not. This is how the restaurant enhances the efficiency of the kitchen by using the kitchen display system.
Better Inventory Management
KDS will help you do better inventory management. Your POS system integrates with the kitchen display system. So if any ingredients are not available in stock then you can check from KDS. It keeps track of inventory numbers and alerts you whenever inventory goes below the threshold level. This allows you to stay in the loop and you are able to plan better. This is how KDS helps in better inventory management.
No More Losing Orders
The kitchen is the place where chefs are always busy cooking food. It's a very chaotic and noisy place. So there is a possibility of losing the Paper KOT or even printed KOT. But if you are using a Kitchen display system then you don't need to worry about that. Because then your order will be visible in the kitchen display. There is no way for chefs to lose orders or get confused by any order.
Cheaper Than Paper KOT
The kitchen display system is cheaper than Paper KOT. Now you can ask me how? Because the Kitchen display system is a one-time investment. But if you use paper KOT then you have to buy Paper everyday. Also, this paper is not reusable. You have to throw out the paper KOT everyday after the closing. It's not even environment-friendly. So if you have a Kitchen display system then it will save money and at the same time, it will provide you with a more eco-friendly environment.
More Quicker Service
People always look for a place to eat that is organized and provides quick service. Nobody likes to wait too much time for their food. Now if you use a manual process then it will take a lot of time.
For example, If you are using a manual system, First you have to create a Kitchen order ticket and then need to go to the kitchen manager. Then he will decide who will cook what. That decision will take time and after that, the chef can start cooking. At the same time if other orders come then it will be more difficult.
But if your restaurant has a Kitchen display system then your work will be easier. Your orders will be automatically visible to the Kitchen display. The manager and kitchen staff instantly view the orders. KDS then optimizes the foods according to the type of course, cooking time, etc. It organizes them in a beautiful way. It picks their arrival so that the staff knows which food to send first.
If the same type of food can be made together, the cook will be able to cook a separate portion of each food. This will save a lot of time cooking in your kitchen. That's how you can provide quicker service to your customer.
Better Time Management
Time management is very important in the restaurant business. If one after another food comes late, then the customer can leave your restaurant with a bad impression. So this is not good for your restaurant business at all.
If you have a kitchen display system, waiters and chefs can see the same order. KDS will then provide automatic instructions on which foods will take the least amount of time. Depending on it, the chefs will start cooking. They can even see how much time they have left to serve food. When customers get food on time, they will be happy. They will encourage more people to come here.
Clean and Clear Workflows In Kitchen
With the help of a kitchen display system, you will get clear instructions about the work of your kitchen. Because all your work will be visible on the kitchen display. If you forget a task, you can see it from the kitchen monitor. So you can see that you will have an organized and beautiful workflow with a kitchen display system where your mission and vision will be determined.
If you've already read my article above, you've got a little idea why I'm saying this. Okay. I will discuss more in detail at this point.
Through the manual system, there can be a lot of misunderstandings between the kitchen staff and the chef. For example, if a customer gets food late, they can complain to the chief administrator. The admin will then call both the chef and the staff. At that point, both will deny the allegations and they will try to save themselves. This is how a bad relationship is created between both the chef and the staff. This can cause a huge loss for restaurants.
But if you use an integrated pos with the kitchen display system, there is no way to complain about each other. These reasons are given below:
All orders and work will be visible on the kitchen display which can be seen by both the staff and the chef. So no way to complain.

Kitchen managers and admins can monetize their work.

Even all orders will be automatically uploaded to the kitchen monitor.

There is no way to lose discipline or any misunderstanding.

Both the staff and the chef will be happy when meals are delivered on time. This will create a nice and warm relationship between them.
So we can say that the kitchen display system will act as an intermediary between the employee and the chef.
People make mistakes and it is common. But in a restaurant business, stupid mistakes can cause you big losses.
So, if you want to completely minimize Human error then you have to use an Automatic Kitchen display system. Now how can it minimize Human error, Right? Okay, let's see the point below:
Paper KOT can be lost or disappear. At that point, you have to make or take the order again. But if you use KDS then all your orders will be visible. So no way of losing a token.

No way of confusion!! You can monitor every order and which one will go first and which will go next.

The chef can easily view the recipes of the order. So they can prepare the food perfectly.

No way of mismanagement because all of the staff work is written and visible on Monitor.

No way of forgetting about cooking time. Cooking time is visible on the kitchen display.
That's how KDS minimizes human error and it creates a strong bond between management and the staff.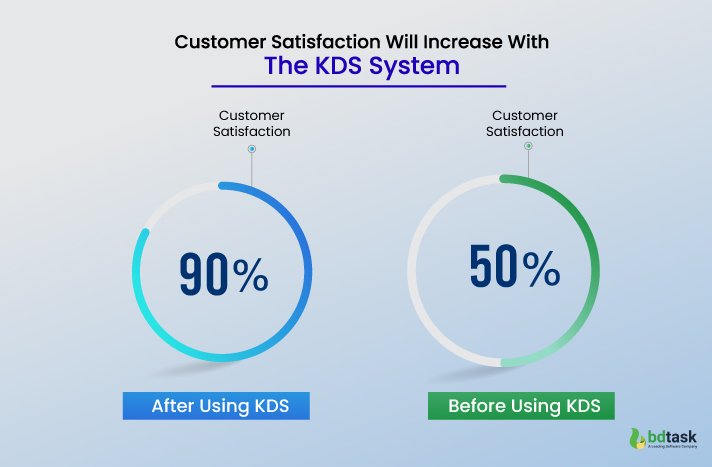 A happy customer means a good amount of profit. If a customer is happy with your restaurant food and service then they will encourage more people to come here.
We have already seen how KDS plays a role in the development of restaurants. Customers are bound to be happy when you provide timely food, better service, and the environment.
"According to a new survey, 91% of US people want to invest money on kitchen Automation or Kitchen Display system in 2021"
Customers always search for a place where they can sit and make conversation peacefully. With a Kitchen display system, all restaurant work can be done organized. So, it will minimize restaurant noise and create a better and noise-free environment.
That will increase customer satisfaction more than before. They will visit the place again and again. It will even create a huge impact on sales.
NO MORE WAIT!!!
Choose The Best Reliable Kitchen Display System At A Limited Cost!!!
From my above discussion, you have already realized the importance of the kitchen display system. So, it's the best time to choose KDS for your Restaurant.
If you are late then it will be a loss for your restaurant business. Now, it's not an easy job to choose the best Kitchen display system at a limited cost for your restaurant. Before purchasing KDS you have to first purchase a Point of sale system. Some POS systems have an integrated Kitchen display system.
So if you are looking for the best KDS with Pos integration then you can visit Bhojon Restaurant software. You will get all in one solution at a limited cost with this software.

Now, we have reached the final stage of my blog. From this blog, you will find detailed information about the kitchen display system. You will understand the importance of having KDS for your restaurant business.
As technology grows, so does people's reliance on technology. Also, if you want to compete with someone, you need to use a good system for your restaurant that can handle your work more efficiently.
Hopefully, this blog will help you make better decisions for your future restaurant business and you will be able to meet your expectations.
Read More: