Best Creative Restaurant Menu Design Ideas to Boost Up Sales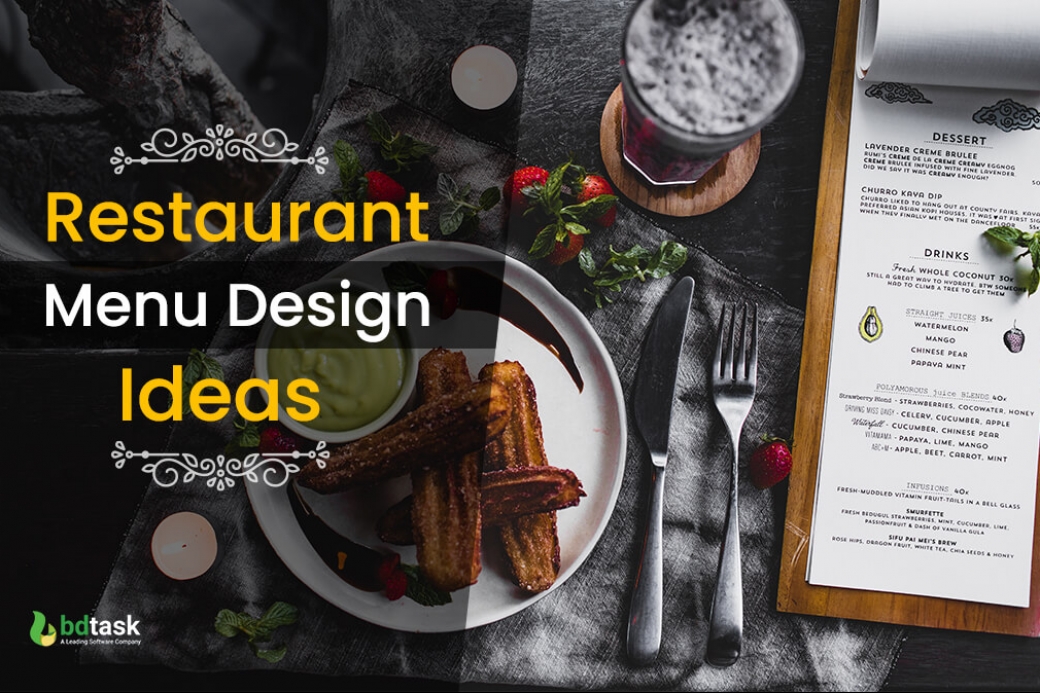 A poor menu vs. a dynamic menu. Think like a guest of a restaurant; what grabs your attention. Now assume as a restaurant manager, how should be your food menu card either ordinary or attractive?
"Attractive menu doesn't mean an interesting one."
Attractiveness is a part of your menu card where interesting means something more memorable. If you really like unique and creative things, a meaningful food menu is a must.
Let's explore some inspirational restaurant menu design ideas to present your services in an enticing manner.
A perfect restaurant menu design is a mirror of your eatery's personality, all of your offerings, and the way you are distinctive from others which can keep your brand fresh in your customer's mind.
"An appealing restaurant menu design is a key part of your restaurant's marketing plan."
When you are ready to prepare your food menu, you should consider your budget, essential operations, profitability, and other things.
A well-designed and functional restaurant menu has the power to flourishing your profitability and establishes a brand value.
A typical menu, a good menu, an attractive menu, or a meaningful food menu?
When you are thinking of making a menu for your restaurant, you can choose either one of them. But you have to know at first what elements are essential to a restaurant menu card.
Here, you will get a complete idea of the restaurant menu's basic elements that make it worthy and expressive.
Legibility
You have to ensure readability at first. If your food menu is difficult to understand or read, your customers will ask you a dozen questions that slow down your waiters.
The restaurant menu should be overall legible to the guests as they can easily catch your services and offers. The font style, size, color, contrast level, and so on significantly affect the menu card's legibility.
If your writing is over-styled and not vivid & appealing, your menu will be cluttered. One thing you must remember is that your customers will not spend a lot to read your menu, so be concise to express your offerings.
Captivating
Do you think only the list of your menu card is enough to captivate the guests? No, you can't do it through the language only. You need something more to make the food sound appetizing.
Adding photos on your food menu card creates it more delicious and inviting. If you add the item's image, then it should have appropriate lighting, so your food images look tempting and ready to take.
Okay, you have added the high-quality photo on your menu, but is that enough? Your background theme and the color scheme must suit appropriately. In this case, you can use only a few main colors.
Oh, one thing needs to remember, you have to use some graphic touches to tie your menu pages together.
Diversity
The menu item of your restaurant will express your services, so you have to present that to your guests in the best way you can. The variety of options for the customers is good sometimes.
Suppose your customers want something special that you can offer but that is not included on your menu card. In this case, your guests can walk out.
On the other hand, a range of food items on your food card can make a better scope or possibility to choose any of the items. But if your items are overwhelming, that can negatively affect the guests to make an order.
The different or diverse items are not only for many options but also indicate the variety of tastes. You can offer seasonal items on your food menu. People always love to see the lucrative offer and the limited time offer.
Well-Catalogued
The menu of your restaurant should be organized in a logical way. Otherwise, your customers face trouble while looking for the desired item on your menu card.
You have to categorize your offerings based on your services like appetizers, beverages, breakfasts, lunches, dinners, etc.
If the guests spend a minimum of time on the menu to make an order, they will have more time to take the food and enjoy the moment. Therefore, it dramatically impacts the development of a better impression.
You can only get a guideline on how you should categorize your food items on the menu card. But it's totally your choice to set up the menu as you know your current services.
Branding
The brand value creation through the restaurant food menu is a common scenario. You can see every menu card contains the brand logo.
It's an essential element of your food menu. If you present your brand name on the menu card dynamically, it will attract more.
You may use a color scheme or unique font color. In this case, the menu card doesn't focus on your brand name, but your customers indirectly concentrate on your brand.
Every restaurant manager wants to make the food menu distinctive and exquisite. But when you follow a basic guideline to make your food menu layout, you will easily create a standard menu.
"Something special always touches the creative ideas."
When you execute your creativity, you can realize that your ideas are productive. So before finalizing the menu, you should consider several menu layout ideas or menu template ideas.
Here, you will get some food menu design ideas that include the basic elements and the special elements. With the combination of those elements, you can have unique restaurant menu design ideas.
The guests of your restaurant will spend on average 2 minutes to see the menu. So you have to present in a systematic way what you exactly want them to see.
1. Precise Options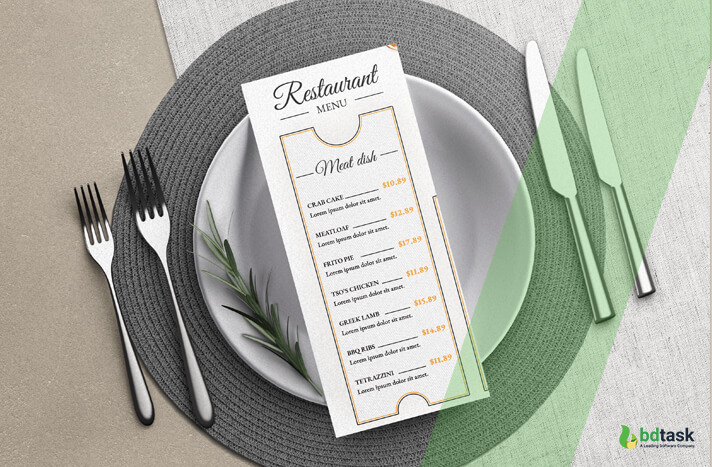 The more items you add to your menu, it will be large. You have to include on the menu a limit option. It doesn't bother the guests to find out what they choose.
Otherwise, a lot of options create decision paralysis. Besides, when the guests see a plethora of items, they can't decide quickly which one will be better for them.
In this case, they can order fewer items. So you should never ever include more than seven items per category. It increases the user experience, and the customers can make orders within a short time.
2. Avoid Too Much Image
Photos in your food menu increase by 30% sales. So you have to put at least one photo per page. Okay, how much photo should you include in the menu card?
The photos should be high quality and professional. The excess amount of images on your food menu negatively affects the impression of the guests.
You can use photos for the high-profit food items or the unique items you offer to the customers. Otherwise, one photo per menu page is enough to make it look better.
3. Don't Use $ Sign
A report states that it negatively affects the customers' buying behavior if you present the dollar sign on your food items. So then what should you do?
You should not use the dollar sign beside the menu items and don't need to present the dotted line between the item name and price.
Sometimes the expensive foods aren't so demanding as it costs high. For example, lobster dishes are more expensive. Then, you can use a trick to make another costly dish compared to that one.
It's a compelling idea to ease the pricing pain points of the customers.
4. Make the Menu Interesting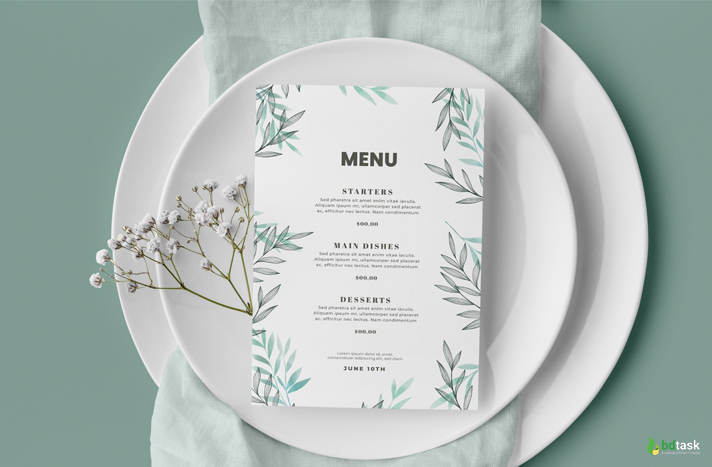 Okay, it's the most important point that you must consider while preparing your restaurant menu card.
For instance, one restaurant manager has made the menu card with the basic elements like the food items, price, and some attractive pictures.
On the other hand, the manager who makes the menu card more interesting can create a better impression among the guests.
So you should enlist your food items by following the above points. In addition to this, you have to add a story of the food item like the name of the item can be crispy pan-roasted chicken with buttery lemon garlic sauce.
The name of the item expresses the way the item will be served. It can grow the sales by 30% more.
5. Breathing Room
The white space of your menu card provides a better experience while the guests keep their eyes on the menu card. However, if you add so much text and photos on your food menu card, it looks so jam-packed.
So always try to use the margin of the menu and at least use a 1-inch gap after every item or category. Then, when the customers navigate your food menu, the excessive pictures and texts overwhelm the readers.
6. Spotlighting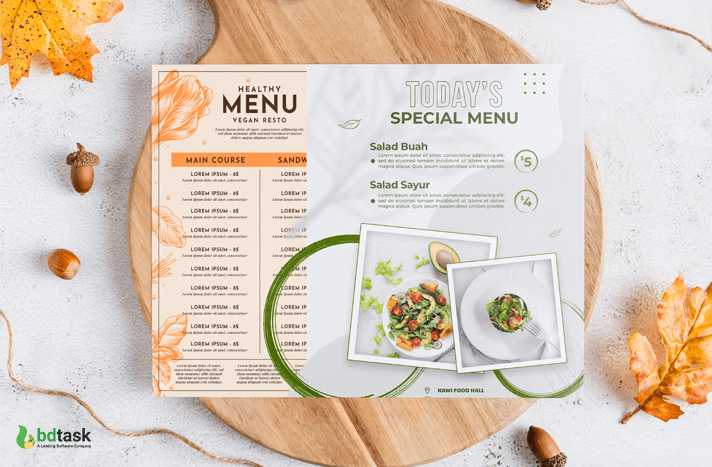 The high-profit items should be highlighted on your menu card as the guests can see those items while looking at the menu at a glance.
This is one kind of strategy to sell the special products in a special way. So make it pop.
Sometimes the indecisive guests face a dilemma while choosing the food item. In this case, if you present the items which can generate more revenue, you can bold those in the menu card.
It's the way to motivate the customers to choose the desired food as they don't need to panic.
7. Color Setting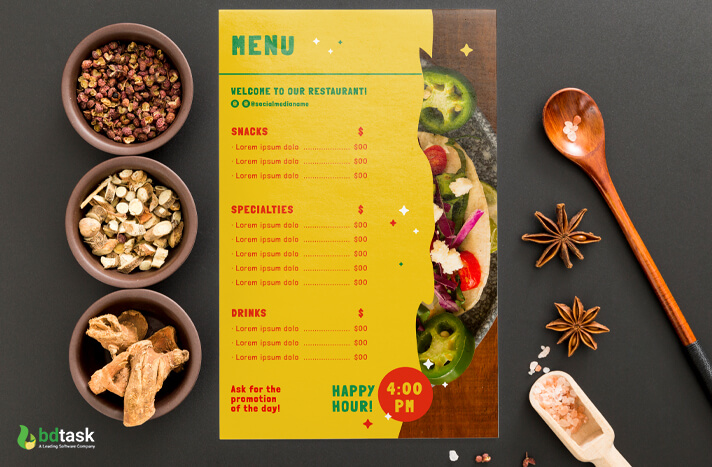 Color choice is one of the most important things while preparing a menu layout for your restaurant. The menu color is a big matter for attracting the customers.
Maximum restaurant menu items' pictures consist of two vibrant colors, especially yellow and red.
"The yellow color draws attention promptly, and the red color stimulates the appetite."
So why not? You must use these colors to create your food menu. But in the case of the seafood restaurants, the blue color can be used as it means so.
8. Decoy Platter
Sometimes your expensive food dishes are not so popular as people think that one is too costly. In this case, you can make a decoy platter which is much more costly than the provided platter.
When the guests see the high-cost platter, but it's a decoy platter, they will go for another less expensive one.
For instance, the lobster dishes cost $70, but if you offer a decoy platter which costs $200. Now the guests don't feel your lobster dish is costly.
9. Triangle Strategy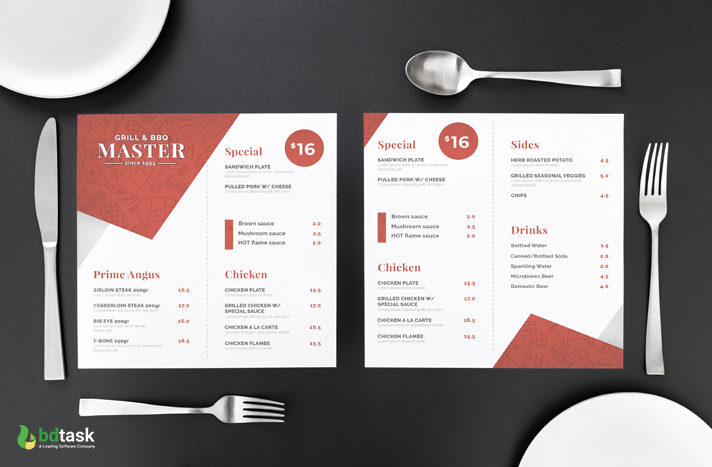 When the guests look at the menu card, the eyes of the viewers focus on the center of the menu. Then the guests look at the corner of the menu, especially the right corner at first.
If you imagine a triangle, then you have to consider the left corner. So you have to place the most profitable items on the upper left and right corner and finally the center of the menu card.
Do you know the simple design can grab more attention from the customers? The neat and clean design having sufficient white space provides comfort to the eyes of the guests.
Your restaurant menu design ideas must be unique, and the creative restaurant menu design ideas provide a great interface and experience to the customers.
Sometimes the guests face some common issues while overseeing the menu card of a restaurant.
Can't read the text

The size is not compatible with the standard size

Can't see the exact price of the item

The imbalance in color contrast makes the guests disgusted.
"If you consider just a few points while preparing a restaurant food menu layout that the customers face practically, you will not only create a perfect menu but also give a perfect solution to the guests."
In this case, you have to be aware of the font size, menu card size, and, most importantly, the white space. As a result, the customers will not face the problems mentioned earlier or difficulties while coming to the restaurant to take a fresh meal.
You will get a lot of restaurant menu design ideas on Google. Besides, different renowned restaurants are using so many templates, you can follow them.
Maximum menu design ideas are common, and you will get them based on your requirements like cafe menu design ideas, simple menu design ideas, and so on.
But are you looking for something special, creative and unique?
Here you will get some dynamic and modern menu layout ideas. So grab anyone you want to adopt as it's a totally free restaurant menu design for you.
Free Restaurant Menu Card Design Ideas:
Restaurant Menu Design Example 1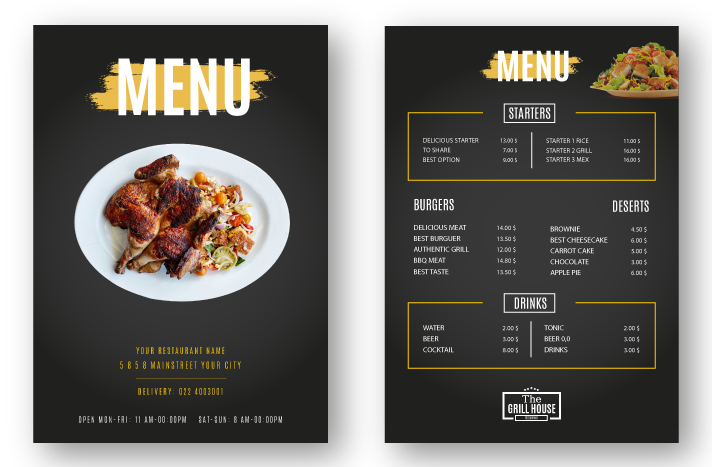 Download this template free
Restaurant Menu Design Example 2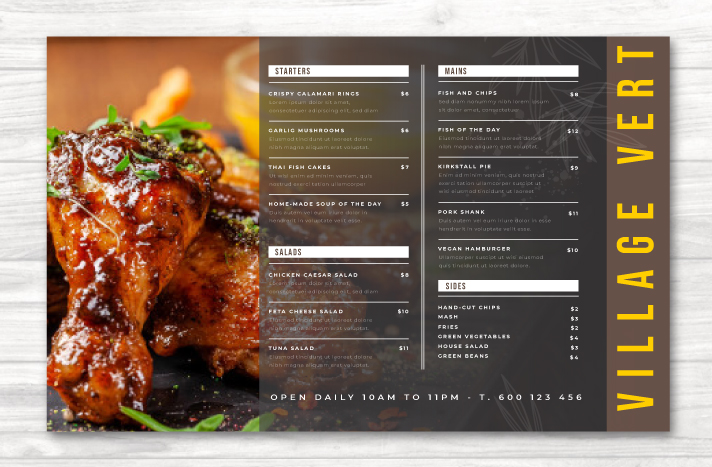 Download this template free
Restaurant Menu Design Example 3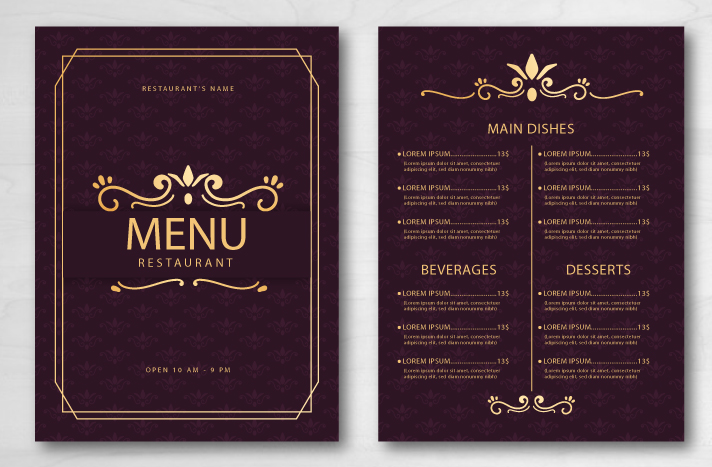 Download this template free
Restaurant Menu Design Example 4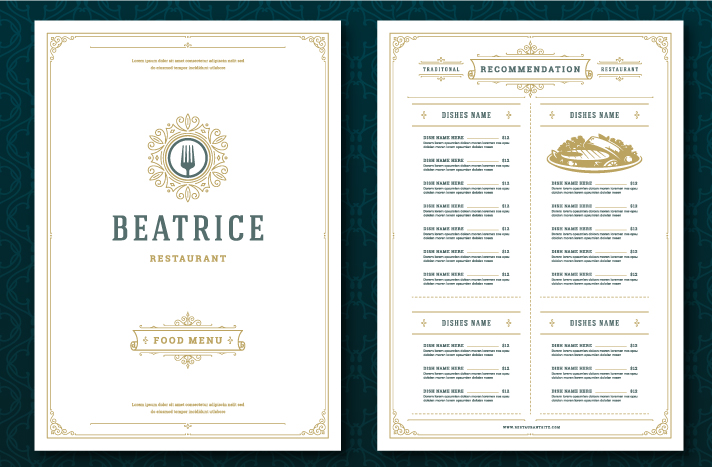 Download this template free
Restaurant Menu Design Example 5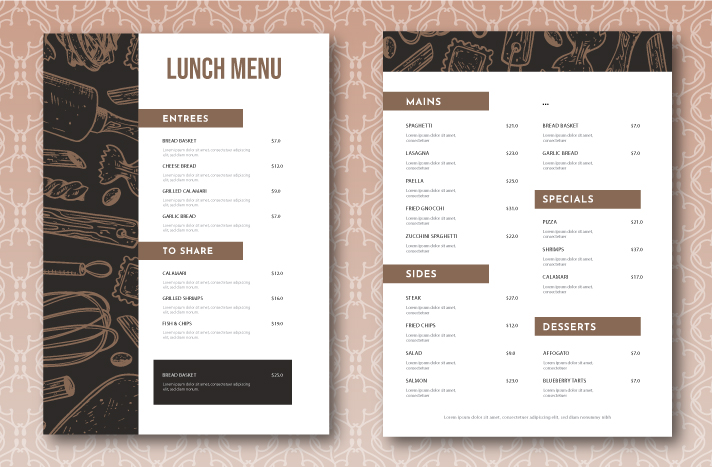 Download this template free
Don't Forget to Operate Your Restaurant Smoothly!!!
Well, it's the 21st century, and you are living in a new world that makes you dream of something exceptional but functional.
Modern technology creates a great opportunity for the business world. The automated business management software gives you a scope to ease the way of business operations.
It's time and cost-saving, faster and satisfactory. A dynamic website, a POS system, and an online delivery management system are essential nowadays.
You can make your restaurant operations smoother by adopting the best restaurant management software. It offers-
A magnificent dashboard

POS system

The online restaurant reservation system

Android and iOS app integration system

Sales management

Employee management

QR code scanner system

Inventory management,

and so on.
However, as the restaurant management system can increase your productivity and profitability, the restaurant menu card design ideas can ensure your customer satisfaction.

Restaurant menu design ideas can assure the success of your restaurant business as an effective restaurant menu card can express your services, create your brand value, provide customer satisfaction, increase your sales, and at the end of the day, you can ensure your ROI.
So why not a unique restaurant food menu card? Let's execute the ideas and create your own menu card for your desired customers.
Read More: